Totally tuber-lar: SactoMoFo hosts inaugural Sac Fry Fest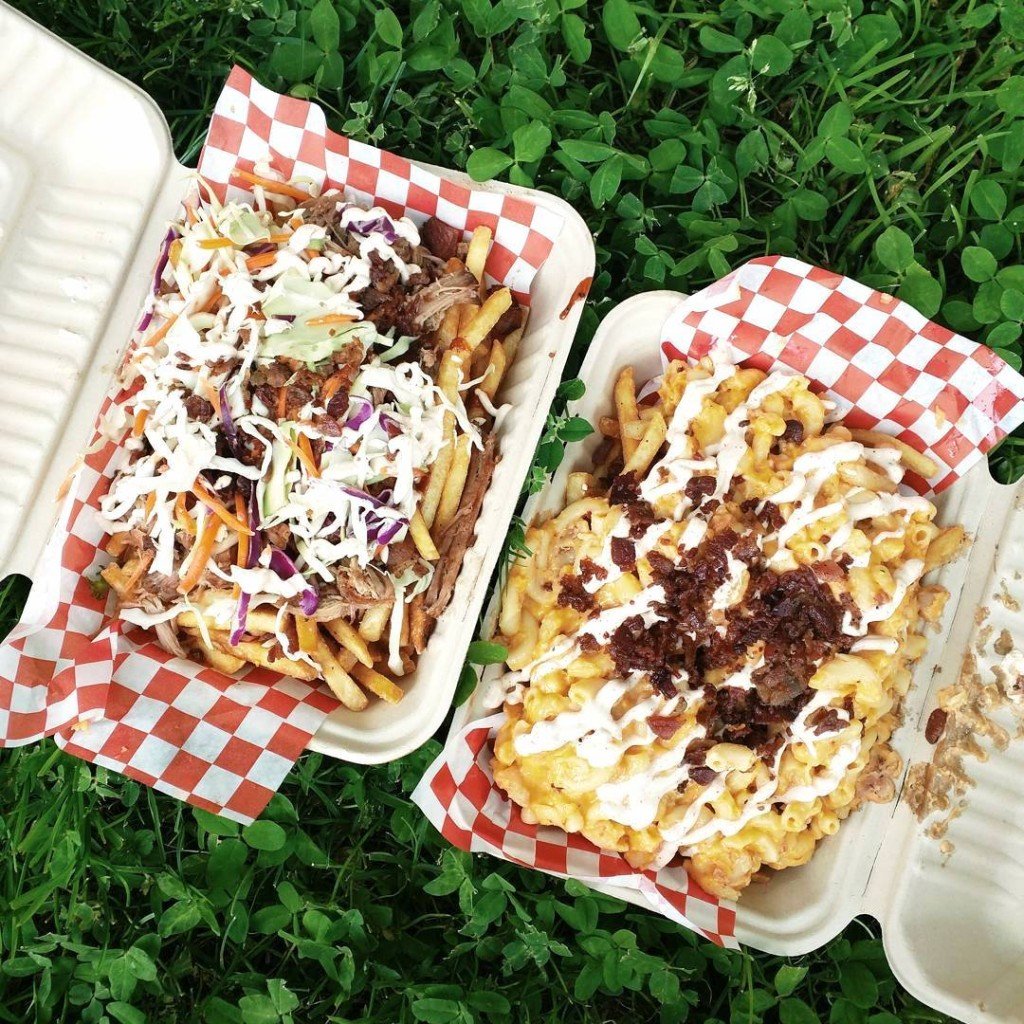 Carbo-vores will have fun carbo-loading at the inaugural Sac Fry Fest on April 28, at which about 15 local food trucks and restaurants will showcase dozens of loaded fries concoctions, topped with everything from pulled pork to jambalaya.
Organized by SactoMoFo (Sacramento Mobile Food), the event, which will take place downtown at Roosevelt Park, is expected to dish out about 2,000 pounds of fried potatoes, both sweet and savory. Look for crinkle-cut Jamba Fries covered in jambalaya (a mix of charred Cajun sausage, chicken, roasted peppers and onion in a spicy tomato broth) from chef Cecil Rhodes of Cecil's Taste, as well as shoestring Piggy Fries topped with slow-roasted pulled pork, bacon, Louisiana coleslaw, barbecue sauce and chipotle sour cream from chef James Wheeler of Bacon Mania. Additionally, Flavor Face's chef Brian Stansberry will serve up his Indian-inspired hand-cut fries smothered in spicy boneless chicken curry and topped with coconut yogurt and fried plantain slices.
Vegetarians, fear not. SactoMoFo general manager Caille O'Leary says meat-free fries will also be available, including the Bravas Kennebec fries from midtown's Adamo's Kitchen, which are tossed with garlic, Calabrian chili peppers, aioli and parsley. Downtown Sacramento's Azteca Street Tacos is also whipping up meatless nacho fries with cheese sauce, onions, cilantro, tomatoes, jalapeños, lettuce, sour cream and salsa, while Hefty Gyros' vegetarian version features house-made tzatziki sauce, sriracha and falafel on a bed of crispy fries.
For those with a sweet tooth, Costa's Finest Kettle Corn from Lodi will have funnel cake fries topped with Nutella and fresh strawberries, and the folks behind Cowtown Creamery will be debuting their new food truck, Daisy's Desserts, which will serve ice cream, mini doughnuts, shaved ice and other treats (potato heads know that ice cream and French fries make a perfect pairing).
"People really seem to go crazy about loaded fries, and more and more food trucks are carrying loaded fry dishes as a staple item," says O'Leary, who adds that Sac Fry Fest came to fruition after she and other SactoMoFo organizers noticed the growing trend on local menus and social media.
The gathering will also feature a beer and cider garden, a kids' zone with bounce houses, and a makers bazaar featuring mobile boutique Wild Poppy & Co. and Sacramento-based sketch artist Jon Guerzon, as well as performances from local singer-songwriter Brian Chris Rogers and reggae band The Scratch Outs.
Sac Fry Fest will take place April 28 from 3-7 p.m. at Roosevelt Park (1615 9th Street). Entrance fee is $10 through April 27 and $15 at the door. $5.45 buys one tasting ticket or a pack of five judging tokens. A $30 VIP pass includes early 2 p.m. admission, two fry-tasting tickets and two judging tokens. For more information, call 916-400-3978 or visit sacfryfest.com.
You Might Also Like
A wildly popular LA-based Korean BBQ restaurant expands to Sacramento
Mas Taco Bar to open in Dos Coyotes space on R Street
Real Pie Company will reopen in larger location with expanded menu