Trash bins are the star in new "Art of the Dumpster" exhibit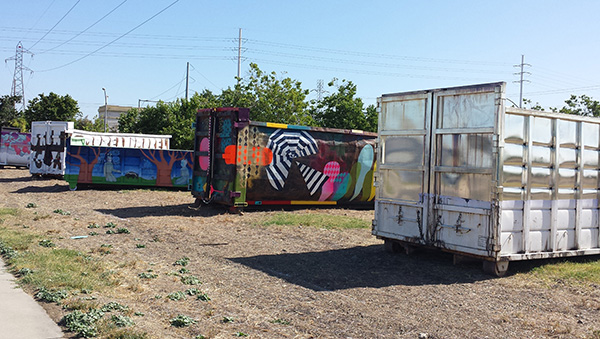 Ten Sacramento artists will prove they can think outside the 22-foot-long box with the opening of "Art of the Dumpster," a new public art installation aiming to draw attention to the industrial zone around Power Inn Road.
Corresponding with the city's Second Saturday arts tradition, the uniquely painted dumpsters will be showcased in a free celebration on Saturday, Aug. 9, from 11 a.m. to 3 p.m. Attendees can stroll through a makeshift outdoor gallery on the unpaved strip of land at the corner of Power Inn and Cucamonga Avenue. Passers-by can also size up the exhibition from the road or sidewalk until its conclusion on Aug. 30.
"Our goal is very simple," says Sally Freedlander, vice chair of the Board of Directors of the Power Inn Alliance. "We want the greater Sacramento community to recognize the Power Inn Alliance and the Power Inn area as a creative, innovative part of our city." The Alliance, a nonprofit that represents business, transportation and community in the Power Inn area south of Highway 50, partnered with the Sacramento Metropolitan Arts Commission for the project.
The diverse pieces include Joy Bertinuson's solid orange dumpster with windows cut open to reveal the inside, Robert Ortbal's chromed receptacle, and John Stuart Berger's whimsical narrative of raptors and king snakes originally native to the Power Inn area.
The insides of the dumpsters are open to walk through, too — Berger's includes a nest constructed of real sticks found in the area cradling a plaster of Paris egg. "There's this renewal on the inside, so there's the next generation to come and start the process over again," he says.
This mirrors the purpose of "Art of the Dumpster," Freedlander says. "The artists come from all different places in the art community," she explains. "But they all had that common thread of being able to repurpose a trash container into something creative and evocative."
The dumpsters, donated by local companies including Atlas Disposal Services, Republic and Waste Management, emphasize the area's history of involvement in the recycling and waste management industry. "We don't want to turn our back on our history. We want to celebrate it, but we want to be creative," Freedlander says.
The Second Saturday event on Aug. 9 will feature food trucks including Squeeze Inn Burger, Fuzion Eatz, Orale Mole and The Sweet Spot, while neighboring Device Brewing Company will pour beer and Southern rock band Savannah Blue will perform at noon. The gallery will remain open daily from sunup to sundown through the end of August.
3101 Power Inn Rd. For more information on today's "Dumpster's Last Stand" celebration, visit its Facebook page. To learn more about the exhibit, visit powerinn.org/art or call the Power Inn Alliance at 453-8888.