True Blue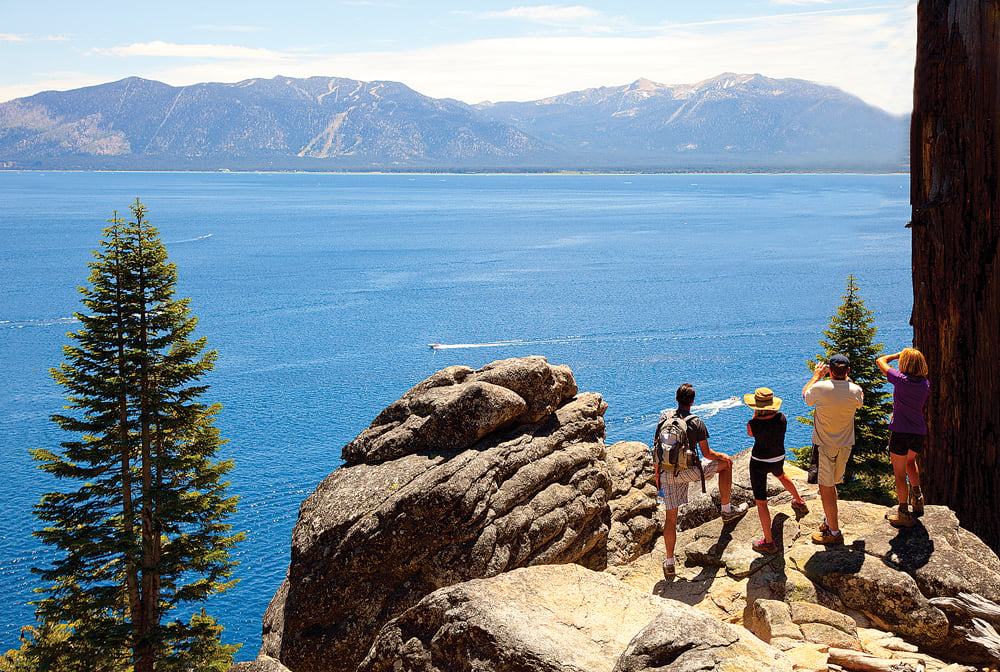 Looking to escape the heat? Big Blue has you covered—and so do we. From zip-lining through trees to roller skating at 8,200 feet, and from stargazing to sunset cruises, we've got 50 fun things to do, see, eat and drink in Lake Tahoe right now. Dive in!
Underground Fish Viewing at Taylor Creek
Lake Tahoe is celebrated for its crystal clear water, and there are few places where you can take advantage of that clarity more than at Taylor Creek, which flows from Fallen Leaf Lake to Lake Tahoe. After an easy, scenic quarter-mile hike on Rainbow Trail from the Taylor Creek Visitor Center, you can descend underground into the Taylor Creek Stream Profile Chamber (open through October), where massive windows allow you to peer into the creek and watch minnows, trout and other native fish swim around and snack on bugs on the surface of the water. Interpretive exhibits describe the fish and creek ecology, but the real attraction is watching the fish swim at eye level in a natural environment instead of an aquarium. Free. Visitor Center Rd. South Lake Tahoe. 530-543-2674. fs.usda.gov
Roller Skating at Squaw Valley
In the winter, Squaw Valley's High Camp has welcomed visitors to ice skate on the rink where Olympians competed in 1960. In summer months, though, the Olympic Ice Pavilion thaws to a sunny, high-altitude haven for roller skaters, who can take the resort's aerial tram to 8,200 feet and coast along amid a stunning 360-degree view of Lake Tahoe and the Sierras. A tram ticket also grants access to free mountaintop activities like slacklining, disc golf and hiking, and a few extra dollars gets you into the pool and hot tub. $44 for adult tram and skate ticket ($38 in advance). 1960 Squaw Valley Rd. Olympic Valley. 800-403-0206. squaw.com
Swing Through Trees at the Tahoe Treetop Adventure Park
Wind pours down the hillside into the woods. The trees sway. The shadows lunge. As you look out into the heaving evergreen canopy from 50 feet above the forest floor, the breeze murmurs, "Go for it." So begins your climbing, leaping, swinging, soaring interlude at Tahoe Treetop Adventure Park, where thrill seekers of all ages and skill levels can try out 49 rope bridges, 15 zip lines and other exhilarating aerial challenges amid the secluded splendor on the outskirts of Tahoe City. Visitors spend two-and-a-half-hour sessions navigating one of two zones, such as the "Flying Squirrel," which lets everyone from young children to grown-up rookies navigate around the trees without too much strain (or heights-induced stress). The more challenging "Monkey" courses feature a wild and wobbly "wind chime" span (built from logs hanging perpendicular to the ground) and a rope bridge where you can get up close and personal with The Twins—a majestic pair of 500-year-old cedar trees. Whichever path you take, you'll feel like you're on top of the world. $40-$50. 725 Granlibakken Rd. Tahoe City. 530-581-7563. northtahoeadventures.com
Horseback Riding at Camp Richardson 
If you're champing at the bit to see Tahoe as you've never seen it before, horseback riding at the 80-year-old Camp Richardson Corral should fit the bill. The rides range from 50-minute journeys through the Tahoe National Forest to longer trail excursions with stunning views of nearby Fallen Leaf Lake, while the camp's "steak rides" include a barbecue dinner after your trip. Not so confident in your equestrian abilities? Hop on a horse-powered hay wagon ride—the only chance you'll get in Tahoe to ride directly on the lakeshore (unless you come back in the winter for Camp Rich's sleigh rides). Post-ride, you can satisfy your sweet tooth with a trot across the road to Camp Richardson's popular ice cream parlor, which is famous for its giant waffle cones and scoops out 22 flavors like pralines and cream and Kona coffee. $43-$164 for rides. 4 Emerald Bay Rd. South Lake Tahoe. 530-541-3113. camprichardsoncorral.com
Scuba Diving in Lake Tahoe
Beneath Tahoe's glassy surface lie submerged features that, for some, rival the magnificence of the towering peaks that rim the lake. The crystalline depths of the Emerald Bay State Underwater Park offer a showcase of sunken barges and other ephemera dating back to the turn of the 20th century, while roughly two miles north in D. L. Bliss State Park, advanced divers can view one of the lake's most awe-inspiring underwater sites: the Rubicon Wall, a steep granite precipice that dizzyingly descends more than 800 feet below the surface. Less experienced divers are advised to view sites like Stateline Wall, which comprises 800-plus feet of stacked granite boulders, under the careful supervision of professional instructors, such as through the Sierra Diving Center's kayak excursions ($250 with certification; equipment not included), during which experts guide you through a high-altitude diving certification lesson, paddle you to dive sites and help you safely navigate these underwater wonders. 775-825-2147. sierradive.com
Summer Tubing at Heavenly
The snow atop Heavenly may be a memory, but you can still hit the slopes at the resort's summer tubing course, which opened in 2011 and is located at Adventure Peak. Accessed by a scenic gondola ride (which takes passengers two and a half miles up the summit and boasts unparalleled views of Lake Tahoe), this 500-foot-long hill is the same that's used during the winter months for snow tubing and is equipped in the summer with an all-weather synthetic surface for a smooth and exhilarating glide. Craving more thrills? Take the Tamarack Express chairlift up to the 3,300-foot-long Blue Streak zip line, one of the longest in the United States, which sends riders zooming at up to 55 miles per hour. $10 for three rides; $41 for adult gondola ticket. 4080 Lake Tahoe Blvd. South Lake Tahoe. 800-587-4430. skiheavenly.com
Lakeside Golf at Edgewood
If links by the lake sound like the golf getaway of your dreams, then be like Mike (as in Michael Jordan), Ray Romano and other celebs and pack your bag for Edgewood Tahoe—the only course that sits directly beside Big Blue's sapphire waters. For an even more unforgettable round, schedule a twilight tee time for a view of an epic sunset as you wrap up the last few holes along the lake's edge—including the course's signature 18th hole framed on both sides by water. After the last putt drops, join your fellow golfers at Brooks' Bar & Deck, which Golf Digest has named one of America's "Best 19th Holes," and replenish with mango mojitos, salmon fish and chips, and a prime-rib dip with caramelized onions. $110-$240. 100 Lake Pkwy. Stateline. 775-588-3566. edgewoodtahoe.com
​Parasailing over Lake Tahoe
​Go soaring high above Tahoe's cerulean surface with a parasailing excursion by way of South Shore's Ski Run Boat Company, which lets adventurous visitors fly high—up to 500 feet—while soaking in 360-degree views of the magnificent lake below. One of the most appealing aspects of the experience is the sense of calm while aloft, so schedule your trip for the early morning to avoid the winds that tend to pick up as the day wears on. Feeling a little less daring? Tickets are also available for those who'd rather observe from the boat as friends or family experience the airborne adventure. $55-$80 for parasailing; $20 to observe. 900 Ski Run Blvd. South Lake Tahoe. 530-544-0200. tahoesports.com
Guided Hikes at the Tahoe Rim Trail
Heed the call of the wild with guided hiking trips operated by the Tahoe Rim Trail Association, which offers numerous summer treks for adventurers seeking to experience the natural wonders throughout the sprawling trail network. One example is a free, relaxing lunchtime excursion that meanders 1.5 miles through Van Sickle Bi-State Park, a 728-acre destination that opened in 2011 and features a waterfall and (literally) breathtaking climbs through vistas that eventually link up with the Tahoe Rim Trail encircling the lake. (The hike also includes insight from forest experts from The Sugar Pine Foundation and the California Tahoe Conservancy's new Explore Tahoe visitor center.) For an especially unforgettable experience, become an association member ($35 for individuals) and take one of the nighttime full-moon expeditions, which lead hikers to locations like Tahoe Meadows and Relay Peak, the trail network's highest point at 10,338 feet. 775-298-4485. tahoerimtrail.org
Stargazing at Northstar
Spy on galaxies far, far away during one of the Tahoe Star Tours held at Northstar's new outdoor Dark Skies Cosmoarium. During these galactic gatherings, Tony Berendsen, president of the Northern Nevada Science Coalition, uses a laser pointer to highlight various stars, planets and other prominent features in that night's sky, and helps participants explore the universe with high-powered computerized Celestron Telescopes. Throughout the evening, comforts like toasty fire pits, hot chocolate and s'mores will add a sweet degree of earthly contentment to your time observing the final frontier. $30 for adults. 5001 Northstar Dr. Truckee. 800-466-6784. northstarcalifornia.com
Sunset Yachting on Tahoe Cruises
On Tahoe Cruises' sunset voyages—which run daily through October—watch as the sun meets the smooth surface of the lake from aboard Safari Rose, an elegant 80-foot motor yacht nicknamed "the Frank Sinatra of boats" boasting plush leather couches, a teak-paneled salon and a fireplace. Hors d'oeuvres and a full bar, including Safari Rose's famous Bloody Marys, fuel the journey that tours Tahoe's South Shore, Emerald Bay and Fairy Cove, northwest of the bay. $72. Round Hill Pines Marina. 300 Hwy. 50. Zephyr Cove. 775-588-1881. tahoecruises.com
Mountain Biking at Kirkwood
Upstarts and old hands alike will be ready to tackle the trails after taking one of the Mountain Biking Clinics held at Kirkwood ski area. The day begins at the resort's Red Cliffs day lodge, where participants will be divided into groups based on skill level. The six-hour-long session will focus on the rolling, mellow terrain located off of Chair 1, where expert coaches (such as racer Steven Wentz, who has competed in the US Mountain Bike National Championships) will teach you essentials like braking techniques and body positioning. Keep your eyes peeled for the pockets of dazzling wildflowers speckling the resort as you bump and wind your way through Kirkwood's network of trails. $150 for adults. 1501 Kirkwood Meadows Dr. Kirkwood. 209-258-7210. summer.kirkwood.com
Take a Break
Lake Tahoe Yoga
Pay om-age to the Big Blue at this studio in Zephyr Cove, whose slogan is "We practice yoga everywhere." They mean that literally—summer classes range from Beach Asana, where students exercise right on the sand using beach towels instead of yoga mats, to Stand-Up Paddle Yoga, where you'll stretch and bend on paddleboards up to 400 feet from shore. For an equally fun but indoor option, consider the in-studio Happy Hour Yoga sessions with events like "Poses & Pints" and "Serene Sips," where visitors can enjoy complimentary beer or wine after practice. And if you can't find a sitter, bring your kids along for Yoga Storytime, where they'll learn about the discipline through an interactive story and have a chance to try it for themselves. $12-$17 for one class. 100 McFaul Way. Zephyr Cove. 775-588-8607. laketahoeyoga.com
Secret Cove Beach
When they say "secret," they mean it: This breathtaking stretch of sand and rock on the remote eastern edge of the lake—where blue-green waves lap ashore over a bed of submerged, almost spherical granite boulders—isn't noted on any of the neighboring road signs or area maps along Nevada State Route 28. But once you do see a sign on the three-quarter-mile trail leading to Secret Cove, there's no mistaking it: It's the one advising, "Nude sunbathers may be present in this area." You don't have to go au naturel, though, to enjoy this beach's splendor. You just have to find it. To do so, start from the parking lot perched lakeside on Route 28 just south of the Washoe County line. Walk around the vehicle gate at the edge of the lot, follow a sun-dappled dirt road until you hit the beach sign, and then cut downhill to the water. Whether or not you decide to undress, this beach will decidedly give you the most scenic way to unwind. goo.gl/maps/xEHGE
1862 David Walley's Hot Springs Resort and Spa
Situated 20 minutes east of Lake Tahoe in tiny Genoa, Nev. (founded in 1851, making it the oldest town in the state), this popular high-desert outpost lets visitors soak in one of five tubs brimming with mineral waters from the natural hot springs at the foot of the Sierras ($30 for a day pass). A spa highlight is the Vichy Shower (where the hot springs' detoxifying waters rain through seven shower heads onto guests as they lie on a cushioned table) followed by a scrub or wrap, while travelers short on time can try the Express Therapy Mini Spa Package—a massage and facial in 40 minutes—as a quick indulgence to swiftly de-stress. 2001 Foothill Rd. Genoa. 775-782-8155. davidwalleys-resort.com
Mountain Lotus Yoga
Fitness enthusiasts can channel the serene majesty of Tahoe at this destination for the mind, body and spirit—the only yoga studio settled right on the lake's shore. Mountain Lotus offers standards from vinyasa flow to hot yoga, which give yogis the chance to bend into warrior one or downward-facing dog bathed in sunlight reflecting off the pristine waters. Check out the Vacationer's Special, which pairs a free yoga class with a one-hour, deep-tissue rubdown ($85) for maximum tranquility, just in case holding a mountain pose against the natural backdrop of North Lake's beauty isn't relaxing enough. $17 for one class. 760 North Lake Blvd. Tahoe City. 530-583-7500. mountainlotusyoga.com
Take a Hike
Mike White wrote the book on hiking in the Tahoe region—in fact, he wrote two of them. The inveterate Reno-based outdoorsman and author of Afoot & Afield: Reno-Tahoe and Top Trails: Lake Tahoe walks us through five of his favorite Big Blue treks.
Echo Lakes Trail
"In the Echo Pass area, on the west side of the pass, is Echo Lakes. There's a little rustic resort there and they run a water taxi in the summer, and you can shave off about three miles of hiking along the edges of the reservoirs. That drops you at the far end of the upper lake, and then Desolation Wilderness is at your doorstep. [At that point] there are varying hikes you can take of varying distances, and you'll get right into the heart of Desolation Wilderness that way. You have a lot of high summits around there, too. It's a great mountain environment—lots of peaks and ridges and stuff like that." fs.usda.gov
Mt. Tallac Trail
"If you want the best summit hike in the area, that would be Mt. Tallac. This is a strenuous hike—it's about five miles one-way and it gains a lot of elevation. But you get to see a couple lakes, some wildflowers, and then you get to the top, and you've got a supreme Lake Tahoe view. From South Shore, you can look across the lake and see this huge black massive hulk of a mountain. So it has some street cred when you say, 'Oh yeah, I've been to the top of Mt. Tallac. That big black mountain over there? Uh-huh.' If you're a peak-bagger, you can get some kudos out of that." fs.usda.gov
Rubicon Trail
"The mileage from Vikingsholm [mansion in Emerald Bay] to Rubicon Point in D.L. Bliss State Park—the full extent of the trail—is five miles [10 miles round trip]. But you have options: You can actually go out, circle around Emerald Point, come back and make it a shorter trip if you don't want to do the whole thing. That would be about a four-mile [loop]. It goes right along and slightly above the shore of the lake, so you've got almost continuous lake views. If you have never been to Lake Tahoe, or go infrequently, and you really want to get the feel of the lake—and the beauty of the lake—this is a great hike." parks.ca.gov
Mt. Rose Trail
"Over on the northeast side of the lake, near Reno, there's the Mt. Rose Trail. You get the third-highest peak in the Tahoe basin, so again you get beautiful views of the lake. But one advantage is that it is one of those trails that, if you don't want to do the full assault of the mountain, you can go in two and a half miles and there's a pretty waterfall and wildflowers. It's a fairly easy trail—not a lot of up-and-down elevation gain. Most of the elevation gain comes in the second half of the trip, when you climb to the peak. So that's a nice one on that side of the lake." fs.usda.gov
Tahoe Rim Trail (from Ward Creek Boulevard)
"On the west shore near Tahoe City, there's a section of the Tahoe Rim Trail that goes from Ward Creek Boulevard. If you take it out six and a half miles, it'll take you near the top of Twin Peaks. Then there's a short little scramble, if you feel up to it, to get to the top and see the whole Tahoe Basin. You look across the lake at the Carson Range—a spur of the Sierra on the east side of the lake—and then, at the south end of that, is Freel Peak, which is Tahoe's highest mountain. It's a real reward for the climb." tahoerimtrail.org
Touring Around
Thunderbird Lodge
Known as the "castle in the sky," this storied estate built by eccentric billionaire George Whittell Jr. in the 1930s is like the Hearst Castle of Lake Tahoe. View the five-story home and its grounds—where Whittell and his exotic pets like Bill the lion and Mingo the elephant lived—on a guided tour, during which you'll enter a 600-foot tunnel to the boathouse that shelters Whittell's legendary wooden speedboat, view a hidden passageway to his opium den, and see his Card House with a secret escape door where he played poker with the likes of baseball legend Ty Cobb. For a more extravagant experience, take a boat tour to the mansion or a kayak tour from Sand Harbor, complete with a Continental breakfast or picnic lunch. $39 per adult for regular tour. 5000 Nevada 28. Incline Village. 800-468-2463. thunderbirdtahoe.org
Hellman-Ehrman Mansion
This stunning lakefront mansion, which was completed in 1903, takes you back in time to Tahoe's early years as an elite retreat, when visitors could arrive only by boat. San Francisco banker Isaias W. Hellman built the stone craftsman-style home on Tahoe's West Shore, and nowadays a docent will take you on a half-hour tour of the living areas, bedrooms, kitchen and servants' quarters, decorated in 1930s period furniture with original chandeliers. After your visit, wander down to the boathouse where you can rent kayaks and paddleboards to embark on your own lakeside adventure, or step onto the long swimming dock for panoramic views of South Lake's mountainsides. $10 for adults. 7360 West Lake Blvd. Tahoma. 530-583-9911. parks.ca.gov
Tahoe Photographic Tours
For a picture-perfect outing, join one of the popular excursions led by Tahoe Photographic Tours—ranked on TripAdvisor as the top activity in South Lake Tahoe—where you'll be whisked away to many of the lake's most visually spectacular sights. Your Instagram-ready journey starts when a guide picks you up at your South Shore hotel (or anywhere else in that area) in a luxury SUV and continues with a leisurely drive to a rotating lineup of picturesque locations like Emerald Bay, Taylor Creek (where bears are occasionally sighted) and Fallen Leaf Lake (a glacier-hewn sapphire oval nestled above Tahoe). You'll learn about Tahoe's history and geology, be given plenty of time to snap away at every stop and offered photography tips throughout the tour (no need to take selfies either—the guide will take pictures of you and your group and then email them to you after the trip). Special themed tours are also offered, including ones timed to help you capture the rising or setting sun. $149-$225. 530-577-5264. tahoephotographictours.com
UC Davis Tahoe Science Center
Science rules at this high-tech, hands-on education center in Incline Village, housed in Nevada's first Platinum LEED-certified building, where the whole family can learn what's below the surface of the country's second-deepest lake. Take a one-hour, docent-led tour, where you'll step aboard a virtual research vessel, find zooplankton under microscopes and take a 3D virtual reality flight through Lake Tahoe. Little ones can get their hands dirty at the new Shaping Watersheds interactive sandbox (a guaranteed big hit). Before leaving the center, pick up one of those famous "Keep Tahoe Blue" bumper stickers—or honor your favorite lake scientist with a lesser-known "Have you hugged a limnologist today?" sticker. Free. Sierra Nevada College. 291 Country Club Dr. Incline Village. 775-881-7560. tahoesciencecenter.com
Vikingsholm at Emerald Bay
​Emerald Bay may be one of the most popular destinations on the lake, but less known is the 1929 mansion that sits on its shore. It's less known in part because it's only open from Memorial Day until the end of September, and because it's primarily accessible via a steep, one-mile hike that starts at the parking lot off Highway 89 and descends 500 feet to Vikingsholm (the 6,300-foot elevation doesn't help either). Those that do brave the walk, however, will be rewarded with the chance to explore the 38-room property built by heiress Lora Josephine Knight. Designed in the style of a Scandinavian castle, the unique sod-roofed home—which includes a custom Steinway piano that Liberace once played—is open for daily 30-minute tours. $10 for adults. California 89. Tahoma. 530-583-9911. vikingsholm.com
What's Happening
EDITORS' NOTE: This feature was published in our Aug/Sept 2014 issue, so dates, prices and other details that appear here correspond to that time frame. For updated 2015 info, please visit the websites of the venues and events.
Tahoe Shakespeare Festival at Sand Harbor
Through Sept. 6 For a magical evening backdropped by Tahoe's dramatic summer sunsets, Sand Harbor's Warren Edward Trepp Stage—home of the Lake Tahoe Shakespeare Festival—is just the ticket. Lay your beach blanket down or nab a premium seat on an Adirondack chair to watch the Bard's romantic comedy As You Like It, which plays almost every night through Aug. 24. But if the play's not your thing, the venue also hosts Monday night showcases featuring a James Brown revue by the Reno Jazz Orchestra (Aug. 4), a Tahoe Players production of the musical thriller Sweeney Todd (Aug. 11), and a concert by Grammy-winning R&B artist Booker T. Jones (Aug. 18). The season concludes with the Trails & Vistas World Concert (Sept. 6) featuring aerial dancers and San José State's symphony orchestra. Times and prices vary. Sand Harbor State Park. 2005 Nevada 28. Incline Village. 800-747-4697. laketahoeshakespeare.com
Sample the Sierra
Aug. 31 Sacramento may be the Farm-to-Fork Capital of America, but you can enjoy the Sierra Nevada region's own bounty at this fifth annual festival celebrating the food and wine of the region. Head to Bijou Community Park, where local restaurants, farms, wineries, breweries and distilleries will team up for good eats and drinks, like Zephyr Cove Restaurant, which will serve a dish with veggies from Nancy's Green Bean Farm that will be paired with beer from Great Basin Brewing Company. Between bites, join in the cornhole tournament or see what local chefs can do in the Sierra Chefs Challenge. $40. 12-5 p.m. Bijou Community Park. 1201 Al Tahoe Blvd. South Lake Tahoe. samplethesierra.com
Lake Tahoe SummerFest
​Aug. 1-17 Musicians from renowned ensembles like the New York Met Orchestra, the San Francisco Symphony and the Los Angeles Philharmonic will take the stage at this third annual event, comprising nine different concerts in August. This year, SummerFest will also present free children's concerts, featuring the Young Musicians Choral Orchestra from Berkeley (Aug. 10) and a narrated symphonic treatment of the kids' classic Babar the Elephant (Aug. 17). Meanwhile, the festival's Sunday "Meet the Music, Meet the Musicians" programs will feature music from Vienna, Paris and London, as well as city-themed refreshments and a Q & A with the musicians after each performance. Prices and times vary. Sierra Nevada College. 999 Tahoe Blvd. Incline Village. 775-298-0245. tahoesummerfest.org
Lake Tahoe Concours d'Elegance
Aug. 8-9 This 42nd annual weekend gathering invites lake-goers to view dozens of restored wooden motorboats at Obexer's Boat Company in Homewood—the Tahoe institution that first introduced the watercraft to the region in the 1920s and is welcoming the Concours back to West Shore for the first time in more than 20 years. The Tahoe Yacht Club Foundation will play host to old-time race boats, cruisers and other vintage runabouts while attendees take in live jazz, sip wines from around the region and visit vendor booths like Wooed (which makes eco-friendly wooden sunglasses) and Frédérique Constant (which designs watches inspired by the classic boats). Don't miss the "roar-off" into the marina at the show's grand finale on Saturday. Prices and times vary. Obexer's Boat Company. 5355 West Lake Blvd. Homewood. 775-851-4444. laketahoeconcours.com
Labor Day Fireworks over Lake Tahoe
Aug. 31 Wind down summer with a bang at South Shore's annual Labor Day fireworks display, a nearly 20-minute pyrotechnic extravaganza that's one of the largest such shows in Northern California. For a prime seat to watch sparks fly, grab a lawn chair and head to nearby waterside spots like the Nevada Beach Campground or the sandy shoreline beside the Timber Cove Marina. Alternatively, book a seat aboard either the M.S. Dixie II or Tahoe Queen paddle-wheel vessels, both of which offer dinner cruises on Big Blue and provide dazzling views as the fireworks show kicks off at around 8:30 p.m. Either way, you'll have a blast. tahoesouth.com for info about the fireworks show or zephyrcove.com for cruise tickets 
Eat & Drink
Beach House Bar-B-Que
​Texas may not be known for its beaches, but Aaron and Janie Evans decided to import some Texas-style barbecue to this secluded, scenic beachfront eatery on Tahoe's South Shore, and the result is some outstanding 'cue with a view. In May, the couple took over the former Lakeside Beach Grill spot just off Highway 50 near Stateline, and began serving up authentic Texas barbecue, including ribs and brisket smoked fresh daily at their Hog Wild Bar-B-Que restaurant in Placerville—Janie's hometown. Aaron, the "pit master" for both places, previously spent 16 years at Dallas' celebrated Eddie Deen & Company, which has catered inaugural balls for such Lone Star State luminaries as Rick Perry and George W. Bush (both as governor and president). The couple, who wed in Tahoe, now deliver smoked meats—the brisket is our favorite—every morning to their open-air lakeside restaurant (we recommend dining at sunset), which also welcomes vegetarians with a hearty, barbecue-seasoned grilled portobello mushroom sandwich. If you'd rather just picnic by the lake, Beach House opened a concession window in late June where you can grab brisket tacos and other portable culinary treats. 4081 Lakeshore Blvd. South Lake Tahoe. 530-544-4050. beachhousetahoe.com
The Old Post Office Cafe
Eat like a local at this tiny gem in Carnelian Bay, which was converted nearly 40 years ago from a decommissioned post office to what has become a North Shore institution. Grab a seat in the dining room whose design elements (such as postage-stamp wallpaper, American-flag bunting, a wooden bear carving, vintage photos and a very insistent "No Cell Phones" sign) are as busy as its crowded tables, where early birds flock for breakfast treats like the savory crab cake Benedict. Better still, if you're looking to fuel up after a morning hike, sit on the sunny enclosed patio and tuck into lunch delights like the Carnelian Beef sandwich—a hot, gooey bit of decadence blending roast beef, tomato, mushrooms, onions and jack cheese best enjoyed alongside one of the cafe's freshly made soups of the day. With a complimentary Red Vine on your way out, every bite of this erstwhile mail stop delivers. 5245 North Lake Blvd. Carnelian Bay. 530-546-3205
Riva Grill
The wooden Riva "runabout" boats that grace Tahoe's waters inspired this Ski Run Marina restaurant's name and décor—the host stand is even made of the front of a wooden yacht—as well as its famous "Wet Woody" cocktail, a frozen rum drink made with cranberry, orange and pineapple juices. On Wet Woody Wednesdays through the end of September, you can order one for about half off the regular price; enjoy it this summer on the spacious waterfront deck—which seats 250—or inside the two-story eatery with the popular fish tacos (featuring grilled or blackened snapper with apple-jicama slaw served in warm corn tortillas) or the bacon-wrapped filet mignon with Point Reyes blue cheese butter. 900 Ski Run Blvd. South Lake Tahoe. 530-542-2600. rivagrill.com
The Pfeifer House
For some, Lake Tahoe's forested shores and soaring, picturesque peaks bring to mind the storied Swiss Alps. So if those similarities have you craving authentic Teutonic fare like jägerschnitzel, bratwurst and sauerbraten, head to The Pfeifer House in Tahoe City, which was founded by a transplanted German couple in 1954 and now stands as one of the town's longest-running eateries. Over the decades, the eatery's décor—replete with whimsical touches like cuckoo clocks, beer steins and mounted old-fashioned skis—has hardly changed, creating the perfect old-world setting to settle in for a Continental feast of hearty standbys and specialties like German meatballs in a creamy caper sauce and cinnamony Bavarian apple strudel. 760 River Rd. Tahoe City. 530-583-3102. pfeiferhouse.com
Mellow Fellow
Located on the state line in Kings Beach, this gastropub is chill like California and quirky like Nevada, boasting a whopping 40 American craft brews and ciders on tap. You might spot some Sacramento favorites in that rotating lineup, like the Hoptologist DIPA from Auburn's Knee Deep Brewing Co., as well as local standbys like Tahoe Mountain Brewing Company's barrel-aged sours. The sophisticated menu offers artisan cheese boards, Niman Ranch pulled pork grilled cheese and locally made sausages in rotating varieties on Truckee Sourdough Company pretzel buns—all of which guests can enjoy at communal picnic tables on the patio, where you can try your hand at giant Jenga or cornhole (a beanbag-toss lawn game). Mellow Fellow's owners opened a second location in downtown Truckee last year, perfect for chilling out before heading back to Sacramento after your Tahoe stay. Kings Beach (9980 North Lake Blvd.; 530-553-1333) or Truckee (10192 Donner Pass Rd.; 530-214-8927). mellowfellowpub.com
Café Fiore
​Get ready to be truly wined and dined—in equally exceptional measure—at this cozy, closet-sized Italian eatery that's so romantic, it was featured in the book Best Places to Kiss in Northern California. Inside a wood-framed chalet with just seven lamplit tables (during summer, it expands to 13 with the outdoor patio), Café Fiore—which serves dinner only—impresses with an extensive list of over 300 wines that is expertly curated by the restaurant's owners Nick and Shandi Ashmore and has earned Wine Spectator's Award of Excellence every year since 1992. It also indulges with a menu of rich dishes—such as eggplant crepes stuffed with smoked salmon and served with sherry cream and sun-dried tomato sauce, and beef tenderloin in Barolo wine sauce—created by chef Gilberto Ramos, who also crafted the mosaic made of more than 1,000 corks in the dining room. Don't leave without dipping your spoon into the decadent white chocolate ice cream, made in-house daily. Trust us, sharing an order of the cafe's signature dessert will guarantee that your night, like that of so many diners before you, will be sealed with a kiss. 1169 Ski Run Blvd. South Lake Tahoe. 530-541-2908. cafefiore.com
Fire Sign Cafe
Touted by foodies like Rachael Ray and insiders like Travel & Leisure magazine, this North Shore breakfast fave has been luring locals and tourists alike since it opened in the late 1970s. You can't go wrong ordering dishes straight from the menu, like the popular fluffy, plate-sized blueberry waffles or the Cape Cod Benedict with house-smoked salmon and sautéed spinach, but Fire Sign is perhaps best known for letting its patrons customize their orders. Want a veggie omelet with bacon? Sure thing. How about chips and made-from-scratch salsa instead of hash browns? Not a problem. To elevate the huevos rancheros, a signature dish from veteran chef Gumaro Martinez, we suggest adding his addictive homemade chorizo. Weekend waits can be lengthy, so arrive early or sleep in (you can get breakfast here until closing time at 3 p.m.)—and save room for that warm mixed berry cobbler. 1785 West Lake Blvd. Tahoe City. 530-583-0871. firesigncafe.com
Truckee River Winery
The unique conditions at this 25-year-old winery—where barrels of vino age at temperatures that can dip as low as 30 degrees below zero in its signature red barn situated 5,800 feet above sea level—dramatically slow down fermentation, thus smoothing and softening the flavor profiles of picnic-ready wines like Truckee River's signature Old Vine Lodi zinfandel and Chalk Hill malbec. The winery sells these and other varieties amid fresh-made paninis, tapas, charcuterie and more provisions in its tasting room, which doubles as a buzzing, boisterous hub for bocce players as summer warms the valley. While you're there, ask to see founder (and UC Davis enology and viticulture graduate) Russ Jones' mini vineyard featuring grapes developed to withstand cold climates and check out the fruits of his labor. 11467 Brockway Rd. Truckee. 530-587-4626. truckeeriverwinery.com
Red Hut Café
​Located in the heart of the South Shore's bustling restaurant row, the Red Hut Café has been dishing out hearty, unfussy fare in the same tiny red-and-white building since 1959. And while it may have sprouted a small chain of casual diners and soda fountains in the area (including one just up the street), there's no substitute for the original, a Tahoe institution that boasts a vast and affordable array of filling options, from the classic (like banana pancakes or biscuits and gravy) to the funky (like a pancake sandwich with an egg and bacon or sausage served between two fluffy flapjacks). Hot hut tip: The seasonal influx of hikers, bikers, boaters and tourists can often fill up the 40-seat eatery by 9 a.m., so drop in early to avoid the long wait for your cafe fix. 2749 Lake Tahoe Blvd. South Lake Tahoe. 530-541-9024. redhutcafe.com
T's Mesquite Rotisserie
Think of this Mexican barbecue spot in Incline Village as slow fast food. The service is quick and the location—beside a 7-Eleven and a movie theater—is casual, but its rotisseries spin mouthwatering marinated chicken, tri-tip and pork over flames and mesquite wood for hours. Chuck and Terri Swing opened the restaurant in 1991, and nowadays you can often find their son Jamie behind the counter. Regulars know to order the soy lime chicken tacos with extra homemade green salsa and a side of marinated cucumber salad (a family recipe from Chuck's grandmother), and while portions are large enough to satiate an active day on the lake, the popular 8-inch tri-tip burrito will only set you back $6.73. But be advised that T's is cash only, so that 7-Eleven next door might come in handy if you need an ATM. 901 Tahoe Blvd. Incline Village. 775-831-2832
Bite American Tapas
Half neighborhood comfort food joint and half cool urbane hideaway, Bite brings the best of Tahoe's down-to-earth panache to a spectrum of small, sophisticated plates. Couples with cocktails settle into the sleek bar area as families and groups pack the busy dining room, all reveling in marvels like the creamy white bean dip (served with grilled bread and fresh-peeled carrots), jerk prawns around a zesty nest of jicama slaw, and the otherworldly grilled ahi sliders, featuring two slices of refreshing ahi topped with crisp arugula and a roll layered with wasabi ginger aioli. Patient diners can look forward to the Andouille sausage and shrimp gumbo, which the kitchen cooks to order one piping-hot bowl at a time. The spicy, meaty mélange is well worth the wait—and if you're not tempted to keep it all to yourself, Bite will split the order into two bowls upon request. Sharing never tasted better. 907 Tahoe Blvd. Incline Village. 775-831-1000. bitetahoe.com
The Cork & More
With its bevy of beautiful beaches, Tahoe is the picture-perfect place for a summer picnic, and for us, there's no better spot than The Cork & More to plan one. Start at the front of this foodie's paradise—which, on our first visit, instantly reminded us of a mini Corti Brothers—and choose from a deep selection of gourmet cheeses like Roquefort and Humboldt Fog, then move over to your left to peruse the 600 different wines (owners Jim and Kim Warlow focus on smaller, lesser-known producers like Italy's Terlano and California's Belle Glos). If beer's more your picnic drink of choice, the South Shore grocer also carries an impressive selection, including a few familiar labels like Sacramento's Ruhstaller and Rocklin's Out of Bounds (those longing for a taste of home will also delight at the sight of truffles from Arden-Arcade-based Le Grand Confectionary at the chocolate counter). Finally, in the back deli, stock up on sandwiches like the Englishman (Niman Ranch roast beef, horseradish and cheddar) and sides like broccoli slaw and rosemary grilled squash. Now you just need a picnic blanket and a big appetite, and you'll be all set for the best takeout meal under the sun. 1032 Al Tahoe Blvd. South Lake Tahoe. 530-544-5253. thecorkandmore.com
The Brewery at Lake Tahoe
If kicking back with a hometown brew sounds like a sip of heaven, then this South Shore watering hole and restaurant will hit the spot after a long day on the trails or even as a day-trip destination by itself. But you don't need to drink beer to get the most from this hops haven, where the brewery's signature Bad Ass Ale—a malty, heavy-duty red that weighs in at 9.2% ABV—goes into everything from pint glasses to pizza. The latter is some of the best and most adventurous in the Tahoe region—don't miss the insanely good Thai chicken pizza featuring spicy peanut sauce topped with cheese, chicken, red onions, mushrooms, peanuts, bell peppers, garlic and a green onion garnish. Go early to grab a table on the front patio and let the sunny, lazy lake-going hours drift by. 3542 Lake Tahoe Blvd. South Lake Tahoe. 530-544-2739. brewerylaketahoe.com
Where to Stay
Basecamp Hotel at South Lake Tahoe
A converted motor lodge, this 50-room hotel opened in 2012 under the ownership of two developers, including a former executive of the playfully stylish Joie de Vivre boutique hotel chain whose roster includes Sacramento's Citizen Hotel. They gutted the old motel and conjured the region's most design-forward budget accommodations (rooms start around $99, depending on the season) with a mixture of eco-friendly, industrial design and mountain comfort. The "Great Indoors" room, for instance, features a queen-size bed nestled inside a canvas tent, complete with lanterns, a faux wood fire "burning" just outside the tent, a picnic table, a large wall covered by a forest photograph and a ceiling dotted with glow-in-the-dark "stars." Steps away from the casinos at Stateline and the private Lakeside Beach (which guests get access to), Basecamp is walking distance to gambling, the lake and the Heavenly gondola. There's also a rooftop hot tub and nightly s'more making on the patio fire pit. But light sleepers might want to bring earplugs; the walls and floors are a bit thin, so book a top floor room to minimize noise. Rooms $99-$229. 4143 Cedar Ave. South Lake Tahoe. 530-208-0180. basecamphotels.com
The Ritz-Carlton, Lake Tahoe
The name "Ritz-Carlton" may not immediately call to mind those lazy, hazy, crazy days of summer, but its property in Truckee—the only AAA Five Diamond mountain resort in California, which in April was named one of the 10 best lakeside hotels in America by Fodor's Travel—doesn't turn up its nose at old-fashioned Tahoe family fun. The hotel's recently opened casual dining restaurant, Backyard Bar & BBQ, offers outdoor family cookouts ($39 for adults, $20 for kids) every Friday at 5 p.m. until Sept. 5, rounding out specialties like its barbecue pulled pork sandwich and house-smoked ribs with seasonal sides like a refreshing tomato cucumber salad. Visitors can play lively lawn games like bocce and, when the day starts to wane, head over to the fire pit to craft artisanal s'mores with a resort "Marshmalogist" who will enlighten visitors on the history of the sweet treat. Nab a specialty marshmallow while you're at it, like ones flavored with fresh mint from the on-site garden of executive pastry chef Maarten Vankruyssen. Rooms start at $299. 13031 Ritz-Carlton Highlands Court. Truckee. 530-562-3000. ritzcarlton.com/laketahoe​
Black Bear Inn
This rustic and romantic B&B on South Shore—so swoon-worthy that it made cameo appearances on two seasons of The Bachelor—makes an elegant starting point for exploring the great outdoors, or simply getting away from it all, whether in the inn's spacious great room (with its 34-foot vaulted ceiling) or the hot tub gazebo or on the pine tree-lined walkway that leads to quiet cabins, each with a private outdoor patio and king-size bed with plush Ralph Lauren bedding. Proprietors Kevin Chandler and Jerry Birdwell begin each day with a full breakfast for their guests (including specialties like their eggs Benedict served with broiled tomato, prosciutto-wrapped asparagus and a poached pear) and wind things down in the evening with complimentary wine and cheese from 5-6 p.m. Rooms and cabins $225-$470. 1202 Ski Run Blvd. South Lake Tahoe. 530-544-4451. tahoeblackbear.com
Hyatt Regency Lake Tahoe Resort
From the high-rise rooms with views overlooking the lake to the lively pool and patio sequestered among the high trees, every inch of this Incline Village retreat has been the beneficiary of a recent $28 million renovation. Beachgoers in particular will love the updated waterfront cottages, which boast posh new interiors to go along with the hotel's private shorelines just outside their front doors. If getting on the lake this summer is as important as getting in it, guests and visitors alike can set sail on the Sierra Cloud—the resort's 55-foot catamaran where a two-and-a-half hour, $70 sunset tour includes live music, wine and hors d'oeuvres. Alternatively, stick to dry land for happenings like the Hyatt's annual Wine on the Water charity event, where about 25 wineries from around the region will pour their wares by the waves. Rooms start at $259. 111 Country Club Dr. Incline Village. 775-832-1234. laketahoe.hyatt.com
The Landing Resort & Spa
This new kid on the hospitality block just opened in December and is already ranked No. 1 among all South Lake Tahoe hotels on TripAdvisor. And no wonder: The Landing Resort & Spa boasts luxe amenities like fireplaces and marble bathrooms with heated floors in all 88 rooms. And many of them feature lake views (although for the best Big Blue vistas, book a lakefront room in the Birch or Cedar buildings), as does the resort's restaurant, Jimmy's. Named after Jim Demetriades (who owns The Landing with his wife, Nancy) and owing to his Athenian heritage, the eatery—anchored by a dramatic onyx wall near the entrance—focuses on Greek cuisine with menu items like carrot keftedes (a vegetarian meatball dish served with carrot tabbouleh and tahini yogurt) and wood-grilled lamb cutlets, which executive chef Maria Elia made when she appeared on the Today show in May. After fueling up, take a complimentary cruiser bike out for a spin, or sit back and relax in the Mercedes Sprinter house car that will shuttle you anywhere within a four-mile radius. Whichever way you decide to go, at this boutique hotel, you'll feel like you've already arrived. Rooms start at $219. 4104 Lakeshore Blvd. South Lake Tahoe. 530-541-5263. thelandingtahoe.com
Zephyr Cove Resort
At this 75-acre resort just a few miles from the hustle and bustle of casino alley at Stateline, Zephyr Cove's 28 cabins (including seven lakefront ones with private decks) combine rustic charm with modern comforts like free Wi-Fi and cable TV. But nestled between towering pine trees and steps from one of Tahoe's best beaches, you likely won't be spending much time indoors anyway. Right outside your log cabin walls, the resort bustles with activity, from paddleboarding to horseback riding, kayaking and rides on the M.S. Dixie II (our favorite is the sunset cruise, where, after a four-course dinner that takes you to Emerald Bay and back, you can cozy up on the deck and hopefully see a shooting star or two). If you're traveling with family or a large group, book Cabin 24, a two-story, four-bedroom chalet that sleeps 10. Back on land, the resort's restaurant—which underwent a major makeover last winter and has been updated with natural log accents, distressed wood floors and mason jar chandeliers—boasts a top-notch brunch with sublimely textured pancakes (secret ingredient: malt powder) that are alone worth the visit. Cabins $95-$600. 760 Hwy. 50. Zephyr Cove. 800-238-2463. zephyrcove.com