True Blue
If Sacramento is the River City, then Gregory Kondos has been its most faithful champion. Long celebrated for his local landscapes that employ virtually every shade of blue in the spectrum, the soon-to-be 90-year-old painter is about to get the birthday present of a lifetime—his first solo show at the Crocker in 20 years. Blue skies are here again.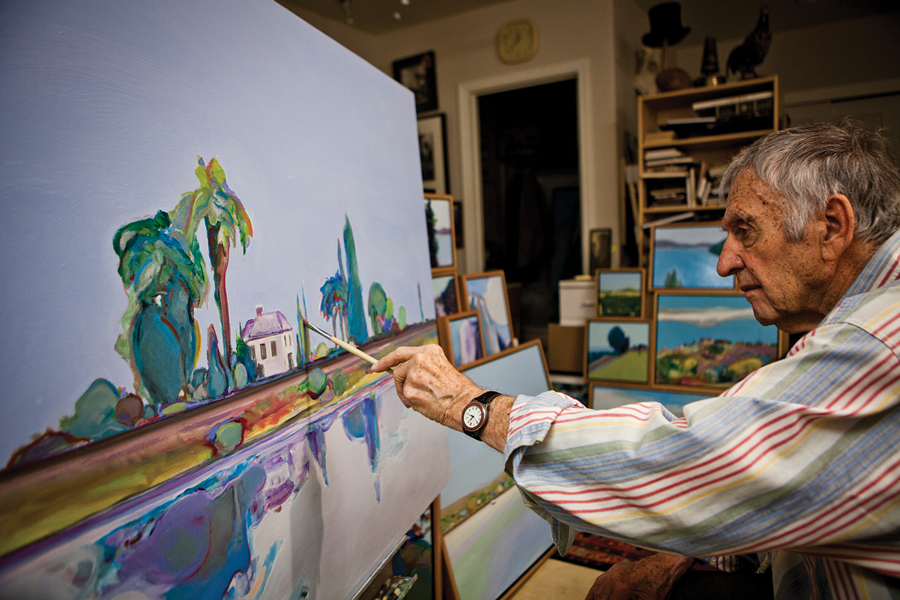 L
Like other great artists from the Sacramento area—such as Robert Arneson, Mel Ramos and Wayne Thiebaud—Gregory Kondos can be easily found in any number of encyclopedias and reference books. But unlike his peers, Kondos can also be located on Google Maps. It's quite easy to find where Kondos, one of the finest Sacramento painters of his generation, lives and works. You simply navigate the grid that is midtown Sacramento until you come to the street that bears his name: Kondos Avenue. This "avenue" has, in fact, a fairly modest provenance. It's a former alleyway, a shaded funnel of a side street that runs two short blocks between P and Q streets, starting at 12th Street and ending at 14th.
The midtown-grid approach to Kondos' home means passing under lampposts bearing banners festooned with art by his close friend and fellow Sacramento painter, Wayne Thiebaud. Considered one of America's foremost living artists, Thiebaud is a few years Kondos' senior. (Kondos was born in 1923, Thiebaud in 1920.) These banners are for the Crocker Art Museum, and soon enough the same lampposts will likely bear images of Kondos' own paintings, since he has a massive exhibit—A Touch of Blue: Landscapes by Gregory Kondos—opening at the museum on Feb. 24, two decades after his last major Crocker solo exhibit, which occurred in 1993. The new show will close nearly three months later, on May 19, and during the interim (on April 2), Kondos will turn 90 years of age. The landmark Crocker show will feature approximately 70 works, and in anticipation, the museum will release a nearly 300-page monograph on the painter's art in early February. The book features an appreciation by Thiebaud, in which he describes Kondos as a member of the family and singles out Kondos' unique character: "His avuncular role and generous attention have been treasured."
Kondos has much to celebrate in addition to this milestone birthday and coinciding exhibit. His work is shown and collected around the globe, most recently throughout China—an increasingly major force in the 21st-century art world—which has embraced his work by showing his paintings in three major museums there. In the U.S., museums from Monterey to Tucson to Washington, D.C. (the Hirshhorn), in addition to the National Academy Museum & School of Fine Arts in Manhattan, have obtained his work. Closer to home, his work hangs prominently in the Sutter Club and at the Sacramento International Airport. A predominant portion of that work not only displays the greater Sacramento area—perhaps most notably his hypnotically horizontal images of the Delta—but has become representative of the region; a Kondos even hangs in the D.C. home of a member of the House of Representatives (Congresswoman Doris Matsui is a collector and a friend of the family). His work also provides a symbol of home to Eleni Tsakopoulos Kounalakis, the Sacramento-reared U.S. Ambassador to Hungary. (The ambassador is the daughter of the well-known real estate developer Angelo Tsakopoulos, also an avid Kondos collector.) She says, "In my office at the Embassy the first two things to go on the walls were a photograph of Hillary [Clinton] from Brigitte Lacombe, and a painting by Greg called Vineyards. Greg is the master of blue, and all the shades go well with the American flag."
All said, not bad for a kid who moved with his family to Sacramento in 1927 at age 3, having been born to Greek immigrants who didn't speak a lick of English.
Indeed, like the avenue that is named for him, Kondos comes from modest provenance. Though he's often mistaken for a Sacramento native, he was, in fact, born in Lynn, Massachusetts—a short drive north of Boston—in 1923 to Kanela and Steve Kondos, who had relocated to the United States from Greece six years prior. But after 86 years in this area, the few he spent elsewhere earlier are equivalent to a mere rounding error. Gregory Kondos' story is Sacramento's story, and like all historic Sacramento stories, it is an admixture of urban and rural; it takes place in the shadow of the state Capitol, and it unfolds along the river.
*****
On humble Kondos Avenue, an enormous crape myrtle in full bloom stands guard as you make your way up to the front door, which is actually on the second floor of the building. An American flag hangs in the windless morning light, displayed at just the correct angle for no wrinkles to sully the stars and stripes. The front door opens into a sizable, two-story living room that's an art gallery unto itself. The works are hung salon style, mere centimeters between pieces, the walls a brain twister of a puzzle of variously sized paintings, prints and sketches. It's like if the Louvre were a level in Tetris. A Thiebaud of candied apples shares wall space with, among many others, works by Nathan Oliveira and William Gatewood, the latter the deceased brother of Kondos' wife, Moni Van Camp-Kondos. (She is his second wife. The two met after his first wife, Rosie, passed away from cancer in 1985. It's with Rosie that Kondos raised their two children, who have significant accomplishments of their own. Son Steve Kondos is an Aerojet engineer who helped build the first Mars Rover. Daughter Valorie Kondos Field is in the Athletics Hall of Fame at UCLA, where she coaches women's gymnastics.)
Moni is a whirlwind disguised as a hostess, ready with fresh croissants, hot coffee and enough rapid-fire anecdotes to fill a book. She knew him first through his art, and met him at an exhibit six months after Rosie died. "I bowed," she says, in a tone that still approximates awe.
Following a domicile docent tour of the seemingly countless pieces of art displayed, a narrow, winding staircase leads the way down to Kondos' economical first-floor studio. The room is packed with books, lined with paintings in all stages of completion, filled with the low-level sound of a TV newscast, and decorated with hat after hat after hat—not just the cowboy style that Kondos often wears, but the odd fedora, and also a horse-riding cap from daughter Valorie's youth. This is the studio where the painter spends the majority of his days when he and Moni aren't traveling.
Unlike most nearly 90-year-olds who favor hats, Kondos still has quite a bit of hair. He is slight if not quite frail, and a little stooped. He is 89, after all. His eyes, however, are as clear as one might wish to have at such an age. They're the eyes of someone with half his years.
Kondos immediately jokes about the street having his name. His tone isn't aw-shucks modesty so much as that of someone who takes particular pleasure in making fun of his own lack of modesty: "The first week that we had the garbage picked up, everybody brought their garbage out here, and they had 'Kondos' on every garbage can," he says. "I was standing up there like Mussolini. I said to Moni, 'Look at this: I finally made it.' "
Of course, he had long since made it. The Kondos Avenue naming was the result of his distinction, not the cause of it. His name had already come to adorn a more prominent Sacramento location, the art gallery at Sacramento City College, where he taught for nearly three decades. His name also appears, among other places, on the wall at the Sacramento International Airport, where the massive, 570-foot-long River's Edge—constructed from etched and colored glass in 1998—welcomes new arrivals. Also on display is his Sutter's Gold, a new work installed in 2011, which lets people passing through to and from Terminal B feel like they're at another juncture entirely: the North Fork of the American River.
Kondos Avenue was established by local Greek developer Sotiris Kolokotronis in 2001. "He's a puppy," says Kondos of Kolokotronis, noting the generational gap. "He gave me some perks when we moved in," adds the painter, who was living with Moni in the Delta city of Clarksburg at the time. Asked to list the perks, he points thankfully, and without any irony, to the ground-floor bathroom. "[Sotiris] said, 'If you move in, I'll have the city name the street after you.' I said, 'I'm ready to move because of my age.' I had to get closer to the hospital. And that's how we got here."
This small studio area is the center of Kondos' existence, and so much of his ongoing activity is evident in it. There are small-scale line drawings in charcoal and pencil, tracing contours of the landscapes from his travels to France and China and elsewhere. There are also larger-scale images, closer to completion, the light blues of his sky and his florid earthy palette on full display.
Fred Dalkey, an accomplished Sacramento painter in his own right, is almost exactly two decades Kondos' junior, and he eagerly accepts the opportunity to sing the praises of his former teacher and mentor. (At Sacramento City College, Dalkey studied under Kondos, who also got his student a job there as an instructor.) Dalkey speaks in particular of that Kondos palette: "It's always sunny in a Greg Kondos painting. You don't see a lot of clouds, and you only occasionally see a night painting or drawing—they're fascinating because they're so rare."
Night may be rare in Kondos' oeuvre, but it's nonetheless essential to it, as his schedule shows. Kondos sleeps so little, his day can be said to start at any point on the clock. He'll go for a walk, catch up on the televised news and have dinner. Then comes bed, though that's really just the beginning of things. "I get up early," he says. And when he says early he means early. "Between 2 a.m. and 6 a.m. I am up and painting. It's quiet. My wife is sleeping. This morning I was here at 3 a.m. I'd rather be down here, just looking at my work." If the octogenarian's eyesight is enviable, the same can be said of his productivity. People who find themselves on Kondos Avenue in the middle of the night and see a light on are likely witnessing the room where Kondos is hard at it, pulling out a work in progress, nudging it toward completion. Once a work has dried for four to six months, then it's time to varnish. The smell of varnish and paint fills his studio. A young woman from a San Francisco gallery drops by for a visit, and he jokes that the smell is his cologne.
There will be one more Kondos address, truth be told, and he treats it with his usual mix of humor and bluntness. He tells a story about visiting East Lawn Memorial Park, off Folsom Boulevard, to discuss burial plans. He'd intended to be cremated, but was going through with what he describes as his kids' wishes. He met with a woman who handled the sale of plots. "I said, 'I just wanna make sure that nothing screws up, because I'm doing this because of my children.' She said, 'Don't worry, we'll take good care of it. In fact we're going to put a flag out there with your picture on it, and your name.' They've got some VIPs—congressmen and stuff." This posthumous tribute would put him alongside such historic figures as William Land, and such contemporary figures as Joe Serna, the former Sacramento mayor, and Robert Matsui, the late congressman and husband of Doris Matsui. Kondos' joke would be morbid were its subject not its teller, and were the teller not so vibrant; his point is evident: in death as in life, accomplishment has its perks.
*****
If his connections to the Greek community helped keep Gregory Kondos in Sacramento, it was an affinity for Greece that initially drew his family to the area. "Fruit trees, agriculture, the Delta—Greeks are warm-climate people," Kondos says. The hot summers and mild winters of the Sacramento Valley, which is often described as having a Mediterranean climate, were a lot more like the old country than were the winters of eastern Massachusetts.
The Sacramento River was central to the Kondos' life—it fed the family and provided some of the painter's earliest memories: "I fished all the time. But my dad had to catch a fish, I didn't. If I caught a fish, fine. But if I didn't, fine, didn't matter. I just sat there and looked at the river and the trees."
Kondos and his parents initially lived near 34th and C, where his dad built a home with grants provided by the government to veterans. His father, Steve, had fought during the first World War for the U.S., and he was wounded in France; "mustard gas and other things," says Kondos. "He came home in a stretcher." The veterans benefits also paid for some education, and his dad studied to be a barber. He describes his mother, Kanela, as selfless. With three children and a job in the cannery, she had no time to explore her own interests.
There were two other siblings, a brother and sister, but both have passed. As for the incorrigible Kondos, his main ailment is a bad back, and that dates from 60 years ago. He is also missing part of his ring finger and that's from earlier still: "I was 12 years old, playing tag in a supermarket parking lot with a bunch of kids on skates." He tried to avoid colliding with someone by grabbing a license plate of a parked car. "It had a hole in it," he says, "so my finger got in there." The finger is on his left hand, and he is a lefty, but clearly it has not adversely affected his output.
Following in his dad's footsteps, Gregory Kondos signed up for battle, this time when the U.S. entered World War II. He joined the Navy at age 19 and served on an aircraft carrier. "We'd take the big carriers into the war zone," he says. By this he means the Pacific Theater. "I was on the catapult crew. We used to shoot the planes off."
First came boot camp in Farragut, Idaho, after which he spent two years at sea, and he says his interest in art—more to the point, the opportunity provided by art—can be tracked to this specific moment. "That was where the art came in," he says, settling into a story whose telling he clearly relishes. "I had seen some guy from Life magazine come aboard in San Diego and I watched him draw. He did some watercolors. I thought that was magic, him drawing the planes and the flight crew. I had a tablet, and with a pencil, I drew people's dogs and wives and cats—little caricatures—to get a better meal." The meals were just the start of things. Eventually his ship captain called him to his cabin and asked him to draw his portrait.
Like his father, Kondos went to war for the United States and came home—fortunately, not on a stretcher. And he came home to the benefits of the G.I. Bill, which allowed him to study art—first at the Art Center School in Los Angeles (today the Art Center College of Design in Pasadena), and later at Sacramento State College (today California State University, Sacramento). After marrying Rosie, he taught art at Elk Grove High School before joining the art faculty at Sacramento Junior College, now Sacramento City College, from which he would eventually retire in 1982. During his 26 years at the school, his classroom produced such accomplish-ed artists as Dalkey and Matt Bult (Wayne Thiebaud's stepson).
He started teaching at the college in 1956 (initially filling in for Thiebaud, who was on sabbatical that year), but almost didn't make it past 1963. That's when he packed up the family and moved to Greece. "I got mad at the college over something stupid, who owned what, an easel," he says. "I was going to quit teaching totally. My wife said to take a leave of absence, which I did. I sold the brand-new house I had built by [local mid-century modern architect] Carter Sparks in River Park. I paid all my bills, sold my house, sold my car, parked some things with my mom, put my kids on the train, took that to New York, and got on a boat to Greece." He recounts this series of decisions and transitions with telling specificity, for like his encounter with his first art patron while in the Navy, Greece would be a major turning point: Greece in 1963 is where and when Gregory Kondos became the Gregory Kondos.
Despite the transformation of his painting that would result from the visit, he didn't paint at all while in Greece for those ten months. What did he do? "I lived as a Greek in my mother's and father's village," he says, "and I experienced what I wanted to, which was to find my roots. I watched the sun go down near the ruins, out at sea, the reflections in the water, I picked olives with the villagers, I sold sheep."
Scott A. Shields, chief curator and associate director of the Crocker Art Museum, notes the transition: "Kondos' early paintings are darker, more golden, coming out of a Gauguin aesthetic." He points to Kondos' own attribution of that change to his experience in Greece. "He saw the quintessential whites and blues, and discovered shadows, and says, 'That's when I became an object painter.' " Asked what he was before this "object" orientation, Kondos considers for a moment and replies with a single word: "Decorative."
Kondos' daughter, Valorie, concurs. When asked about the Delta paintings, she says they make her think less of Sacramento than they do of the Greece her family visited regularly throughout her childhood and adolescence. Valorie was 4 years old during that first trip. "The water I associate more with being in Greece," she says.
Though Kondos was raised in a family that spoke Greek in the home, and in an area with a large and prosperous Greek population, he says he never really felt Greek until he landed in Greece in 1963 at the age of 40. (The family name had been shortened for unclear reasons from Kondoravthis. There are at least two competing versions of the story: "My father said his captain said, 'If you don't shorten your name, I'll shoot you myself.' And there's one [other story] where when he came through Ellis Island they shortened it," says Kondos.)
*****
Back in the U.S., Kondos quickly made up for lost time. The "decorative" work of his earlier years now transformed into an emphasis on landscape. This is the work that largely defines the Crocker exhibit: the vineyards, the haystacks, the Yosemite scenes, European landscapes and, of course, the many, many vantages on the river delta. A characteristic item is the massive, 12-foot-long, 5-foot-tall River Mansion (1992), another from the collection of Ambassador Kounalakis: the sky is a vast expanse of placid light blue, the water surface a soft muddle, like some god had come down and smudged the reflection lovingly.
Another of Kondos' major works is Lost Sheep Ranch, Ramah, New Mexico (1991), which hangs at the Tucson Museum of Art. It's a vertical work, composed half by a thickly striated mountainside, and half by open sky; ribbons stretch across the wide canvas where the colored bands of exposed hillside meet the various shades of blue and white that fill the air. Christine Brindza, the museum's Art of the American West curator, speaks to the transformative role that Kondos has played in our conception of landscape painting: "He really brings forth a new understanding of how to view the landscape. He's breaking it down for us. He's throwing out the typical version of the West and putting in these bright, expressionistic colors."
Kondos' landscape work has brought him particular attention recently in China. The Ningbo Museum, the Shanghai Art Museum, and the Power Station of Art museum in Shanghai all have Kondos' work. He was introduced to the Chinese art industry—to museum curators and to collectors—by the artist Shimo, who was born and educated in China and lives in Sacramento; his gallery, the Shimo Center for the Arts, is on 28th Street, at the fulcrum point where 29th gracefully transforms into the perpendicular W Street. Kondos has also begun to paint the China he visits, adding more territory to his geographic repertoire.
Kondos has devoted much of his life to painting the outdoors. Some 30 of these years, by his estimate, he spent at various times sitting back to back with Thiebaud, painting en plein air. Asked about the experience, he likens it to a mix of company and a mutual sense of ambition: "It's like turning on the radio in your studio. The idea is, art is not a lonely thing. And if you have someone else hungry for knowledge and execution—well, I luckily found Wayne and he found me. We were both students together, and we felt we knew more than our teachers." (More often these days he will sketch a rough image on charcoal and then bring it back to his studio, which is when the work really begins.)
His importance to the Sacramento area, though, wasn't restricted to his teaching and his painting. In 1958, he and Thiebaud, whom he met almost a decade earlier while studying art, had founded the Artists Cooperative Gallery with fellow artists like Robert Else, Patrick Dullanty and Fred Schmid, and future Tower Records impresario Russell Solomon. "We couldn't show our work," Kondos says of the void that the gallery filled, "so we met at my house and we decided to form a cooperative gallery with $10-a-month dues just so we can pay the electricity and the rent and insurance. Russ was the silent partner. He came in and made sure we could cover our debt."
Solomon modestly diminishes his importance, saying he just helped on the business side because the artists didn't know much about such things. "He was determined," says Solomon of the young Kondos. "He really believed in himself, I tell ya, and in the idea of being successful as an artist, in driving forward and letting people know that he was on the cutting edge, or thought he was at least. He believed it."
Solomon jokes that he can't afford Kondos' work anymore. "He got too good for me." The one painting he owned, a pre-Greece piece dating from 1957, is now in the possession of his former wife, Doris Solomon.
*****
For many artists, teaching is a means of paying for rent and art supplies. But the Crocker's Scott Shields argues that pedagogy is part of who Kondos is. "Kondos is always teaching," he says. "It's so innate to his character. And that sort of was my first experience, too." Shields recounts a drive he and Kondos took together to the latter's Clarksburg studio. "We're driving along the river, and he pulls over and says, 'I stood here to paint this painting and this house.' It was always like I was being taught, and that hasn't really ever changed."
Kondos does not challenge the association. "You're going to hear a lot from me about education," he says, "because I taught for 30 years and I have an ego, and I did a damn good job."
One local artist who can speak firsthand of Kondos' generosity as an instructor is Matt Bult, Wayne Thiebaud's stepson, who grew up with Kondos as a family friend. "I've kind of known him my whole life," says Bult. "He demands we refer to him as 'Uncle Greg,' " thus confirming Thiebaud's depiction from the appreciation he contributed to the Crocker book about Kondos. "He was also my teacher when I was at Sacramento City College in the late 1970s," says Bult. "I went on a painting trip with him, just he and I, in 1986." The two drove around the Southwest and painted together. "We would pull off the road, sketch and do watercolors, and talk about our love of nature and Cézanne, our hero." Bult refers to the trip as "a magical experience," recounting the landscape Kondos and he navigated: "The hills and canyons with the strong lights and ever-changing sky, the red earth."
The sky in a Kondos painting is anything but ever changing. It is a near constant: blue. Shades of blue, certainly, but blue nonetheless. There are so many blues in Kondos' work, most notably those in the sky, and also the water. There is, in addition, the blue in his shadows and in his foliage, in his mountains and even, amid the
occasional cityscape, in his depiction of architecture.
Kondos says the ubiquitous blue of his work blossomed during his 1963 Greece trip, but really took root—and became the resplendently variegated blues we think of today in terms of his output—when he settled into life back in Sacramento. "Over there, it's a very light blue, with clean air from the sea," he says. "Here, it would have some green in it, different blues for different areas—the foliage in the surrounding area, with the fruit trees and grapes, which have big leaves and various kinds of greens. And that all mixes together with the water, which comes out of the mountains."
This blue, in combination with a dependable stillness, can often come across as placid, which isn't exactly an attribute people would associate with this irascible elder spokesman of Sacramento art. There are differences of opinions from whence the placidity originates.
To daughter Valorie, the contrast is a source of humor. "His art, that serenity you feel in his art, is really the only place you see that side of his personality, because he is so volatile, so opinionated," she says, laughing. "His artwork is so calming and serene, and that comes from him, obviously. But you would never describe Greg Kondos as calm and serene."
Dalkey suggests the contrast is about personal balance: "He's extremely passionate, both positively and negatively. He's really engaged at an emotional level about everything. Maybe that placid feeling of his paintings is something that completes him."
One of his biggest fans, Congresswoman Doris Matsui, has her own take. She speaks deeply and fluently about Kondos' work, and his meaning to the area. As the representative of both Sacramento and West Sacramento, she says the river is central not only to Kondos' work, but to her own sense of the region. She owns three works by Kondos: a painting of the river, which hangs in her Sacramento office, and two prints, one in her Sacramento home and one in her Washington residence.
The congresswoman doesn't see placidity in Kondos' work. She agrees his paintings look reflective, but that is just the start: "The orderliness, the colors, you know there's an intensity in there, a dynamic. And if you look at it long enough, you know it's not static." She has a term for what she sees in a Kondos: "quiet passion."
Kondos' wife, Moni, focuses on the restraint inherent in Kondos' craft, and she echoes Matsui's consideration of deeply sublimated emotions: "I think when he gets the brush in his hand, because of the simplification of the form, he is able to give a serenity to his passion."
Kondos takes pains to make sense of this perceived divide between his personality and his work, between the intensity of his own charismatic presence and the ease with which his work hangs on a wall. When asked about it, he talks about many things: the seriousness of his approach, the lessons from the action-mindedness of abstract expressionism. Finally, he just says, "I had to clean my brushes, too." In other words, painting is a time-consuming process; patience is an intrinsic part.
Whatever it is that allows for both Kondos the free-speaking artist and Kondos the ardent chronicler of the Sacramento region, art has been as central to his life as his art has become central to Sacramento's. And at the center of both his life and that of the Sacramento area are the life-giving rivers.
"I had a little green rowboat, an eight-footer. I bought it for $25, and one winter the storm came up and the little boat disappeared. I used to go out there and anchor it and throw my line and fall asleep, practically," says Kondos, thinking back to his teen years spent on the water. "I knew I was a painter, somehow. I wasn't in full bloom, but I was always aware how mysteriously the river works. And I think I came up with an answer when I began to paint."