True West
In his day job, Cornel West is a Harvard professor, a "New York Times" best-selling author, a national authority on race and a passionate advocate for the poor. In his spare time, he's appeared in two of the three "Matrix" films (because, well, he helped inspire them), recorded three albums, and is taking meetings on the 2020 presidential campaign trail with Bernie Sanders and Cardi B. At a time when the country feels hopelessly divided, this nearly native son of Sacramento—and a "jazzman in the world of ideas"— has a message of love and compassion for all races, religions and political persuasions. And no matter how far he ventures from home, he carries with him a moral compass that unfailingly points west.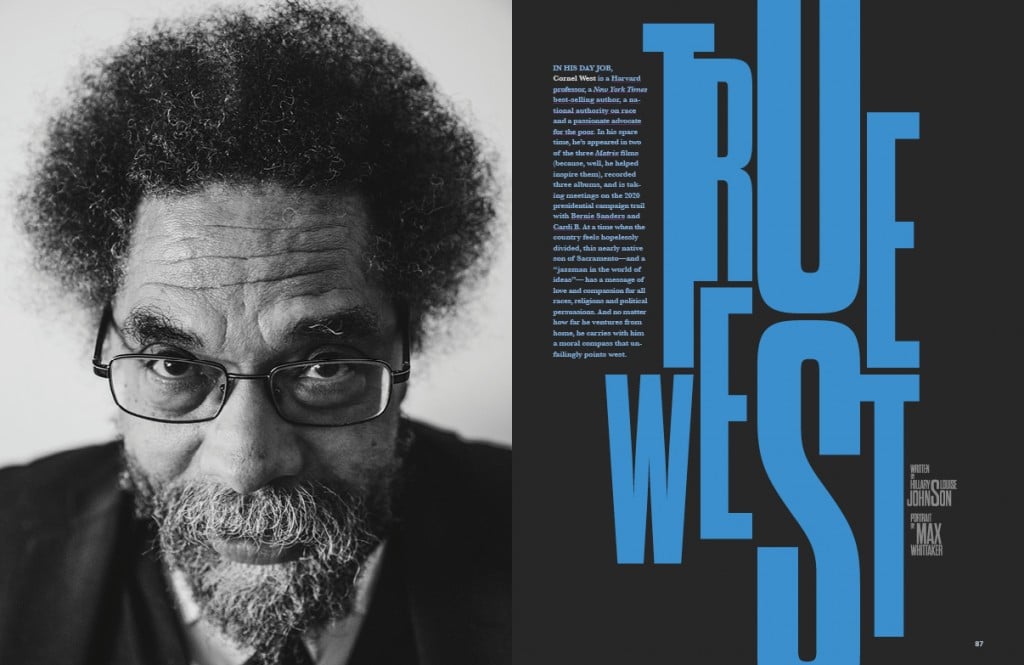 C
Cornel West answers the door of his mother's South Land Park Hills home in his signature uniform: a black three-piece suit and starched white shirt, with cuff links and a pocket watch chain that makes him seem a little like a character out of Lewis Carroll—and he is, by virtue of his consistently hypomanic schedule, always on his way to a very important date. He's wild-haired and wild-bearded, claiming to have never shaved, not once in his adult life, simply because this quotidian task struck him as a colossal waste of time. And in sixty-some years he hasn't squandered but a second or two.
"Hello, sister," he says in that gravelly, sonorous voice of his, then cuts right to the point, even with a total stranger. "And how are your loved ones doing? Everyone all right?" If Cornel West cares enough to book a conversation with you, he cares enough to make sure you're good before beginning.
"Mom! Cliff!" he calls out abruptly in a voice that breaks, becoming suddenly high-pitched, the way we all have a juvenile "home" voice that reemerges when we're back in the family abode. Now the Sacramento boyhood is imaginable, despite the curious undertaker attire and despite the weight of the pedigree.
Harvard. Princeton. Yale. Princeton again. Harvard again. Twenty-two books. One groundbreaking doctorate and over 20 honorary doctorates. Three hip-hop albums. Two cameos in the Matrix trilogy. Cornel West is a notable, if peripatetic, academic lion with an astonishing number of top-drawer (and just plain gonzo) credentials, a level of overdriven, excessive output only partially explained by the fact that he sleeps only three hours a night.
The suit seems out of place in the West family home, which his parents, Clifton and Irene, bought in 1967, making them early integrators of the neighborhood. Or does it? Much of the West family's civic and spiritual life has revolved around their membership in Shiloh Baptist Church in Oak Park, founded in 1856 and led during West's childhood by the mesmerizing orator Rev. Willie P. Cooke, whose style and impact he has even compared to that of saxophonist John Coltrane. West—whose paternal grandfather was a pastor—too has a bit of the preacher about him, and comports himself as one who has been called to serve, so the vaguely ecumenical uniform then seems fitting, one less worldly thing to distract from the things that matter.
"I've kind of always called it what Martin Luther King did, which was cemetery clothes," West says with a mix of sincerity and lighthearted self-awareness. "When he was organizing down in Birmingham, he'd tell people, 'I want you to come in your suits, because those are your cemetery clothes, and you've got to be ready to die for this movement. You've got to be coffin ready.' "
He currently owns three of the nearly identical suits, one of which was given to him by a preacher who sent him to his own tailor after being shocked at the threadbareness of a previous version. That's how little attention West bequeaths to such worldly concerns (Irene buys him three new Brooks Brothers shirts every June for his birthday, not to mention a new set of pajamas, also from Brooks Brothers, every Christmas).
The fact that he's wearing the uniform while sitting in his childhood home's living room is a subtle sign that West is, like a minister, always on the job, always ready to address his audience, in the classroom, on TV or in the field. And at a moment when the issue of race in America is taking center stage once again, that audience is growing quickly.
**********
After his visit home to Sacramento in early July, West flew directly to Las Vegas to introduce Sen. Bernie Sanders at a church in a predominantly Black neighborhood. West has warm personal relationships with an astonishing number of the Democratic hopefuls. Only weeks prior, another presidential candidate, Andrew Yang, tweeted out a photo of himself with West, saying that the Harvard professor's seminal book Race Matters "influenced me greatly." Cory Booker—who was in a monthly discussion group with West for 13 years ("Cory has always been much more moderate than I have been," West says fondly, "but that's all right.")—recently told CBS News that West was one of the authors on his Audible queue. West and Elizabeth Warren were friendly colleagues at Harvard, and he has known Kamala Harris since she was a toddler "running around" while he and her father Donald, whom West calls a "a sophisticated leftist economist" participated in another study group at Stanford. Pete Buttigieg's late father—a literary scholar at the University of Notre Dame—was also a "close, close, close brother," and West used to slip "little Pete" some pocket change. The Dems are his family—loved despite their flaws—even if almost none of them, save for Sanders, are radical enough to earn his endorsement.
Then in mid-July, Donald Trump tweeted that members of "The Squad"—freshman congresswomen Alexandria Ocasio-Cortez, Ilhan Omar, Rashida Tlaib and Ayanna Pressley—should go back to the countries they came from (all were born in America, except for Omar, who moved to the U.S. as a refugee from Somalia when she was 12), and as new questions about the nation's descent into racial divisiveness burst into the national consciousness, there was West on CNN with Anderson Cooper, and there he was again, sparring on Laura Ingraham's show on Fox News.
Days later, he stopped by Woodland Hills to record an episode of The Joe Rogan Experience, a popular podcast that covers everything from biohacking to politics to UFOs and is sometimes associated with the more libertarian factions of the right. Rogan's listeners cross a lot of political and cultural boundaries, but they include a large number of white males (A New York Times article last year counted Rogan as one of a new crop of "podcast bros").
"Like a great jazz musician, he has different styles," says Henry Louis Gates Jr. of Cornel West. "He is multi-vocal. He has different forms that are appropriate for different occasions and different audiences. That's a sign of genius."
West and Rogan hit it off, and as the two-hour verbal jam session came to a close, Rogan declared it "one of my favorite podcasts of all time."
"Oooh-ooh, we had a ball," West says when he calls to catch up from a hotel room in Detroit, where he's getting ready for a dinner with Bernie, rapper Killer Mike and newly minted supporter Cardi B, on the eve of the July Democratic debates. "The response has been extraordinary. I can't get through an airport. People listen to that brother," says West, delighted to have reached an entirely new audience who recognize him from watching Rogan on YouTube. "And it's not the glittering, chattering classes, it's just everyday working people."
West doesn't care a whit that fans of The Squad and fans of Rogan may rarely cross paths in any of Facebook or Reddit's echo chambers—he's just happy to be sparking discussion.
**********
For Cornel Ronald West, 66, this mission to encourage dialogue has its roots in an extraordinary Sacramento childhood, which he's all too happy to discuss on this summer afternoon, with family there to help supply the mnemonic cues. Memories aren't in short supply in the West home, where one entire wall in a den is festooned with medals, awards and certificates of achievement—so many have proliferated over the years that they're nudging each other akimbo. The rest of the décor in the house is formal yet humble—a beige velveteen sofa faces a brown leather one, flanked by cushioned regency-style armchairs, in a living room that establishes pride of place while remaining comfortable and welcoming.
His mother Irene is regal despite being all smiles, an impossibly tiny, straight-backed and elegant woman who gives the impression of someone who may never have been tired in her life. She's turning 87 the next day (the celebration the reason for Cornel's latest trip back to his hometown, which he visits five or six times a year), but seems more like a young 70. Brother Cliff, who is 68 and reads as 50, also looks nothing at all like Cornel. He's got a Harry Belafonte vibe, if Belafonte had been a track star and the president of a software company as well as a singer—Cliff is all three, his prowess as a track star presaged by none other than Black Olympic hero Jesse Owens, whose performance in the 1936 Berlin Olympics famously shamed Hitler. In 1975, Owens came to the house for dinner. "Jesse sat at that table right there and broke bread," Cliff says.
Everyone looks at the dining table where the Wests had family dinner every single night—younger sisters Cheryl and Cynthia too. ("Corn and Cliff on one side, like white on rice," Cornel wrote in his 2009 memoir Brother West, "Cynthia and Cheryl on the other side, like wet on water.").
"Isn't that amazing?" Cornel says, a bit of wonder in his voice at the memory. Owens was staying with their neighbor, in town to preside over the national Golden West Invitational track and field meet, which has been held in Sacramento every year since 1965. "And he said he could feel something deep inside of Cliff, that he was going to win the Golden West next year."
Which Cliff did. "But Cornel actually was going to be a better runner than me," the older brother says, quickly deflecting the attention, something both siblings continue to do, back and forth, so it's a bit like watching a tennis match.
"Well, neither one of us has a school named after us," Cornel deadpans, tilting his head toward Irene, namesake of the Irene B. West Elementary School in Elk Grove, an institution christened in honor of her pioneering career as a teacher and principal in the area. She laughs at the fact that she never realized until recently that she'd been the district's first Black teacher. (Overachieving runs in the family. Cynthia, born in 1955, was a star gymnast, and both she and Cheryl, born in 1959, had long, distinguished careers in government.) "Mama's an athlete of the mind, an athlete of the soul and an athlete of living," Cornel says.
**********
"We came to Sacramento in 1958 from Topeka, Kansas, when Cornel would be going into kindergarten," Irene says. Cornel, the second of the four West children, was born on June 2, 1953, in Tulsa, Oklahoma (the family moved to Kansas when he was just a year old)—all the kids were given "C" names, starting with Clifton Lincoln West III (the middle name honors the president who ended slavery). When asked about the origin of Cornel's uncommon appellation, Irene says she liked the name because of the "handsome" Hungarian-American movie star Cornel Wilde who was popular at the time.
Her husband, Clifton Lincoln West Jr., who died in 1994, worked for the Defense Department in procurement, and was offered a choice of several postings around the country. The Wests chose Sacramento for a complex of reasons. "I'm a Southern girl and I was trying to get away from the [segregated] South," explains Irene, who was born in Louisiana and grew up in Texas. "And we didn't want to go to Pennsylvania because it was too cold. I had a brother who was living in Los Angeles and he and his wife were very happy there. California, we thought, 'That's the place for us.' I think the good Lord wanted us to be here. It was by his glory, grace and mercy, because when we came, California was No. 1 in [public school] education, and here was this little boy…"—she waves her hand at Cornel in a parental whatever-will-we-do-with-this-one gesture, cracking the family up again.
Irene, ever practical, contacted the local chamber of commerce and asked them where the best place was for her family to live. "We came on a Sunday and bought our home on [that same] Sunday. It was in a biracial community in Glen Elder." The integrated neighborhood of single-family homes that lies west of Power Inn Road and north of Florin Road was prosperous and working class. Clifton West was the only father on the block who wore a tie to work.
"We had Shiloh Baptist Church, and all these families tied together into one grand community," Cornel recalls of what seem halcyon days in Sacramento. "So we kids were able to develop our personalities in such a way that we always could presuppose this strong wind at our back. That's a rare thing anywhere in the world, and it happened right there on the chocolate side of Sacramento."
Cliff was entering the third grade, Cornel about to start kindergarten; the two brothers were already inseparable. Back in Topeka, Cliff had been in the first class of kindergarten children to be integrated under Brown v. Board of Education, which both Irene and her elder son remember as largely uneventful, other than the sense of gravitas that comes with being a witness to history. Cliff let Cornel do homework with him, so by the time Cornel got to school in Sacramento, he was way ahead of the game. "Y'all doin' kindergarten stuff?!" he cries in that screechy home voice, laughing. "I did that years ago! I'm looking for Shakespeare!"
Irene and Clifton took their children to hear Martin Luther King Jr. speak at the Memorial Auditorium in 1964, when Cornel was 10. "I'll never forget it," he says. "It hit me so hard. I couldn't really follow all the analysis and so forth, but I just knew, here was a brother who was for real, serious about trying to love and serve people, and it was just such a beautiful moment."
Although Sacramento was a much smaller city back then, the family had a feeling of living large in the world, and that the world was theirs to inhabit. In 1968 they met then-Gov. Ronald Reagan at a meet and greet before that year's Golden West Invitational. Young Cornel confronted Reagan on policy, of course, but says the governor respected him for it. He was already accustomed to speaking truth to power by then, having gained a reputation for standing up to anyone and everyone. In grade school he was often in trouble for fighting. And as he recounts in Brother West, in the third grade, at age 9, he once struck back at a teacher after she slapped him for refusing to rise for the pledge of allegiance in class, and he was subsequently expelled. "Her request stirred up ugly memories of racist treatment of my family in Jim Crow Texas," he wrote, "and the piercing story of how my great uncle was lynched and his broken body was left hanging, wrapped in the American flag."
It's easy to imagine today's educational system failing an obstreperous student like Cornel. But Clifton and Irene's years-ago decision to move to California for the excellent school system paid off in this instance, when testing identified that the "problem" with her problem child wasn't simple delinquency—his sense of morality was matched by a restless intelligence that had him chafing at the constraints of his scholastic environment. So instead of slipping between the cracks, Cornel transferred into an accelerated program at Earl Warren Elementary the next year, where he skipped a grade and finally flourished. But even the advanced curriculum may have been no match for the budding scholar. One of his teachers commented on a report card that "Cornel is doing fine work, but seems quite unsatisfied with the class," while adding that he was "an enthusiastic talker" and "adds a great amount of knowledge to our discussions."
Cornel was precocious in other ways too, following Cliff to parties at a time when their age difference would have been most pronounced, Cliff, 15, and Cornel, 12. "Corn was fearless. He would pick out the finest girl at the party, Mona—and she's my age—and he'd go up to her and say," here Cliff puts on a Barry White baritone, " 'Would you like to dance?' "
The brothers crack up at the memory of little Corn, hip to hip and eye level with Mona's assets, grooving to Junior Walker & the All Stars. But that set of stories pretty much sums up Cornel's personality ever since: the impatient intellect, the fearlessness, a randy twinkle and the gift of soul.
**********
"Cornel was always a superstar," says Mel Cuckovich, a semiretired teacher who attended Will C. Wood Middle School with West. "He was not only a superstar in school—in the classroom he was brilliant—but as a person [too]. He and I were best friends for the three years we were in middle school together. One of my sons is a police officer today, and his Black lieutenant knew the West family, and knew the story of how this white kid, Cuckovich, and this Black kid, West, were like brothers, which was pretty unusual back in the '60s."
Which is not to say that '60s Sacramento was immune to bigotry. When the Wests moved from Glen Elder to the predominantly white South Land Park area, for instance, neighbors were riled up—until father Clifton went door to door, shaking hands and introducing himself. That honestly and cheerfully proffered hand worked wonders in a neighborhood where prejudice sprang more from unfamiliarity than from a painful history—white South Land Parkers may not even have had a peer-to-peer experience with a Black man before. Once they did, anger subsided into acceptance or at worst disgruntlement.
Today Cuckovich volunteers with the Alpha Charter High School in Elverta, which serves mostly inner-city African-American students in North Sacramento. In 2016, he reached out to West and asked him to stop by the school. "He was coming to Sacramento for one day," Cuckovich remembers. "He had to go to the State Capitol, then to Sac State to give a speech. I said, 'I'll pick you up at the airport. I'll do anything you want if you'll come by for 10 minutes.' " West agreed.
"A lot of those kids don't see their own importance. They don't realize their own value," says Cuckovich. "Cornel showing up at our high school was like Santa Claus showing up to a kindergarten class." West not only delivered one of his signature rousing lectures, he lingered to meet each of the students and parents individually, staying for two and a half hours.
"I can't tell a story about who I am right now without telling a story about Sacramento and its impact on me," says Cornel West. "I've been away for 50 years, but I'm Sacramentan to the core. People will say, 'Well, you seem to be tied to multiracial solidarity, a more humanistic orientation.' And that had everything to do with Sacramento."
Despite the loving and protective embrace of his family and community, West experienced his own share of object lessons in racism as he grew, of course. A white high school running coach invited West to cross-train by swimming in the pool at his apartment complex, and when young Cornel dove in, the white kids all leapt out of the water. And as West was toweling off post-workout, a handyman arrived to drain the pool.
In other ways, however, it was an ordinary adolescence. He delivered newspapers, mowed lawns, and worked at a McDonald's across the street from McClatchy High School. "Dad would drop me off," he recalls, chuckling. "My first job, I was so proud. And I was crazy about French fries."
Cornel was elected student body president as a senior at the mostly white Kennedy High School in 1968, and in the aftermath of Martin Luther King Jr.'s assassination, he and his fellow students across the district, which included two other Black student body presidents, staged protests that shut down the schools until the district agreed to introduce Black studies.
Meanwhile, teenaged Cornel also became fascinated by the Black Panthers, who had a bustling storefront office in Oak Park, right around the corner from Shiloh Baptist.
"I resonated with their concern about poor people," West says. "But they hated religion. They hated Christianity. I had these long arguments with them. They had that critique of religion pacifying Black people and making them deferential to the status quo. But when they'd start playing Marvin Gaye, Aretha Franklin, I'd say, 'Well, they come out of the church. You can't trash the Black church and then feed off of the music.' "
West never joined the Panther party—or any party at all, until decades later, when he joined the newly formed Democratic Socialists, of which he's now an honorary chair.
After an early high school graduation in June of 1970, a barely 17-year-old Cornel was bound for Harvard, where he was about to learn that it was possible to call two places home.
"Harvard was magnificent—in its golden age intellectually," he remembers. "And I just walked right into it." His mentor was the late Martin Kilson, the first Black tenured professor in the school's history. On weekends he worked in the Black Panther's breakfast program, serving meals to youths, and in its prison program, in the Norfolk prison where Malcolm X served time. "And then during the week I had magnificent classes," West says. He worked two jobs as well, cleaning dorms and washing dishes.
West thrived with a more-than-full academic load (he graduated in three years—magna cum laude, no less—to save his family the tuition money) and pursued graduate studies at Princeton, where he was the first African American to earn a Ph.D. in philosophy in 1980. In the meantime, he married Hilda Holloman in 1977, after mutual friends introduced them because she happened to be the first African American Ph.D. candidate in philosophy at neighboring Tufts. They had a son that year as well, but divorced in 1979—an event that left him briefly homeless and living in New York's Central Park. Two years later, in 1981, Cornel wed Ramona Santiago, a Bronx community organizer 14 years his senior, but that relationship too burned hot and bright and fizzled out quickly, also ending in divorce. Both marriages fell to the pressure of a career pace that could most charitably be described as ambitious, and at worst, frenzied. West taught at Harvard briefly, then decamped for the Union Theological Seminary in New York, then Yale Divinity School. He returned to Union for a year, then it was back to Princeton in 1988, where he became the director of African American Studies at the age of 35.
**********
By then, West's academic star had begun to rise with the publication of scholarly titles like The American Evasion of Philosophy: A Genealogy of Pragmatism. He hadn't yet broken through to becoming a cultural icon, but that was about to change.
"There were all these pretty terrible books coming out at the time," says Deborah Chasman, currently co-editor of Boston Review, who was an editor at Beacon Press in the early '90s. "It was a dismal time for publishing on race."
Chasman had heard West speak at a conference in 1989 on Black and Jewish relations. "He was on my wish list as someone I wanted to publish," she says. "He was becoming known as a public intellectual, he was giving lectures several times a week, but he didn't have a book that was accessible to the general public."
Hoping to persuade West to write a general interest book, Chasman flew to Princeton in early 1992. While he wasn't convinced, he was open to the idea and let her gather up the essays lying around his office. "I flew back to Boston with them," she says, "and that same night is when the verdicts came out in L.A."
She's referring to the April 29, 1992, verdicts in the Rodney King trial that acquitted four white police officers of any wrongdoing in King's 1991 beating and arrest, sparking the L.A. riots. "We ended up making an agreement, and we published Race Matters [near] the one-year anniversary of the riots," Chasman says.
The book, a reworking and expansion of those essays the editor collected on that first visit to his Harvard office, immediately became a New York Times best-seller, establishing the 39-year-old West's reputation as a leading thinker on race in America, the widely acknowledged heir apparent to one of his idols, James Baldwin, another writer whose sparkling, incantatory phrasing in manifestos like The Fire Next Time and Notes of a Native Son had a galvanic, musical effect on young minds in the '60s (the former was published in 1963, when West was 9 years old). The type of radicalization both Baldwin and West incite is rhapsodic and aspirational, poetic and aesthetic. The beauty of their compositions provides the suasion, the sugar for the bowl. In that sense, the two authors are more like musicians than what we think of as public intellectuals—swaying opinions instead of bodies.
"As moving as any of the sermons of the Rev. Martin Luther King, as profound as W.E.B. Du Bois' The Souls of Black Folk, as exhilarating in their offering of liberation as James Baldwin's early essays," David Nicholson wrote of Race Matters in The Washington Post.
Meanwhile, the famed New York Times book critic Michiko Kakutani, whose approbation was considered a form of cultural anointment in the '90s, hailed West's popular debut with a summary of his essential mission that rings true today: "Drawing upon both Christian theology and Marxist-inspired economic doctrine, Mr. West assails both traditional conservative and liberal approaches to race relations, while at the same time salvaging and reinventing certain elements of their thinking."
It's striking how contemporary some passages feel, like this: "One irony of our present moment is that just as young Black men are murdered, maimed and imprisoned in record numbers, their styles have become disproportionately influential in shaping popular culture." Long before the term "identity politics" was common parlance, West assailed the pitfalls of, well, seeing only in Black and white. "Racial reasoning discourages moral reasoning," he wrote.
Cornel was elected student body president as a senior at the mostly white Kennedy High School in 1968, and in the aftermath of Martin Luther King Jr.'s assassination, he and his fellow students across the district, which included two other Black student body presidents, staged protests that shut down the schools until the district agreed to introduce Black studies.
And today? "You can't talk about race in America without talking about the unprecedented Obama phenomenon," he says, citing a timidity among liberals to say anything critical about the first Black president. "You can talk about the good stuff, but nobody wants to talk about the bad stuff. Well, that's ridiculous. That's about as adolescent and childish as it comes, and that's why we don't have a serious public conversation [about race] in the country."
The lack of serious debate, he believes, has contributed to the unraveling of the Republican party, and paralysis among the Democrats, and that impasse is aiding the precipitous rise in wealth inequality. "It's a more dangerous time than Los Angeles in 1992," he says. "I think racism itself, white supremacy itself, as ugly as it is, is usually a distraction so that people will focus on that and not on something else. It's so easy to be seduced into a discourse about race that says absolutely nothing about predatory capitalism, and nothing about economic structures that are held in place by justifying somebody being subhuman." He sighs. "The ecological crisis is just escalating with no serious attention. Nuclear catastrophe is looming right around the corner with North Korea, Russia and Iran. It's a very sad moment we live in."
Rodney King—who coincidentally was born in Sacramento—was famously quoted as saying, "Can we all get along?" during the L.A. riots. That sentiment seems in keeping with West's own rhetoric, which emphasizes commonality and conciliation over identity and divisiveness.
**********
What followed the original publication of the book in 1993 was the kind of fame usually reserved for rock stars, not academic department chairs. West's personal warmth and charm and extreme relatability also helped to make him a pop culture icon as well as a scholar. He became a regular fixture on talk shows over the years, ranging from Real Time with Bill Maher and The Colbert Report to The Sean Hannity Show and Tucker Carlson Tonight. He has guested on 30 Rock and been spoofed on Saturday Night Live by Kenan Thompson. The Wachowski siblings cited West's work as a primary influence on the philosophy that inspired their blockbuster Matrix trilogy, and offered West cameos in both film sequels.
His style of oratory matured in this time as well. He left behind notes and lectern and began to extemporize like his beloved jazz while ranging around the stage (something we might recognize today as a TED Talk-style of delivery, but which was unusual in a lecture hall at the time). West released several hip-hop albums starting in 2001, which he rather modestly refers to as "spoken word" recordings but which are more musically ambitious and accomplished than that, with contributions from music heavyweights like Jill Scott, KRS-One and Outkast's André 3000. Prince, notoriously stingy with licensing, allowed West to borrow an entire track, "Dear Mr. Man," for the scholar's 2007 LP Never Forget: A Journey of Revelations.
When asked if he really sleeps only three hours a night, he compares himself to his friend Prince's observed zero hours a night—unfavorably. "All the time I spent with Prince, I never ever saw or heard of him sleeping," he says. "We'd fly to the Montreux Jazz Festival in Switzerland in 2009, and Prince would not sleep the whole trip. When he got there he'd go straight to the studio, then perform two shows a night, then after the show, want to go out. I'd say 'Well, brother Prince, I'm starting to slow down.' And he'd say, 'What do you mean? The night is just beginning!' It's like Coltrane, they say he'd go to sleep with the horn in his mouth and wake up blowing. So I figured I was just lazy."
West's own venture into music-making appears to have ended—he has no plans for another album—but it wasn't a folly. He is a musical scholar, having appeared in the documentary Chasing Trane about John Coltrane, and his lifelong sense of musicality has played a big part in how he structures his lectures and phrases his ideas. Jazz and blues are the templates for his philosophy, and he draws a direct line between them and the very practice of democracy itself.
He prefaces the last chapter of Democracy Matters—the 2004 sequel to Race Matters, in which he takes on themes like Jewish, Christian and Islamic democratic identities, youth culture, and the devolution of politics into mere marketing—with quotations from four seemingly disparate sources: Socrates, the Gospel of Luke, Ralph Ellison, and a passage from Albert Murray's work of jazz history, Stomping the Blues, describing saxophonist Lester Young's soloing style. When friends and colleagues mention West's vast erudition—and they all do—this ability to synthesize visionary insights out of seemingly incongruent resources—riffing exactly like a jazzman—is exactly what they're referring to. He uses his encyclopedic range of references to synthesize ideas and interpretations of cultural history that seem as revelatory and inevitable as they are surprising. The chapter itself is an eloquent, moving call to action titled "Putting on Our Democratic Armor."
"I have always marveled at how such an unfree people as Blacks in America created the freest forms in America, such as blues and jazz," he writes. "I have often pondered how we victims of American democracy invented such odes to democratic individuality and community as in the blues and jazz." It's a melancholy, poetic riff that resonates with hard-won truth. One of West's most oft-repeated refrains is: "I'm a bluesman in the life of the mind, a jazzman in the world of ideas, forever on the move."
And perhaps the reason West has stoked equal measures of admiration and controversy is that he's changed the rules of the game in his own arena the way a great musician changes the rules of performance for a generation. He's blurred the lines between academia and popularism, intellectualism and showmanship, much the way Louis Armstrong came along and tweaked jazz to produce swing.
The jazz motif creeps into others' descriptions of West too. His friend Henry Louis Gates Jr. has interviewed West multiple times, recently as a guest on his PBS series Reconstruction: After the Civil War. "It is just a feast of ideas," he says of their conversational chemistry. "We're like two jazz musicians riffing. I try to play the piano to keep the bassline, but Cornel is blowing the solos."
The bluesy, restless theme that has propelled his professional life has led to a persistent strain of melancholy in his personal life. West married for a third time in 1991, to Ethiopian Elleni Gebre Amlak, although that marriage ended in divorce as well. In 2000, while separated from Amlak, he fathered a daughter, Dilan Zeytun West, with visiting Harvard fellow Aytul Gurtas, and he visited her every six weeks in Germany throughout her childhood, and speaks with enthusiasm of her brilliance and achievements, the number of languages she speaks (she's now a sophomore at Princeton). It's a continuing source of grief to West that he has as yet failed to replicate his parents' solid marital union. "I'm not sure if I know myself well enough to share with others," he wrote in Brother West.
The work always came first, and he feared the introspection that would allow a relationship to succeed would also thwart his intellectual momentum. Or, as James Baldwin wrote in The Fire Next Time, "Love takes off the masks that we fear we cannot live without and know we cannot live within."
**********
In 2001, West's increasingly public profile as a globetrotting gadfly precipitated a conflict when Harvard president (and former U.S. Treasury Secretary) Lawrence Summers called West onto the carpet for all this unseemly showmanship, telling him, essentially, to publish something seriously academic or perish. Summers didn't appreciate the pop culture endeavors, and accused West of inflating grades and missing too many classes (claims that West and plenty of others disputed). Angered, West packed his bags and left for Princeton not long after. "I don't have anybody's sympathy. Princeton was a pretty safe landing," West says, laughing.
The incident didn't do Summers any favors and in the end contributed substantially to his parting ways with the university after a no-confidence vote by faculty in 2005. By contrast, the controversial move and the flurry of publicity surrounding it didn't slow West down at all, despite it all unfolding against a nearly concurrent 2001 diagnosis of Stage IV prostate cancer, which he beat with little fanfare and never mentions—dwelling on disease is apparently as distasteful to him as introspection.
Optimistically, West campaigned heavily for Obama—appearing, by his count, at 65 different events—leading up to the 2008 election (the former president called him a "genius" when introducing him during one campaign trail function), but then became disillusioned with a leader he saw as disappointingly moderate. His opposition to Obama was not mildly expressed. In 2011 he called the president "a puppet for corporate plutocrats and a mascot for Wall Street oligarchs" on CNN. It was not an isolated outburst, but a sustained campaign. "Pity the sad legacy of Barack Obama" he titled an op-ed in The Guardian in 2017. For the record, he has also called current president Donald Trump a "dangerous neofascist in the making." What's radical isn't his colorfully worded opinion of Obama's politics, but his readiness, as a prominent Black intellectual, to go on record as opposing America's first Black president. Doing this earned him a lot of criticism, some of it personal.
West's former protégé, Michael Eric Dyson, hypothesized in The New Republic in 2015 that West was merely bitter over not being invited to the inauguration (he was not the only one to suggest that, although others who know West well, Gates among them, disagree), and agreed with Summers that West had lost his "serious" academic cred. "West is still a Man of Ideas, but those ideas today are a vain and unimaginative repackaging of his earlier hits," Dyson wrote.
Other high-profile feuds have occurred over the years as well, some instigated by West, some by others. For instance, he has sparred with The New Republic's former literary editor, Leon Wieseltier, who called West's books "almost completely worthless," and with then-Atlantic writer Ta-Nehisi Coates, whom West labeled an Obama-apologist and neoliberal, much to Coates' public perplexity as a longtime admirer of West's work.
Not everybody sees West's rocky public relationships as signifying weakness—or worse, mere grandstanding. Rabbi Michael Lerner, founder of Left Coast magazine Tikkun, with whom West co-authored Jews and Blacks: A Dialogue on Race, Religion, and Culture in America in 1996, thinks West speaks his mind out of an inability to play politics. (The two are no strangers to equal-opportunity offending, as they participated together in a 2002 sit-in at the State Department in support of both Palestinians and Israelis.)
"The beauty of Cornel is that he doesn't allow allegiances, whether they be personal or political, to stand in the way of saying the truth," Lerner says. "He's not going to buy into a kind of identity politics that says, 'This is my identity and I stand with those in it.' He's not that person. He's somebody who is willing to speak truth not only to the powerful in government, but to the powerful voices within his own community."
In yet another unexpected pivot, West left Princeton in 2012 to return to Union Theological Seminary. New York magazine wrote, "By conventional standards, this is a nutty career move." But what might seem superficially nutty makes sense if you know that West wrote his Princeton dissertation, a deep dive into Marxism's intersections with radical Christianity, during his first stint teaching at Union, where he was immersed in a community of radical theologians. West's to-ing and fro-ing can be seen as his way of maintaining a productive intellectual tension—the academy to the pulpit, yin to yang, and back again.
And so he spent four more years at Union, then in 2016, he accepted Gates' invitation to return once again to Harvard, with an appointment at both the Divinity School and the Department of African and African American Studies.
West thrives in the classroom, teaching four or five classes a year, mostly lower division. "Most professors my age teach only graduate students," he says, "but I prefer freshmen and sophmores. That's what I'm there for, to have an impact on young, precious lives."
"Two of the happiest moments in my career were when I first helped recruit him to Harvard, and then when I helped recruit him back," says Gates on a phone call from Martha's Vineyard, where he's taking a break from a schedule only slightly less hectic than West's. "Only people who feel threatened by the depth of his brilliance will be critical of his style," Gates says in dismissal of the tempest in a teacup that led West to temporarily decamp from what Gates describes as his intellectual home turf. "Like a great jazz musician, he has different styles. He is very much at home with scholarly academic discourse, but equally at home in the Black church, or on Anderson Cooper, or giving a formal lecture in a classroom, or laughing and joking at my dinner table. He is multi-vocal. He has different forms that are appropriate for different occasions and different audiences. That's a sign of genius."
Gates adds that he's never known West to miss a class or a faculty meeting, and describes being on a book tour with him in 1997 for their co-authored volume on W.E.B. Du Bois, titled The Future of the Race, as "one of the best times I ever had in my life. It was like being on a book tour with a rock star. Cornel would sign every book and ask every person their name and listen to their story. He's astonishingly generous, and astonishingly energetic. I think I have pretty good energy, but he's got super energy."
And while Gates calls Harvard West's academic home, he acknowledges that West is a native son of another place, too. "I've heard him speak a billion times," Gates says, "and he always speaks of Sacramento."
West is happy to recreate that part of his repertoire. "I always say that I am who I am because somebody loved me," he says. "And my first loves, at the age of 4, were in Sacramento: Mom and Dad and Shiloh Baptist Church. Anytime I give a speech, I can't tell a story about who I am right now without telling a story about Sacramento and its impact on me. I've been away for 50 years, but I'm Sacramentan to the core. People will say, 'Well, you seem to be tied to multiracial solidarity, a more humanistic orientation.' And that had everything to do with Sacramento."
**********
Another way in which West defies convention as a member of the intelligentsia is that he remains a steadfastly devout Christian. While this may not entirely jibe with the prevailing secular humanism of academia, he has never hedged, hemmed or hawed about it. He has always professed a literal faith in Jesus, although he's capable of explaining the concept of what he calls "the prophetic" in terms any cultural anthropologist would understand. His idea of the prophetic has nothing to do with foretelling, or prophecy, but is about embodying the virtues associated with the role of the prophet as a moral leader.
"It goes back to what is for me the greatest moral revolution in the history of the species," he says quietly when asked, leaning forward with his elbows on his knees and steepling his fingertips, "which is Hebrew scripture. It provides a whole new conception of what it means to be human, where you spread steadfast love and loving kindness to the orphan, the stranger, the oppressed, the persecuted. And Jesus, of course, from my own Christian perspective, is the culmination, in the life that he lives and the death that he dies."
One of West's touchstones is the story of Jesus driving the moneychangers out of the temple.
Christ enters the temple in Jerusalem, and sees it inhabited by unscrupulous and predatory bankers—think subprime lenders of the day—and he drives them out in a rare display of anger.
"Who was in that temple?" he says. "The economic elites, the political elites, the cultural elites. It's the White House, Wall Street, Hollywood, the universities. He attacks all of them, enacting the prophetic fire as we Christians understand him. But from a secular point of view, he's part of a prophetic tradition. I believe one can be a prophetic Hindu, a prophetic Buddhist, prophetic and Judaic, prophetic and agnostic. We Christians know we have no monopoly. The prophetic is about the primacy of the moral and spiritual."
But to West, the most important beat of the story isn't Jesus' political action—his turning out of the money lenders from the sacred space of the temple—but the one that precedes it, where he observes what is happening, and reacts with emotion. "When he goes to Jerusalem, he sheds tears," West says. "Because he loves, he weeps."
**********
"We can become so obsessed with talking about race that we don't talk about empire, about class," he says. "You've got working people of all colors catching hell all over the place. Wealth inequality is grotesque, which my dear brother Bernie Sanders points out."
Last election cycle, Sanders' loss to Hillary Clinton was hard. This year, West is sanguine. "Sanders has already won in terms of shaping the discourse. Everybody's got to talk about his issues now, whether you agree or disagree," he says. His analysis of the hectic Democratic field, with a swirling eddy of candidates vying for attention, is pretty benevolent.
"Brother Bernie's got some very decent people running against him," West says. "But Biden doesn't have enough broad vision and courage. He's an establishment man. A lot of people might think he's safe, but in the moment we're inhabiting, you need somebody who can generate very intense enthusiasm and tremendous energy, because that's the only way you're going to beat Trump. Sister [Kamala] Harris is very talented and brilliant, and she does have that energy, but I don't think she has the follow-through. In her years as a prosecutor, she was just too easily swayed by the 'tough on crime' rhetoric. [She became] a routine, garden-variety politician, as opposed to a visionary statesperson. And I just don't think a garden-variety politician can do it in these turbulent days, especially against the protofascist in the White House."
Once you come to know him, West's consistent usage of the terms brother and sister reveals itself to be a powerful tool for his brand of radical inclusion. Note that the "protofascist" in the White House is nonetheless "brother Trump." West isn't attempting to define or form a brotherhood, he's extending an invitation to all he meets to join him as an equal member of the family of man. And to West, family is everything.
Back in the living room in South Land Park Hills, the reminiscing winds down and comes full circle, to talk of the next generation of West children. Cornel's son Cliff, 42, named for his uncle, lives in Atlanta and makes comic books, and has a son, Kalen. Zeytun, now 18, freshly returned from a summer study session in Seoul, South Korea. Brother Cliff's granddaughter, whose stage name is Deiy Leone, fronts the Sacramento band Ode to Saturday, which recently played at the Harambee Festival in Meadowview Park, an event that included a remembrance of Stephon Clark. "Stephon's brother was there," Cliff says. "His grandmother, his mom. There was no tension in the air, it was just a love fest."
"She's extraordinary," Cornel adds of Deiy, "this real hope for the future. And she's Sacramento to the core. You had a strong multiracial group come together and say that we want accountability from the police, that no policeman can get away with violating rights or murdering anybody no matter who they are, and that's something positive about Sacramento."
Cornel can't help but wax poetic one more time over the sense of love, family and community he learned growing up in the bosom of his family, his church, his neighborhood, and ultimately, Sacramento. "We just took it for granted. When I think about it now, that's such a rare gift to have, because wherever you are, you're ever ready to be yourself, and to give the depths of yourself. It's this soulful gnosis, the self-emptying, driven by a love and an attempt to connect, soul to soul, person to person, human to human, with others," he says. "But it's because the community gave you such self-confidence and such self-respect that you can do that. It's probably the greatest joy that one has in life, to be able to have an individuality that you're ready to empty, give, donate to others, giving the gift that you have. That is as grand a blessing as one can imagine."