Trunk Show
In cities like Seattle, Vancouver and Melbourne, an Australian installation artist is "painting" trees to raise awareness of global deforestation. It also happens to be beautiful. Here in the City of Trees, we should take some brushes to our branches.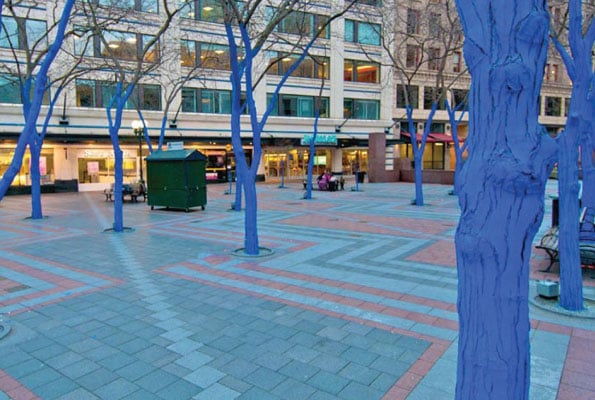 The Idea
Here in Sacramento, we take great pride in our trees, but we don't always notice them. That's something that Egyptian-born Australian artist Konstantin Dimopoulos is trying to change in cities around the world. His goal is to draw attention to the planet's deforestation issues by "painting" trees blue with an eco-friendly and chemical-free concoction. The effect is a vibrant ultramarine blue hue that washes off naturally after a few months of rain, and the contrast with the changing colors of the leaves can be stunning. So far, he's done it in Vancouver, British Columbia, his hometown of Melbourne, and most recently in Seattle, where in April he and a group of local volunteers painted 16 honey locust trees in downtown's Westlake Park. He also painted 40 birch trees and then planted them along a bike trail in suburban Seattle. The effect is expected to last through summer. Aside from raising social issues, the other benefit is temporarily creating an eye-catching landscape (nicely echoing the colorful forest in the recently released film The Lorax, replete with its own environmental message) that delights passersby. After Seattle, he'll be tackling trees in Florida, Boston and London. Why not commission him to bring his "Blue Trees" project to the City of Trees, perhaps to Capitol Park, K Street or Capitol Mall? "I would be interested in creating this social art installation in Sacramento," he told us.
The Players
In Seattle, the project was overseen by the Seattle Parks and Recreation department and an arts wing of King County called 4Culture, whose project manager Jordan Howland says the installation "exceeded our expectations" and that it has garnered "vast" amounts of local, national and international press. Here, the City of Sacramento Department of Parks and Recreation and the Sacramento Tree Foundation could get involved. The Sacramento Metropolitan Arts Commission could also play a key role. And, of course, Dimopoulos would be the central figure.
The Bottom Line
In Seattle, the costs were surprisingly low. For the Westlake Park project, the city covered the $2,500 price to paint the the 16 trees. In the suburban project, a combination of private donations and funds from King County's "1 Percent for Art" program covered the $24,000 in costs to purchase, paint and plant the 40 birch trees (Dimopoulos' artist fee was included in both amounts). It's hard to imagine a city where trees play a more prominent role than ours, and it's a small price to pay for the social, environmental and cultural benefits. Who knew that blue could be so green?