UrbanDaddy launches an app for Sacramentans on the move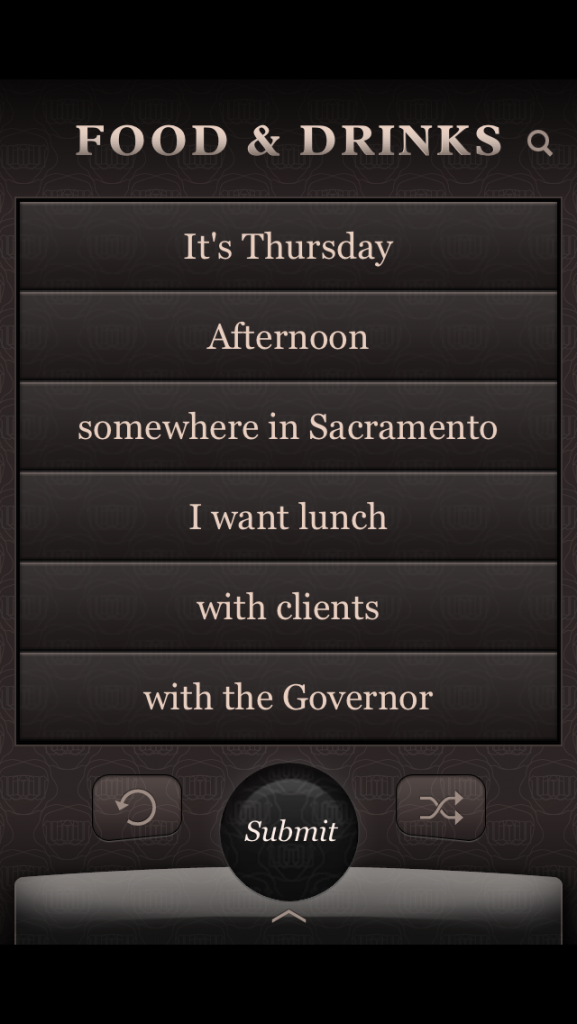 It's Tuesday evening downtown. You're on a date, and you want drinks somewhere swanky. Or maybe it's late Friday night, and you want to go dancing with colleagues who are into '80s music. No, wait—it's Thursday afternoon, and you are on the hook for finding just the right power lunch spot for yourself and the governor.
All of these scenarios—and many more—are great reasons to fire up the slick, free app by the hip culture mavens at the website UrbanDaddy, which launched a brand new Sacramento component last week. The app allows users to pull up the nearest restaurants, bars, cafés, clubs and other venues just right for the social setting at hand.
But the service within isn't just a glossy rehash of tried-and-true apps like Yelp or Zagat. UrbanDaddy calls its interface "The Next Move": a cheeky array of situational specifics that turns going out in Sacramento into a kind of choose-your-own-adventure tale. Whether you play its inexhaustible options straight—say, plotting Sunday brunch with the parents near McKinley Park—or go hunting for an ideal dive bar near the river to play billiards and maybe rekindle things with your ex, fully exploring the app might mean never making the same next move twice.
"You've got to have fun with it—be prepared for anything," says Najib Benouar, who lives in Sacramento and helped curate the roughly 200 local selections featured in the UrbanDaddy app. Benouar is a contributor to the Manhattan-based website, which offers a daily insider's guide to nifty new hot spots in cities like New York, San Francisco and Los Angeles. The app lets users in medium-sized cities in on the fun as well, helping lead them to both new and established spots that meet UrbanDaddy's criteria. "The idea behind UrbanDaddy is that it's your fun friend who's giving you the intel—the cool, witty, tongue-in-cheek guy is kind of our voice," he says.
The UrbanDaddy app, which is currently available on iOS and Android devices, registers the day of the week, the time and its users' locations to initiate its search. Next, choose a neighborhood; in the Sacramento version, Benouar has narrowed these down as specifically as The Handle, Land Park or Old Sacramento. After that, select your company—a significant other, a boss, or alone, for example—and the diversion that best suits your mood. Afternoon coffee at a place that's "anywhere but Starbucks"? Try Ambrosia Café. Late-night cocktails with that hot date? Check out Vanguard. Each option is accompanied by a mini-review and sharable on social media—all the better to invite some friends.
Benouar estimates he started work on the Sacramento version about six months ago, zeroing in on the city's burgeoning food and nightlife scene while keeping a few key customer bases in mind. "We threw in lobbyists," he says of one constituency in the app. "We threw in state workers. We've got the governor in there. For Sacramento, we tweaked it a little."
Like its father site, the app emphasizes experience over comprehensiveness and tends to skew to the urban male crowd—sports bars, models and even a mistress can factor into the dozens of available options. At the same time, UrbanDaddy's trademark selectivity isn't reflected in the app's searches quite yet (for instance, despite the scores of restaurants and bars compiled in the app, many of the same establishments can show up whether someone's planning a daytime outing with the parents or a night out with that aforementioned mistress). Just nine days after his Nov. 5 launch, Benouar acknowledges the work in progress and says he's staying busy updating UrbanDaddy's myriad Sacramento moves. Still, even at its nascent stage, the app is valuable to anyone who's ever been put on the spot to choose an ideal destination for food or drinks—or who might enjoy just killing some time imagining unusual, funny social scenarios in a city bursting with places to go. "I seriously think Sacramento is having a moment in the restaurant and bar scene," he adds. Good times and great food in the River City? There's an app for that.
To get the app, visit urbandaddy.com/mobile or download it on your mobile device from the iPhone App Store or Google Play.