Vegan and gluten-free Babes Ice Cream & Donuts opens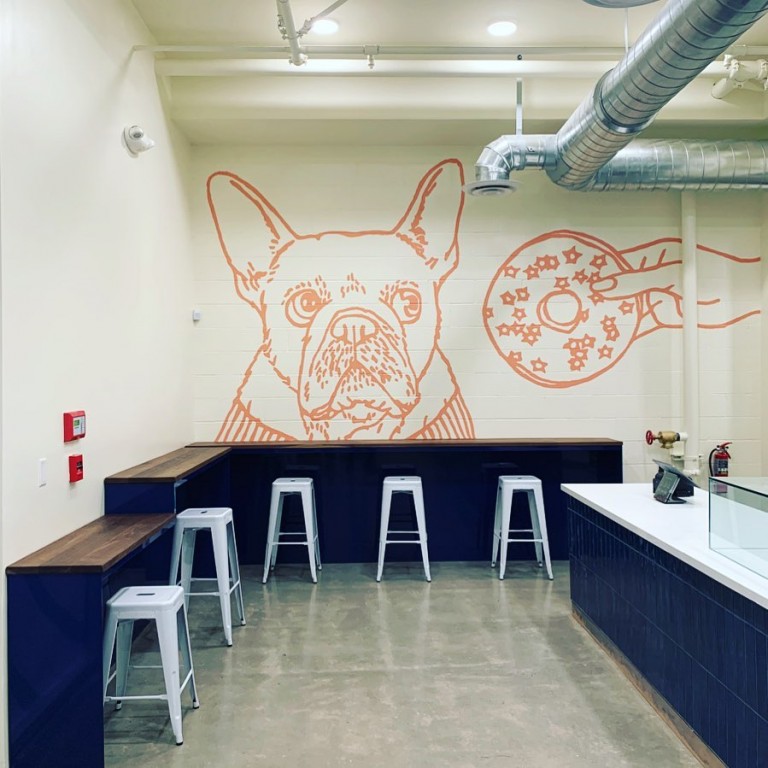 When Olga and Danny Turner—the married couple behind the popular Pushkin's bakery chain—started offering gluten-free doughnuts at one of their locations five years ago, they had no idea their followers had been chomping at the bit for their allergen-friendly take on the dessert.
"We sometimes had lines [around the corner]," says Olga. "We would sell out by 12 p.m., and the customers who came after would get really upset."
So the obvious answer, at least to Danny—"The Doughnut Guy" as he is known in Pushkin's circles—was to open a shop devoted to the coveted treat. And considering Olga's knack for nailing recipes featuring alternative ingredients, he thought the new desserterie should also offer vegan ice cream.
"We signed the lease and he labeled the company Babes Ice Cream & Donuts before I had made any ice cream ever," says Olga. "But Danny was like, 'I just know you can do it.' "
"She's so talented, I knew we could figure it out," adds Danny.
After about three years of experimenting, Olga landed on a coconut-milk-based composition, which she says provides a creamy mouthfeel with no chalky residue. At Babes Ice Cream & Donuts, which will launch in midtown on Labor Day, eight to 10 rotating flavors of vegan ice cream will be offered daily, such as cookie dough, creamsicle, mint chip and strawberry shortbread (vanilla ice cream with a ribbon of house-made strawberry jam and chunks of shortbread cookie), plus other frozen treats like a soy-and-nut-free chocolate sorbet.
Also on the menu will be nine flavors of vegan and gluten-free doughnuts, which will rotate monthly. (The couple are tight-lipped ahout the recipe, but mention almond milk as one of the dairy substitutes.) Included in the opening lineup will be blueberry lemon, chocolate crullers, maple pecan, Danny's favorite knobby fritters chock-full of hand-diced Granny Smith apples, and chocolate rounds dipped in rich cocoa frosting and coated in sprinkles, Olga's go-to.
The minimalist design elements at the 600-square-foot shop—an exposed cinder-block wall, a long display counter faced in vertical subway tiles—were designed to make the multihued doughnuts pop, while a mural depicting a French bulldog eyeing a doughnut by Roseville illustrator Alexa Roberts and rendered by Sacramento painter Jeremy Stanger provides a fun, quirky touch. (Per pandemic guidelines, Babes will open as a grab-and-go operation.) The storefront will be housed on the ground floor of The Didion—a new mixed-use complex in midtown named after the celebrated Sacramento author Joan Didion—which will also include Pushkin's new production bakery, as well as Ginger Elizabeth's upcoming patisserie and Ro Sham Beaux, a forthcoming wine bar from the team behind De Vere's Irish Pub.
At Babes, it's not just the titular attractions that will be sans dairy and wheat: Every offering is gluten-free and vegan—down to the plant-based milks at the espresso bar. Not only does that concept fit within the Pushkin's M.O., but it's also a point of pride for the Turners to satisfy their patrons' cravings, regardless of their dietary restrictions or allergies.
"Olga and I aren't vegan and Olga isn't gluten-free," says Danny. "But we take this really seriously, and we are really excited to serve food to people that we feel really good about."
Babes Ice Cream & Donuts will open Monday, Sept. 7. Hours of operation will be 8 a.m.-4 p.m. daily. 2417 J St. 916-476-4519. @babes_vegan on Instagram
You Might Also Like
A new artisan chocolate company sets the bar for mixing sweet goodness with wellness
New retro-glam lounge with political intrigue opens downtown
The owners of Milestone Restaurant to open Mom & Pop Chicken Shop