Veto the Vote
Regardless of whether the Kings decide to stay or go, it's time to start treating the arena issue like every other major project we undertake for the good of the people. And that means not asking the people what's good for them.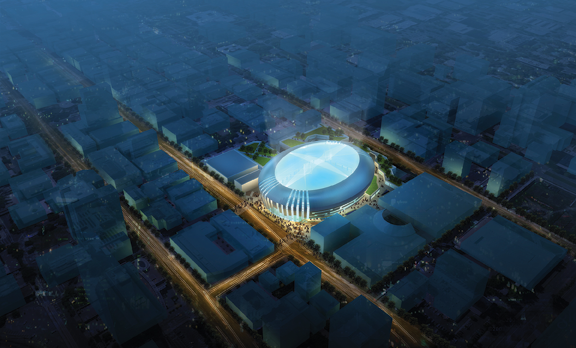 There are many theories about why the vote to fund a new arena bombed in 2006. Some cite the Maloofs and their infamous Carl's Jr. commercial. Others blame our elected leaders for not sufficiently articulating the non-basketball merits of a new complex. Still others point to the complicated proposal that bundled a slew of other projects in with the arena financing.
But the true root of the problem was actually far simpler. The real mistake with the failed measures known as Q and R was letting the voters have a say in the first place.
That may sound undemocratic, but it's really quite the opposite. Every few years, we elect a mayor, a city council and county supervisors to make tough decisions in the best interests of the region. Their job, of course, is to sift through mounds of studies, endure endless hours of discussion and public comment, cull through the myriad opinions of their staff, consultants and constituents, and cast an educated vote based on the accumulation of more knowledge and perspective than most of us have the time or interest to acquire.
It doesn't mean they're always right. But that's what we elect them to do.
So if our city leaders want a new arena (and we know that our mayor does), the last thing they should do is present any kind of plan that involves a public vote.
After all, we don't ask our citizens to vote on most other major civic projects. This year, for example, the state will close escrow on land downtown for a brand new county courthouse at a cost of $439 million—by some estimates the same cost as a new arena. Does anyone remember voting on that? We're also building a billion dollar expansion of the airport that will include a much-needed new terminal to open later this year.
This list goes on. In 1987, the council voted to spend $751 million (in 2011 dollars) for a "Capital Improvement Plan" that included an expanded library, city parking garages, a new civic center, a marina, land for future redevelopment and other community assets they deemed in the best interests of our city. In 1992, the council voted to spend $80 million ($126 million in today's dollars) to expand our convention center.
That doesn't even include all the times the city has bailed out various arts organizations over the years. Or the times it has invested in downtown by backing luxury hotels like the Hyatt and Sheraton, to which the city contributed, adjusted for inflation, $39 million and $116 million, respectively.
Did they ask the citizens of Sacramento to vote on any of these worthy projects? Of course not. Think of the implications of that for a moment. Every major project would take many times longer (and thus cost far more) because the city would need to "sell" the idea to the public, most of whom are far too busy or too myopic to make an informed decision that benefits the region as a whole. Sure, there were naysayers at every turn, but where would our city be without these critical projects? For one, we'd probably be one of the only cities in America without any major arts organizations because the vast majority of voters would say they never, or rarely, go to the symphony or ballet or art museums, so why should they help pay for them.
As a city, we need to stop sitting around as we have for more than a decade (that's right, discussions about a new arena stretch back as far as 2000),  hoping that some wealthy family or company will swoop in and build it for us. This civic project is every bit as critical to our city's future as a convention center or a library or a hotel. By not building it ourselves, we are allowing others to decide our fate for us. We are allowing others to decide whether or not we have an NBA team, a vibrant downtown and all the quality-of-life amenities that an arena affords.
The fact is, we need to build the arena with or without private funding. And if that means raising the money by issuing bonds and backing it with public dollars, like with the airport or convention center, that's clearly what we should do.
But contrary to what many think, that doesn't necessarily mean spending a dime of public money. It simply means we'd be guaranteeing the bonds if whatever repayment mechanism we devise isn't enough. Some arenas are funded with user fees (where ticket buyers pay a few dollars extra each visit), hotel and rental car fees (where visitors foot the bill) or other fees, like those on parking and concessions (the latter of which are now controlled by the Maloofs, but won't be if they go).  And that doesn't even include the naming rights and rental fees by the teams and promoters that use the space. This is not to suggest that an arena isn't worth some public dollars for a public amenity of this magnitude (it almost certainly is), but this isn't a black-and-white choice between say, an arena or fire trucks.
The only reason to have a public vote on an arena is because we can't raise sales taxes without one. But we held one with Q and R, and we all know how that worked out. Which is why we need to find another way.
Other cities are making arenas happen. Their formulas are all different, and not all of them will work here, but we have to be relentless in finding one that will.
In 2010, Minneapolis opened the crown jewel of major league ballparks, Target Field, after raising $392 million through a county sales tax (the Twins kicked in another $125 million). And on April 19, Omaha will unveil its $128 million stadium, with roughly half coming from hotel, rental car and user fees.
What do they have in common? Neither city put the decision to a public vote.
Nor did Memphis when it built the $250 million FedEx Forum, home of the NBA's Grizzlies, in 2004. Again, a combination of ticket surcharges and hotel fees were used to pay back the bonds that funded it. When the city and county decided to bypass the public vote, the Memphis Commercial Appeal reported that they did so because "the arena would serve a public purpose, and therefore doesn't need voter approval." This past October, the paper reported that the arena and team were generating an economic impact of $223 million per year. And despite this tenacious recession, the fees have sufficiently covered the costs of the bonds and no public dollars have been needed.
Arena financing is a complicated and controversial topic, and the consequences are far too great to leave up to the masses who may or may not appreciate what's at stake.
In the early debates about how to fund the new $128 million Omaha stadium, then-mayor Mike Fahey was told by a local TV reporter that the previous mayor objected to his idea of backing the project with public dollars without a vote. "I don't think Hal proposed having a public vote on a new Marriott hotel he proposed for about $180 million," responded Fahey. "That's not what leaders do."
It's often said that Sacramento is the most Midwestern of West Coast cities. So with cities like Omaha, Minneapolis and Memphis leading the way on getting these important public projects built, let's hope that some of that famous Midwestern common sense rubs off on us. And soon.