A Viral Sensation
When Dr. Richard Corsi floated an idea on Twitter for a highly effective, inexpensive, DIY air purifier to help lower the risk of Covid, his light-bulb moment went viral in the best possible way. Now many of America's top scientists—and even the White House—are touting the invention, and people all over the planet are thinking inside the box.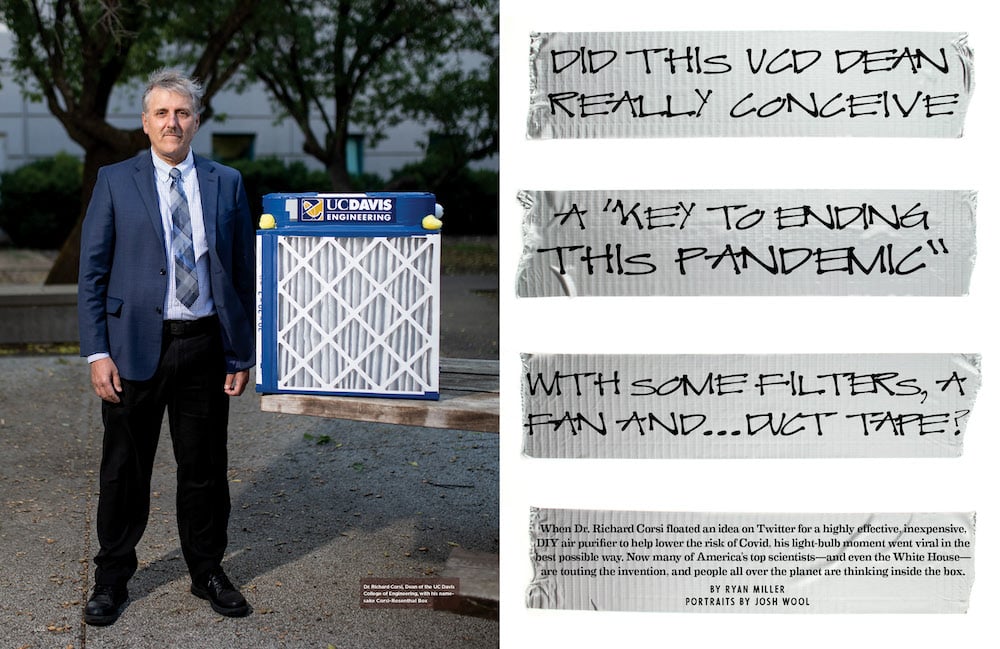 T
T​​his story started, as so many do, with something small. In this case, magnitudes smaller than the period at the end of this sentence—a tiny droplet carrying the SARS CoV-2 virus.
It all began on Jan. 20, 2020, when environmental engineer and air quality expert Dr. Richard Corsi, the man at the center of this particular story, tweeted out a BBC article about a "new virus in China" that by that point had led to only two confirmed deaths. But Corsi could read between the lines and commented on the news with these five prescient words: "This deserves the world's attention."
By February, concerned that the virus could be airborne, Corsi dropped his routine of going to the gym six days a week and stopped taking public transportation.
The story got bigger from there—much bigger.
A lifelong academic specializing in air quality, Corsi was especially concerned about the ability of cash-strapped schools to protect their students and faculty. In July, as students prepared to return to school, his concern grew considerably, and he tweeted: "Public K-12 schools serve as a place to work or learn for more than 15% of the total population of the United States each year. IMHO, they are THE critical 'business' to watch during re-opening in the fall. I've worked w/ many school districts and know how resource-constrained they are and, in many cases, strained in terms of facilities staff. This gives me gr8 concern. If not done right the educational, health & econ impacts could be devastation on top of current devastation."
That's when the engineer in him got to work.
In early August of that year, with the start of school only weeks away—and no vaccines yet available—engineers and scientists were brainstorming ideas on Twitter for an affordable yet effective air purifier. It was there, in a Twitter thread, that Corsi first described a concept he had recently sketched up for a do-it-yourself homemade air filtration device—a cube cobbled together from a cheap box fan and four off-the-shelf air filters—that would draw any virus-laden air into the unit and expel clean air through the top.
Corsi's old friend in Texas—Tex-Air Filters CEO Jim Rosenthal—responded the next day on Twitter, posting, "Great thread. I can't wait to try the idea of a 'box of filters' on the air intake side. I will share the results." And so Rosenthal whipped up a duct-taped prototype based on Corsi's brainstorm.
The end result was a success. Rosenthal used his own expertise in air filtration to develop a working version of the box. A couple weeks later, he wrote up his results and declared that the concept worked "great." He detailed his process, adding, "Airflow from the fan was 580 feet per minute. As usual, Rich is right. More surface area of the filter media [equals] better airflow with minimal strain on the fan motor. Plus, the filters will last for a very long time (I would estimate 6 months). Thanks, Rich!"
"I named it the Corsi Box," Rosenthal says now.
Soon after, the box found its way into the pages of The New York Times. The paper was seeking opinions from epidemiologists and airborne virus experts about plexiglass shields being used to guard against potential Covid-laden exhalations at the Oct. 7, 2020 vice presidential debate in Utah between Kamala Harris and Mike Pence. The Times noted how scientists, like University of Maryland aerosol expert Donald Milton, urged the debate commission to use what they dubbed "Corsi boxes" instead.
The debate continued with the plexiglass in place, but Corsi saw in the story that his name was on something that seemed to be evolving into much more than a thought experiment. He insisted that he wasn't the one who actually made the thing, so Donald Milton suggested it be called the Corsi-Rosenthal Box, and both namesakes enthusiastically agreed.
After Rosenthal's initial testing proved successful, researchers and scientists around the world have also determined that the box—which ranges in price from roughly $50 to $100, depending on the cost of the individual parts—does exactly what it was theorized to do: It cleans the air at least as effectively as the gold-standard HEPA purifiers (which use "high efficiency particulate air" filters) that often cost more than three or four times as much, with some models running north of $700.
In November 2020, Andy Slavitt—the then soon-to-be White House senior advisor for Covid response—invited Corsi to be a guest on his podcast In the Bubble to discuss how to stay safe from the virus during the winter, creating the show's most listened-to episode at the time. Slavitt invited Corsi back the following summer, describing him to listeners as one of the world's leading experts on indoor air quality. "If you don't know the name Rich Corsi, it might have been understandable a year ago," Slavitt went on to say. "But in the last year, Rich Corsi has become one of the biggest rock stars around—and for good reason."
That September, after years at Portland State University, Corsi became the dean of the College of Engineering at UC Davis, his alma mater. Today, Corsi, who is 62, has a reputation that has floated far past the dean's suite, where one box—festooned in the school's blue and yellow colors—has been filtering the air for months, with another in a nearby conference room. In fact, his name is quickly becoming familiar from Ecuador to Australia to Singapore and beyond.
In these communities across the planet, individuals, families and groups of all stripes have begun joining together and sharing their efforts in creating safer classrooms, public buildings, churches and homes. Twitter is teeming with evidence of their efforts: Stacks of Corsi-Rosenthal boxes to be donated. Boxes decked out in high school colors. Stylish boxes outfitted with internal lighting so that they glow like paper lanterns. Mini boxes. Super-sized boxes.
Requests for the boxes' creators to "rate" the results often garner positive comments and encouragement from the men whose names have become synonymous with a maker spirit and a commitment to science, personal health and open-source innovation.
And it all started with something so small, you can't even see it as it floats in the air right in front of you, moments before you breathe it into your lungs—unless something else traps it first.
Indoors vs. Outdoors
In the early days of the pandemic, when Corsi was serving as a dean at Portland State, the self-professed night owl would manage his collegiate duties into the evening, then shift his brain to puzzling over the problem of Covid at about 10:30 p.m. Frustrated by the CDC's emphasis on hand washing—despite the clearly airborne nature of the virus—he joined about a dozen other indoor air quality experts around the globe in studying and virtually discussing case literature and outbreak data into the wee hours.
One of those experts was Dr. Kimberly Prather, director of the National Science Foundation's Center for Aerosol Impacts on Chemistry of the Environment. She has been advising the CDC—not to mention Dr. Anthony Fauci—on airborne transmission of Covid over the past couple of years.
"I'm the one that told [Fauci] aerosols go farther than 6 feet," Prather says. "He was like, 'What?!'"
Like Corsi, Prather is a fellow UC Davis alum (bachelor's in 1985, PhD in 1990), but she didn't meet him until 2017 when she organized a major international conference on atmospheric research and invited him as a speaker.
Prather explains that at the time, no one in the field was really focusing on indoor air quality. "But Rich asked, 'Where do we spend most of our time: Indoors, right?' " she recalls. "We spend 90% of our time indoors, but we worked our rears off—all of us did—on outdoor air."
Indoor air quality, Corsi adds, was an overlooked aspect of public health, where locating research funding is a major challenge. "Those in the field scraped and clawed for money," he says. "The field kind of fell through the cracks because the engineering side of federal funding—the National Science Foundation, the U.S. EPA, etc.—they really saw indoor air quality as more of a health issue. And then the National Institutes of Health, they saw indoor air quality as more of an engineering issue."
As it happens, growing up, Corsi's own health issues led to an early interest in engineering and air quality.
His Italian-born father met his French-born mother while fighting for the U.S. Army during World War II. They married and eventually made their way to Torrance in Southern California, known for its bountiful sun and the smog that too often obscures it. Corsi's mother stayed home after he was born, and his father worked as part of a construction crew, occasionally bringing his young son on odd jobs: building a cabin here or a set of cabinets for a veterinary office there.
Unfortunately, air quality in Los Angeles was a nightmare, especially for a boy with allergies and asthma. Corsi longed to join his Little League team for every game, but was sometimes unable to participate because of difficulty breathing. "That was pretty traumatic for me because I loved playing baseball," he says.
The young and frustrated Corsi even illustrated a fanciful pollution-cleaning device for a science project, drawing a jet carrying a giant, smog-sucking vacuum over L.A. His fixation on changing brown skies to blue is certainly understandable, not only because of his own particulate-driven lung issues, but because the entire country shared the same concern at the time.
"Before the 1960s, there was a reasonable amount of research on tuberculosis and measles and airborne infectious disease transmission," Corsi says. "And then the 1960s came, and there was this big turn in the mindset of Americans toward protecting the outdoor environment." (The federal Clean Air Act, for example, was passed in 1963.) So the study of indoor air took a backseat.
Fast-forward to 1978 when Corsi applied to the UC Davis College of Engineering, but was denied admission ("Now I run the entire college. Never give up on your dreams, right?" he quips). So he wound up at Humboldt State, graduated in 1983, and married his college sweetheart Regina two weeks later. Both applied—and were accepted—to UC Davis for grad school. Corsi did his PhD work on toxic chemical emissions from public sewer systems, then continued that research after a move to Toronto, followed by another move to Austin, where he settled for 24 years and served as a faculty member at the University of Texas.
During his time at UT, a student who was interested in studying indoor air quality wanted to work with him. "I did a little bit of research and realized how little work had been done in this field in academia," Corsi says. "The whole field was wide open for making contributions. So I decided to basically phase out of the work that I was doing."
Over the years that followed, Corsi built one of the largest indoor air quality academic teams in the country. He had five faculty members and National Science Foundation grant funding to train about 20 doctoral students. This is also where he met and became friends with Jim Rosenthal, who supplied equipment to the team to help with various research projects.
Corsi estimates that the center of the indoor air quality academic universe was once the Technical University of Denmark and is now Tsinghua University in Beijing, but for a time between the two in the late '90s, it was his program. The field's global conference in 2011 brought about 1,000 delegates from 47 countries to Austin while he was there.
And then came Covid. Suddenly, Corsi says, plenty more people beyond those in academia were interested in the indoor environment. They were government officials. They were doctors. And they were listening.
A Germ of an Idea
In March of 2020—amid exchanges with Prather and others who understood Covid to be a primarily airborne problem—Corsi began devoting his late-night brainstorming time to calculating the volume of respiratory droplets an infected person would breathe out and others would breathe in. After consulting with Yuguo Li, a noted building environment engineer at the University of Hong Kong who in 2004 first identified that severe acute respiratory syndrome (SARS) could be transferred via airborne routes, Corsi started crunching numbers based on video footage from "Restaurant X"—the site of a well-documented Covid outbreak in Guangzhou. He then extrapolated his findings into the risk of infection in a variety of other room sizes and settings, from gyms to classrooms to shared Uber rides.
Corsi shared this information via webinar with the National Academies of Sciences, Engineering, and Medicine later that spring. He joined 238 other scientists in signing an open letter to the World Health Organization in July, followed by op-eds in USA Today and The Washington Post. In the Post essay, Corsi's co-author, Joseph G. Allen—director of the Healthy Buildings program at Harvard University's School of Public Health—recommended putting HEPA air filters in every U.S. classroom, and argued that the $1 billion price tag would be worth it.
Few policy and decision makers agreed. That said, while Corsi knew that HEPA air purifiers, which typically range from $300 to $800 each, could be very effective at reducing viral transmission in schools and other settings, his concern was their steep price and the high cost of maintaining them.
During one of his late-night brainstorm sessions, he began sketching a DIY air purifier on a piece of engineering paper. Combining a box fan with MERV 13 air filters—like the kind you're supposed to change in your HVAC system a couple times a year, only more efficient—could do the same job as a pricey purifier, but at a fraction of the cost.
Then he took his idea to Twitter. You already know a bit about what happened next.
Amid the online chatter that has exploded since, the White House's Office of Science and Technology Policy published a blog post titled "Let's Clear the Air on Covid." In that March 2022 post, office head and Deputy Assistant to the President Dr. Alondra Nelson wrote that Covid is most commonly transmitted by airborne particles, noting "we can and should talk more about how to make indoor environments safer by filtering or cleaning air."
This announcement came as a breath of—well, you know—to Corsi and everyone who has been arguing that since Covid is airborne, mitigation efforts need to focus on the air itself.
"When you walk into a business, do you see filtration devices? Do you see Corsi-Rosenthal boxes? Or do you see bottles of hand sanitizer?" Prather asks. "I see the bottles of hand sanitizer, and that is not going to get us out of this pandemic."
Among the recommendations in the White House's post, Nelson suggested "the four-filter-plus-box-fan cube called the Corsi-Rosenthal Box" as one solution for air filtration, linking to an EPA page that name-checks the box and links to instructions from UC San Diego, where Prather teaches and has led box-creating events.
"Especially now as masks are coming off and people are starting to gather more in indoor environments, it's particularly important to think about indoor air quality," says Dr. Stephanie Guerra, senior policy advisor for biosecurity at the White House Office of Science and Technology Policy. "So when we began to really think about what our role could be in elevating the science and the importance of achieving indoor air quality, we started to explore all aspects of the issues. [The Corsi-Rosenthal Box] was something that we really wanted to hook onto because of how much it's already done to be an educational and empowering movement for our nation."
Another benefit of the boxes is increased equity, given that their affordability expands access to clean indoor air to people who may not have the resources to redo their HVAC systems or buy more costly HEPA purifiers.
"When you think about the fact that essential workers may encounter people who aren't vaccinated or who may not be wearing masks in their everyday lives, cleaner air can really make a huge difference for their health," Guerra says. "The same thing goes for other types of vulnerable populations, people that have preexisting medical conditions, or children or folks that can't protect themselves in other ways."
As for Prather, she went even further in her estimation of the critical role these boxes can play, tweeting in April that "Corsi-Rosenthal boxes are key to ending this pandemic."
BYOB: Build Your Own Box
Marina Creed, a neuroimmunology nurse practitioner at the University of Connecticut Health Multiple Sclerosis Center, works with vulnerable populations. Many of her patients are immunosuppressed parents, who were understandably worried that their children could bring home Covid once they began attending in-person classes again as schools reopened.
"I looked at what would be some easy ways to mitigate risk in the community and in local schools, and that's when I came upon the Corsi-Rosenthal boxes," Creed says.
While doing some online research, she discovered that Prather had led a maker event at UC San Diego in September 2021, which resulted in students, faculty and staff building 250 boxes to filter air in spaces all around the campus. Shortly thereafter, inspired by that mass-production endeavor, Creed spearheaded her own efforts to build and distribute hundreds of Corsi-Rosenthal boxes in Connecticut.
She was also able to secure a $10,000 grant for a pilot program, which has funded both a multidisciplinary team of scientists and researchers at the university studying the real-world effectiveness of portable air cleaners in poorly ventilated university classrooms, and multiple build events—called Box-a-Thons—that have put hundreds of filters into local schools, libraries, daycares, churches and homes of people with asthma.
Calling Corsi, Rosenthal and Prather "national treasures," Creed says, "The one thing this reminds me of is the great Florence Nightingale, who [in the 1800s] focused on air quality and ventilation as being a major driver of disease transmission. I feel that nurses are uniquely positioned to partner with engineering to bring this important public health intervention to our communities. I think it's a really beautiful collaboration. I know that Florence Nightingale would be proud of all of us."
Megan Jehn, an infectious disease epidemiologist who runs the Arizona State University Student Outbreak Response Team, has organized similar efforts at her school, building about 300 boxes between last December and May of this year—while maintaining a list of hundreds of schools and organizations requesting roughly 1,000 more DIY boxes of their own. In true "teach a man to fish" fashion, ASU students visit classrooms where they instruct younger students on how to build boxes.
Chris Cappa, chair of UC Davis' Department of Civil and Environmental Engineering, led a study in Corsi's own academic backyard last year—coinciding with Corsi's return to the school as dean—using an inexpensive nebulizer to create aerosolized table salt (to simulate droplets similar in size to those that people exhale) and filtering the air with Corsi-Rosenthal boxes, then working with students to deploy boxes around campus to both minimize aerosolized viruses and gather more data, which they formally published in the spring. The results showed that the rates at which Corsi-Rosenthal boxes clean the air "substantially exceed" those of the study's HEPA cleaners.
"We made sure that it's open to the world, so everybody can access the results," Cappa says. "That provides a foundation for understanding how well these can perform—and that was kind of an open question [before]. There are a lot of reasons we think that they should be efficient, but actually having that demonstrated can allow people to make more arguments for getting them into different environments."
While most of the buzz surrounding the boxes has been Covid-related, researchers have also been looking to see how the boxes can help allergy sufferers or handle the smoke that often blankets Sacramento during wildfires.
"We haven't been able to yet characterize the performance of these CR boxes for the smaller particles that might be more representative of wildfires," Cappa says. "We can expect that performance might go down a little bit for those smaller particles, but I suspect that they will still actually do quite well for smoke."
A Legacy of Safer Air
In the face of all the Twitter posts, published studies and growing applications, Corsi admits that he's amazed at the, well, viral response to his idea.
"I've tried to keep up with all the posts on social media," he says. "Nobody seems to have a handle on how many thousands or tens of thousands or more of these things have been built, but you see schoolkids in Wales, Australia and New Zealand making them. A fourth grader in Hawaii even made a video about how to build one."
Rosenthal, too, has enjoyed an inspirational boost. Now 73, he remembers growing up in a time when kids would ask, "What did you do in the war, Daddy?" to learn about their fathers' connection to WWII.
"And I kind of think if somebody asks, 'Well, what did you do in the pandemic, Jim?' I can say, 'Guess what? Here's this Corsi-Rosenthal Box thing. I did this,' " he offers.
As much as the box can provide cleaner air, Rosenthal also believes it can help clear minds that have been weighed down by the darkness of the last couple of years. "If I get depressed, I can just go to my office and make another Corsi-Rosenthal Box—make it a different size or make it with different materials or something—and there's something really positive about it," he says. "The darn thing works, and it changes your thoughts about stuff. You're not helpless. You can actually do something."
Corsi says that he and Rosenthal have been adamant about not patenting the box and that they're committed to keeping it open-source. Corsi has also met with a lawyer to be sure nobody else can patent or claim the box and make money from it, and he's considering creating a nonprofit solely devoted to building and distributing the boxes for those in need.
"I'm not making a cent off of this," he says. "I've met with some serial entrepreneurs, and they've said, 'What the hell are you thinking?' " Corsi ponders a moment, seeking how to describe a global phenomenon, and answers, "This is a movement."
"I've spent a lot of taxpayer money during my career, doing research and publishing a lot of papers and research journals and getting pats on the back from colleagues and other universities saying, 'Hey, nice paper, Rich,' " he adds. "My students got good jobs, which was all great. But despite all the work that I did, I never felt I had made a substantial impact."
Until now.
"This idea of the Corsi-Rosenthal Box came out of one evening of brainstorming with no taxpayer money," Corsi says. "It's just been amazing to see people around the world building these. I think the greatest thrill for me is seeing high school kids and grade school kids building them and learning about citizen engineering."
"I've heard some parents saying that the most amazing part of all of this is when their kids actually plug the box in and turn it on and feel the air coming out of it," he continues. "And the kids just get so excited. They feel like they've created something that's actually doing good."