Vote for local artists at Arden Fair's massive LED exhibit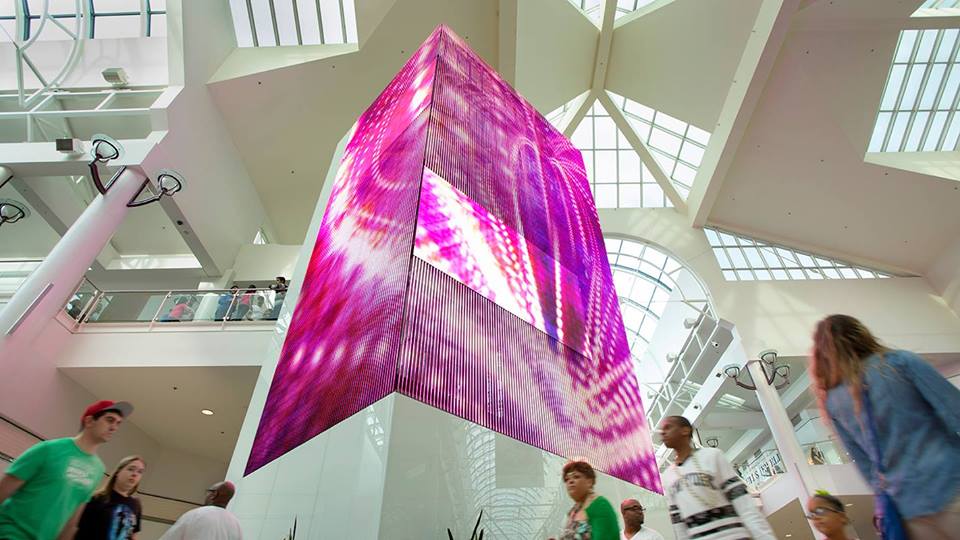 Extravagant art pieces have been lighting up Arden Fair mall this summer as part of Elevate: An Art Exhibition. The animated work of 12 local artists is being displayed in a 15-minute loop, splashed on the sides of a 40-foot LED tower in the middle of the mall's center concourse as part of an art contest that will culminate in a "reveal party" on July 23 to unveil the winners.
View a video of the finalists here.
Jamie Donley, senior marketing manager at Arden Fair, says the idea for the exhibition came about as a way to connect the local Sacramento art community with the public (the tower was originally intended to showcase advertisements and other graphics).
"We had a discussion about getting graphic artists involved to give the tower more of a local flair," Donley says. "There are so many different artists out there, and they can interpret the space how they want."
Some of the artworks on display include "Grow On," an animated compilation of red shapes blending with dark and light patterns, by artist JP Neang. Sacramento videographer Daniel Paschal's "BoYee Nataraja – The Goddess of Dance" features an ethereal video of a freestyle dance routine.
"Once it was finished, it was amazing to see our video playing at the mall," Paschal says.
Passersby can vote for their favorite artists until July 9, either by texting the code that corresponds to each animation to 407-5270, casting votes at ardenfair.com, or voting via the Arden Fair mobile app. The ten artists with the highest number of votes will move on to a second round, to be judged by three high-profile members of the Sacramento arts community: performance painter David Garibaldi, Sacramento Metropolitan Arts Commission executive director Shelly Willis, and Fulcrum Property president and arts patron Mark Friedman. The top three will be announced at the party on July 23, and will receive cash prizes ranging from $500 to $2,500.
All ten fan-favorite artists will have the opportunity for their work to be commissioned by the mall for future art installations and projects.
The July 23 reveal party is open to the public and will take place at the Arden Fair Center Court located in front of Nordstrom. The event will include food, beverage and wine tastings from local restaurants like Seasons 52, Block Butcher Bar and 58 Degrees. While viewing the finalists' artwork on display, guests can listen to performances by local acoustic musician Amber DeLaRosa and DJ Jon Reyes, a member of the local outfit Good Company.
To cast your vote, visit ardenfair.com by July 9.
Reveal Party: Free. July 23. 5-7 p.m. Arden Fair Mall Center Court. 1689 Arden Way. 920-1167. ardenfair.com
You Might Also Like
Rock on at these 15 fun outdoor concerts
Check out these eight comedy acts about to take the stage in and around Sacramento
Extreme eats and high-flying feats at the 163rd California State Fair
SaveSave