Waiting for Superwoman
She barely sleeps, has preternaturally thick skin, wears patent leather boots that put Wonder Woman's to shame, and is so tough that she's been known to eat bees (and the occasional elementary school principal). In a few short months, the most controversial public school reformer in the country will move to Sacramento where, in an order known only to her, she plans to launch a national education initiative, raise one billion dollars, forever change the face of schools in America and marry our mayor. Who is Michelle Rhee and why can't anyone agree if she's a superhero to our kids or just one very smiley villainess?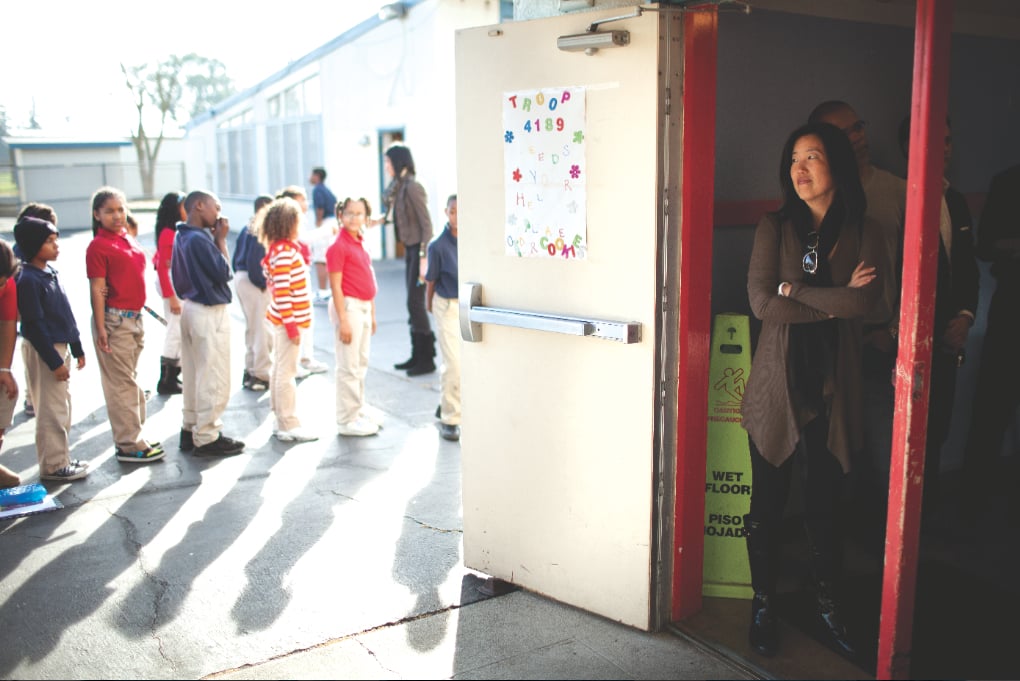 MMichelle Rhee is making her happy face.
This is not the look typically identified with "the most aggressive reformer in education today" as anointed by Newsweek. A frown—that's the expression people know from the cover of Time that showed Rhee, then the chancellor of public schools in Washington, D.C., clutching a broom beside the headline "How To Fix America's Schools." Or from the 12-part PBS NewsHour series on her reform efforts in which she invited a camera crew to tag along when she fired a principal. Or from her star turn in Waiting for "Superman," last fall's critically lauded documentary about the failings of the nation's public school system. Describing the bleak state of education in D.C., she brought to mind a surgeon delivering a terminal diagnosis.
But on this February afternoon, as 6-year-old Kylynn Mireles approaches her, Rhee more resembles a grade school teacher, the job she held at the start of her career almost two decades ago. A first grader at PS7 Elementary School in Oak Park, Kylynn is today's designated "ambassador" for her class, greeting visitors whenever they enter the room. She wears her dark hair in braided ponytails that sway as she hurries over, right arm stretched forward like a jouster's, offering an introduction that spills out as one long word: "HiwelcometoPS7mynameisKylynn… ." Rhee crouches down to shake hands and returns the ambassador's smile with her mouth open wide and eyebrows arched high. She stays at eye level for a minute or two, chatting in a quiet voice and mirroring her new friend's mirth. The frown is nowhere to be found.
Similar exchanges follow with a few more students before Rhee departs for another classroom. She grew familiar with the campus while spending a year on the board of directors of St. HOPE Public Schools, the nonprofit corporation that runs PS7 and Sacramento High School, preceding her appointment as D.C. chancellor in 2007. She considers PS7 an example of public education done right—a judgment reached well before her first date in 2008 with St. HOPE's founder, Sacramento Mayor Kevin Johnson, who now happens to be her fiancé.
The charter school stands less than a mile from Johnson's boyhood home. "We're in the middle of the 'hood," Rhee says, with the reflexive candor that endears her to reporters and sometimes causes her trouble. Her comment alludes to a stubborn dilemma: Schools in low-income neighborhoods tend to struggle. Yet PS7, which includes a middle school, ranks in the top 10 percent of California's elementary and middle schools in student achievement. Rhee ascribes its success in part to longer school days and an extended academic year. Neither would be permissible if the school were unionized, owing to standard collective-bargaining pacts that cap the number of hours and days teachers work.
"There's this misconception that we don't know what to do to make schools better. We do know," Rhee says. She's frowning. "The problem is there are [policies] that don't allow
us to do what's needed."
Watching her unforced rapport with kids in a classroom, it's possible to briefly forget Rhee's outsized presence in the larger arena of the education reform movement. Simply
put, no one is more celebrated or controversial, and save for President Obama and his secretary of education, Arne Duncan, no one can claim greater influence in provoking a long overdue national discussion on improving public education. Now, leveraging her high profile, the 41-year-old Rhee, who resigned as chancellor last October, is swapping coasts to establish a new base of operations in Sacramento as she aspires to do nothing less than resuscitate the country's ailing school system.
Starting in mid-summer, the capital city will serve as headquarters for StudentsFirst, the education reform group whose launch she announced in December on The Oprah Winfrey Show. (The host reacted by hugging and high-fiving Rhee, whom she famously declared "a warrior woman" during a previous appearance to discuss Waiting for "Superman.") She received added exposure from Newsweek, landing on its cover and publishing an essay that laid out the organization's plan: recruit 1 million members and raise $1 billion in its first year alone to ignite "a national movement to transform public education" through policy and political advocacy at the local, state and federal levels.
A grassroots group of that scale would be unprecedented in the realm of education reform, and by mid-March, StudentsFirst had signed up approximately 172,500 members and amassed $4.4 million in funding, primarily from online donations. Though the dollar amount remains far below Rhee's stated target, the gap could close quickly. Los Angeles billionaire Eli Broad has said he expects to be a contributor, and Rhee, while reluctant to name other potential deep-pocket patrons, has strong ties to Bill Gates, who gave $3 million in grants to Johnson when St. HOPE took over Sacramento High in 2003.
"What's been missing is a [national] organization promoting the interests of kids," she says. "We want to shift the balance so the focus of public education is on them instead of adults." Among those who second that emphasis is Duncan. "When a status quo prevails that doesn't serve the interests of children first," he says, "it needs to be challenged by everyone, and Michelle does that well."
The group's proposals for elevating student achievement include eliminating tenure to help schools purge ineffectual teachers; providing families with wider access to schools of their choosing; and lobbying for mayoral control over school districts to better manage spending. Some in her inner circle advised against revealing her entire agenda at the outset. Rhee saw no virtue in waiting. "That's the mistake too many politicians make," she says. "They have the mindset of, 'Let me build some political capital first and then I'll make the hard decisions.' But then you never end up actually doing anything because there's never a perfect time to take on really big issues."
Her impatience for change matches that of Johnson, who since entering office in 2008 has infused a sense of urgency into city business and who, like Rhee, has drawn criticism on occasion for a perceived lack of caution. He has championed education reform in Sacramento, supporting charter schools and more rigorous teacher evaluations, hosting monthly "state of schools" community meetings and campaigning for a trio of like-minded school board candidates in last fall's election. (All lost to opponents backed by the Sacramento City Teachers Association, a persistent political foil of Johnson's.) For the 45-year-old mayor, Rhee's impending move west from the organization's temporary base in Washington carries personal and professional meaning, beyond the prospect of being eclipsed as the region's best-known public figure.
"We're one of those lucky couples who can sit down at the dinner table and, because of our mutual interest in education, there's always a natural intersection in terms of what we talk
about," he says. They also share the rare distinction of appearing on Oprah to promote the start of an education advocacy group: Johnson's turn occurred in 2006 when he founded Stand Up, a nonprofit that works to improve underperforming public schools in Sacramento.
In a broader sense, with Johnson and the city's pro-reform crowd pushing for school choice and the end of tenure, Rhee's arrival figures to aid their cause. "To have StudentsFirst and the nation's leading reformer in public education based here—that is a huge coup for all of us," he says. "It's definitely going to bring more attention to the need for better educational opportunities for children."
During his State of the State address in January, New Jersey Governor Chris Christie, who invited Rhee to attend, turned to her and said, "No one in America has been more clear that we must change our public education system from one that caters to the feelings of adults to one that prepares our children for the 21st century."
Rhee's reign as D.C. chancellor spawned countless appraisals of her reputation: "the most controversial figure in American public education" (The Atlantic); "the closest thing to a superhero in schooling today" (The National Review); "the most revolutionary—and polarizing—force in American education" (Time); "a renegade on a mission to fix the education crisis in America" (Winfrey). She reacts to the appellations with more than a little disbelief. "When I started that job," Rhee says, "there's no way in the world I would have guessed how much interest there was going to be in what was going on."
Seeking to boost dismal student performance in D.C.—media wags dubbed the crusade a "Rheevolution"—she closed 23 underused schools, fired almost 400 teachers deemed ineffective and, most radically, attempted to abolish teacher tenure, the third rail of education reform. Her hard-nosed leadership style made her at once the bête noire of teachers' unions, whose leaders organized dozens of protests against her, and a lodestar to fellow reformers. Her efforts attracted praise and funding from the likes of Broad, Gates and the Walton family, they of Walmart fame and fortune. First Lady Laura Bush invited Rhee to attend the State of the Union address in 2008; during a presidential debate later that year, Obama referred to her as "a wonderful new superintendent." News talk shows beckoned: Anderson Cooper 360, The Charlie Rose Show, This Week with Christiane Amanpour, Meet the Press.
The publicity gave her a national platform, and since forming StudentsFirst, she has been in high demand, traveling across the country in her role as an unofficial education adviser to governors in Florida, Georgia, Nevada and other states. During his State of the State address in January, New Jersey Governor Chris Christie, who invited Rhee to attend, turned to her and said, "No one in America has been more clear that we must change our public education system from one that caters to the feelings of adults to one that prepares our children for the 21st century."
Likewise, she has gained endorsements from several prominent mayors, among them Antonio Villaraigosa in Los Angeles, Cory Booker in Newark, N.J., and New York City's Michael Bloomberg. Joel Klein, appointed chancellor of schools by Bloomberg in 2002, had success in executing an ambitious reform agenda to revitalize New York's schools before stepping down last November. He views StudentsFirst as a prospective counterweight to the "entrenched interests" of the public education system.
"For change to be sustained, you need to build political will to take on the unions and bureaucrats," says Klein, who in 2007 recommended Rhee for the D.C. chancellor position to Adrian Fenty, then Washington's mayor. "Without an organization that can raise funding and mobilize parents, teachers and communities, you're not going to see real reform, and few people have the sophistication and visibility to do that like Michelle."
Her status should burnish Sacramento's image at least as much as a former NBA All-Star serving as the city's mayor, and StudentsFirst could emerge as an important force in school reform at the state and local level. Last year, California legislators passed a so-called parent-trigger law that enables parents of students at an underperforming school to compel a district to make one of four changes: replace the staff, fire the principal, hire a charter operator or close the school. But the law, heralded by reformers, faces an uncertain future. State Superintendent of Public Instruction Tom Torlakson—elected last year with backing from teachers' unions, which oppose the parent-trigger concept—wants lawmakers to revise the statute, a move its supporters fear would neuter it. His request came soon after Governor Jerry Brown, another reliable ally of organized labor, removed several reform-minded members of the state Board of Education and appointed, among others, a teachers' union lobbyist.
"That was payback to the California Teachers Association—let's not sugarcoat it," says former state Senator Gloria Romero, referring to Brown's board changes. Author of the parent-trigger law, she fell to Torlakson in last year's Democratic primary for superintendent and now heads the California chapter of Democrats For Education Reform, a political action committee. Romero, who met Rhee through Johnson, suggests StudentsFirst may prove crucial in preserving the parent-trigger law while bolstering the mayor's citywide campaign to expand school choice and turn over floundering schools to charter operators. "The fact that Michelle and her group will be in the capital of the state with the eighth-largest economy in the world gives her a big stage," Romero says. "She's going to make people pay attention to education here."
But first she needs an office.
MMichelle Rhee stands outside the MARRS building in midtown waiting for her fiancé, the 3-carat diamond on her engagement ring glimmering in the morning sun. Clustered around her is a coterie of StudentsFirst staffers, most in their 20s or 30s, most tapping at smartphones, heads bent like wilting tulips. Many of them worked for Rhee during her time as chancellor, and as the organization's earliest hires, they have traveled to Sacramento to help their boss scout office space. The group will move west this summer, and Rhee expects to add as many as 300 employees by 2014, with the majority based here.
Johnson arrives a short time later. He slips his arm around her and leans down for a quick kiss. They make a stylish couple. Over her thigh-length grayish brown sweater hangs a long black scarf that matches her leggings and knee-high patent leather boots. He brightens his navy blue pinstripe suit with a mauve handkerchief that peeks from his front pocket. As the StudentsFirst gaggle trails them, Rhee and Johnson climb the stairs to the building's second floor, holding hands for a few steps, her fingers disappearing into his large palm. Strolling through an office still occupied by an architecture firm, they confer in low voices, arms rubbing against one another. They look at once calm and alert, as if soothed by mutual ambition.
The two first met, aptly enough, at an education conference in 2006 in Washington, D.C. At the time, Rhee headed The New Teacher Project, a well-regarded, New York-based nonprofit she founded in 1997 that recruits, trains and places teachers in school districts nationwide, including Chicago, Dallas, New York and Phoenix. Johnson ran St. HOPE, the nonprofit development corporation he launched in 1989 that made its entry into education with the opening of PS7 in 2003.
Before long, Johnson invited Rhee to join St. HOPE's board of directors, and she later was a consultant to him on business and personnel matters. (She also worked behind the scenes on his behalf during a federal investigation into the nonprofit's finances; prosecutors ultimately did not file charges.) He testified before the D.C. City Council in 2007 during her confirmation hearing for the chancellor's job; after his election in November 2008, she joined his transition team. By then, the fellow Democrats were a couple, their first date occurring three months earlier while attending the Democratic National Convention. "What bound us together was education," she says. "Even when we disagreed on board issues, there was that passion for trying to make schools better and help kids."
They managed to hide their relationship from the media until January 2009, when a news photographer snapped a shot of them holding hands at a party in Washington before Obama's inauguration. The couple sat next to each other on stage during his address in front of the U.S. Capitol. Ten months later, on Oct. 30, after taking Rhee out to dinner and a performance of A Streetcar Named Desire at the Kennedy Center, Johnson brought her back to the site of Obama's swearing-in because, he says, "It was where we had witnessed one of the greatest moments in American history." A light rain was falling as they stood beside a large fountain near the capitol steps. He dropped to one knee and pulled out the ring he had carried with him for six months, waiting for the right time. "You know, everyone thinks she's so tough," Johnson says, "but she started boo-hooing. It was a perfect moment." One year later to the day, they returned to the spot and he reprised his proposal. Neither had changed their mind; they wanted to reaffirm their devotion.
The couple, who originally planned to wed last September, decided to postpone their nuptials as media curiosity and the guest list grew. They have yet to disclose a new date or where they will live in Sacramento, though they have gone house-hunting. Rhee has two daughters, 13-year-old Starr and Olivia, 9, from her marriage to Kevin Huffman, an executive vice president with Teach For America, a nationwide teacher placement program based in New York. The two met in 1995—both were grade-school teachers trained by TFA—and married the next year; they divorced in 2007. After their kids finish the school year in D.C., Rhee and Huffman will decide whether to have them stay there or join her in Sacramento.
Rhee has come to know California's capital through her relationship with Johnson, and they frequent a number of local restaurants, with Biba, Ella, Cafeteria 15L and Luigi's Slice in their regular rotation. An enthusiastic cook and Food Network devotee, she likes to drop by the downtown farmers' market on Sunday with Johnson to pick up fresh produce, and he has turned her on to the American River trail, inspiring her to hop on a bike for the first time in years. Other than that, she says, "We're kind of boring, actually."
An enthusiastic cook and Food Network devotee, she likes to drop by the downtown farmers' market on Sunday with Johnson to pick up fresh produce, and he has turned her on to the American River trail, inspiring her to hop on a bike for the first time in years. Other than that, she says, "We're kind of boring, actually."
Journalists seldom write about Rhee's lighter side in depicting her blunt-spoken approach to education reform. But while unamused about the state of public schools, she is not without a sense of humor. As she checks out office space in midtown and downtown, thumbs either hooked around the shoulder straps of her black backpack purse or dancing on her BlackBerry, she shares the relaxed manner of her staffers. Their chatter suggests high school students on a field trip more so than the core of a fledgling national organization striving to reshape the entire public education system. During an elevator ride in a building at J and 9th streets to visit an office, Rhee quips, "OK, I want everyone to tell me what you think, and then I'm going to tell you why you're wrong." Everyone laughs, with a few mock groans mixed in, a collective reaction that defies assumptions, fed by her public image, of Rhee as the browbeating boss type.
Sitting in a car en route to another office, Rhee checks her BlackBerry and, seeing an e-mail from "the clock lady," recounts the story behind the nickname. After Rhee's confirmation hearing in 2007, a woman, perhaps 70 years old, walked up to her. Rhee affects a scratchy voice. "If you really want to do something to make things better," the woman told the new chancellor, "can you just make sure the clocks work? Every school I've been in, the clocks don't work." Rhee vowed to try and gave the woman her cell phone number. Some weeks had passed when she left a voicemail. "It's the clock lady," she began. "Wow, this number really does work." Since then, the two have kept in touch, and the clock lady continues to offer opinions on the D.C. school district to the ex-chancellor. "She stays on top of it," Rhee says.
On other short trips between offices she tends to business, reading the early draft of a script for a video clip that will be posted on the StudentsFirst Web site and discussing a potential hire. "I feel like we should just bring him in now," she tells Dana Peterson, one of her assistants. "He's really, really green—like, really green. He's going to be in over his head initially, but he's so smart, he'll figure things out. He's one of those people who, in 10 years, is going to be a complete superstar."
The car later rolls along Capitol Avenue in midtown past The Waterboy. "We love it there," she says, referring to her and Johnson, who broke away from the group after the brief MARRS tour to return to work. Neither would presume to say as much, but they form a power couple unparalleled in Sacramento history. In addition to serving as co-chair of a mayoral advisory council on federal education policy that reports to Duncan, the education secretary, Johnson heads a task force on public education for the U.S. Conference of Mayors. When the latter organization convened in Washington in February, Rhee joined him to unveil her group's first national campaign, Save Great Teachers, which calls for an end to the common practice of school districts determining teacher layoffs by seniority rather than performance.
A similar plan that Rhee advanced as head of D.C. schools attracted fierce union opposition. Her decision to pursue the policy nationwide reaffirms that the chancellor who once remarked that "cooperation, collaboration and consensus-building are way over-rated" remains unafraid to fight. "I do not believe that you can have sea change in a dysfunctional system and keep everybody happy," she says. "I just don't think that's possible, so that's not my goal."
Klein, the former schools chancellor in New York, observed her tenacity—or pugnacity, as some see it—when she helped him win an arbitration ruling against that city's teachers' union in 2005. The New Teacher Project, under Rhee's direction, had recently published a pair of reports that revealed how collective-bargaining deals across the country made firing ineffective teachers almost impossible. One report also showed that union contracts often prevent district officials from determining where to place teachers; the policy unduly hinders urban schools from luring good teachers.
Both issues bedeviled Klein's predecessors. His proposal to reform the policies in New York met with union resistance, and unable to reach an agreement during contract negotiations, the two sides wound up before an arbitration panel. Klein knew about the reports that Rhee's organization had produced and asked her to help present the district's case.
As recounted in the recently released The Bee Eater: Michelle Rhee Takes On The Nation's Worst School District, an account of her D.C. reign written by veteran journalist Richard Whitmire, she "insisted on a strategy of brutal truth-telling" in New York. It worked: Rhee's damning data on union contracts persuaded the panel to rule in the district's favor. On the losing team that day was Randi Weingarten, then head of the New York teachers union. Now president of the American Federation of Teachers, the country's second-largest teachers' union, she tangled with Rhee in D.C. over teacher contracts. Waiting For "Superman" chronicled their battle and quoted Weingarten decrying the "scorched-earth" agenda of reformers. She didn't name Rhee, but given their contentious past, it was hardly necessary. (Weingarten declined Sactown's interview requests.)
If the unions started to demonize Rhee in the wake of the New York negotiations, Klein, for one, believes the reform movement would benefit from more of her kind. "Far too many people who call themselves reformers are 'go along to get along' people. She is not," he says. "She will rightfully identify policies that are not good for kids. She speaks truth to power."
In affairs of the heart, Rhee fancies herself a matchmaker and relationship counselor. "She's a little nosy about your love life," says [current D.C. schools chancellor] Kaya Henderson. "She wants everybody to be happy in their lives, so she wants to know who you're dating and how's it going and give you ways to think about how to make it better."
In 2007, two years after the arbitration hearing, Klein talked with Adrian Fenty, the newly elected mayor of Washington, D.C. Fenty admired the changes wrought in New York by the chancellor, whose reforms are credited with driving a 20 percent gain in graduation rates during his eight-year tenure. He was appointed by Mayor Michael Bloomberg, who had sought and won the power to bypass the city school board to name a chancellor. Fenty scored a similar victory in D.C. soon after assuming office and wanted a schools chief in the Klein mold. After learning Rhee was on Fenty's short list, Klein called the D.C. mayor and told him she would deliver major reform, albeit in a way that could incite political blowback. Fenty replied, "How soon can I meet her?"
Rhee had no interest in the job. "I'd never been a principal or a school district superintendent," she says. "It was just something I'd never given much thought to." She had worked as a teacher in Baltimore for three years after graduating from Cornell in 1992, and after earning a graduate degree in public policy from Harvard, she founded The New Teacher Project in 1997.
When Fenty called her a decade later, she owned a reputation in education circles as an outspoken critic of teacher tenure. Rhee asserts that unions protect ineffective veteran teachers at the expense of dedicated young teachers under "last hired, first fired" policies that dictate the order of district layoffs. A Stanford study last year calculated that replacing the lowest-rated teachers—those in the bottom 5 to 8 percent of public school evaluations—with even average teachers would vault the U.S. to the top of international math and science student rankings. In 2010, the country ranked 31st and 23rd in those categories, respectively, among 65 developed nations.
Fenty remembers Rhee warning him, "You don't want to hire me—I'm going to make a lot of decisions that politicians don't like." But the mayor had campaigned on a pledge to improve schools. In 2007, only 12 percent of eighth graders in D.C. could read at their grade level; in math, the proficiency rate was 8 percent. Fenty had inherited the lowest-performing school district in the U.S. He wanted a chancellor allergic to compromise, and he felt that experience as a district administrator was overrated; Klein, after all, had none, having worked as a corporate lawyer and federal prosecutor before taking the chancellor job in New York. "The system needed to be shaken up," Fenty says. "It was the worst in the country—and we're in the nation's capital. Making nice with everybody? That's what got us into the problem in the first place."
His choice of Rhee baffled the city's education establishment because of the ostensible holes in her résumé. Everyone else was baffled because of what she calls "the stark and weird visual." "I was a 37-year-old Korean woman in a mostly African-American community," she says. "It just looked totally bizarre to people." She believed the initial onslaught of coverage greeting her confirmation in June 2007 would wane soon enough. Eighteen months later she appeared on the cover of Time.
RRhee spent much of her youth in a suburb of Toledo, Ohio, the second of three children born to Shang and Inza Rhee, who emigrated to the U.S. from South Korea in 1965. Shang was a physician specializing in pain management; Inza ran a clothing store. Shang is genteel and cerebral; Inza "is definitely a tiger mom," Rhee says. "Very strict, very no-nonsense."
The depth of Inza's strictness comes across in The Bee Eater. (The title refers to the time when, while a second-grade teacher in Baltimore in the early '90s, Rhee killed and swallowed a bee that floated into her classroom. Her students, unruly up to that point in the school year, took notice and began showing her more respect.) When Michelle was in high school, Inza, judging her daughter's prom dress too low-cut, sewed up the front of it—while she was wearing it. On another occasion, when Michelle's younger brother hit a rough patch in school, Inza grounded her, reasoning that Michelle should have done more to help him. Mother also sent daughter to spend the year after sixth grade with relatives in Korea. The young Michelle, though she could read and write Korean, didn't excel at speaking the language, and she struggled to assimilate in her new environs. The experience forced her to work harder than she had in American schools and she returned to the U.S. with deeper dedication to her studies.
Rhee proclaims herself "not as much of a tiger mom" to her two daughters. She nonetheless frets that parents "are so busy making kids feel good about themselves that they've lost that competitive spirit, that edge to be the best. And I think that's to the detriment to our country overall if we have a generation of kids that we're raising who feel really good about themselves when they've just accomplished mediocrity. You need to build their self-esteem, but they also need to know what greatness looks like."
An aversion to mediocrity explains why Rhee brings an exacting, Inza-like approach to reform. She relates a story from her first year as chancellor, when she shuttered 23 schools, mostly due to low enrollment. Watching TV coverage of the closings while visiting D.C., Inza saw footage of angry parents berating Michelle. When her daughter returned home from work that night, Inza asked how she was doing. "Oh, I'm fine," Michelle replied. She meant it.
"You know," Inza said, "when you were younger, I thought you were going to grow up to be antisocial. Now I see that it's serving you well."
Reactions to Rhee's sweeping changes generally broke along a national-local fault line. Most major news organizations outside the city hailed her decisions to close underused schools and fire hundreds of underperforming teachers and dozens of principals—including the principal of her daughters' school. She earned plaudits for creating a new teacher evaluation system that placed greater weight on student achievement, and for her proposal to modify the district's standard tenure policy with a merit-based pay formula. The plan would offer teachers a choice: they could surrender tenure in exchange for the chance to earn $122,000—about twice the top salary under the existing contract—if they earned excellent evaluations, or they could stick to the old tenure track and expect only modest salary gains. (Union leaders blocked their membership from voting on the initiative.)
"She became a symbol of education reform," says Michael Petrilli, executive vice president of the Thomas B. Fordham Institute, an education policy think tank in Washington, D.C. The proof was in math and reading proficiency rates that jumped 17 percent and 14 percent, respectively, during her time as chancellor, sizable gains in an urban district. "What she did showed that we can't have complacency anymore about some of these terrible big-city school systems—we can't just accept that nothing can be done about them. She proved that they can get better."
Her "Rheevolution" drew the backing of major philanthropic donors, including the Bill and Melinda Gates Foundation and the Eli and Edythe Broad Foundation. The latter contributed $10 million to the district to help cover the increased salaries that would result from a merit-based pay system. Says Gregory McGinity, the foundation's managing director of policy, "She was very much willing to confront the status quo and to say not only is this not good enough, but here's a way we can actually improve."
Talking with reporters from national magazines and appearing on major TV news programs became part of Rhee's weekly routine as her reputation spread. Yet she resolutely remained "the same old Michelle," in the words of Kaya Henderson, who served as Rhee's director of human capital and succeeded her as chancellor last fall. The two have known each other since the late '90s, when they worked together at The New Teacher Project in New York, and Henderson praises Rhee for cultivating an upbeat sense of mission in the district's central office during her tenure. "She's completely open and accessible," Henderson says. "People can tell her when she's wrong. She'll admit when she's made a mistake. It wasn't comfortable and cushy—people had been comfortable and cushy here for a long time—but if you were doing a good job, you had nothing to fear."
Henderson characterizes Rhee as deeply loyal—in ways serious and less so—to those working for her. At The New Teacher Project, Henderson needed to take three months off to look after her mother, who was dying of cancer, and she planned to file leave-of-absence paperwork to suspend her pay. Rhee refused to accept the forms. "While you're caring for your mother," she told Henderson, "I don't want you worried about how you're going to pay your bills and whatnot."
In affairs of the heart, meanwhile, Rhee fancies herself a matchmaker and relationship counselor. "She's a little nosy about your love life," Henderson says. "She wants everybody to be happy in their lives, so she wants to know who you're dating and how's it going and give you ways to think about how to make it better. She has everyone's best interests in mind." No more so than students, Henderson adds. "She's incredibly passionate about ensuring that kids have a good education and, quite frankly, wants to cut through the bullsh-t of the bureaucracy."
Rhee rarely received that kind of acclaim in local news accounts as she attempted to turn around the D.C. school district. Led by The Washington Post, coverage within the city skewed toward unflattering, reflecting the strident opposition her proposals elicited from the local teachers' union, a growing number of parents and some D.C. politicians. Portrayed as aloof and authoritarian, Rhee saw her removal of underperforming teachers spun as a disdain for the entire profession, a perception that unions have fanned since she launched StudentsFirst last fall. John Wilson, executive director of the National Education Association, the country's largest teachers' union with 3.2 million members, credits her for trying to scrub "patronage and politics" out of the school system. "But she basically declared war on teachers," he says. "She left them demoralized, and people are picking up the pieces now and moving on."
Diane Ravitch, a former assistant secretary of education under President George H.W. Bush and prominent Rhee critic, believes StudentsFirst will further poison public attitudes against teachers. "It's hard for me to believe that we can improve education by attacking teachers," says Ravitch, author of last year's The Death and Life of the Great American School System, an analysis of education reforms over the last quarter-century. "She would probably say she's only attacking bad teachers. But teachers I talk to across the country feel demoralized."
For all the criticism Rhee endured throughout her tenure, she seldom flinched. "She can take care of herself," Kevin Johnson says. "She's a big girl." But the mayor admits that on occasion the attacks on her gnaw at him. A couple of years ago, attending a party in D.C. with her, he spotted a Post reporter who he felt distorted Rhee's record as chancellor. "So I said hello in a very cordial way," Johnson recalls, "and then said I didn't think his portrayal of her has been accurate."
The citywide debate over Rhee inevitably bled into the mayoral race as Fenty sought reelection last fall. Polls showed him lagging behind as the Democratic primary neared on Sept. 14, and his unwavering support of Rhee was widely considered the biggest factor. He wound up losing by seven percentage points; in an ironic coda, the D.C. premiere of Waiting For "Superman" took place the following night. Fenty holds no regrets about Rhee's reforms, insisting that the two of them aided the city's most important constituency: students. "If the work that Michelle and I did cost me the election, I will tell you it was well worth it," he says. "The hiring of Michelle Rhee, without any question, will always be one of the best things I ever did. I'd do it again a hundred times out of a hundred."
*****
TThe day after the primary election, Rhee woke up as perhaps the sole person in D.C. surprised by Fenty's defeat. "I was really caught off guard," she says. "I was focused on carrying forward as chancellor and wasn't thinking about what I might do if he lost."
Rhee and Johnson had planned a trip to Hawaii for that week and assumed it would double as a celebration of Fenty's reelection. Instead, with his defeat, she started mulling her next career move, and while in Hawaii, a rotisserie of suitors—governors, mayors, university presidents, CEOs—called and e-mailed her about job possibilities. Speculation swirled that Rick Scott, the incoming Florida governor, had asked her to serve as his education commissioner; New Jersey Governor Chris Christie was rumored to want her for the same position in his state. "I've never seen anyone recruited that heavily in my life that wasn't like a LeBron James or some athlete," Johnson says. "People were desperate for her in a good way."
Both Rhee and Johnson possess the kind of stamina that leads to conjecture that they might have clones. Each wakes at 5:30 or 6 a.m. and typically stays up until 1 a.m., keeping hours common to the obsessively driven and the undead. In Hawaii, however, Johnson, aware of Rhee's eagerness to make a decision, urged her to decelerate. As Rhee recalls, "He said to me, 'I know your personality. You want to pick the next thing and go. But you can't do that this time; we have to really think about what is the next right step.' "
The two had long talked about the need for a national grassroots movement that could compete with teachers unions in forging education policy. Slowly, a concept for an advocacy group started to form in Rhee's mind. But it wasn't until after returning to Sacramento that the details came into sharper focus, when the couple went to dinner with Johnson's mother at Mulvaney's. Johnson could tell Rhee had homed in on an idea. He handed her a pen and business card. "OK, what is it?" he asked. She scribbled down her thoughts and, by the time she finished, the card was full and her new career path was clear: StudentsFirst.
"It was exciting to watch her bring this amazing idea to life," says Georgia West, the mayor's mother and known to most as Mother Rose. "I was like, 'Woo! This is gonna be big!' " She has grown close to her future daughter-in-law through the oldest of female bonding experiences—"I love going shopping with her; she always finds incredible deals"—and explains the attraction between her son and his bride-to-be. "It's their intelligence," West says. "They just connect on the same wavelength."
With the $1 billion Rhee hopes to raise in the group's first year, she wants to exert influence nationwide, funding campaigns of politicians running for local, state and federal offices who will push the StudentsFirst agenda. The group intends to pump money into school districts pursuing reforms—school choice, merit-based teacher pay, abolishing tenure—in step with StudentsFirst policies, and provide resources and guidance to parents' groups clamoring for reform. In California, StudentsFirst could fortify efforts to promote the parent-trigger law and fund ballot measures that ease restrictions on districts to create charter schools.
"There's a lot within education reform that needs to happen in California, and I think we have the potential to do something about that," Rhee says. In Sacramento, where Margaret Fortune—the former superintendent of St. HOPE Public Schools under Johnson—won county approval in February to open five charter schools over the next five years, she senses an opportunity for StudentsFirst to rally reformers. Referring to union leaders and school district officials who disparaged Fortune's proposal as a threat to "traditional" public schools, Rhee says, "That's so yesterday: 'We have to preserve the district.' No—the focus has to be on kids."
One critical change Rhee has made from her chancellor days involves massaging her message to defuse accusations that she's anti-teacher. Then, her pillorying of bad teachers dominated headlines. Now, she says, "We're trying to make sure that our message is very comprehensive and consistent so that it doesn't get framed up in sound bites. We want to make sure people hear all the positive things we're saying about teachers."
The reform movement has bogged down time and again during the last 20 years in part because of a lack of cohesion. StudentsFirst may solve that problem. "A lot of these reform ideas have been talked about for awhile," says Andrew J. Rotherham, the co-founder of Bellwether Education Partners, a Washington, D.C., nonprofit that works with low-income students. "But with Michelle, you have someone who's interesting, who's forceful, who's saying things other people aren't saying. How fast reform happens is still an open question, although if Michelle has anything to do with it, it's going to be faster rather than slower because that's her DNA."
Slowly, a concept for an advocacy group started to form in Rhee's mind. But it wasn't until after returning to Sacramento that the details came into sharper focus, when the couple went to dinner with Johnson's mother at Mulvaney's. Johnson could tell Rhee had homed in on an idea. He handed her a pen and business card. "OK, what is it?" he asked.
One measure of Rhee's impact on reform are the polar reactions—silence and pointed criticism—that she induces in those who appear less than enthused by her imminent arrival in California. First, the silence. Among the state and local officials who declined to talk about her with Sactown were California Superintendent of Public Instruction Tom Torlakson, Sacramento City Unified Superintendent Jonathan Raymond and Sacramento County Superintendent of Schools David Gordon. Gustavo Arroyo, head of Sacramento's school board, after initially agreeing to talk, subsequently failed to respond to interview requests. Nor did Governor Jerry Brown's office reply to requests for comment.
Union chiefs, by contrast, obliged with the pointed criticism. "I always feel so much better when someone who professes to be an expert has many years of experience under their belt and a breadth of experiences to draw upon," says Linda Tuttle, head of the Sacramento City Teachers Association. "I think her experiences are pretty limited, and her past experience raises questions of how successful she was." David Sanchez, president of the California Teachers Association, sounds a similar theme: "Unfortunately, her type of reform isn't reform that is proven or is research-based, from what we can gather."
Their comments align with those of union leaders across the country in reaction to StudentsFirst. To Klein, the former New York schools chancellor, the anti-Rhee sentiment betrays misplaced emphasis. "The unions are fundamentally trying to make this about her because it detracts from what we need to focus on: Why in America today do so many children—particularly children who grow up in poverty—not get the education they're going to need to compete in the 21st century?"
Unions have also questioned Rhee's role as an informal adviser to Republican governors in Florida, Georgia, Nevada and New Jersey. But the support of Democratic mayors Antonio Villaraigosa in Los Angeles and Cory Booker in Newark—not to mention Johnson—appears to undercut charges of partisanship. "Her party registration to us is incidental," says Dale Erquiaga, senior policy adviser to Nevada Governor Brian Sandoval, who invited Rhee to his State of the State address in January and singled her out for praise. "For us, it doesn't matter what registration she happens to carry; she talks the same ideas that the governor does."
Johnson feels likewise. To him, what matters is improving education across the board in Sacramento, where less than 40 percent of third-graders are proficient in reading. "That's something that should get everybody's attention, even if they don't have kids," he says. "That should be unacceptable to anyone who lives here, whatever party they belong to."
Rhee, naturally, shares his perspective, and as she prepares to move to Sacramento, she intends for her group to live up to its name while remaining grounded in its mission. "Kids are not Democrats or Republicans. They're kids. And what we are," she says, "is very pro-kids."