Want a drink? Need a haircut? Bottle & Barlow offers both on R Street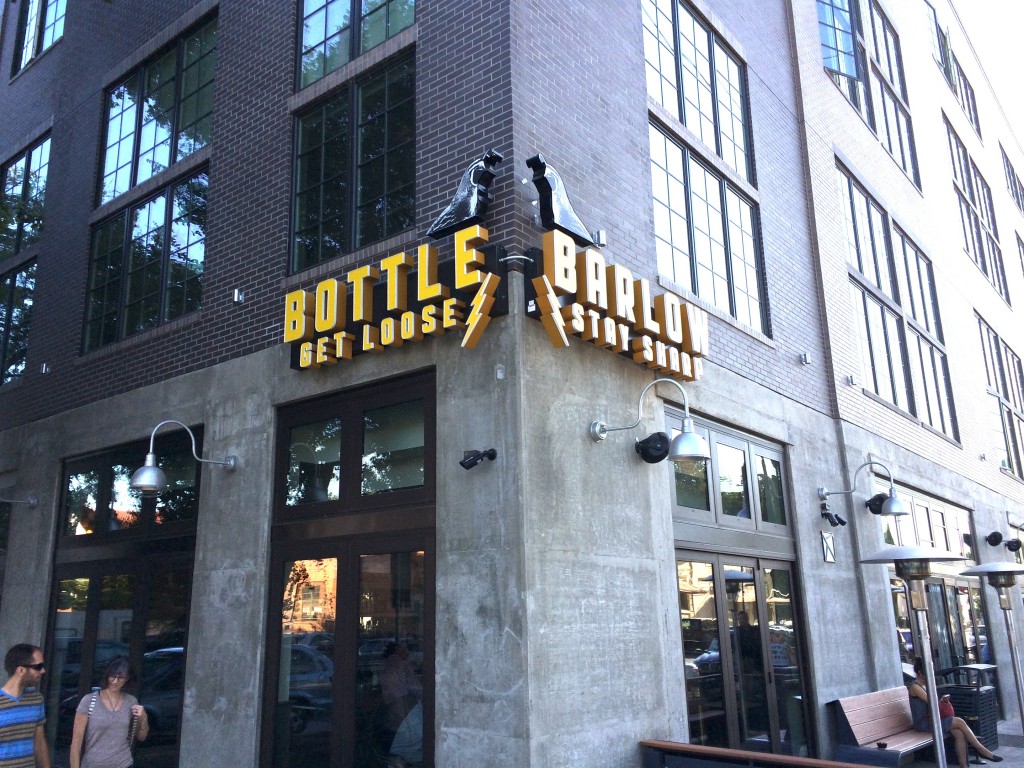 There are barbershops, and then there are bars. And then there is Bottle & Barlow, filling a need that Sacramento might not have even known it had by putting the bar in "barbershop."
The new establishment—which opened on July 11 at 12th and R streets on the ground floor of the Warehouse Artist Lofts—conjoins a sleek watering hole overseen by Jayson Wilde (previously of the San Francisco hot spot Bourbon & Branch) with a gleaming salon run by Anthony Giannotti, the proprietor of the local hipster hair mecca Anthony's Barber Shop.
Bottle & Barlow was singled out last year among Details Magazine's most anticipated bars of 2015, and why not? Never before has it been easier—or maybe even possible, at least in public—to get a shave, a haircut, and a craft cocktail or beer all at once.
While Giannotti and his white-armed, black-backed chairs will look familiar to many, Bottle & Barlow is a bright, stylish (and stylistic) departure from Anthony's, whose snug confines are known to fill up early with its founder's devoted customers—and where walk-ins can be known to wait for hours in the shadow of the WX freeway. Things are a little saner along sunny R Street, meanwhile, where clients can notch an appointment online before dropping by to wait with their drinks inside the bar or on a ring of benches or tables outside.
The design by Whitney Johnson (also known for her eclectic work at Hook & Ladder and Shady Lady Saloon) features quirky accents and touch-ups to barbershop convention—delicate light fixtures, arched mirrors, a 48-state American flag—in a polished dual-level layout, while punk music saturates the interior. A vintage show poster from the old rock venue The Cattle Club shares a shelf with a framed jersey from San Francisco Giants jersey outfielder Hunter Pence, whose teammate Tim Lincecum received a haircut from Giannotti earlier this year.)
Adding to the curious appeal is the menu, likely the only place in town where a basic haircut ($26) or hot-towel straight razor shave ($35) shares real estate with cocktails that give new meaning to "local," with names like Cal Worthington (bonded bourbon, cappalletti bitter, and crème de cacao) or the Governor's Mansion (rye whiskey, cherry, lemon, honey, dry vermouth, and HellFire whiskey). Ten draft beers (including regional offerings from Bike Dog, Ol' Republic, and American River breweries) and diverse whiskey, rum and gin showcases round out the primary drink offerings.
If you don't drink—or if snips and sips simply don't mix for you—no worries. The customary barbershop chatter, cut and hot-towel shave will probably take the edge off just as well: The hour-long process starts with a typically meticulous styling by Giannotti or a staffer, followed by a hot towel wrap, warm lather, shave, and culminating in a refreshing facial rub.
Concerned about hair in your drink? Don't be: They've got that covered—literally, with hotel-style paper shields that rest atop the glasses. And to be clear, the barbershop is adjacent to the bar: The two are joined by a portal between them. Giannotti and company aren't clipping, trimming and shaving in the same space where Wilde and his crew are crafting drinks.
To that end, while a minibar at the front of the barbershop avails patrons to beer or more straightforward drinks before the bar opens at 3 p.m., drop by after that if you're looking for the full Bottle & Barlow experience.
1120 R St. 379-7719. bottleandbarlow.com
You Might Also Like
Benjamins puts best foot forward with stylish shoes at the Warehouse Artist Lofts
K-ZAP prepares for July 4 relaunch with new rock, familiar voices
R Street takes big leap forward as the Warehouse Artist Lofts create new cultural hub