Warehouse Artist Lofts to launch a public market in May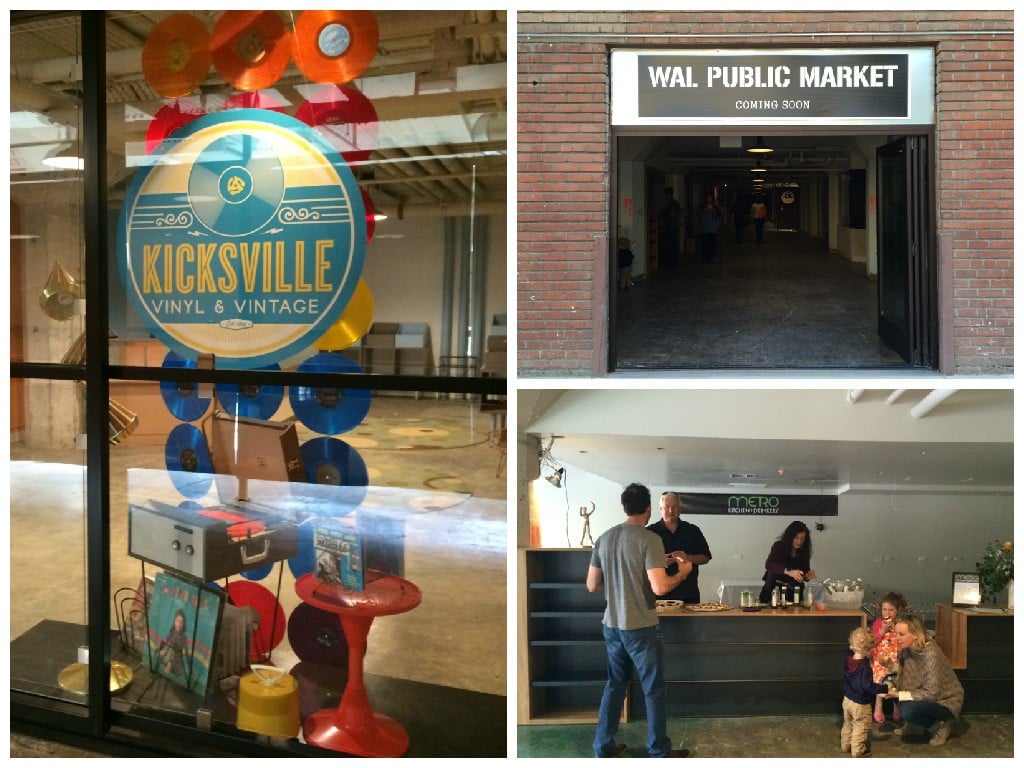 In early May, a group of shops, eateries and juiceries will open at the ground-floor public market inside the Warehouse Artist Lofts (WAL), the new mixed-use complex along R Street between 11th and 12th in Sacramento.
The retailers sharing the 9,000-square-foot space will be Metro Juice Kitchen and Drinkery, casual sushi counter Fish Face, vintage and handmade goods boutique Old Gold, MediumRare Records & Collectibles, Kicksville Vinyl & Vintage, Moroccan rug trove Kechmara Designs and men's footwear store Benjamins Shoes. Three of the vendors are WAL residents themselves.
"I think the fact that it's an eclectic local market filled with unique local retailers is pretty compatible with what's happening upstairs," says WAL co-developer Ali Youssefi.
Lisa and Keith Musilli Johnson, who own Metro Kitchen and Drinkery and are familiar faces at the Midtown Farmers Market, will expand to their first permanent juice stand. In addition to individual pressed juices, new offerings will range from coffee and tea to health-oriented cocktails made with hard ciders. Shoppers can also fill up throughout the day on breakfast bowls, soups and sandwiches and a variety of small plates similar to a tapas bar concept.
On the other side of the cafe front, Fish Face—a grab-and-go sushi stop from Kru chef-owner Billy Ngo—will feature a selection of sushi and hand rolls with a spotlight on its poke salad, a Hawaiian staple dish that consists of raw fish (typically tuna), seaweed, soy sauce and onions. Protein options like tofu and king salmon, as well as vegetables will be available for customers to "create your own salad," according to Ngo's business partner Phuong Tran.
WAL's public market will also feature artisan shops: Old Gold by Trisha Rhomberg (co-founder of midtown's former boutique Bows & Arrows) and Ali Setayesh's Kechmara Designs. Rhomberg's boutique will offer housewares and a new line of clothing and jewelry consisting of vintage fabrics, as well as handmade jewelry pieces crafted by local designers. Kechmara will boast authentic, one-of-a-kind, handmade Moroccan rugs—which are personally handpicked by Setayesh and imported directly from the artisan.
MediumRare Records & Collectibles and Kicksville Vinyl & Vintage will split their shared retail space, with MediumRare specializing in '50s to '80s vintage vinyl and museum-quality memorabilia, and Kicksville, owned by husband-and-wife team Tim and Laura Matranga, will house more recent records and mid-century modern furniture. "The idea was to create two separate vibrations between two compatible stores," says MediumRare owner Marty DeAnda,
Lastly, Benjamin Schwartz of Benjamins Shoes will showcase high-end men's footwear, which can be tried on for size and then customized. Made from luxury textiles—Brazilian moccasin-like rubber sole and water-stain-repellant cashmere sourced from Italian company Loro Piana—each pair will be crafted on-site, taking Schwartz eight to 10 hours to complete. Shoppers will be able to choose soles in four different colors and pair them with cashmere or Ralph Lauren fabrics.
Integrating the public market retailers into potential WAL-related events are among the many plans Youseffi envisions—including art walks and an end-of-summer block party along R Street.
"I think once all the retail is completed, that block of R Street is going to have a very active streetscape," Youseffi says. "It's going to be a unique retail destination in downtown, so I can't wait for it to open."
WAL Public Market. 1104 R St. rstreetwal.com
Related Links
R Street takes big leap forward as the Warehouse Artist Lofts create new cultural hub
Sacramento Kings announce Kimpton as operator of new Downtown Plaza hotel
Tower Records doc 'All Things Must Pass' coming to theaters in September