A Lasting Impression
The Manetti Shrem Museum celebrates Sacramento painter Wayne Thiebaud's remarkable legacy with a group exhibit featuring works by the longtime UC Davis professor alongside those by former students and other artists influenced by him.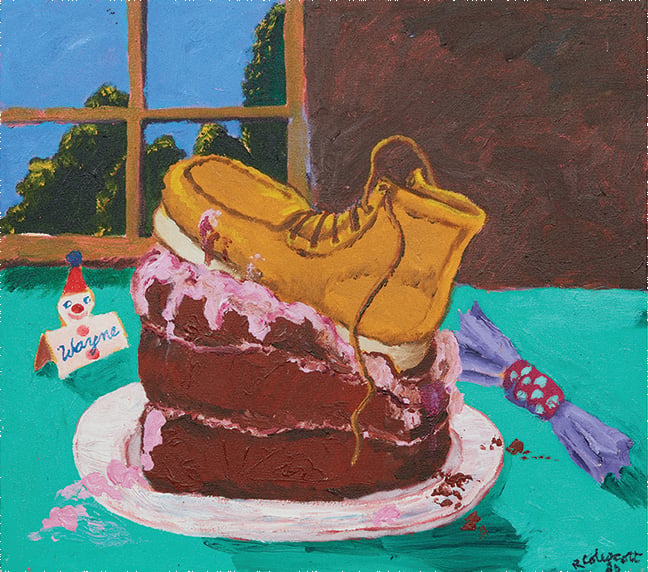 TThe atmospheric pitter-patter of the rain pelting Ann Harrold Taylor's Berkeley art studio summons a flood of wistful memories, specifically of the day she met legendary Sacramento painter Wayne Thiebaud. The occasion for this look-back is an upcoming exhibit at UC Davis' Jan Shrem and Maria Manetti Shrem Museum of Art. A spin on the traditional retrospective, Wayne Thiebaud Influencer: A New Generation celebrates the UCD professor emeritus's recent 100th birthday through the works of 18 contemporaries, and former students and teaching assistants who have been forever imprinted—in ways big and small, on the canvas and off—by his art and practice.
On the first day of a figure painting class in the fall of 1984, Harrold Taylor—whose color-rich painting Safety Rope will be on display at the new exhibit—was inside the packed room waiting for Professor Thiebaud to arrive. Even though she was the graduate teaching assistant, she was in the same boat as the tender-footed coeds, having only had the pleasure of standing in front of his paintings, bewitched by their delectable and conspicuous brushstrokes, sublime color adjacencies ("They're fighting for position. That's what makes them vibrate when you put them next to each other," he once said) and distorted perspectives, like the ones that make his San Francisco streetscapes and Sacramento landscapes so eye-boggling. If there's a standard awe that swells in the viewer when taking in a Thiebaud masterpiece, imagine what happens in the presence of the man himself.
"Suddenly Wayne came bounding into the class with infectious energy, a huge grin, wearing a bright flower-patterned bow-tie over a pink Oxford shirt, khakis and a white lab coat," recalls Harrold Taylor, who has since shared many "painters' dinners" with the teacher and her partner, artist Christopher Brown, another former Thiebaud student whose work will be presented at Influencer. "Then the room went silent. We were all riveted."
Of the approximately 60 works in the show, one-third will be Thiebaud's, and an even smaller fraction of those will be placed alongside pieces by other artists to embolden a particular through line. For instance, British painter Lynette Yiadom-Boakye's Canticle from 2008, a diptych of two Black women in fluorescent dress suits as flashy as the artist's signature dark palette would allow, will be hung next to one of Thiebaud's portraits of his late wife, Betty Jean. "This is my favorite comparison," says Rachel Teagle, Manetti Shrem's founding director who served as co-curator of the exhibit. "These two artists share a deep respect for the history of portraiture."
Ostensibly, Robert Colescott's Artistry and Reality (Happy Birthday)—a 1983 acrylic-on-canvas that depicts a heavy workman's boot smashing a chocolate layer cake, pink icing ruined, and showcases the late American figurative painter's characteristic disdain and humor—seems to taunt Thiebaud's most famous body of work, those lusciously iced cakes and pies that are rendered in oil paint, yet somehow seem more lick-able than what you might find in a real-life bakery case. The professor came to prominence for his confectionary canvases in the 1960s, the decade he began teaching at UC Davis. "I think Colescott's squashed cake was actually created in loving honor of Thiebaud," says Teagle. "It also takes the air out of what people see as [Thiebaud's] exquisite pursuit of perfection."
Straightforward comparisons notwithstanding, Teagle and co-curator Susie Kantor resisted a blanket format that was too tidy or predictable in order to make room for the element of surprise in Influencer, a project two years in the making with origins in a casual conversation between Teagle and Thiebaud about potential featured artists. "This is not a cakes-and-pies exhibit, nor did we want to be too matchy-matchy," says Teagle. Even the notion of a traditional display has been turned on its head, thanks to Covid: A virtual component will allow visitors to read detailed art-work captions and other texts at their own pace, while the museum's on-site presentation—scheduled to be on view from June 3 to Nov. 12—will use minimal descriptions to help prevent a potential traffic jam of people.
A gallery at the Manetti Shrem will feature a salon-style hang of over 30 drawings and paintings, a mesmerizing spectacle of Thiebaud's spell. "Influence takes many forms," reminds Teagle. "The exhibition explores more than just style—we look at common subjects, palettes, daily studio practices, source materials and many more ways in which Thiebaud's extraordinary achievement has influenced artists."
One of the professor's indelible teachings spans his over 40-year career at UC Davis. The famously reclusive artist Bruce Nauman, Thiebaud's first teaching assistant, spoke to what Teagle deems as the most profound form of impact in a 2000 video interview that will be part of Influencer's virtual platform. "[Wayne] taught you how to pay attention to what you were doing and what was out there," said Nauman. "I think it's a rare thing."
Painter Vonn Cummings Sumner, who assisted Thiebaud with classes in the early aughts and served as one of his last TAs, echoes the sentiment of his predecessor, but through a devil's advocate lens. "Wayne teaches us to always consider the opposite point of view and how we might reconcile contradictions, which allows for complexity and ambiguity," says Sumner, whose latest series, Krazy Kat—featuring paintings that place the century-old comic strip character in pandemic-era situations of anxiety and uncertainty—will be included in the Manetti Shrem show. "Wayne wants us to see things from as many points of view as possible."
Harrold Taylor remembers the professor broaching this omnipotent topic during that 1984 figure painting class. "He talked about how the figure in painting is one of the most important, classical, monumental pursuits of all time, and to achieve it, we should be looking and seeing everything around us while we stand at the easel, feeling our body in relation to the model and the surroundings," she recalls. "These would be the ground rules for making marks on the canvas."
"Believe me, I know this is impossible," Thiebaud added empathetically before setting forth the first assignment: 100 quick figure drawings of self or other. After all, repetition is the pursuit of perfection. The class gasped and groaned at the enormity of the task. Thiebaud grinned at the next generation of artists before him, and then uttered an influential refrain they would never forget: "You're just getting started."
Wayne Thiebaud Influencer: A New Generation is set to run June 3-Nov. 12 at the Manetti Shrem Museum in Davis. Admission is free, but timed tickets are required—to reserve them and for more details, visit manettishremmuseum.ucdavis.edu.