Wayne Thiebaud
(The First 90 Years)
The Crocker Art Museum is honoring him with a major retrospective. The California Hall of Fame is about to induct him alongside Barbra Streisand and James Cameron. And The New York Times' chief art critic says there's "no painter in America that is more satisfying or skilled." But on the eve of his 90th birthday, after a career that took him from Disney to the Whitney, Sacramento's Wayne Thiebaud is hardly resting on his laurels. In fact, he's just getting warmed up.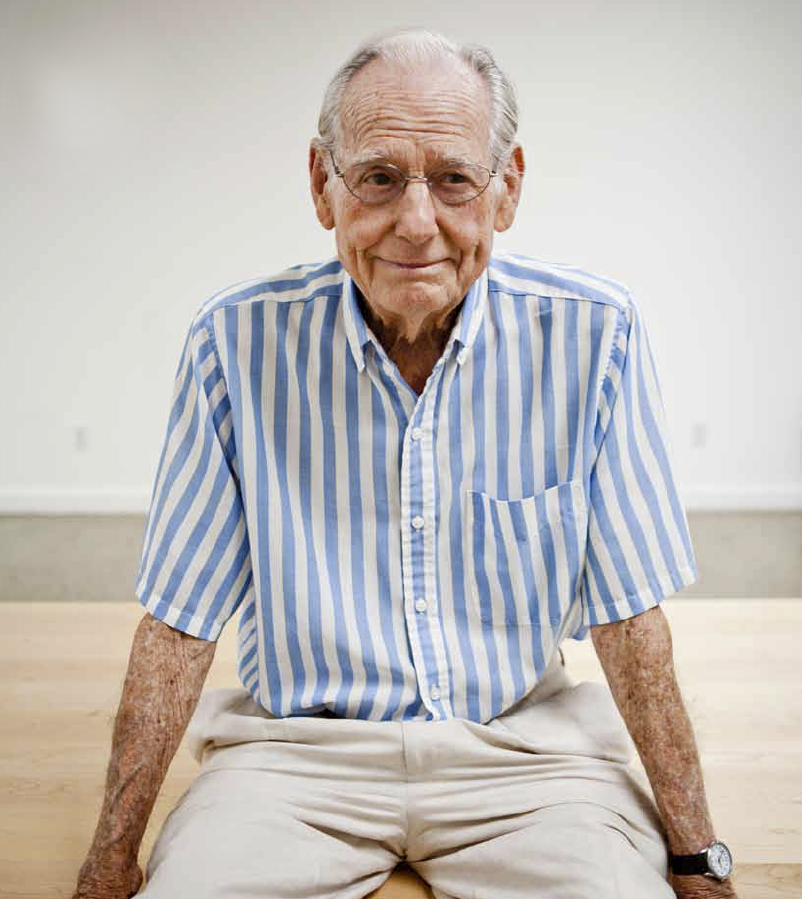 T
The man considered one of the preeminent American painters of the last half-century is sweating ever so lightly. A few droplets stipple the faint lines of his forehead in a pair of neat horizontal rows, as if applied by his own brush. Say this for Wayne Thiebaud: He even perspires with precision.
He is not nervous. He has not been standing outside in the searing August sun. The 89-year-old painter—an appellation he prefers to the nebulous "artist"—has spent the early afternoon chasing the same old grail. "Still looking for that good painting," he says. He has the low, scuffed voice of a cattleman in a '50s Western. "Nothing fancy about it."
Those who have watched Thiebaud work talk of his "athletic" and "aggressive" approach to the canvas. Hence the damp brow. Yet nothing else about him betrays the exertion that ended moments ago when he stepped from his studio into the hallway of the one-story midtown building that doubles as his office and storage space. His thinning ash-white hair lies in dignified strands across the arc of his crown. His short-sleeved white dress shirt and beltless beige trousers, outlining a sapling-straight frame toned from almost daily tennis, appear as unwrinkled as they would on hangers. His palm is dry to the touch when he shakes hands.
The long fingers that have created paintings worth untold millions form a grip at once firm and gentle, a description that extends to his refusal to provide a peek of the work in progress. "I don't like to show my studio," he says, softening the rejection with a smile. "I don't want people to see all my mistakes."
Self-deprecation has defined Thiebaud's career in equal proportion to sustained success. He remains rooted in Sacramento, where he has lived and blended in since 1950, while his art-world cachet and auction prices grow steadily higher. The then-unknown painter first captivated the cognoscenti with his New York gallery debut in 1962. Critics and collectors slavered over his creamy, dreamy, so-appealing-you-could-eat-them images of cakes and pies represented with a luminous palette and droll wit. The unexpected coupling of lushly textured brushwork and prosaic subject matter— ice cream, hot dogs, gumball machines, deli counters—earned rhapsodic reviews from The New York Times, Life and ArtNews. Time placed him in the vanguard of the emerging "slice-of-cake school of art," or what soon would be better known as Pop Art. The Nation dubbed him "the poet laureate of the coffee break."
The paintings, most priced for $500 or less, sold out; the Museum of Modern Art purchased a piece titled Cut Meringues. The public appetite for Thiebaud's work in ensuing decades has proved as ravenous as his creative curiosity, with his gaze shifting back and forth from contemporary still lifes and human figures to the Sacramento-San Joaquin Delta, the San Francisco cityscape and Southern California beaches.
Since 1985, major retrospectives of his oeuvre have traveled to museums coast to coast, spanning Sacramento to New York, San Francisco to Washington, D.C.; museums worldwide that own his work include London's Tate Britain and the National Gallery of Australia. Three years ago, Christie's auctioned Seven Suckers, a 1970 painting of colorful pinwheel lollipops, for $4.5 million, a record price for one of his pieces. The bid topped his previous auction record of $3.4 million—set hours earlier for his 1969 painting Tie Rack. (Prior to that night, Freeways, a 1975-1979 piece that sold for $3.1 million in 2002, held the mark.)
The rising value of Thiebaud's work parallels the upward trajectory of his status in art history. In 1994, President Clinton awarded him the National Medal of Arts, the country's highest honor for artistic excellence, and critical acclaim for his work has since only appreciated. "Wayne is without question one of the great painters of the later decades of the 20th century in America and into the first decade of this century," says Michael Kimmelman, The New York Times' chief art critic. Reviewing a Thiebaud exhibition at the Whitney Museum of American Art in 2001, he wrote that in a perfect world the paintings "would be nailed to the walls for good and we would be free to stop by whenever we needed to remind ourselves what happiness feels like."
"Right now," Kimmelman says, "there's no painter in America who is more satisfying or skilled or, in certain ways, complex. His works leave an impression when you see them. They stay with you."
Thiebaud reacts to praise—or, for that matter, the mere mention of it—with gracious mistrust. Sitting in a wheeled office chair in the hallway outside his studio, humble Timex around his left wrist, he squints when the topic surfaces, almond-brown eyes narrowing behind wire-rimmed glasses. "It isn't humility so much as it is a recognition that you're in a world of tradition which is so rich with such supreme accomplishments," he says. "It's almost audacious: pick up a brush and you're in the same business as Rembrandt? That's overwhelming. But it's also terrific because then you're responsible not to [tarnish] that tradition." The tradition finds itself in good hands, as revealed by an expansive retrospective of his work at the Crocker Art Museum on display from Oct. 10 to Nov. 28. "Wayne Thiebaud: Homecoming" consists of some 50 paintings and drawings dating back to the late '50s and opens in tandem with the museum's new exhibition space, the $100 million, 125,000-squarefoot Teel Family Pavilion. The show, along with a sampling of his famed still lifes, emphasizes the radiant, abstracted Delta scenes he began painting in the mid-'90s, and premieres several works that he completed as recently as this summer.
One new piece, River Intersection, an iridescent aerial view of the Sacramento and American rivers, will move into the museum's permanent collection following the retrospective, occupying wall space near a handful of Thiebaud paintings, among them the iconic Pies, Pies, Pies. He has donated River Intersection to the institution that nearly 60 years ago gave him, at age 30, his first solo show. "Influences on a Young Painter" opened in 1951 at the E.B. Crocker Art Gallery and presented his images of Peter Pan, the Three Blind Mice and other fairy-tale characters depicted in improbably solemn poses. He recalls the concept with a raspy laugh. "It was pretty terrible," he says. "But having the exhibition allowed me to do something which I think is crucially important: to see your work away from where you're used to seeing it, which is in the studio."
As Thiebaud's reputation went national, his images moved from museums into still another setting, that of the culture at large. Earlier in his career, he sought in vain to place cartoons in the pages of The New Yorker; now his work regularly graces the magazine's cover, including the last three annual food issues. In 2006, the Sacramento Philharmonic commissioned a composition by André Previn to honor him, and two of his paintings made a brief cameo in the film The Devil Wears Prada, garnishing the Manhattan home of the Anna Wintour-ish magazine editor played by Meryl Streep.
And since 1994, Thiebaud has made his own contribution to highway beautification in California: To raise money for public arts programs, the state sells a specialty license plate he designed that shows a sunny, palm-lined coastal scene. The "arts plate" so far has generated $20 million, and earlier this year the state launched a campaign to sell one million of them by Jan. 1 in an effort to raise an additional $40 million.
The scope of his cultural impact draws into sharp focus with his induction into the California Hall of Fame on Dec. 14, when he joins Barbra Streisand, director James Cameron and tennis star Serena Williams in this year's 14-member class. The tribute marks how much has changed for the "young painter" since his initial one-man exhibition—except in his own view. "It's not that different than it was then," says Thiebaud, who turns 90 on Nov. 15. "I'm still striving to make better paintings." He rises by 6 a.m. most days to work, either in his midtown studio or upstairs in the Land Park home he shares with his wife, Betty Jean, the model in some of his best-known pieces, including the Crocker's Betty Jean Thiebaud and Book. "It's what I both love and hate doing because you're always in trouble, always trying to solve problems."
But notwithstanding the constancy of the Man-vs.-Canvas struggle and his modesty, Thiebaud has transformed the area's visual arts culture. More than any one person, he has attracted the art world's attention to the region through his painting, the quiet support of fellow artists and decades of teaching at Sacramento City College and UC Davis. (Two notable past students: Sacramento native Mel Ramos, renowned for his paintings of pinup models, and Bruce Nauman, regarded as one of the world's most important multimedia artists.) In return, living in Sacramento has buffered Thiebaud from the rank commercialism that breeds self-imitation and trend chasing in the art market, freeing him to experiment.
"He's reinvented himself over and over again," says Sacramento painter Fred Dalkey, a longtime friend and the subject of a Crocker retrospective in 2002. "He's shocked a lot of people. They think they know who he is and then all of a sudden— bang!—he's working in some new area." More explicitly, the region inspires the Delta landscapes in which he melds elements as disparate as Cubism and Chinese art, producing what The New Yorker critic Adam Gopnik has called "fantastically rich, almost psychedelically colored" images that brand Sacramento as Thiebaud country.
"His work is something that will bring people from around the world," says Scott Shields, the Crocker's chief curator, who collaborated with the painter on this fall's retrospective. "It's always been my belief that you go to Spain to see Goya, you go to Iowa to see Grant Wood and you come to Sacramento to see Thiebaud."
* * * * * *
Painting may have saved Wayne Thiebaud from an early death. His company of the U.S. Army Air Force, stationed at what was then Mather Army Air Field in Sacramento, received orders in late 1944 to ship overseas. World War II had entered its final year and the Allied powers needed hundreds of thousands of troops to repel a German offensive in the Belgian mountains. Five weeks of combat in the so-called Battle of the Bulge would claim the lives of 19,000 American soldiers, making it the war's single deadliest engagement for the United States. A transport truck stood outside Corporal Thiebaud's barracks, ready to ferry soldiers to the airstrip for their flight.
The military had sent him to Mather soon after he enlisted in 1942, four years removed from graduating high school in Long Beach. His parents, Alice and Morton, moved there within a year of his birth in 1920 in Mesa, Ariz., and apart from a two-year stretch in the early '30s when the family lived in Utah, Wayne and his younger sister Marjory grew up in Southern California. As the Thiebauds spent time in Long Beach and Los Angeles, Alice tended to the household while Morton, a bishop of the ward in the Mormon Church, held an array of jobs through the years: mechanic for Ford, foreman with Gold Medal Creamery, traffic safety supervisor, real estate agent.
The family weathered the Great Depression and, by his own account, Thiebaud enjoyed a carefree childhood, other than breaking a bone in his back in a gym class mishap; he picked up his high school diploma wearing a neck-to-waist cast. He worked for food stands on the Long Beach boardwalk, washing dishes and hawking hamburgers, hot dogs and ice cream, and signed up as a stagehand for school plays. His paintings decades later made evident the influence of his early exposure to food preparation and theater lighting techniques. His luscious cakes and pies, fringed with ethereal halos of blue or red or yellow, "glow with a brilliance so peculiar and unreal," as Kimmelman once wrote, "that it looks as if it must be from either the light of heaven or the glare of an operating theater."
Thiebaud's interest in art, nurtured by an uncle who drew cartoons for him and Marjory, budded in his early teens. He remembers a friend's father taking him on a day trip to Palm Springs to paint landscapes. After stopping somewhere in the desert, the man set up his easel and started working from the top of the canvas downward "like he was pulling a shade. I've never seen anyone paint like that since. It was magic—from nothing to a little piece of the world. I never got over that."
During high school Thiebaud landed a summer apprenticeship in the animation department of Walt Disney as an "in-betweener," drawing fill-in frames of Goofy and Pinocchio that connected the primary scenes handled by studio animators. Upon graduating in 1938, he scrounged freelance work as a sign painter and movie poster illustrator, but uncertain of art's career prospects with the country at war, he joined the military to become a pilot.
Before learning to fly, he had to attend mechanics school, waking at 4:30 a.m. every day to inspect planes. Walking over to Mather's hangars on a morning "colder than hell," he passed a Quonset hut and noticed soldiers sitting at drawing tables. Thiebaud stopped in and discovered they designed promotional materials for the Special Services Department. He received a transfer that day, and during the next two years he illustrated posters, taught drawing classes and created a comic strip, Aleck, for the base newspaper.
Near the end of 1944, however, as the Battle of the Bulge loomed, the military ordered more troops to Europe. He had his barrack bag packed on the day his company would leave when he was summoned to the office of "an adjutant general or a major or a colonel—whoever the boss was."
"You're shipping out?"
"Yes, sir," Thiebaud replied.
The man dropped a black and white photo of a woman on his desk. "You think you could paint a picture of my wife for me?"
"Yes, sir."
"I'll take you off that duty."
Thiebaud remained at Mather until August 1945 when the military reassigned him to the First Motion Picture Unit near Los Angeles. The division, headed by movie actor Ronald Reagan, produced educational films about the war effort and designed largescale models of Japan's islands to prep pilots for bombing runs. Unit members played basketball in their downtime, and the future famous painter took the court with the future governor and president. "He wore a big mask because his face was insured for all kinds of money," Thiebaud says. Ogling actress Jane Wyman, Reagan's first wife, rated as another popular diversion. "We were all falling out of the windows trying to get a glimpse of her when she walked her dog."
The war ended the next month, and following a brief, impoverishing stay in New York trying to sell cartoons to newspapers and magazines, he returned to Southern California. Universal-International Studios hired him to design movie posters, and some of the era's biggest screen idols—Marlene Dietrich, Susan Hayward, John Wayne—posed for the young illustrator. Thiebaud met Ava Gardner when she starred with Burt Lancaster in The Killers in 1946 and realized that, despite the swooning her long legs induced in men around the world, "she had the ugliest damn knees—all scarred, beaten up." He gave the illustrated Gardner a double knee replacement after studying a figure in a 17th-century painting by Peter Paul Rubens.
The same year, after losing his job during a studio labor strike, he went to work as a cartoonist and layout designer in the ad department of Rexall Drug Company. Urged by a colleague—a fellow artist—to devote himself to painting, Thiebaud, his compositions tinged with Cubist and Expressionist touches, gained entry in 1948 to his first major exhibition, a survey of area artists at what is today the Los Angeles County Museum of Art. A year later, not long after taking part in the E.B. Crocker Art Gallery annual group show, Thiebaud broke from his commercial art career to pursue painting full-time. In 1950, he moved north, and soon after began attending California State College (now California State University, Sacramento). "I had really loved Sacramento when I was here with the Army Air Force," he says, "and I had a desire to come back. I loved the trees, the light, the weather." He had found his path and his destination.
* * * * * *
Fred Dalkey and Wayne Thiebaud drove down to the Sacramento River one day in the mid-'90s and set up their easels on the bank opposite Freeport. The two men, friends since the early '80s, worked side by side: Dalkey sat as he produced what he describes as "a very mundane little painting"; Thiebaud stood as he made a small drawing. "I really didn't think anything would come of it," says Dalkey, a former longtime art instructor at Sacramento City College, who had tagged along at Thiebaud's invitation. "I just thought it was an odd event."
Enlightenment of a sort dawned after Thiebaud debuted more than three dozen Delta landscapes at a San Francisco gallery in 1997. "I was shocked," Dalkey says. "I thought, 'What on Earth is he doing?' It took me a good year or more before I realized the brilliance."
Several Delta canvases, measuring as large as 72-by-60 inches, form the heart of the Crocker's Thiebaud retrospective. The images, balancing incandescent rainbow hues and warm earth tones, portray the region from varying aerial perspectives that nudge the horizon off the top of the canvas; geometric assemblages of serpentine rivers and roads, furrowed farmland, clumps of trees and tidy clusters of homes create a kind of two-dimensional origami. The effect is something like floating in a paraglider while holding a telescope to one eye and a kaleidoscope to the other.
Thiebaud deepens the sense of giddy dizziness by mashing up familiar locales into a single scene. "A lot of people think they know exactly where the places are," says Dalkey, acclaimed for his landscape and figure paintings. "Those places don't exist. They exist from all kinds of bits and pieces—little sketches in sketchbooks that he's reassembled. But he has a way of tapping into a collective idea of the way things look. Not the way they necessarily do look, but the way we think they look."
The images stamp Thiebaud's imprimatur on the region in a manner that Elaine O'Brien, a Sacramento State professor of modern and contemporary art who has written about his ties to the area, considers as distinct as that of one of history's greatest landscape painters. "When you go to Southern France and you look around, you say, 'That's a Cézanne,' " she says. "Thiebaud does that. He gives us our [sense of place] like no one else does."
The Delta paintings represented another tectonic shift in subject matter after his still lifes of cakes and pies attracted national notice in the early '60s. He switched his attention to figures for the rest of the decade, creating works that critics, noting Thiebaud's portrayal of and fixation on human isolation, likened to those of New York artist Edward Hopper. For much of the 1970s and '80s, Thiebaud painted dramatic cityscapes of San Francisco—he and Betty Jean kept a second home there for many years—and drew favorable comparisons to the works of the seminal Bay Area artist Richard Diebenkorn, who became a friend. Later his brush fell on the Delta, and in recent years, he has painted Southern California beaches, returning to a theme he plied before his still lifes.
"Every time he's done something new, he's known he was leaving his audience behind," says Dixon artist Chris Daubert, a City College art instructor who from 1986 to 1988 served as his teaching assistant at UC Davis, where Thiebaud retains the title of professor emeritus. "But he has never been afraid to keep experimenting." Or perfecting. Daubert equates Thiebaud's painting method to a golfer hitting a putt. After drawing lines on a canvas and applying underpainting, "he'll back up and he'll take two or three practice strokes with the brush hovering over the surface, then just drop in and hit it. It's very physical."
He paints about 40 hours a week, waking early to work for a few hours before heading over to the Sutter Lawn Tennis Club to play doubles with ex-mayor Burnett Miller and a few other friends. ("He'll run you to death," Miller says of Thiebaud, who names Roger Federer as his favorite player, a fitting choice given the Swiss star's artistry on the court.) He stops home for lunch with Betty Jean before returning to the studio to resume painting—or to cull his inventory. "He produces more than a hundred paintings a year," Daubert says, "and he destroys a huge number of paintings a year."
Thiebaud has cultivated an unassuming public profile that allows him to turn up around town with little fanfare, whether eating at Biba and Pancake Circus with friends, dropping by Freeport Bakery to pick up a cake or buying sweets from See's Candies. Across the region's art scene, meanwhile, he has a pervasive presence. A partial list of his donations to area institutions includes River Views, a Delta landscape completed in 2003 and valued at approximately $1 million, to the Sacramento Central Library; a collection of 78 sketches, studies and prints, appraised at more than $1 million, to the Crocker; and more than 100 works valued at nearly $1 million to UC Davis. Taken as a whole, his largesse suggests that, 60 years after settling in Northern California, the area's best-known painter wants to reciprocate the support that has sustained him since before anyone had heard of him.
* * * * * *
If Thiebaud would rather forget his somber images of fairy-tale characters exhibited at his first one-man Crocker show in 1951, he remembers the "kindly and indulgent" reaction of those who attended. "The people of Sacramento have always been wonderful about coming out to see shows," he says. "They've shown genuine interest from the beginning."
Thiebaud received his bachelor of arts degree the same year as his solo debut—California State College fast-tracked him based on his painting and commercial art experience—and started teaching at what is now Sacramento City College, earning less than $10,000 a year. He had added a masters degree by the time he visited McClatchy High School in 1953 on "career day" to talk about City College's arts program with graduating seniors. Mel Ramos knew which school he wanted to attend before Thiebaud uttered a word.
"He looked exactly what I thought an artist would look like," says Ramos, talking from his summer home in Horta de Sant Joan in Northeastern Spain, a town where Pablo Picasso once lived and painted. "He was wearing something like a Kelly green sports jacket and maroon corduroys and a big bow tie. I was blown away." Ramos enrolled at City College in the fall and, as years passed, the two forged a lasting friendship. "Wayne was probably the most important person in my life when I was younger because of the influence he had on me," says Ramos, a Sacramento native whose provocative paintings of pinups in the 1960s brought him international fame. "Not so much his work, but how to be an artist and stay focused and true to yourself. What he instilled in students was the notion to excel."
In the early 1950s, a Steinbeckian desolation plagued the region's art scene. "Back then it was like The Grapes of Wrath around here," says Gregory Kondos, a Sacramento painter best known for his vibrant California landscapes. Kondos met Thiebaud when both attended California State College, and together with a band of artists that included Ramos, Jack Ogden and the late Patrick Dullanty, they set about tilling the cultural fields, hanging their paintings anywhere that might lure an audience: on a pegboard wall next to the concession stand at the Starlite Drive-In off Arden Way, inside taverns on J Street, at city and county fairs in Auburn, Woodland, Lodi and points in between.
Sales were scarce when paintings vied with movies or alcohol for the interest of customers, making the art contests at fairs the best chance to turn a buck—a decent profit since first place typically yielded all of $25. Kondos and Thiebaud would swathe their large paintings in oilcloth, strap them to the side of Kondos's car and hit the road. "After the entry fee and gas, we would end up maybe $5, $10 ahead if we won," says the 87- year-old Kondos. "But that would buy some groceries or pay a bill, so you were happy." At the time, the Crocker ran a rental gallery that leased paintings to patrons, providing another small revenue stream for local artists. Though Thiebaud might earn only $10 or $20 a week in fees, he says, "Sometimes that was the difference between whether the kids had shoes or not."
Above everything else—the natural beauty and open spaces; the cable cars that clanked through downtown; the regal Fox Senator Theatre on K Street—Thiebaud recalls mid-century Sacramento as an ideal city to raise a family. He met his first wife, Patricia Patterson, while stationed at Mather Army Air Field, and the couple married in 1943. Before divorcing in 1959, they had two daughters, Twinka and Mallary, both of whom now live in Portland. (A former photography model, Twinka achieved fleeting celebrity as one of the subjects in a 1974 image staged by respected Berkeley photographer Judy Dater. The black and white photo captures a fully nude Twinka shyly peering around a tree in Yosemite National Park at 91-year-old Imogen Cunningham, a pioneering female photographer shown in a dark dress and wearing a camera around her neck. When Life published the photo, the portrayal of Twinka as an innocent nymph amplified critical debate about how male artists had depicted female nudes throughout history.)
Later in 1959, Thiebaud wed Betty Jean Carr, the mother of two sons, Mark and Matt Bult, from a previous marriage. Mark lives in Sonoma; Matt, a collage artist who manages his stepfather's business affairs, lives near the Thiebauds in Land Park. Wayne and Betty Jean had their only child, Paul, in October 1960, weeks after Wayne joined the UC Davis faculty following a nine-year tenure at City College.
Wayne Thiebaud has seldom spoken publicly about his family, and he declined to discuss Paul's death in June after a long battle with colon cancer. Married and the father of two children, Paul, 49, owned an art gallery in New York, one in San Francisco—he organized an exhibtion of Matt's work last year—and he had long explored opening another gallery in Sacramento, as well. Several people close to the elder Thiebaud reveal that he paid to fly his son to Israel on multiple occasions for cancer treatments unavailable in the U.S. But it is perhaps a measure of his guarded nature that he has remained virtually silent about Paul's death in private, according to friends, none of whom wanted to talk for attribution on the subject. "He hasn't said anything about it except 'A son shouldn't die before his father,' " says one person who has known him since the '60s. "It's made him conscious of his own mortality."
Thiebaud has designed a 52-foot-tall tile mosaic of a river for the so-called Tribute Building, a project Paul conceived with Mike Heller Jr., the son of longtime Sacramento developer Mike Heller Sr., to honor their respective fathers. Construction has stalled on the four-story office building at 20th Street and Capitol Avenue owing to the sluggish economy, but the younger Heller has nonetheless pledged to move ahead, and when completed, the building will be only the second to boast a piece of public art designed by Thiebaud. He created a glass mosaic mural for the exterior of SMUD's headquarters on 62nd Street in 1957. The massive work remains in place today.
Dozens of art books stuff the wall shelves and papers clutter the desk in the office Paul occupied in his father's midtown studio building. His old chair stands a few inches back from the desk, slightly askew, as though he left in a hurry earlier this August afternoon. The office sits off the building's main space, a long rectangle with dozens of large paintings sheathed in clear plastic leaning against the walls. Most bear a sticky note with a lone word—Crocker—that denotes their inclusion in this fall's Thiebaud retrospective.
The works range across his career's primary themes of food, figures, landscapes and cityscapes. Cheese Display (1969) and Bakery Case (1996) tempt the palate while teasing the eyes with a subtle interplay of shadow and light; Five Seated Figures (1965) assembles three men and two women in a room as vacant as their stares; the shimmering Delta scene in Green River Lands (1998) shoots from the canvas like a page in a pop-up book; Uphill Streets (1992-1994) translates to a flat surface the vertigo roused by San Francisco's steepled topography.
A less familiar image, saturated in black and dark blues, shows a businessman who, after casting his briefcase to the ground in a city park, has begun climbing a tree. His motive is unclear: He may be planning to hang himself with an unseen length of rope tucked in his suit pocket or simply looking for a spot to meditate. Without delving into the piece's possible meaning, Thiebaud explains that the subject of office workers has long intrigued him. He has tussled with the painting off and on for 20 years, unwilling to display it in public, and with the Crocker exhibition approaching, his doubts persist. "This one, every time I get ready to show it, I say, 'If I show that, that's probably the end of me right there.' " The same thought pestered him when he started painting cakes and pies.
* * * * * *
Thiebaud took a yearlong leave from City College to live in New York starting in 1956, and he returned to Sacramento bursting with stories about the East Coast art milieu and with Abstract Expressionism surging from his fingertips. He befriended such titans of the movement as Willem and Elaine de Kooning, Franz Kline and Barnett Newman, and made the acquaintance of leading art critics Thomas Hess and Harold Rosenberg. "It was just a wonderful chance to get to meet these various people and discuss painting and different ideas," says Thiebaud, who occasionly visited the legendary Cedar Bar, then the cultural epicenter of New York and, by extension, America. "It was transporting."
The experience motivated him to establish the Artists Cooperative Gallery with Gregory Kondos, Mel Ramos, Jack Ogden and other Sacramento painters, a venture bankrolled in part by Tower Records founder Russ Solomon. Rather than barnstorming the region, they could convene at the gallery "to show our work and have openings and get people interested," says Ogden, who studied under Thiebaud at City College in the early '50s. "It was like night and day."
Thiebaud served as the exhibit designer for the annual State Fair art show from 1950 to 1959, and like Kondos and Ramos, Ogden sometimes helped prepare and hang paintings for it. The group pitched pennies during breaks, and no one played with greater intensity than Thiebaud. "He was making more than us, but he'd still take our pennies," Ogden says with a laugh. "He's one of the most competitive guys I've ever met. He's from Gary Cooper country—'aw, shucks.' But there's steel underneath."
As the '50s ended, Thiebaud, dissatisfied with the purposeful haziness of his Abstract Expressionist paintings, adopted a more formal method of composition. He sought to combine clean lines, basic shapes and identifiable objects in a style that evoked the works and techniques of painters he admired. An art history maven who long ago outed himself as a "thief " of his brushwielding forebears, Thiebaud borrowed from painters as varied as Diego Velázquez, Jan Vermeer, Edouard Manet, John Singer Sargent and Joaquín Sorolla. He mined ideas from the work of Jean-Baptiste-Siméon Chardin, an 18th-century French painter whose images of everyday objects—pots, pans, kitchen utensils— earned him a reputation as a master of still lifes.
Kondos gained insight into Thiebaud's new direction when the two friends, who in those years took frequent plein air painting trips to the Sacramento River, the Sierras and the Nevada desert, visited San Francisco. As they strolled past a pastry shop, Thiebaud peered at a display case of baked goods. "I'm sure I can paint those," he told Kondos, "but what I want is to get the dimension between the viewer and the glass and the object. If I can get that to work in a composition, I'll have something."
Painting images mostly from memory, Thiebaud felt liberated by his decision to depict subjects he deemed "genuine": cakes, pies and ice cream; hot dogs, hamburgers and French fries; bakery, candy and deli counters. Yet beneath the sense of freedom lurked anxiety over how the public and critics would judge his work. "I thought to myself, 'Jesus, this'll be the end of me. Nobody's going to take me seriously,' " he says. "But I couldn't leave it alone."
The fears were realized in spring 1961 when he unveiled his still lifes at the Artists Cooperative Gallery and a San Francisco gallery. Not a single painting sold and the sole newspaper review of his work belittled him as "the hungriest artist in California." Kondos overheard a conversation between two men at the San Francisco show as they stood before Thiebaud's painting of five hot dogs, appalled at the $500 price tag. "Can you believe it?" one said. "He wants $100 a hot dog."
* * * * * *
Thiebaud and Ramos drove to New York a couple of months later, intent on catching their big break. Rolled-up paintings tucked under his arms, Thiebaud, whose lean build, plume of dark hair and Everyman good looks lent him the aspect of a theater actor, walked door to door to art galleries, hoping to persuade an owner to grant him a show. He had tired legs and a battered ego by the time he reached the Allan Stone Gallery.
Less than a year old, the gallery already owned a robust reputation on the strength of showing works by Barnett Newman and Willem de Kooning. In an interview five years before his death in 2006, Stone recounted his initial reaction to Thiebaud's array of dessert works: "I didn't know what to make of them." But he asked the painter to leave the images with him, and Stone brought them home to hang next to original artworks from the likes of de Kooning, Kline and Jackson Pollock. Claudia Stone, who runs her late father's studio, remembers him explaining his rationale for assessing a new artist's paintings.
"Everything feels great in the studio because they're in the center of the [action], so you need to take the work out and see what happens. Can they hold up? My father would say that he took the 'pie guy's' pictures and couldn't get them out of his head," she says. "The paintings were sitting there with all these other works and were very strong and kept resonating."
Allan Stone agreed to give Thiebaud a show in 1962. As it happened, the exhibition opened not long before Thiebaud visited New York with a group of UC Davis students, and when he called Stone after arriving, he learned that a critic from Time wanted to interview him. The Nation's critic had stopped by the gallery earlier. In a New York minute, the obscure painter from California had morphed into a national sensation.
His work had the good fortune of appearing at the time of Pop Art's ascension, and critics initially lumped him with Andy Warhol, Roy Lichtenstein and their ilk. But he was "misunderstood into fame," as former Time art critic Robert Hughes later wrote, an analysis Thiebaud echoes. "I think I was wrongly given fame which I wouldn't have gotten without that movement. I'm aware of the fact that occurred and thankful for it, except I've never thought of myself to be part of the Pop Art movement."
A fan of his contemporaries Jasper Johns and Claes Oldenburg, Thiebaud never warmed to other Pop artists, whose detached, mechanized images lampoon America's consumer culture. Rather, Thiebaud's paintings, while offering their own commentary on ritualized mass production of food, serve up affection and nostalgia.
"His works summon these deeper feelings and yet there's a streak of very deadpan, ironic, kind of laconic American humor," says Michael Kimmelman of The New York Times. "It's not so much making fun of these things but recognizing them as part of our family and part of our experience. The familiarity is funny in the same way that you love your crazy uncle or slightly oddball aunt."
Or as Crocker chief curator Scott Shields says, "Andy Warhol seems to hate soup, but Wayne Thiebaud seems to love pie."
For a painter who has balked at attempts to attach meaning, symbolism or consequence to his work, the alpha and omega of good painting lies in craftsmanship. In reflecting on the significance assigned to his still lifes when they first appeared, Thiebaud says, "I still can't believe it. They're really just representational paintings covering the basic requirements of trying to get some decent space, some decent color, good design…" He lets the thought drift away.
Critics and curators are more loquacious on the topic of what resonates in his paintings. "There's a gap between his incredible skill and the humility of the things he paints that's extraordinary," Kimmelman says. "Plus, they're just beautiful to look at." In his 1998 book Portraits, a collection of profiles of renowned artists, including Francis Bacon, Lucian Freud and Richard Serra, Kimmelman devotes a chapter to Thiebaud and offers perhaps the best analogy to describe the unearthly light in his images of sweet edibles: "a painted pie will be isolated and illuminated on the canvas as if it were Olivier playing Hamlet on an empty stage."
Karen Tsujimoto, a senior curator with the Oakland Museum of California, organized a Thiebaud retrospective in 1985 when she was with the San Francisco Museum of Modern Art. As the painter continues to investigate new subjects and circle back to old favorites, she says, "What hasn't changed is his mastery of painting. The fact that he can create a painting that still captivates a viewer when we're bombarded with all this visual information in the Internet age shows how he's also mastered the skill of understanding people."
Thiebaud has mentioned to friends that Allan Stone once joked, "Gee whiz, if you'd just kept those dessert paintings going, we could each own our own island in the Bahamas." In truth, Stone recognized that Thiebaud's protean tendencies were the essence of his success. If the painter had been 20 instead of 41 when he made his New York debut, Claudia Stone recalls her father saying, "I don't think he would have had the career he'd had. We both were so enthused by the overwhelming response—a younger artist might not have the courage to take that market response, put it aside and go back to the studio to pursue that which is intriguing to him." Those who have known him since his days of painting sullen fairy-tale characters remember that as everything appeared to change around Thiebaud, nothing changed within. "He became instantly famous, but I think he was always suspicious of that kind of fame," says Ramos, who in 1964, two years after Thiebaud, earned his first New York gallery show and catapulted to national prominence. "He's not full of himself like a lot of artists."
Almost a half-century since the press ordained him "the poet laureate of the coffee break," Thiebaud admits that with recognition comes ambivalence. "It's always wonderful to have honors; one would be an ingrate not to appreciate it," he says, referring to his imminent induction into the California Hall of Fame. "But it also makes you uneasy. You never feel you quite measure up to it." And so he will wake early tomorrow to begin the struggle anew, a man with a brush, bound by a sense of purpose and a search for that good painting.
"It's like Marlon Brando said: 'I coulda been a contendah.' It doesn't mean winner. Doesn't have to be winner. You just gotta play the game with some real respect."