Where to find Sacramento's best hot chocolate on National Cocoa Day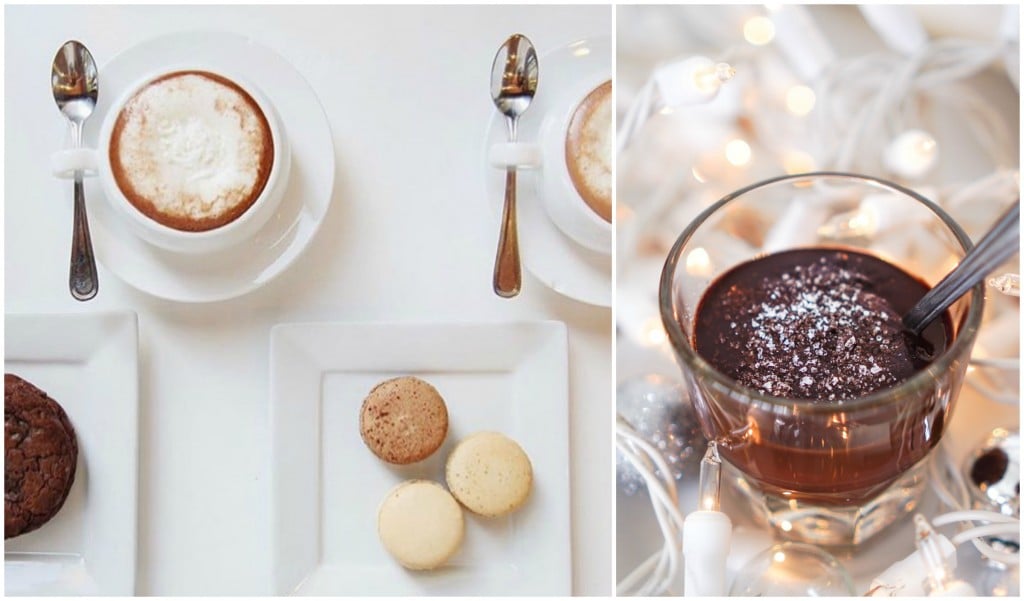 Oh, the weather outside is frightful, but sips of hot chocolate are so delightful. And now you have the perfect excuse (perhaps even a moral obligation?) to imbibe said sweet concoction on National Cocoa Day, this Sunday, Dec. 13. Here are six hot spots to find some of Sacramento's best hot chocolate.
Bloom Coffee & Tea
This Roseville coffee-and-tea outpost delivers a comforting mug brimming with ultra-sweet cocoa nectar with its Ultimate Hot Chocolate. The seasonal beverage, which is only offered in the month of December, is handcrafted in-house beginning with a blend of brown sugar syrup and whole chunks of dark chocolate that melt when steamed with whole milk, half-and-half and vanilla extract, and finished with a dash of sea salt on top. Offered in 12- and 16-ounce options, barista and baker Tori Azarcon says this wintry selection stands out for its super-rich sweetness. 1485 Eureka Rd. Roseville. 773-2332. bloomcoffee.com
Fluid Espresso Bar
Sergio Barrios, who has co-owned this downtown espresso spot with his wife Melissa Allen since 2006, says he leaves sugary additives out of the shop's Spanish Hot Chocolate to showcase the true cocoa flavor. The not-too-sweet mixture is equal parts Ghirardelli white chocolate powder and Ibarra Mexican chocolate with a high percent of cacao (the exact amount, he keeps secret) that is then steamed with milk, topped with whipped cream and dusted with cinnamon, creating a warm, spiced cold-weather companion. 1230 N St. 444-2737. fluidespressobar.com
Ginger Elizabeth Chocolates
With 15 years of experience, Ginger Elizabeth Hahn, owner of this popular midtown dessert destination, showcases chocolate's complexity with her Oaxacan Spicy Hot Chocolate, which is inspired by her time spent on a cocoa farm in Mexico, where she saw a cocoa plant surrounded by ginger root, wild vanilla and chile plants. Aiming to complement the flavor of the chocolate, Hahn combines these ingredients with cinnamon bark to create a simple syrup (which steeps for 24 hours) that is added to semi-sweet Valrhona 53 percent cacao and steamed organic Clover milk. The result is an 8-ounce confection topped with a choice of either house-made vanilla bean marshmallows or fresh whipped cream that is silky and decadent with a hint of heat. 1801 L St. 706-1738. gingerelizabeth.com
The Sweet Spot Baking Co.
Robert and Lorene Fuhs, the husband-and-wife owners and operators of the Sacramento-based food truck The Sweet Spot Baking Co., noticed a demand for a kid-friendly version of their popular affogato, so they came up with the Hot Chocolate Float—two scoops of Gunther's ice cream (the truck offers nine ice cream flavors, but the most popular for floats are vanilla bean, peppermint and chocolate) submerged in a special undisclosed mix with Ghirardelli hot cocoa as the base ingredient. This kid-approved treat is then topped with plenty of whipped cream and drizzled with chocolate syrup for a sweet sip that appeals to the inner child in us all. 709-4790. thesweetspotbakingco.com
Temple Coffee Roasters
For cacao enthusiasts who want a bittersweet symphony, Temple Coffee Roaster's seasonal Drinking Chocolate—which they began offering the day before Thanksgiving—is an uber-chocolaty drink featuring 66 percent cacao that is garnished with sea salt. Creative director Cole Cuchna says it is crafted using steam and a touch of hot water to preserve the fruity, intricate flavor of the organic and fair trade-certificated chocolate from San Francisco-based THCO Chocolate (that the Temple team picked after blind tasting 40 different kinds). Each spoonful of the 3-ounce decadent "drink" displays notes of coffee, dried cherries and currants, available at all locations until New Years Day. Multiple locations. templecoffee.com
Tupelo Coffee House
For those that take their chocolate pick-me-ups in the way Jackie Chan takes down villains—with a kick—the Mocha Thai from this East Sacramento coffee house and its Naked Coffee Lounge sister locations, fits the bill. This caffeinated chocolate beverage is made with powdered Ghirardelli and Ibarra chocolates that are steamed with milk, and then combined with espresso and condensed milk. General manager Lindsay Burnside says what sets this mocha (which is served iced or hot and topped with a cloud of whipped cream drizzled with chocolate syrup) apart is the condensed milk—which is typically added to Thai and Vietnamese coffees and is how the mocha got its name—a thicker, creamier addition that creates a sipping experience she equates to drinking fudge. Multiple locations. nakedcoffee.net
You Might Also Like:
Our 13 favorite festive Holiday Events in Sacramento
The best Sacramento Christmas tree farms
Sactown's Holiday Gift Guide 2015