Maine Attraction
In Portland, Maine, local artists have found a new kind of canvas: city bus shelters. With such inspiring designs, good things come to those who wait (for their bus to arrive).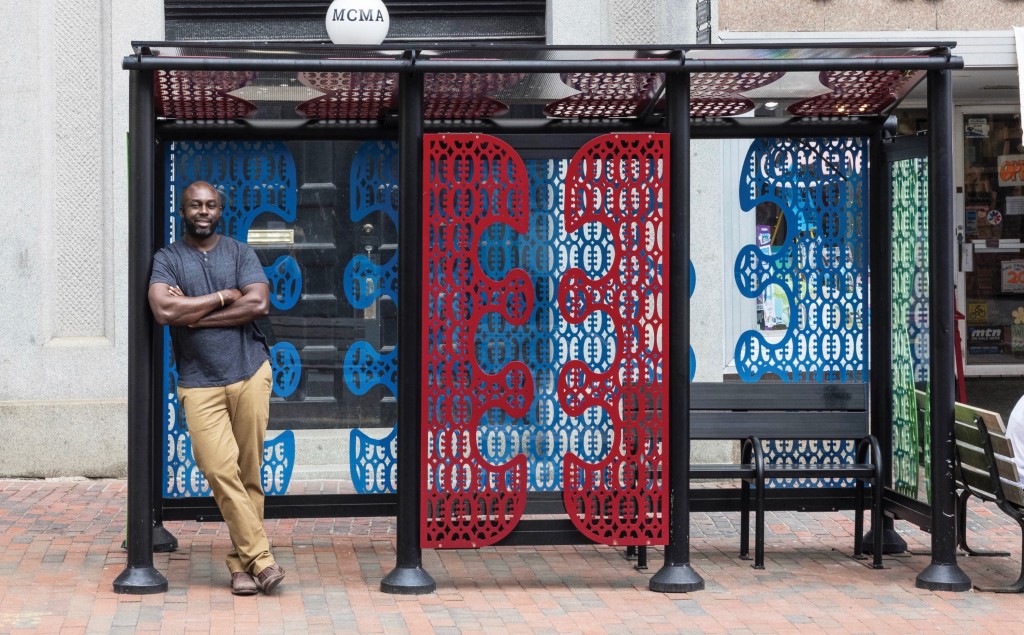 The Idea
A few years ago, Creative Portland, a nonprofit arts council in Portland, Maine, was trying to create more opportunities for local artists.
The group's solution: Commission artists to transform existing bus shelters into public works of art. But would the transit agency, Greater Portland Metro, allow it? When Creative Portland's executive director Dinah Minot presented the idea to Gregory Jordan, the head of Metro, his response was, "You had me at hello."
To fund the project, Creative Portland applied for an "Our Town" grant from the National Endowment for the Arts, an initiative designed for "creative placemaking" projects that "integrate arts, culture and design activities into efforts that strengthen communities by advancing local economic, physical and/or social outcomes." And the organization received one, for $25,000.
But the grants—which range from $25,000 to $150,000—require matching funds. So Creative Portland raised another $25,000 in the form of cash and in-kind gifts (the latter included donated materials like steel and services like laser cutting). And after receiving dozens of applications from artists, it selected four who had experience working with all-weather materials to design one shelter each. One participant was Portland jewelry maker Ebenezer Akakpo (pictured), who fashioned large steel plates featuring symbols representing friendship and hope from his native Ghana. His shelter debuted last summer.
The Players
Only established nonprofits working in partnership with a "local governmental entity" can apply for the "Our Town" grants. Here in our region, it could be, say, a group like the Verge Center for the Arts collaborating with the Sacramento Office of Arts and Culture. And Regional Transit would also obviously need to be on board. In 2017, the agency helped create a tiny "concert hall" in a bus shelter in front of the then-Community Center Theater, complete with piped-in music, theater-style seating and wrap-around artwork promoting the Sacramento Philharmonic & Opera's new season. In Portland, the Metro system also agreed to maintain the shelters and forgo advertising revenue that those shelters had produced. Minot says that Jordan "recognized the impactful advantage of having the art attract ridership and reduce the stigma of riding a bus."
The Bottom Line
Each Portland shelter cost about $15,000 to produce, including materials, administrative costs and the artist's fee, which was $4,500. Minot says that may sound expensive, but it's incredibly cost-efficient because of the existing shelter structure. Creating a similarly sized work of art from scratch, she says, might cost $50,000. If we want to follow Portland's example, though, we'll need to hurry. The deadline for this year's "Our Town" grant is Aug. 5, but applicants need to "finalize … their registration by at least July 15." And while debates about public art in Sacramento frequently focus on local versus nonlocal artists, with a grant named "Our Town," we think this is one case where using regional artists exclusively is the only "fare" thing to do.