Wide Open Walls gets set to paint the town in 2020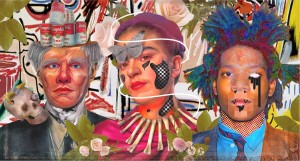 When the fifth annual Wide Open Walls (WOW) begins on Sept. 10, one of the murals at the 11-day festival will be a portrait by first-timer Brandon Gastinell titled Andy, Frida, Jean, featuring three of the 20th century's most influential artists—Andy Warhol, Frida Kahlo and Jean-Michel Basquiat. The pop-style painting was initially going to be a solo portrait of Basquiat, the late Black neo-expressionist.
"But then everything happened," says Gastinell, also a Black artist. "I really think that getting those artists together, in times like now, is very important. It shows unity." Accented with motifs from the masters' works (Campbell's tomato soup cans and skulls, for instance), the piece is likely to be just one of many murals that will reflect prevailing themes of 2020.
According to festival founder David Sobon, the high BIPOC (Black, Indigenous, and people of color) content is inherent in WOW's large applicant pool—this year, there were over 400 entrants from all over the world. "And this year we've amplified the diversity even more," he says.
The first group of 15 artists participating at this year's event includes newcomer Brandon Alexander, a Black artist from Del Paso Heights, and alum Shonna McDaniels, the founder and executive director of the Sojourner Truth African Heritage Museum whose 2019 mural in Oak Park depicts a female member of the Ndebele tribe in South Africa. Also returning is Bryan Valenzuela, whose 2017 midtown work Kumbaya Moment was inspired by the deep divide created by the 2016 presidential election, and has been enduring in its portrayal of a breaking point.
In past years, Sobon, an auctioneer by day, has been able to travel the world to hype WOW, meeting artists like David de la Mano from Spain or Puerto Rican painter Alexis Diaz or 1UP Crew, a graffiti group out of Berlin, to invite back to the ranch, so to speak, to paint in the festival. This year, because of the pandemic, all national and international invitations were canceled, and so far, the artists who have been selected are Sacramento-based. In a few weeks, Sobon hopes to add a few artists from the Bay Area, capping the list at 20.
"We have found a way to make the festival happen in spite of COVID, because people need art right now," says Sobon. This year, expect to see murals going up in downtown, midtown, Old Sacramento and Oak Park, on the R Street Corridor and Del Paso Boulevard, as well as at UC Davis and Sacramento State.
Social distancing requirements have also significantly cut down on surrounding festivities. Gone are such gatherings like the 2019 street party and concert on Capitol Mall that drew 4,000 visitors, or the 2018 pop-up gallery at Downtown Commons where renowned Los Angeles artist Shepard Fairey—who painted the striking portrait of Johnny Cash on downtown's Residence Inn by Marriott that year—was manning the turntables.
Instead, free open-air mural tours—walking, biking or scootering—will be led by members of the WOW board of directors, including Zayn Silmi, founder of The People of Sacramento, and local artist Raphael Delgado, whose past festival murals include California Republic Bear on the side of Jalapeños restaurant in midtown.
"There was a lot to overcome for this year's festival, but that's not stopping us from selecting a great group of local artists to paint work on our city walls that we can all be proud of," says Sobon.
Wide Open Walls will take place from Sept. 10-20. Visit wideopenwalls.com for more info.
Wide Open Walls 2020 Artists (so far)
ALUMNI ARTISTS
Shonna McDaniels
Lee McCormick
Michele Murtaugh
Bryan Valenzuela
Melissa Arendt
FIRST-TIME ARTISTS
Cheyenne Randall
Brandon Alexander
Christian Garcia
Diana Ormanzhi
Lily Mott
Brandon Gastinell
Paige Maureen
Madelyne Joan Templeton
Lisa Elias
Ana Valentine
You Might Also Like
Local designers envision open-air greenhouse dining in the age of COVID
Wide Open Walls returns to paint the town for a third year
In the Name of the Father – Stephen Kaltenbach
Search ResultsWeb res