William Burg
The Queen of the Sacramento Tenderloin. The nightclub owner who first brought jazz to town. The public officials who resisted the frenzied carnal currents of the downtown's most integrated, energetic district. They're all chronicled in William Burg's new book "Wicked Sacramento," a history of the city's long-gone West End neighborhood that once stood where sprawling landmarks like Capitol Mall, Old Sacramento and Golden 1 Center are today. Burg speaks about the West End's seamy charms, its important cultural impact, and where to find what might be the lost neighborhood's last surviving building.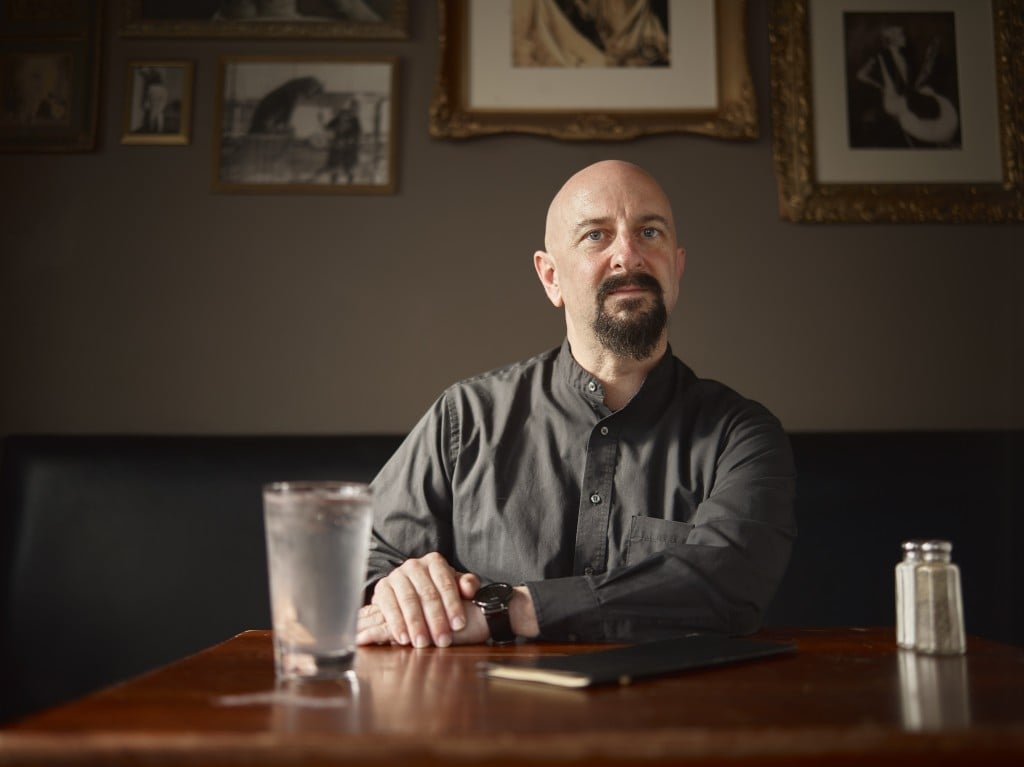 YYour latest book, which comes out on June 24, is called Wicked Sacramento. What exactly is "wicked" Sacramento?
The title was suggested by the publisher. So with the title in mind, I asked [myself], "Well, what thoughts does that provoke?" On one hand, the West End neighborhood [from 1910-1960], which is the subject of the book, was a place where there was a lot of vice—things like bootlegging and gambling and sex work. But there was a greater wickedness at work in Sacramento—kind of a more systemic wickedness that involved racism and prejudice and, in a lot of ways, a theft of a neighborhood's legacy under the cover of getting rid of that vice.
I was surprised how the book spotlights not only the "wicked" culture of Sacramento in the early 20th century, but also the wicked political reaction to that culture. What shocked you about our city's leaders from that era?
Part of what I think will shock people is that Sacramento, when you look at its true history, is not the Sacramento that is often portrayed today. People who grow up in Sacramento generally learn about local history: "This guy built a fort. This guy discovered gold. These four guys built a railroad." But once you start digging into the history, what shocked me is how much that was wrong and how much other history was there that wasn't talked about by the official record [such as newspapers]. So part of the effort in this book and my other books is to write these stories back into Sacramento's history: the history of women, the history of people of color—the African-American community, Chinese-American, Japanese-American, Latina. They're all very strong legacies that—when they're included at all—are glossed over.
What was the most surprising discovery that you found in your research for Wicked Sacramento?
There were a couple, [including nightlife impresario] Grant Cross. He was a well-known public figure [in his era] who vanished from newspapers in 1923. Cherry de Saint Maurice is very similar: a well-known, prominent businesswoman with a widespread reputation who just disappears from the official record. We don't hear about these people later on. We do hear about people like Charles K. McClatchy. He's a very respected figure in Sacramento history. But, of course, as I said in the book, there was this underside to the McClatchy family and to a lot of other families.
Cherry de Saint Maurice was known as the "Queen of the Sacramento Tenderloin." Who was she, and why was she so important?
Well, we don't really know who she was. Her origins are lost. Near as I can tell, she was probably born in Illinois, came to Sacramento in about 1903 and worked as a sex worker in Fanny Brown's [Palace]—one of the longer-running brothels that dated back to the 1880s. And then she became a businesswoman in her own right. She owned the Cherry Club. Sacramento, like a lot of other cities, had a zone of tolerated prostitution known as the Tenderloin. Cherry created a parlor house that drew more than just the mere business of prostitution; it became a salon, a social club—a gathering space, in many cases, for Sacramento's elite. Legislators and businesspeople would stay and they'd talk and they'd share ideas.
That was, in a lot of ways, her intent. Her intent was also to make conditions safer for the people in her line of work. She assumed—correctly, I think—that if steps were taken to drive prostitution further underground, it would become more dangerous and more under the control of dangerous men.
Cherry's story is a ripping yarn—and tragic as hell, too. Without giving anything away, I feel like it belongs on like a true-crime podcast.
I hope it will someday. I was looking for articles about Grant Cross, and then I stumbled across the name Cherry de Saint Maurice. [I thought], "Wow. What a cool name. Who's that?" And then this whole story unfolded.
Speaking of Grant Cross, the club owner hosted concerts in the West End that had a huge cultural impact. You write that they "lifted the residents' aspirations higher than the Capitol dome that marked its eastern boundary." Can you elaborate?
We don't have recordings of it, but from secondhand accounts and what we know about musical history during that era, this was the beginnings of jazz. Jazz was an interracial music—an African-American development—that came from places like New Orleans and developed in African-American communities throughout the country as bands toured and shared musical ideas and expressions. Sacramento had multiple jazz scenes: There were Italian-American and Portuguese and Japanese and Chinese jazz clubs in Sacramento. And often these [clienteles] melted those racial boundaries where, "Oh, you can't go into that club because you're not the right color." All of a sudden, it was, "Well, we all love this music." And that was considered highly dangerous by the powers that were, to the point where they took great steps to censor and prevent its dissemination.
Some of Sacramento's most prominent leaders of the era, like Charles Goethe, were classified as "Progressives." But 100 years ago, that meant something a lot different than how we align it today with politicians like Bernie Sanders or Elizabeth Warren. 
The key idea behind Progressives was progress: "We're moving towards a better future, and we should embrace it." And that meant embracing new ideas. At the time, eugenics—this pseudoscience of race [which Goethe espoused]—was considered a modern, contemporary idea. And a lot of people embraced it as a positive: The idea that you were working towards making people better through selective breeding was considered something good for society. And, of course, it wasn't good for the people who were left out of that definition. But it tied into the Progressive movement, which had some positive aspects: This is also the movement that has brought us women's suffrage.
We live in an era when everyone projects or demands certainty about seemingly everything. Interestingly, you're pretty candid about the uncertainty around some subjects in Wicked Sacramento. Is that hard to reconcile?
That's the fundamental job of a historian. I think people assume that history is always true. But it's always subject to interpretation, to reinterpretation, to revision and, in some cases, to manipulation. We're always revising history because we always have the opportunity to learn something new. You can go to the Sacramento Public Library and search the entire Sacramento Bee via a text search for stories that you used to find needle-in-a-haystack style—just kind of by chance. Just like anything else, in many ways the internet gives us much more information than we can process. It [provides] more opportunity for new interpretations and makes it easier to tell some of the stories that weren't part of earlier versions of the official record.
The methods of the historian have changed dramatically since the days when the official record was considered the only record, and then we revise in order to improve—and also in order to cover what hasn't been covered yet. I mean, Abraham Lincoln's fascinating, but there are plenty of books about Abraham Lincoln. So far as I know, there haven't been any books written about Grant Cross or Cherry de Saint Maurice or even about Ancil Hoffman. [Burg prominently showcases the golf course namesake's career as a boxer, bootlegger and saloonkeeper turned county supervisor and real estate kingpin in Wicked Sacramento.] I consider them in some ways the main characters of the book—or at least the ones who interested me the most. And partially it's because they were all born in Illinois, and so was I. So maybe it's that personal connection.
You're from Illinois. Can you tell us more about your own personal history?
I was born in Illinois and moved out here in the '70s [when I was 4 years old] with my parents so my dad could go to graduate school at UC Davis. I grew up in Sacramento suburbs—Arden-Arcade, North Highlands and Citrus Heights. I used to take the bus downtown when I was a teenager and really was struck by downtown Sacramento and said, "OK, when I grow up, this is where I wanna live." I left for college, came back in 1991, was going to be a history teacher, but [Sacramento City public schools] weren't hiring. So I was a social worker for 15 years and then started volunteering with the California State Railroad Museum in 2003. And that got me back into history.
What interested you in Sacramento history in particular?
If you're living in downtown or midtown Sacramento, which I was, you're kind of immersed in it. But you only get certain stories, and then there are these blank areas. And part of being a historian is being a skeptic and not just accepting the label that's on the package. I wanted to look further. When I was volunteering at the Railroad Museum, I was surprised at how little there was about a lot of aspects of Sacramento history. And I also have a background in music and nightclubs and entertainment: I run a festival called the NorCal NoiseFest and was a nightclub DJ for about 20 years. So I have a lot of interest in that world. Grant Cross, Cherry de Saint Maurice and Ancil Hoffman were all involved in the nightclub scene of their eras.
What's a hidden historical gem in town that you have a particular fondness for?
There's one that's in the book: the [former] Flower Garden restaurant at 4th and O streets, which is currently the Nisei VFW [Veterans of Foreign Wars] post. It's mid-century modern architecture designed for an African-American-owned restaurant. And then a couple of years after it was built, the restaurant went out of business and it was sold to Japanese-American veterans. They weren't allowed to join the VFW, and they had to start their own hall. It's just about the only building that survives of the old West End.
The launch tour for Wicked Sacramento will include talks at Capital Books (June 28 at 6 p.m.; capitalbooksonk.com), Time Tested Books (July 25, 7 p.m.; timetestedbooks.net) and Underground Books (Aug. 3 at 2 p.m.; sthope.org). The book can be purchased at those shops and on Amazon.