Wine and dine at 15 of the region's best restaurant patios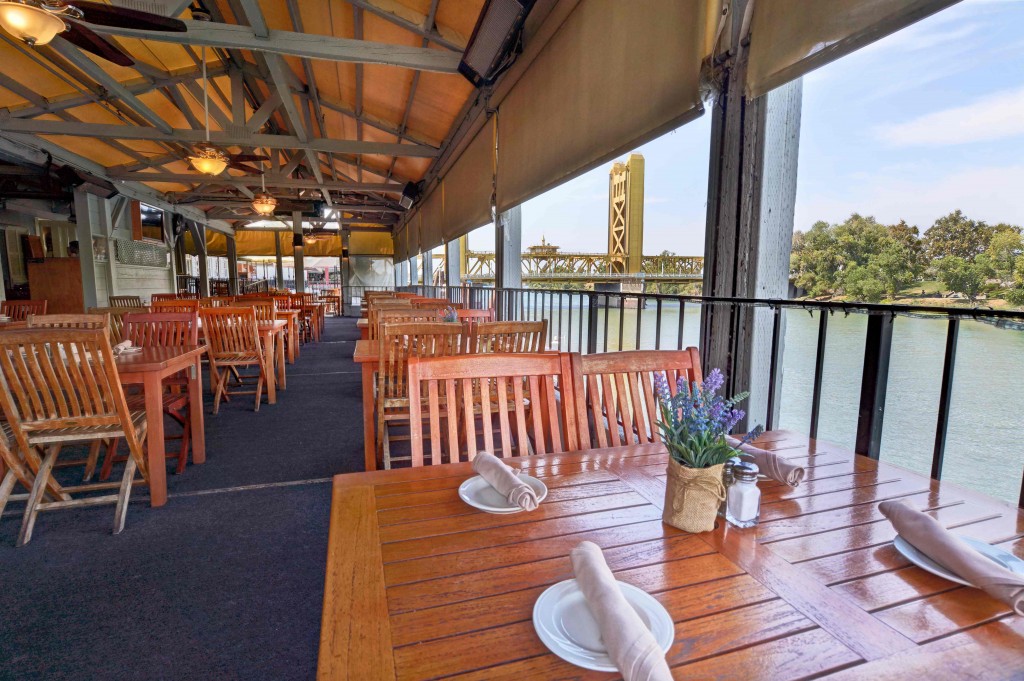 Summer has officially arrived, making this the perfect season for casual al fresco dining. We scoured the region for 15 of the best restaurant patios, places where you can eat, drink and be cool under the shade of a palm tree by day, or the glow of twinkling lights by night.
Aioli Bodega Espanola
Although this Andalusian restaurant is right in the heart of midtown Sacramento, take a seat in its outdoor garden and you'll feel like you're worlds away from an urban environment. Aoili's menu—and patio—are inspired by the coastal Spanish region from Barcelona to Granada to Cordoba. Star jasmine vines, Italian cypress, wisteria, wine grapes, dogwood, and a lemon tree have been entwining themselves through the patio's trellises since the restaurant opened in 1994, providing a shady canopy of lush foliage. At the serene core of the cozy patio, which seats about 40, a mosaic-tiled fountain trickles in the background on warm evenings while patrons sip sangria, nosh on seafood tapas and sway along to live music. The New Jazz Quartet plays on the first Wednesday of each month, and acoustic flamenco guitarist Sam Damiani appears on weekends. 1800 L St. 447-9440. aiolibodega.com
Delta Bar & Grill
There's no better place to experience the magic of the Delta breeze than on the Sacramento riverfront. Hop aboard the 1927 Delta King riverboat with its signature cherry red paddlewheel and dine on deck, indulging in classic entrees like the shrimp Louie salad or the Sierra Nevada beer-battered fish and chips. The ship's dining patio wraps around the port side (that's left to you landlubbers), offering expansive views of the Tower and I Street Bridges. Watch fishing boats ply the river alongside party barges blasting rock tunes and jet skis throwing up rooster tails of water in their wakes. From the starboard side of the boat you can wave to tourists perusing the Old Sacramento boardwalk and on weekend evenings, you may even catch a bouquet from a wedding taking place on the lower deck. 1000 Front St. 444-5464. deltaking.com
The Firehouse Restaurant
For an elegant outdoor dining experience, head to this repurposed 1853 fire station in Old Sacramento, where the ivy-lined brick courtyard behind the restaurant features multiple fountains, statues, a wrought iron balcony and an outdoor fireplace. Many of the décor pieces came from historic northern California sites, like a Cervantes bust from a Market Street theater in San Francisco; and antique gas lampposts that once lined the streets of Oakland. With this precise attention to detail, it's no wonder The Firehouse's patio hosts about 100 weddings each year. Though it's just steps away from Old Sacramento's bustling streets, it offers a serene lunch or dinnertime escape. 1112 2nd St. 442-4772. firehouseoldsac.com
Hawks
Come for the food, stay for the atmosphere at this Granite Bay restaurant's 40-seat patio overlooking a lush, tree-lined quarry pond. Named for Molly Hawks, who owns the restaurant with her husband, Chef Michael Fagnoni, Hawks serves up elevated cuisine (we're partial to the handcrafted charcuterie plates and the slow-roasted short ribs) in a stylish setting. White umbrellas provide shade at lunch, and the evening sun casts a warm and magical glow over the patio. Ask for tables 51 or 61 for the best evening shade and views, and take note: Some 250 wines are available, along with a house-brewed beer on tap. 5530 Douglas Blvd. Granite Bay. 791-6200. hawksrestaurant.com
Kupros Craft House
At the site of a restored 1910 Craftsman-style home that locals will recognize as the former location of Cheap Thrills vintage shop, Kupros has not one but two patios, each offering a bird's eye view of lively 21st Street between Capitol and L. Owner Stephen Tokuhama and his team spent over a year sanding, staining and painting the outdoor spaces, and their hard work paid off, as the two patios now bring together the dualism of the historic home's design: the downstairs offers a laid-back front-porch atmosphere, while the upstairs deck near the Victorian-inspired dining room gives off a lounge-like vibe. No matter which patio you choose, you can settle in for bites of Kalua pork banh mi or Sacto tomato bruschetta, washed down with local suds from Yolo Brewing Company and New Helvetia. 1217 21st St. 440-0401. kuprosbistro.com
LowBrau & Block Butcher Bar
The expansive wooden deck spanning these two sister restaurants sits just above the sidewalk at 20th and K Street, a spot that is buzzing on any given day. It's a place where midtown millennials gather over snifters of German beer, boar sausages and crispy duck-fat fries. Owner Michael Hargis says an outdoor space was paramount to LowBrau's concept even before he stumbled across the space, which anchors the end of the block-long MARRS building. Commercial property developer Mike Heller created the elevated, curvilinear deck using durable ipe wood, cutting out spaces for the existing trees, and Hargis used reclaimed oak to create the communal tables. The 1,300 square-foot deck fits almost 80 guests and overlooks events like the Midtown Farmers' Market every Saturday or the "THIS Midtown" block parties, which take place every second Saturday through September. 1050 20th St. 706-2636. lowbrausacramento.com; 476-6306. blockbutcherbar.com
Mulvaney's B&L
The dining room at this farm-to-fork haven in midtown is always abuzz with the confident chatter of Sacramento power players, but wander beyond the white tablecloths to the space outside and you'll find an intimate, whimsical courtyard with its own energy and history. When restaurateur Patrick Mulvaney and his wife Bobbin took over the former firehouse from New Helvetia Café in 2006, the patio was overrun with vines. They cleaned it up and transformed the patio into a potted plant garden decorated with unique ornaments, like upside-down umbrellas used as birds nests, ceramic figurine pigs and giant steel forks. A passage to the banquet hall uses wooden doors sourced from an old barn, behind which you'll find a space dubbed Bobbin's Secret Garden with a mosaic of the Tower Bridge and Sacramento River that Bobbin created using a year's worth of broken plates. 1215 19th St. 441-6022. mulvaneysbl.com
Oak Park Brewing Co.
In a space formerly home to a print shop, a furniture store and a beauty parlor, Oak Park Brewing Co. now serves as the neighborhood's watering hole. When the hostess asks your seating preference, go for the dog-friendly patio near a community garden filled with kumquats, beets, artichokes and blueberries. We like it best in the evening: stringed lights hang overhead, while three small fire pits and heaters are scattered around to provide warmth and extra light. Barrels once used in the brewery's aging process act as high-tops, and repurposed doors serve as tables upon which to rest pints of Oak Park's home brews. You can play giant Jenga and listen to live music every Wednesday night in from 7-9 p.m., from local acts like Well Dressed Mannequins and the Ray Copeland Band. 3514 Broadway. 660-2723. opbrewco.com
Old Soul at Weatherstone
Old Soul Coffee Co. is rapidly expanding across the region, with three locations and two more expected to open this year, at 555 Capitol Mall and on R Street. But for now, we're keen to relax at the midtown Weatherstone cafe, which offers a charming brick patio that practically begs you to indulge in an extended lunch break or while away a lazy Sunday morning sipping hazelnut lattes over scones and good conversation. Smoke-free as of a year ago, the gated, ivy-covered courtyard borders tree-lined 21st Street and features the work of local artist Ed Chandler and a burbling fountain. Cozy up under the shaded pergola or a firepit custom fabricated by Steve Hamm Design while you munch on bagels and lox and admire abstract paintings by local artists. 812 21st St. 443-6340. oldsoulco.com
Osteria Fasulo
For a taste of la dolce vita, take a seat under the trellised grape vines of this family-run Italian restaurant in Davis. The tranquil garden atmosphere will transport you to the Mediterranean with its rustic handcrafted wooden tables, two running fountains and expansive raised-bed vegetable garden brimming with tomatoes, zucchinis, strawberries, melons and herbs, all of which the chefs incorporate into the restaurant's classic Italian dishes, like their signature lasagna Bolognese with béchamel sauce or their pillow-soft homemade gnocchi. 2657 Portage Bay East. Davis. (530) 758-1324. osteriafasulo.com
Paragary's
Experiencing a second go-round as a midtown hot spot since its remodel last year, Paragary's wisely left its famous patio intact. Designed by late local landscape artist David Yakish in 1997, the patio, also knows as the Starlite Room, has its own bar and a stage for live music. Yakish brought in 60-year-old olive trees from the Sacramento Valley, designed three mod fountains, and hand-selected the boulders that make up the outdoor fireplace. Regulars are known to wait upwards of an hour for a spot on the patio, but once you finally score one of the 15 tables with stylish whicker chairs under the cool shade of the fabric canopy, you'll be glad you stuck it out. 1401 28th St. 457-5737. paragarys.com
Rio City Cafe
Along the wooden docks of Old Sacramento, this waterfront restaurant, which opened in 1994, offers a unique perspective of the riverfront, with five wrap-around decks that can seat up to 200 people. Partake in fresh seafood dishes prepared by executive chef Scott Swanson while you take in the sights of the golden Tower Bridge, West Sacramento's Ziggurat building and the sprawling, sparkling American River. On select Saturday nights—when the River Cats are playing home games—you'll be treated to post-game fireworks show over Raley Field. Upcoming Saturday night fireworks dates include July 2, 9, 23 and 30. Or you can plan your dinner reservations to catch Raley Field's Independence Day fireworks on both July 3rd and 4th. Any seat in the house offers great views, but Rio City tells Sactown that tables 108, 210 and 211 offer the best chance for optimum fireworks viewing. 1110 Front St. 442-8226. riocitycafe.com
Tower Cafe
The corner of Broadway and 16th street is a global crossroads of sorts. It's the home of the iconic Tower Theater, which screens foreign and independent films, and the diverse, multicultural cuisine of the Tower Cafe. When owner Jim Seyman took over the restaurant site in 1990, the outdoor space was just a lawn surrounded by a small hedge. He went to work hand-pouring the cement foundation, planting palm trees and Japanese maples, and embarking on what is now a 25-year project to create a natural setting with international flair, home to a riot of plant life and decor from Africa, southeast Asia, Mexico and South America. 1518 Broadway. 441-0222. towercafe.com
Scott's Seafood on the River
The shaded patio at this riverside restaurant at the southern end of the Sacramento River Parkway Trail is an ideal happy-hour destination for cyclists, joggers and commuters rolling out of downtown. The expansive patio, which seats about 75, is dotted with three glass-enclosed stone fire pits to help keep you warm on summer evenings, as well as plenty of large umbrellas for sunny days. Small plates like Dungeness crab-avocado tacos or pork-kimchi poststickers are washed down easily with Loomis Basin Brewing Company's MacGowan Scottish Ale, with a view of the boats cruising in and out of the Sacramento Yacht Club across the river. 4800 Riverside Blvd. 379-5959. scottsseafood.net
Selland's Market-Café
The patio of Selland's Market-Café in the bustling El Dorado Hills Town Center is styled like a traditional French bistro, with wrought-iron chairs and umbrellas. Perched above Steven Young amphitheater, a sloped lawn and a central lake with a large fountain, the patio provides the perfect view of the Town Center's events, like the Live on the Boulevard outdoor concert series, which runs every Thursday evening through September (with acts like Beatles tribute band Mania! and Alabama tribute band Tennessee River), and the Fireworks & Freedom Concert on July 3. Stay cool under the patio's misters while you sip local wine by the glass, stealing bites of popular plates like the crab cakes and prosciutto pizza. 4370 Town Center Dr. El Dorado Hills. 932-5025. sellands.com
You Might Also Like
Sactown's Dining Guide for restaurants throughout the region
Off the Grid food festival launches in Sacramento
First Look: Obo' adds a splash of Neapolitan flavors to East Sacramento
SaveSaveSaveSaveSaveSaveSaveSaveSaveSave
SaveSaveSaveSaveSaveSaveSaveSave
SaveSaveSaveSave
SaveSave