Word Play
How do you put the fun in fundamental? One Sacramento youth literacy group, 916 Ink, believes the answer lies in turning the traditional rules of reading and writing upside down. That means prioritizing story over structure, publication over perfection, and joy over judgment. And realizing that every flame of creativity starts with a spark.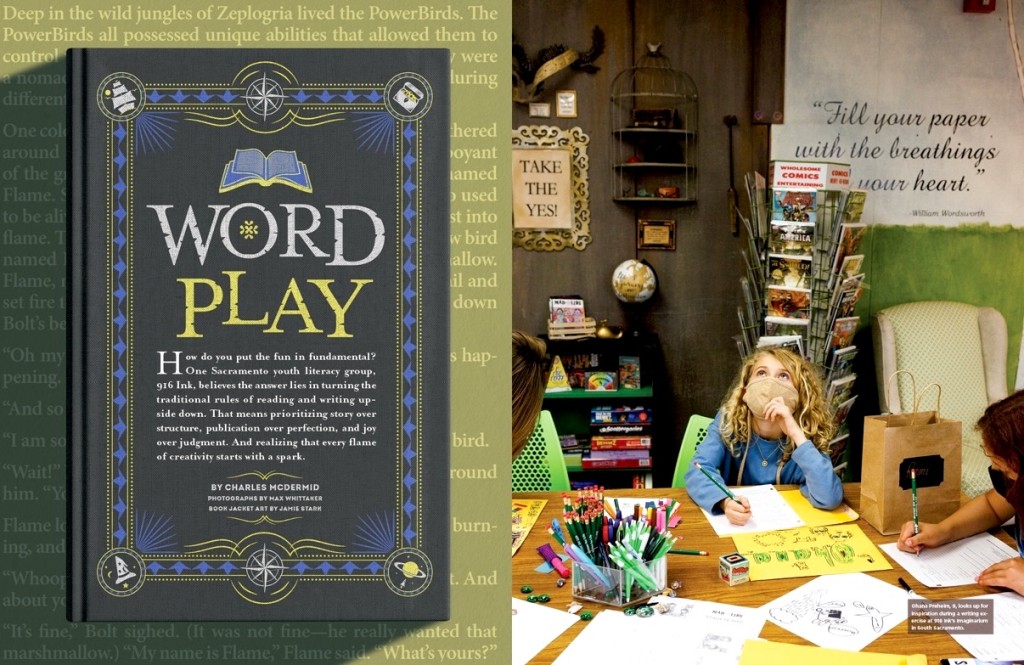 TThe first thing you notice as you enter this classroom is that it doesn't look like a classroom at all.
There are no desks, no wood-backed chairs, no front rows, no back rows. Instead of cold gray chalkboards or periodic table posters, the walls are filled with inspiration—a calming pastoral mural and mounted rows of deconstructed books with pages folded into ornate origami creations that would be more at home in a museum of modern art than in a classroom. Birdcages hang from the ceiling like fanciful chandeliers.
The periphery of the room is lined with a rack of comic books, wingback chairs, a comfy sofa, and an 8-foot-tall paper-mache tree standing in the corner with a white toy owl peeking from a hollow in its trunk and lightbulbs dangling from its branches like fireflies. There are also mermaids, dragons, pirate ships and, on one bookcase shelf, a piranha skeleton perched near a keepsake box covered with aphorisms like, "Live Fearlessly," "Dream Bigger" and "Take Chances."
In fact, the nearly 900-square-foot chamber could be, say, the secret lair of a great adventurer or a magical museum of rare artifacts collected from across the globe. Or a room in Willy Wonka's eclectic factory (minus the chocolate). Either way, it's a whimsical three-dimensional collage of visual and textural stimuli, meticulously engineered to inspire maximum creativity.
Welcome to the Imaginarium—a workspace, a writer's studio and, yes, a world of pure imagination for the students of 916 Ink—Sacramento's pioneering literacy and creative writing program.
Executive director Ian Hadley joined 916 Ink in January 2018, but remembers touring the Imaginarium six months earlier when he was advising the organization on a state grant. "I just immediately realized that there was something just magical here," he says. "It was this wonderful alchemy of education plus creativity, all inside this transformative space.
I fell in love immediately, to the point where I actually took a whole bunch of pictures, then sent them to my sister right afterward and said, 'Hey, I'm going to work here one day.' " He was right.
The students who visit the Imaginarium range from third graders to high school seniors. They arrive for an array of workshops, field trips, seasonal camps and after-school programs.
The experimental sensibility that this space represents—honed over the last decade to the benefit of nearly 5,000 young Sacramento-area minds and counting—has produced an innovative local nonprofit with a mission rooted in challenging educational realities.
916 Ink was the brainchild of Katie McCleary, who co-founded the organization in 2011 and served as the first executive director until 2017. "I grew up as a really lonely kid who had no creative outlets," she says. "My parents were of the working poor, living paycheck to paycheck in rural Idaho and Washington state. And I had a developmentally delayed, blind and autistic sister who nobody knew how to help."
McCleary describes herself as a nontraditional educator, and had been running mentoring and youth development programs in local schools, including Grant Union High School, before she started teaching writing at American River College. "I saw a lack of creative engagement around literacy in the schools," she says. "And I saw a lack of confidence, a lack of skills and a lack of knowing how to actually express your own stories, ideas, opinions and arguments. I knew how important writing and expression were to me, and I wanted to really unlock people and to help them find their voice and gather that strength that they need in order to excel academically and in business and in life."
916 Ink co-founder Michael Spurgeon, an author who teaches creative writing and other English classes as a professor at American River College, had also witnessed the impacts of literacy issues firsthand. "I've always been interested in literacy," says Spurgeon. "Part of that comes from having taught at the community colleges and seeing students come to the college unprepared for the reading and writing they were going to need to do."
In 2005, Spurgeon helped start an annual creative writing retreat called the Tomales Bay Workshops in partnership with UC Davis. He was also on the board of the Pasadena-based Albert & Elaine Borchard Foundation, which distributes grants for education and youth development efforts.
McCleary attended the Tomales Bay program in 2010, and asked Spurgeon to lunch to discuss ideas about the possibility of launching a Sacramento chapter of 826 National, an offshoot of 826 Valencia, the San Francisco-based youth literacy nonprofit co-founded by Dave Eggers—the acclaimed author of the No. 1 New York Times best-selling memoir A Heartbreaking Work of Staggering Genius. Per its website, the Bay Area group teaches creative writing to "under-resourced students ages 6 to 18."
"We were both excited about the idea of publishing kids," says Spurgeon. "And in those very early days, including at that lunch, we were thinking about a literacy project that was sort of a backdoor to literacy. The idea was that most people who become writers start off by loving reading, and then get into writing. But what if we got kids excited about writing their own stories [first]? Maybe that would get them excited about reading."
So the pair planned a trip to 826 Valencia's flagship Mission District center for a group of 37 potential stakeholders. The guest list was largely assembled by McCleary, who had previously attended 826 Valencia's training program, and Spurgeon helped secure funding from the Borchard Foundation. The idea was to learn more about the program, its methods and the costs associated with replicating such an endeavor in Sacramento.
One of the attendees on that visit to 826 Valencia was 916 Ink co-founder Chris Baltzley, who describes himself as a "social impact and business consultant," especially in the area of youth development. "We were inspired by what they were doing, so we came back and a group of us just started meeting about how to make this happen in Sacramento," says Baltzley.
It soon became apparent that for various reasons—partly the economics, and partly because Sacramento is so much more spread out than San Francisco, making it harder to work solely from a centralized location—bringing a version of 826 Valencia here wasn't a viable proposition.
"We also figured out that we were much more interested in turning kids into published writers than we were in one-on-one mentoring, which is what 826 is really about," says Spurgeon. "So we took the idea of publishing kids and put that front and center. If kids felt like they could tell their stories, and that those stories were going to be treated with honor and respect and valued [in the form of a published anthology], that was actually much more transformational."
Baltzley echoes the importance of the publishing aspect of the program. "From the beginning, we had these book release parties," he says. "We worked super hard at publishing the book for every group, with a beautiful cover, and the students got to sign it and read from it, just like a published author in front of their family and friends. I remember talking to some of the kids early on who were high school students, and they would say, "Hey, if I do nothing else in life, I've been published."
At the beginning, the 916 Ink crew was basically just a small, all-volunteer team. "I have to give a ton of credit to Katie, who spent so much time in the early years creating networks, and was willing to try a lot of different things," says Baltzley. Without any funding at the time, the team turned to local teachers to let them run after-school workshops and bring the 916 Ink program to the students. He also cites the Sacramento Poetry Center and the Sacramento County Office of Education as early supporters.
The program's teaching framework, McCleary explains, was a modification of the Amherst Writers & Artists method, developed in Amherst, Massachusetts, in the early '80s. "[The AWA method] is really just prompt-based writing to get vulnerable people to open up and put pen to page," she says. What McCleary, who trained in the AWA method starting in 2007, and her co-founders did was adapt the technique to focus on kids in underserved communities.
"I think that [reassuring environment] should largely be attributed to Katie, her philosophical approach, and the training she received," says Spurgeon. "Treat [writing] as an exploration, treat it as fun."
While 826 Valencia and the Amherst program were major influencers, one aspect that distinguished 916 Ink was the strong emphasis on publishing the students' works in bound anthologies—complete with release parties and readings.
McCleary says publishing is crucial for the 916 Ink process. "It's everything for the kids to see their names in print," she notes. "Publication teaches them that their voice and stories actually matter, just by the fact that somebody would put all this work into putting it into a book. It's a total confidence booster."
The program has now published over 225 anthologies of student work, many for sale on 916 Ink's website to help raise money for the nonprofit.
What started as an all-volunteer organization with limited funds now has 26 paid staff and is working with its first annual budget of over $1 million. According to 916 Ink, at least 91% of their participants have improved attitudes toward writing, and nearly 95% have improved in their social and emotional development. The mission is also fueled by passion.
Ian Hadley, the current executive director, grew up in Oregon, and has spent his 17-year career in nonprofits, including more than eight years with The Child Abuse Prevention Center in North Highlands. As a child, he suffered parental neglect that left him "disengaged" at school and he never graduated from high school, though later earned his GED and attended the University of Oregon.
"I fell off the radar for my school. And, basically, what they did was, rather than trying to pull me back in, they pushed me out. And that's formative to me, right? I look at this now and I say, 'What if I had had 916 Ink? How would that have changed my trajectory?' "
Hadley says that this past school year, his organization partnered with 27 schools and community groups. About 30% of 916 Ink's students attend workshops held in youth detention facilities or at schools where they have been identified as being at-risk. Another 60% of the 916 Ink students attend workshops at low-income schools, and 10% attend opt-in programs, which are free drop-in workshops at the Imaginarium.
As Hadley sees it, the next chapter for 916 Ink will be a serious page-turner.
"We are poised right now for the biggest growth that we have ever seen. I would anticipate that we double, if not triple, the number of students that we can reach with our method in the next three years," he says, noting that the program does not yet have the resources to take this next step, but they have a plan to seek the necessary funding.
At the heart of the project's mission and its workshops is the foundational 916 Ink method—a clear five-step process: 1) create a safe space, 2) spark imagination, 3) give positive feedback, 4) improve skills through revision, and 5) publish and celebrate.
On a cool winter day, in a classroom at Wilson C. Riles Middle School in Roseville, a group of boisterous eighth graders is sitting in a semicircle behind erasable-top desks.
This is a special class. These 16 students make up one of Sacramento County Office of Education's CARE classes (CARE stands for Community Action for Responsive Education)—classrooms designed for students who have struggled or become disengaged with traditional school. Thankfully, this morning is anything but traditional.
Standing in front of the students are the Wordslingers—916 Ink instructors who provide a supportive, creative atmosphere for the students to connect with their peers through writing. Today's workshop leaders are Jay Oatis and Zuzu Schmitke, two intrepid young campaigners for the written word.
To kick off the session, they reveal the "spark"—a piece of writing, an item (like, perhaps that piranha skeleton), a song, a video, or anything else to simply help spark imagination. Today, the spark is an elegant poem by a former 916 Ink participant known only as Isabela, called "Your Magical Heart."
You bring out the magic in me.
The words you say to me are a wonder to me.
You make me laugh, giggle, smile.
The music you play to my ears makes me a magnificent person.
The books you read make me feel inspired.
Are you a wizard, or do you just have a heart?
Don't forget, everyone is wonderful.
Never give up and do what your heart tells you.
The students seize on the wizard line, naturally. They are asked to write down their feedback and they bow their heads to the task. The Wordslingers also take part in the exercise, as does their teacher at Wilson C. Riles Middle School, Frank Cropper—a 38-year-old Northern Californian with a vigorous lumberjack beard. This is his class and the 916 team are essentially guest instructors.
The degree of engagement is deep. The room goes silent: no phones, no laptops. 916 Ink is strictly a pen- or pencil-and-paper endeavor. "The connection between your brain to writing something physical onto a piece of paper slows down your thought process," McCleary explains. "It allows you to be more present with what story you want to tell. We find it makes the work itself more resonant and deeper and richer and full of life. It's probably one of their first exposures to mindfulness."
During the exercise, several students ask for more time. A round of sharing and positive feedback begins with three rules above all else: be respectful, listen closely and take notes.
But then it comes time for the core of today's workshop, a prompt: Write a letter to a friend, family member or fictional character. The results range from pop-culture-filled to poignant.
A student named Gino writes, "I wish I could hang out with SpongeBob." He had plenty of advice for the cartoon character, signing off with "Come on, man, take care of yourself!"
And a few desks away, a student named Blaine Mason wrote, "A Viking Poem for a Deceased Dad."
Lo, do I see my father
Lo, there I see my mother
and my sisters and my brothers,
Lo, there do I see my line of
people back to the
beginning! Lo, they do call to
me. They bid me to take my place
Among them, in the halls of Valhalla!
Where the brave may live forever!
The sharing is eager and earnest. Students have free rein, as long as they are respectful. The 916 Ink goal is to help the students believe in their own voice, knowing that what they say—and who they are—can be expressed in a nonjudgmental environment. At 916 Ink, there are no red pens or wrong answers.
Cropper, who has taught at-risk students in local schools and juvenile detention facilities for 16 years and started bringing in the 916 Ink workshops three years ago, says that some youths are able to learn regardless of who the teacher is or what their methods might be. "These aren't those kids," he says. These kids need a helping hand.
"What I like is, 916 Ink comes in and the kids feel like their ideas and their aspirations and their experiences have value," he continues. "Once they're gone, we see that the kids tend to engage in the writing process more than before they get there. They see that they can do it, and that their writing is valued. As opposed to something they have to do, they see it as something they get to do. They get to express themselves. It changes their attitude toward writing for sure."
Cropper can relate. He grew up in Marysville and was at times homeless when he was 8 or 9 years old—even younger than the formative age of his students, who are mostly 13 or 14. "Some of these kids come to us from foster programs, or situations at home that are just horrible," he says. "But it's hard to be down around [the 916] program. It's like listening to reggae."
The workshop session in Mr. Cropper's class is one of the thousands that 916 Ink has held around the Sacramento region over the last decade. That means traveling to public and charter schools, juvenile halls and detention centers, as well as museums, libraries, community centers, and in recent years, over Zoom. The pandemic has been a crucible for 916 Ink.
"We had about 14 different groups of kids that we were working with and we were right in the middle of their program," says Hadley. "Within three or four days [of the lockdown], we were getting emails from parents saying, 'I know we can't meet in person anymore, but can you send over a prompt? My kid really wants to keep going.' We had parents coming to us and saying this is still important and needs to be done."
The team adjusted on the fly, soon launching the first virtual version of 916 Ink. Rather than slow down, more virtual programs were added. The production of new video content was prioritized and a full library of virtual resources was rolled out.
"The kids have all been through collective trauma," says Hadley. "And they needed the ability to process that in a meaningful and positive way. If they didn't want to pay attention to the scary traumatic things that were happening in the world around them, and they wanted to write a story about a rainbow unicorn, that was OK. We wanted to allow that space for students to say whatever they wanted without judgment and just provide them with positive feedback."
Options for creative expression have been essential during the pandemic, adds Shelley Blanton-Stroud, who taught writing at Sacramento State for 27 years and is now vice president of the 916 Ink board of directors. "When children and adolescents create, they feel better," she says. "Their tensions and anxieties have someplace to go, and I've been really aware of this during the pandemic. So giving students creative things to do is a great relief system. It is good for all of us, culturally, when we raise a generation of people who are willing to take positive risks. We get energy and joy and vitality from that."
Which brings us back to the Imaginarium.
With initial funding coming from a $10,000 grant awarded by the Sacramento Metropolitan Chamber of Commerce, 916 Ink established what it refers to as a "bastion of whimsy" in 2015 in South Sacramento's Maple Neighborhood Center near Fruitridge Road in what used to be the library of a long-closed elementary school.
"The traditional system says, 'Let me present you with the rules. Let me present you with the instructions. Let me present you with lessons so that you can fit yourself into that,' " says McCleary. "We do it the exact opposite way. We say, 'Come as you are. Let's be curious and play with language and play with craft and form like it's Play-Doh so that we can mold and shape and learn by engagement. And then later, let's figure out structure and grammar.' "
The commitment to outreach programs, as well as maintaining the Imaginarium as a creative space for students from all backgrounds to visit, are key to 916 Ink's purpose.
One such beneficiary of the organization's efforts is Shani Zuberi, a 916 Ink alumnus who wrote the poem "Boys Are Better in Books" as a teenager at an Imaginarium workshop in 2017. (Now 24, she jokes that they still are.)
Zuberi describes her writing style as informative, a bit snarky, and focused on the humor in life. She studies film production at Sacramento State and has no problem referencing Akira Kurosawa, the great Japanese filmmaker, or appreciating Ryan Coogler—a fellow Hornet who directed Black Panther and Creed.
"That feeling I get from Ryan Coogler's films is what I aspire to when I figure out what I want to do in this industry," she says. "Whether it be editing or writing or producing, I want to have a bond with the people I work with that is meaningful."
Diagnosed with severe diabetes at 3 years old, Zuberi was homeschooled from an early age, forcing her mother to search for tutoring or alternative school programs. Eventually, she found Visions in Education—an online public high school that partners with 916 Ink.
"We went to the Imaginarium every Friday or so," she says. "It was lovely. I always took the bus because my mom didn't have a car." Such was her commitment that Zuberi would take the bus near her home down to the light rail station, then ride light rail to get to a second bus, and then walk from the second bus stop to the Imaginarium. "And it was just such a treat."
"916 Ink made me more confident in my writing in ways that I most likely would not have been as a teenager," Zuberi continues. "It made me want to actually share my writing with people. It made me proud of my writing abilities. Now that I'm in college, I know I can write in a way that is actually interesting and entertaining, but also informative."
And according to McCleary, instilling a deeper sense of self-worth with a healthy dose of delight is what 916 Ink is all about. "I think we are really successful in terms of our impact because creativity, whimsy, wonder, empathy and empowerment have been built into every level in the organization," she says. "But I'm most proud of our culture and that it held tight to joy. Because when you work in nonprofits and you work with vulnerable kids, if you really want learning to stick, it's got to be joyful."
Learn about more of 916 Ink's programs at 916ink.org
Send us your thoughts and comments on this article to letters@sactownmag.com