Yan Can Teach
Celebrity chef Martin Yan returns to his Aggie roots to help lead the new Confucius Institute at UC Davis, which is dedicated to exposing the region to China's storied culinary culture. Get ready to wok and roll.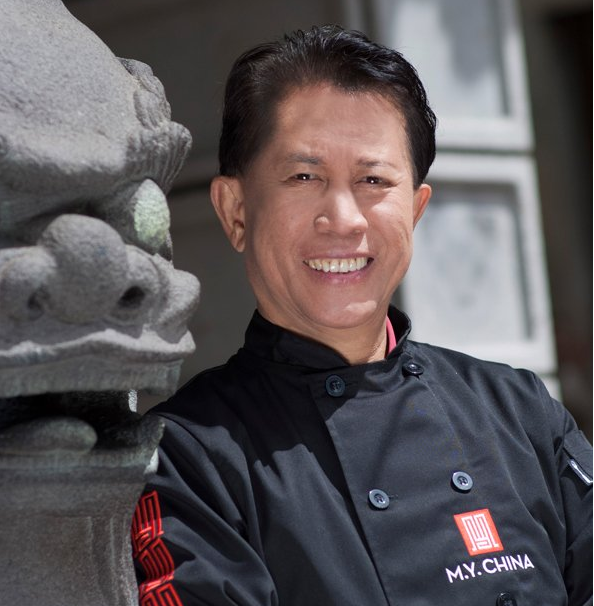 The Confucius Institute at UC Davis just opened in September. Can you tell us a little bit about it?
There are [about] 400 Confucius Institutes around the world. In fact, there are institutes at San Francisco State, Stanford, UCLA and San Diego [State]. They are basically institutes [established by the Chinese government] to teach and promote Chinese language and the exchange of culture.
But the Institute at UC Davis is actually one of a kind—the first in the world to be devoted to the study and promotion of Chinese food and beverage culture. When you talk about food, there's a lot of history involved, a lot of perspective. You're not just eating something, you're learning a culture. So this is a perfect affiliation—a perfect platform for all of us to share, enjoy and understand both of our cultures better.
You have taken on the role of culinary advisor at the Institute. What inspired you to get involved?
I am an Aggie! I earned a bachelor's and master's in food science from UC Davis. And also, when I was in college, I discovered my love of teaching and of food. I actually taught at the UC Davis Extension to help pay for my tuition fees. I always believed that food and cooking brings together people from all walks of life. It doesn't matter whether you are rich or poor, whatever your religious or political affiliation is. I'd really just love to encourage the idea of the Institute.
Even though the Institute is affiliated with UC Davis, its classes and programs are open to the general public, not just students. Can you talk about some of its offerings?
Yes, the general public from the whole surrounding area is more than welcome to join. The Institute will offer programs that will appeal to everyone from casual foodies to experienced chefs. We intend to develop regular cooking classes. Besides me, there'll be several visiting scholars from Jiangnan University [in China, which is well-known for its food science research and is a partner in the Institute] working with UC Davis counterparts to plan programs about the art of tea, winemaking, calligraphy and a lot of things. We're going to invite a lot of chefs and culinary historians from different parts of China and Asia to come to Davis.
We'll do Chinese wine tastings and compare a Chinese spirit with brandy, whiskey and things that are made and distilled in the U.S. A lot of people don't know that the Chinese have been brewing wine for thousands of years. You go to a sushi restaurant and you have a sake tasting, but a lot of people have never really had a Chinese yellow wine tasting. They call it yellow wine because the color's slightly yellowish. It's also called Shaoxing wine. It's made with rice, similar to sake.
Davis is in the heart of an incredibly fertile agricultural region. Will the Institute draw on the abundant surroundings?
Yeah, definitely. In the cooking classes, we'll try to use bounty from Yolo County and the Sacramento Valley. If you study Confucius, his teachings and his attention to food, the first thing he talks about is that you do not introduce ingredients that are not in season. Secondly, you never use anything that's not fresh. California is the most productive agricultural land in the world, particularly Yolo County and the Sacramento Valley. There is so much! Watermelon, honeydew, cantaloupe, walnuts, almonds, peaches. When I went to UC Davis, I picked peaches on a farm in Yuba City [during] one quarter, just for the fun of it. I still remember how unbelievably difficult it was, because you're picking peaches when it's 110 degrees. You're sweating, it's hot, and the fuzz from the peaches makes you so itchy. It's very hard! I learned to truly respect farmers and those who work so hard on the farms.
What are some of your other memories from your time in Davis?
Before Davis, I came from China, where there are so many bikes. That's why I felt so comfortable here. I thought, "Hey, I didn't leave China that far [behind] because I'm in the middle of this bicycle forest!" One time, as I was riding, I crashed into a tree. It wasn't serious, because I wasn't [going] that fast. I think I was distracted by one of the ladies.
Your dream of hosting a cooking show—which came true with the debut of the hugely popular PBS series Yan Can Cook in 1978—was also born when you were at UC Davis, right?
Yes. Being a poor foreign student, I didn't have money to stay in the dorms. So I got with a few of my buddies, and six of us rented an apartment with two rooms and three of us would stay in one room. We took turns to cook. Monday through Saturday, each of us had to cook for one day, and Sundays, you could do whatever you wanted. It ended up that I cooked a little bit more because I didn't like to wash dishes. When we would sit down to eat, I would watch Graham Kerr (The Galloping Gourmet) and Julia Child (The French Chef). I joked with my roommates and said, "One day, I'm quite sure I'll be on television." Julia Child and Graham Kerr, not only were they very informative and personal, but they were truly very funny. Kerr's show, Julia's show and Yan Can Cook were the first generation of cooking shows.
Didn't you film several episodes of Yan Can Cook at the KVIE studios in Natomas?
Yeah, definitely, and I loved it. When we did the show, a lot of students from different cooking schools would come and help us as chef apprentices. We had such a good time. We did 52 shows at KVIE. There are a lot of great memories. I go back [to the Sacramento region] all the time because my wife's family lives in Sacramento, Yuba City and Marysville. [Yan lives in San Mateo.] A lot of my professors are still [at UC Davis]. The people who used to work in the lab have now become professors. We have a lot of friends and neighbors' children going [to school] over there, just like my kid [Colin, a senior at UCD].
Sacramento has a lot of good restaurants, and at a lot of those restaurants, I know the chefs. Biba [Caggiano] is my good friend. She's very talented, very charming. We used to teach at William Glen together. Lina Fat and her family are good friends of mine. Frank Fat and I [went] on a cruise together and used to do lectures and have fun together.
Speaking of restaurants, you've opened some very popular ones like M.Y. China in San Francisco. Do you have any plans to open one here?
Yeah! We actually have been toying with the idea of opening up a restaurant at UC Davis. We want to make it interactive. Everybody at the Institute seems to be very excited about that kind of idea. I think we should try to make it in such a way that's not really truly for profit, but more a restaurant that would be an additional platform to really promote [China's] cuisine and culture.
In the meantime, the classes and programs at the Institute will keep you busy. How does it feel being back on campus?
I treasure my years at Davis. To me, going back to Davis is like going home. It's just such a warm feeling. It's like going back to a family where I know and have worked with everybody. I feel that I owe UC Davis and the Davis community a lot. I hope the Institute, the chefs and people involved, and myself personally can offer something back—and not only to the Davis community, but the entire Sacramento Valley. There are endless possibilities. I think this is going to be amazing.
Upcoming events hosted by The Confucius Institute at UC Davis will include a tea culture workshop on Dec. 2 and a Chinese dumpling workshop on Dec. 11, as well as a Chinese New Year celebration on Jan. 31 with samplings of traditional New Year's cake made of glutinous rice flour. Register at confucius.ucdavis.edu. (Most events have registration fees of $5 to $25; type in code "UCD" to sign up for free.) For more information, call 530-754-8945.