10 cool places to explore for free on Museum Day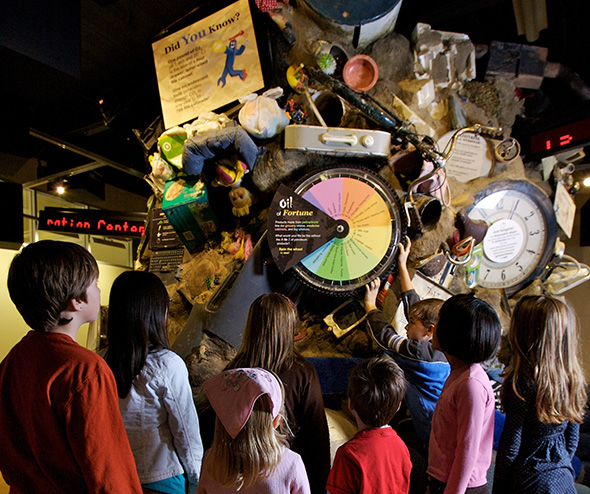 Nearly two dozen museums, galleries, and other cultural centers will open their doors Saturday, Feb. 7, with free admission from 10 a.m. to 5 p.m. for this year's Sacramento Museum Day. From getting in touch with your inner jet pilot to toasting a 19th-century literary legend to dancing after-hours with art lovers, here are 10 spots for you to make the most of the region's sweet museum deals.
Aerospace Museum of California
Get ready for takeoff on "Open Cockpit Day." Only offered four times each year, visitors will be able tour the interiors and even sit in some of World War II's most impressive aircrafts (including the Fairchild-Republic's A-10 Thunderbolt) or the F-14 Tomcat fighter jet like the kind made famous in the iconic film Top Gun. Guests can also learn about World War II firsthand from exhibitions by the Sacramento chapter of the Tuskegee Airmen. 3200 Freedom Park Dr. McClellan Park. 643-3192. aerospaceca.org
California State Railroad Museum
All aboard! Travel back in time and walk alongside some of California's most historic trains—including the Governor Stanford, which rests just a short distance from where it first caught steam on the banks of the Sacramento River in 1863 and the Southern Pacific 2294, one of the largest locomotives ever built and the last existing "cab-forward" steam engine (i.e. where the driver's cab is placed front of the boiler) in America. 125 I St. 445-7387. csrmf.org
Discovery Museum Science & Space Center
When not observing the life-sized model of the Mars Opportunity rover or playing astronaut in a 12-foot long simulator shuttle (where kids can pretend to steer through space while dressed in the museum's astronaut costumes), guests can travel back to Earth and enjoy food from Squeeze Inn Truck. The Masonic Service Bureau will also be on-site providing complimentary electronic fingerprint records for children and parents. 3615 Auburn Blvd. 575-3942. thediscovery.org
Heidrick Ag History Center
In addition to getting up close with special monster tractors from John Deere and other manufacturers, visitors will also be able to view live demos from vintage 1930s-era agricultural vehicles and equipment—as well as experience the center's new kids' area, where younger guests can climb on antique tractors and ride around the museum in miniature bikes designed to look like the farming vehicle. 1962 Hays Ln. Woodland. 530-666-9700. aghistory.org
Maidu Museum & Historic Site
When taking part in the scavenger hunt at this museum that highlights the culture of the Nisenan tribe (members of the Maidu language group who once lived in the area that is now Roseville), walk the trail through an ancient Maidu village where one can see petroglyphs, bedrock mortar holes, and native plants and animals. Guests can also take part in traditional Native American activities such as grinding acorn and making pine nut beaded bracelets. 1970 Johnson Ranch Dr. Roseville. 774-5934. roseville.ca.us/indianmuseum
Old Sacramento Schoolhouse Museum
Go back to school and celebrate Little House on the Prairie author Laura Ingalls Wilder's birthday—as well as the anniversary of Sacramento's first public school in 1854—with cake and a reading of Wilder's stories. Guests can also play student for the day at this 1800s country school replica by sitting in 19th-century school desks and drawing on antique chalkboards. 1200 Front St. 483-8818. scoe.net/oldsacschoolhouse
Museum of Medical History
Take a trip through America's medical history with special Museum Day displays, from the transformative (an iron lung exhibit demonstrating how this 1940s-era machine would breathe for polio patients) to the shocking (Civil War-era surgical kits displaying authentic amputation knives and drills used for penetrating skulls). A 20th-century anesthetic machine, antique microscopes, and anatomy books dating back to the 1800s will also be open for public view. 5380 Elvas Ave. 452-2671. ssvms.org/museum.aspx
Sacramento History Museum
Go back to 1849 and take part in hands-on gold panning during this Old Sacramento museum's special Museum Day activity. Visitors can also see authentic gold-plated jewelry in the museum's two exhibits highlighting the precious metal, which display real pieces of unrefined gold attached to quartz, samples of pure gold melted down into a thin foil, as well as demonstrations of hydraulic pressure and mining. 101 I St. 808-7059. historicoldsac.org
Verge Center for the Arts
After viewing the gallery's newest "couchbleachers" installation (where 40 donated couches are staggered like a staircase up to the gallery's ceiling), stick around for Verge All Nighters, when this daytime art gallery is transformed into an after-hours dance party where guests can hang out on couches and DJs will spin tunes until 2 in the morning. 625 S St. 448-2985. vergeart.com
Roseville Utility Exploration Center
Learn about ways to prevent plastic from ending up in our water streams at the center's new "Bring Your Own Bag or Bottle" exhibit. The exhibit encourages patrons to invest in reusable bags and bottles through displaying plastic's journey in our lives—from grocery bags to the debris at the bottom of the ocean. Interactive exhibits allow patrons to build their own sprinklers (which encourages efficient irrigation) and fix their own storm drains. Also at the center: the "Wasteful World" installation uses a "talking" garbage pile and a tunnel imitating a sewage pipe to teach kids about how trash waste impacts the system. 1501 Pleasant Grove Blvd. Roseville. 746-1550. roseville.ca.us/explore
Sacramento Museum Day will take place on Feb. 7 from 10 a.m. to 5 p.m. Admission is free, except to the Sacramento Zoo and Fairytale Town, which will offer half-priced admission. For more information, including a full list of participating venues, visit sacmuseums.org/news-events/museum-day.
Related Links
–Thrift store tour in Roseville to turn up fabulous fashion finds
–Oscar-nominated short films to screen at Crest Theatre
–Walking Dead actors among first stars announced for Wizard World Comic Con in Sacramento