The Curious Case of William T. Vollmann
He jumps freight trains for fun. The FBI thought he might be the Unabomber. He won the National Book Award the same year as Joan Didion. And some people think he's a lock to win the Nobel Prize for literature. Acclaimed author William T. Vollmann gives us a peek inside his Sacramento studio (and his head) on the eve of releasing his new books on climate change and the end of the world as we know it. Yes, Bill, we'll take that scotch right about now, thank you.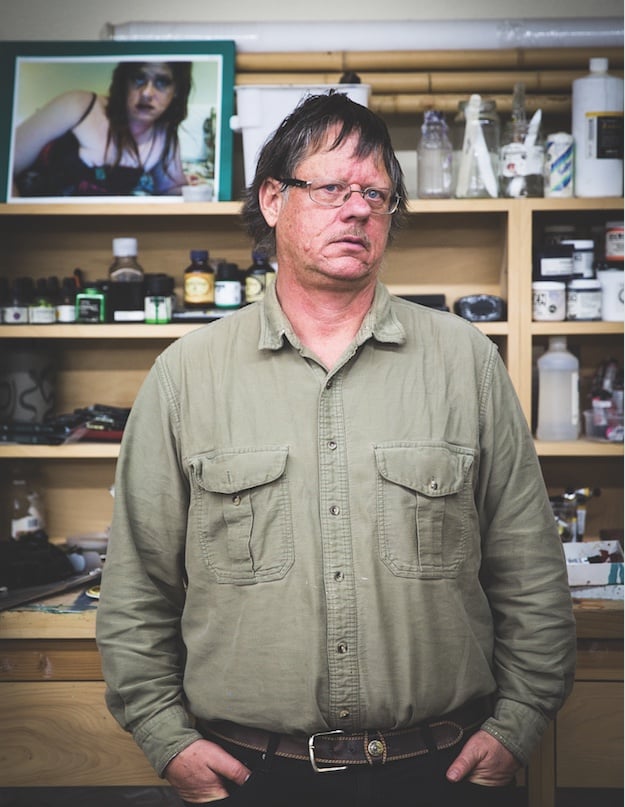 "Come on in. Tea or whiskey?"C
Classical piano tinkles in the background as William T. Vollmann opens the door to his Sacramento studio-slash-bunker, wearing a rumpled shirt, jeans and hair that looks like he cut it himself. With nail clippers. The 58-year-old novelist looks more like a building superintendent who just woke up than a resting literary lion.
The 3,000-square-foot space behind him is warm and inviting, tidy yet chockablock with art and art supplies, every surface filled with the notoriously prolific author's equally effusive output of paintings, prints and photographs, all but a couple of which feature naked ladies. Here's one of his favorite models, Lindsay, as a mythic creature, arms outstretched like wings. "She's very cute when she bares her teeth like a little fruit bat," he says fondly. Here's another of Lindsay as the center of a solar system. "I'm writing a novel called The Lesbian, and this is a potential cover."
Other female subjects hold whips. Some dance naked across fauvist landscapes, some are odalisques framed by ornate decorative elements. Still others lean toward what could be described as more conventionally transgressive, like a photographic print of a woman, naked from the waist down, urinating into a bowl. But all these images, like their creator, have an intangible air of innocence about them that belies their first impression.
As rough as his appearance is, Vollmann's voice is soft, almost jarringly prim, folksy and Middle American, the kind of generic adult white male voice that advises teens to steer clear of sex and reefer in vintage PSAs. It's also a little bit droll, with a wink in it, like he's playing Officer Friendly in a porno flick, or vamping Agent Cooper from David Lynch's Twin Peaks.
But these aren't pop cultural references Vollmann would necessarily even get, since he doesn't watch television. Doesn't have Internet. Or a smartphone. Or email. To reach him, you call a landline at his studio, where there is, at least, voicemail, with a cryptic outgoing message that consists of a spoon banging on a pot.
He is neither a Luddite nor a technophobe, however, and writes his books on a MacBook, submitting drafts to his publishers on flash drives. He dives deep into the technical when it comes to boning up on the use of gadgets like Geiger counters and pancake friskers, which he brings when chronicling his travels to potentially radioactive places like Fukushima, or up the Columbia River near the former Hanford nuclear plant.
He shuns the modern communication grid to safeguard his time, attention and privacy, a decision made organically, early in his career, and one which shows in his output. While he's sometimes compared to contemporaries like Jonathan Franzen and the late David Foster Wallace, Vollmann's career more closely resembles those of 19th-century authors like Charles Dickens, who published 15 novels, or William Makepeace Thackeray, who published 16. Like them, Vollmann treats writing as a trade, practicing it diligently, and daily. Twenty-five years ago, he developed a severe case of carpal tunnel syndrome from clattering away at his keyboard for 16 hours at a stretch, and to this day he scrawls notes with an oddly crabbed grip on his pen. His workdays are long, and on many of them the only exercise he gets is on his morning walk to Temple Coffee—he's a man of humble tastes, but like most writers, he does appreciate a quality beverage.
The author of more than 20 novels, story collections and works of nonfiction, most of which have the heft of a cinder block (the longest manuscript he submitted ran to 3,800 pages, and the joke in the publishing world is that he's responsible for more than one case of PTSD among his editors), is about to publish Carbon Ideologies, a definitive, meticulously researched nonfiction treatise on energy consumption in the age of climate change, a two-part series that is sure to garner award buzz. Even back in 1994, the novelist Madison Smartt Bell called him "a sort of write-in candidate for the Nobel Prize" in a profile in The New York Times Magazine. A prolific author himself with 23 books to his name, fiction and non, Bell may be one of the only writers who can keep up with Vollmann. "I reviewed his first 13 books—a half-time job in itself," Bell says today. He also wrote what he calls an "eggheaded piece" for the Review of Contemporary Fiction "in which I presented [Vollmann] as Jesus to David Foster Wallace's John the Baptist, which I still consider to be true. Bill changed the paradigm. He moved the boundaries of what a fiction writer could do. A book collector sent me a T-shirt reading, William T. Vollmann: The last great writer of the twentieth century; The first great writer of the twenty-first century. I thought that was fairly accurate."
Elsewhere, The Washington Post declared The Dying Grass, volume five of Vollmann's Seven Dreams sequence of novels about the history of North America, "a masterpiece" and "the reading experience of a lifetime," while New York magazine has called the author "the maximalist's maximalist, a Pez dispenser of career-capping megavolumes," noting the persistent Nobel Prize "chatter." In 2013, Newsweek further opined that "the suggestion that he could win the Nobel Prize is not at all outlandish, for Vollmann may be the most ambitious, audacious writer working in America today." Vollmann impishly told the publication that he thought it would be "fun" to give the $1.1 million in prize money to "some prostitutes" if he ever won the Swedish literary honor.
Despite his high-profile status amongst the literati, Vollmann is reclusive when it comes to the book world, lying low in Sacramento for the past 27 years when he isn't venturing off to Japan or Afghanistan for research. Europe Central, his epic 800-page story collection about Germany and Russia during and after World War II, won the National Book Award in 2005, the same year Sacramento native Joan Didion won the nonfiction prize for her memoir, The Year of Magical Thinking. The prize is the literary equivalent of winning the Oscar for best picture, but host Garrison Keillor seemed so bewildered by, and unprepared for, the cult author's unexpected win that he could only remark, "It's good to see a big prize go to a very nice young man."
"Nice young man" would be too glib a descriptor for the writer, whose backstory reads like that of a character in one of his novels. William Tanner Vollmann was born in Santa Monica when his dad was enrolled at UCLA, but the family soon moved to the East Coast, where they lived in various cities while his father worked as a professor. In 1968, when he was 9, his 6-year-old sister drowned in a pond near their home while he was supposed to be looking after her. "I should've paid attention when she disappeared," he says, "but I didn't. My parents and I all share some blame for her death. It's taken me many years to get over it. But I guess the good thing that did come out of it is that I'm more accepting of losers, criminals, murderers, all kinds of people, because they're my brothers." That formative incident also fuels his drive to save lost souls—he once famously "bought" a Thai child sex slave from her father and paid for the girl's boarding school education.
Vollmann came back to California to spend two years attending Deep Springs College near Death Valley, which The Economist once dubbed "the most isolated and most selective small university in the world," and where a mere two dozen students live like ranch hands, working off their tuition through manual labor while studying for a life of public service. Vollmann went on to graduate from Cornell summa cum laude.
In 1982, at the age of 22 he bought himself a ticket to Afghanistan, in a quixotic quest to help the U.S.-backed mujahideen fighters (documented a decade later in the self-deprecatingly titled An Afghanistan Picture Show: Or, How I Saved the World), before making his way back to California again, entering a doctoral program in literature at UC Berkeley. He quickly dropped out, more interested in haunting San Francisco's Tenderloin district and chronicling the intimate lives of prostitutes and addicts in books like the 1989 story collection The Rainbow Stories and the 1991 novel Whores for Gloria (in the author shot on the cover he's holding a pistol to his head).
He made enough of a name for himself with these early forays into fiction that he was able to begin picking up work as a journalist, continuing to travel toward danger. In Bosnia in 1994, while on assignment for Spin magazine, he survived a sniper attack in which two companions died, including a close college friend. "For a while I had a hard time with smiling people," he says, because the expression reminded him of his friend's bared teeth in death.
Vollmann also spent all of 15 minutes in New York, but the literary scene there didn't keep him in thrall, and while he knows marquee novelists like Dave Eggers and Franzen, today he is friendly with more homeless people than other writers.
* * * * *
It's a short trek from Vollmann's studio to the banks of the American River, where he and his good friend, local civil rights attorney Mark Merin, sometimes sleep out under the stars with the area's homeless. (In 2011, Vollmann wrote a 15,000-word article about their adventures for Harper's Magazine, providing a rare, unfiltered look at life in a homeless encampment, a shelter, a soup kitchen.) While he notes the smells, the trash, the presence of the occasional crazy cadger who threatens violence, he genuinely enjoys the company of the friends he makes on these trips. "They're just so nice," he says. "I really like those people."
Vollmann has also spent time sleeping in Seattle's legalized tent cities, and he thinks that's the model Sacramento should emulate. The Harper's story also detailed his frustrated attempts at allowing the homeless to shelter in the parking lot of his building, something he's still sore about today. "The anti-camping ordinance is monstrously cruel and stupid," he says heatedly of the controversial city policy that forbids sleeping in the open, on public or private property. He's not a sentimentalist on the issue, and he's as displeased as the next guy when someone defecates on his doorstep—which happens—but that minor inconvenience doesn't dim his sense of righteous compassion. "Who am I to say, 'No, you can't sleep in my parking lot with the rain coming down on you'? That's too good for [them]? It's a vile policy."
The studio is a stand-alone single-story structure he bought in the early aughts, situated in an interstitial, industrial area on the fringes of downtown, where soup kitchens jostle elbows with loft conversions. Locating it is a challenge, as many of the surrounding streets inexplicably lack signage (one wonders if Vollmann—who pays cash for everything to avoid being tracked—surreptitiously removed the signs late one night?). The freestanding stucco building, which previously housed a Mexican restaurant but looks now more like a war zone bunker (William Burroughs would have felt right at home here), is ringed by a sea of paved parking lot and a sturdy iron fence festooned with razor wire.
When he moved in, the space had a barred window, but on one of his first nights sleeping there Vollmann woke to see a fumbling hand reaching through the bars like a zombie out of some campy horror film. So he installed blinds, which he always keeps closed, and doubled up on the steel bars. The front door was sealed behind a heavy metal cage after a skinny gangbanger tried to kick it down one afternoon. Although he keeps half a dozen firearms on the premises, Vollmann chose to confront the intruder with a big stick, and the trespasser walked away. "The neighbors at the body shop across the street said, 'Yo, Bill, we were hoping you'd kick his ass.' "
Fortifications in place, he can relax. "Someone tried to kick through [the gate] last night at about 2 in the morning, but I wasn't worried," he says calmly, illustrating the point. He treats the studio like a second home, staying there for a week or two on occasion.
"I try to get along with people as much as I can," he demurs. "That way you get to see more, you have more friends and you live longer." For all his sojourns in war zones, both literal and figurative, he isn't a tough guy, or even close.
The rare male figure in his artwork is the Norse god Odin, shown enacting a pointedly masochistic myth, abasing the flesh in order to receive wisdom. "He's gashing himself with a spear and hanging himself from the tree," Vollmann explains. "My daughter used to have this Algerian babysitter, a devout Muslim girl, and when [the babysitter] heard about all that Odin had to do, she said, approvingly, 'Very strict religion.' "
Vollmann refers to his daughter Lisa often, including mentioning how he thinks they've visited every Thai restaurant in the city together. "Now she's really into the poke craze," he says. She's 19, a student at her father's alma mater, Cornell, where she's studying English and biology. She lives in a daylight realm that's counterpart and antidote to Vollmann's underworld, a parallel universe where there's a family home in Land Park, and presumably all the trappings of suburban bliss. "I try to protect the privacy of my family," he says, politely declining to divulge identifying details about his home life. "Once in a while I've received death threats for articles I've written. I can say I'm so grateful to my wife for giving me my daughter and having provided a wonderful, comfortable home for many years."
Vollmann's voice is soft, almost jarringly prim, the kind of generic adult white male voice that advises teens to steer clear of sex and reefer in vintage PSAs. It's also a bit droll, with a wink in it, like he's playing Officer Friendly in a porno flick.
Her career is what brought him to Sacramento in 1991. "My wife is a radiation oncologist. I wanted to move back to San Francisco, but this was the closest she could get," he says. "The first few years, I didn't really like it here. Then I started to make friends, and the fact that it's such a peaceful and friendly place is really good for me. It helps my writing to be able to go out and say hello to the neighbors. Over time, the freight train system and the Delta have become more and more important to me."
The city has worked its way into some of his novels, including 2000's The Royal Family. "It's about a failing private detective from Sacramento whose life gradually gets worse and worse, as happens to most of my characters," Vollmann says.
The author has long split his time between worlds, with the picket fence and "the other kind of fence." Eli Horowitz, his editor at Dave Eggers' San Francisco indie publishing house, McSweeney's, visited Vollmann at home in the early 2000s while the two were collaborating on the writer's then-magnum opus, Rising Up and Rising Down, and he still has a hard time wrapping his mind around the sharp contrast between Vollmann's authorial life and his domestic one. "That is so bewildering," Horowitz says. "His house was aggressively normal. I could never put it together in my head, but it's all part of what makes Bill, Bill. It's also who he is. He is just this polite, earnest weirdo. And I don't think he'd disagree with that."
While Vollmann is not at all secretive about this oddly juxtaposed set of life circumstances, he is enigmatic about it. He keeps the worlds quite separate, which seems to suit everyone concerned. "I stay here [at the studio] as long as I want, and I go to the other place as long as I want," he says. "It's strange, but it's always been strange. And if I go someplace [as a] journalist where people are living in very poor and even frightening conditions, and I come back to Sacramento, that's very strange too."
* * * * *
"If you meet him on the street, all you'd think is, 'Who is this weird dude?' " says his longtime friend Steve Jones. The two met 12 years ago at the suggestion of a mutual acquaintance who knew of their shared love of freight train hopping, and they've bonded over illicit excursions to Southern California, Wyoming and Nevada. "You're literally watching the deer and the antelope play," Jones says. "It's one of the last adventures, because you never know what's going to happen."
Vollmann suggested a trip to Reno a while back. "He had two people to go with, some barista at a local coffee shop, and one of his many female friends," Jones says. He pauses. "I don't know if you'd call them girlfriends." He isn't really sure what to make of Vollmann's uncategorizable relationships with women of various persuasions and backgrounds—and it's true, the term "girlfriend" is limiting and not one that belongs to the Vollmann-verse. It's also not clear that these relationships are romantic or sexual, or just another aspect of Vollmann's appetite and affection for humankind in general. As friends, Jones and Vollmann themselves make an odd couple (Jones is as devout as Vollmann is profane), but the author calls Jones the hero of his 2008 book Riding Toward Everywhere about their train-hopping adventures. "Steve and I talked about our lives and what we had and had not found possible," Vollmann writes in the book of their first trip together in 2006 to Santa Barbara. "The qualities of a good road companion—considerateness, friendliness, generosity, openness, patience, determination—were such as to make him immediately and deeply a friend."
The odd quartet of Jones, Vollmann, the barista and the "girlfriend" hopped a train in Sacramento. "We were rolling into Reno at dawn, and we got spotted," Jones recounts. "The cops were waiting for us." Vollmann and the woman were collared and issued tickets, while Jones and the barista escaped by ducking into a tunnel and pretending to be asleep. "We played possum, put our heads on our backpacks and pulled our caps over our eyes and laid there, pretending we were waiting for Amtrak to open."
Riding Toward Everywhere is one of the few books of Vollmann's that Jones has managed to read cover to cover. He isn't a fan of his friend's art, either, although he's a painter himself and runs an interior design firm. "I don't really care for it, but he'd probably say the same thing about mine," he says, comparing Vollmann's style to that of outsider artists, many of whom are somewhere on the autism spectrum.
Jones stops short of calling Vollmann a savant. He isn't one, objectively speaking, as he suffers no discernable cognitive or emotional deficits. But he has cast himself in the role of the court jester or holy fool who dares to speak truth to power under the guise of entertainment and get away with it—so far. He once landed on the FBI's radar as suspect No. S-2047 in the hunt for the identity of the Unabomber, who targeted victims in Sacramento, leading to speculation that he was a local. Vollmann wrote about this with humor in another essay in Harper's, quoting passages from his FBI file, such as the one that reads, "He revels in immersing himself in the seamy underside of life. He reportedly has used drugs (crack cocaine) extensively. He reportedly owns many guns and a flamethrower."
Vollmann's no crackhead, but he's tried a lot of things in the name of research and access (crack addicts prefer to open up over a shared pipe), and he does enjoy bold statements that support the Second Amendment. "I'm pro-gun ownership," he says. "Pro-suicide. Pro-euthanasia. Pro-abortion. Pro-capital punishment. Pro-death all the way. Yep."
But he's also law-abiding, at bottom. "I had to turn in my Tec-9 last year, with the 50-round magazine," he says wistfully of his former assault rifle, which he voluntarily surrendered when they became illegal. "I was sad about that. When I left, I saw the cops I gave it to dreamily playing with that stainless steel magazine. I said, 'Why don't you just take it home?' They said they were going to crunch it."
The FBI profile also read, "By all accounts Vollmann is exceedingly intelligent and possessed with an enormous ego."
How does someone so studiously modest in his personal habits get a reputation for an enormous ego? By being the most infamous size queen the literary world has ever seen when it comes to audaciously handing in gargantuan, sprawling manuscripts and refusing—ever so politely and humbly—to change a single word.
Horowitz was a young editor on his first book project when he landed Rising Up and Rising Down for McSweeney's after Viking, Vollmann's main publisher, balked at the manuscript's prodigious length. "I was unqualified for any aspect of the job," Horowitz jokes, "which probably helped me have the right attitude. If I knew more [as an editor], I might have tried to rein him in." In 2003, McSweeney's published Rising as a limited-edition, seven-volume set. The 3,300-page work sold out, and copies trade today at $400 and up on Amazon and eBay. Editing a work of that size and scope is daunting under any circumstances, but doubly so when the author is Vollmann. "One of my proudest moments," Horowitz says, "is when at the end of the project he said he'd taken more of my editorial notes than he'd ever taken before. We're talking probably nine notes." Nine. In 3,300 pages.
"He's brilliant," says Tom Christie, who was an editor at LA Weekly when Vollmann wrote about Afghanistan for the paper in 2004. "Did I ever get him to change a thing? Nah."
Who, you might well ask, reads this stuff? Vollmann's fan base (or bases—as the audience for historical fiction about the founding of America is different from that for his novels about prostitutes, which is in turn different from the audience for nonfiction) is unusually devoted, if small. "Some literary enthusiasts and I started the Vollmann Club many years ago," says Edward Champion, a Brooklyn-based book critic for the Chicago Tribune and Los Angeles Times, "because we felt his incredible contributions to literature weren't being properly recognized. There is no author as ambitious, as wide-ranging, or as idiosyncratic." The group of bloggers divided up the works, in tacit acknowledgement that it was practically impossible for one person to read them all. They still haven't made it through everything, and the website that Champion set up to chronicle the effort, while still online, hasn't been touched since shortly after Vollmann's National Book Award win, something Champion views as one of literature's last stands. "I don't think Vollmann could have entirely foreseen the disheartening shift of literary novelists writing bland novels about twentysomethings in Brooklyn who worry about such trifling matters as their media careers," he says. "I'm glad he's still out there writing books that are heartfelt, oddball and erudite."
His alter ego, Dolores, is not an overtly beautiful woman, but she has nice lips and noble cheekbones beneath the rough skin and baked potato of a nose. Her smile is different than Vollmann's, more unguarded. An avatar of Vollmann, she has her own repertoire of identities.
"I think most people would be very productive if they just did what they wanted all the time," Vollmann says. "I just decided it wasn't so bad to be my own boss, and my own janitor." He's an unsentimental economist. "I had a 15-year mortgage and I paid it off early," he says of the studio. Ohio State University, which collects the manuscripts of many contemporary authors, contributed to that effort, paying him for his papers and manuscripts.
Then there are the book advances and occasional story assignments for big-ticket magazines like Harper's, The New Yorker and Esquire, but even he is feeling the belt-tightening of the publishing industry. He makes some dough from producing finely bound, limited-edition volumes of art prints and selling them for $1,000 a pop to a coterie of fans. But he isn't above accepting $500 from a small rag like the Santa Rosa-based alt-weekly North Bay Bohemian to set part of a novel in the region and allow them to run the excerpt. It's that Dickensian model for the novelist's life, scraping and scrapping like a workingman.
He's obsessed with self-sufficiency and essentialism. He wears his clothes out, and fantasizes about finding the perfect backpack, frustrated that they wear out so readily. "They're so poorly made!" he says. "Maybe wood or metal would be a way to go. What do you think? Mesh metal fabric? If you could have a backpack, or eyeglasses, or anything that would last the rest of your life, why not? That's what it should be. On your deathbed, your child could come and say, 'This was my mother's backpack, and now it's going to be mine.' "
The conservation theme is pervasive. He sticks with things: art forms, clothes, projects, people.
* * * * *
The studio tour ends with a peek into his book-lined bedroom, where various editions of his own titles share space with classics across the genres: a history of Stalinism alongside Jean Genet's novels. The room bears traces of the building's provenance as a restaurant. "This was the meat locker, which is now my closet," he says. "When I had the electrician put in the light, he asked, 'What's that for?' and I said, 'Oh, so I can keep my victims.' " There is admittedly a little bit of a Silence of the Lambs vibe, especially as most of the clothes in the closet belong to Vollmann's alter ego, Dolores, whose many wigs are also on display.
"You give her her marching orders and she'll come out," he says.
Vollmann's forays into cross-dressing began with an academic interest in Japanese geishas for a book on Noh theater. The Book of Dolores (2013) documents Vollmann's explorations of his feminine self (who is not quite interchangeable with the same-named gender-fluid heroine of his as-yet-unpublished novel How You Are) in a series of self-portraits. "Since [the Noh theater artists] were professional performers of womanhood," he writes in the first section, "I couldn't help but wonder to what extent femininity is itself a performance."
Dolores is not an overtly beautiful woman, at first glance, but she has nice lips and noble cheekbones beneath the rough skin and baked potato of a nose. Her smile is different than Vollmann's, more unguarded. An avatar of the author, she has her own repertoire of identities: hippie chick crawling toward the camera in hoop earrings and beads; a smashmouth whore, beatific in smeared red lipstick; Venus, delicately cupping a breast and looking like a Medici statue.
On one of his many trips to Japan, he paid $800 for a geisha-like makeover (yes, it's a thing there, and he reports that the women who provide this service to men are not-so-secretly bewildered by it and a bit put off). In the photo from that session, his features tamed by cosmetics, he looks superficially feminine with thin, arched eyebrows and cherry blossom lips, but the expression is hesitant, the eyes remote. Dolores is more attractive—if less conventionally pretty—in the portrait on the facing page, titled merely Happy Woman, where she's her rougher self, grinning broadly down at an upturned camera looking very much like a scary aunt swooping for a kiss at Thanksgiving.
Answering the phone one afternoon, he mentions that he's lounging around the studio in a parka and a slinky polyester skirt, because he enjoys the silken feeling of the fabric. The feminine guise isn't just a getup or a fetish for him—the exploration is genuine. He's gotten under the feminine skin the way women have always, of necessity, gotten under the masculine. Is it odd that Vollmann wears skirts when he's home alone? Or is the real oddity that virtually all Western women wear both pants and dresses (and their associated roles) quite comfortably and interchangeably, while very few men wear skirts? There's a study of the human condition under way here, and it appears to be both effortless and sincere. All novelists, to the extent that they must inhabit the minds and bodies of both male and female characters, are transgendered. Vollmann is perhaps multi-gendered.
* * * * *
Back in the studio, the punctilious host asks, "Would you like a little scotch with your bourbon?"
It's a perfectly reasonable question to ask right before the conversation turns to the end of the world as we know it, the subject of Vollmann's new Carbon Ideologies series. Volume I: No Immediate Danger appears April 10, with Volume II: No Good Alternative following in June, and will deal with fossil fuels and coal. Volume I chronicles the author's personal, experiential journey across continents in search of some semblance of factual and existential truth about the phenomenon of global warming and the impact of nuclear power. And while he may come down on the side of liberals in condemning our squandering of natural resources, he spent a great deal of time traveling through Trump's America while conducting his research, and developed an equanimous compassion for the people he met along the way. "I visited Appalachia a number of times," he says, "and those people are so abandoned and forgotten, and there was total disinterest in them throughout the Obama years and before. They're at their wit's end, and all they have are prison jobs and coal. So of course they'd vote for Trump."
"Right now when you talk about climate change, people tend to think that they have to believe one side or the other without proof," he explains. "And of course it's always been that way. If you [tell] Jane Six-Pack, 'Hey, prove to me that the Earth is round,' she probably couldn't do it. She couldn't actually explain how it is people figured out that the Earth is round. So when we read about global warming, if we're West Virginians, we read that God is perfect and you have to trust your pastor who is saying this is not a problem, that someday we'll be raptured, but in the meantime all those so-called scientists are working with the establishment that has brought you socialism and gay marriage. And how can they possibly know how much CO2 there was back in 1750? Those are valid questions."
While he answers such questions in the book, Vollmann's method is more concerned with breaking down the "fourth wall" between the godlike perspective of authorial authority (that disembodied voice that's fond of the phrase "experts say") and the reader. "We're left infantilized, because we're left relying on experts," he says.
"This book does not and cannot duplicate the science," he says. "I can't say I was able to go to Greenland myself and take deep core samples and measure the bubbles deep down in the ice and see that there was a lot less CO2 and methane and nitrous oxide then, but I try to make it as transparent and realistic as I can."
Vollmann sets himself up as an empathetic if somewhat hapless guide, bringing the reader along with him as he devises homemade field experiments. At one point, he takes to the Columbia River in a boat with a device called a pancake frisker in hand to measure radiation left behind from the Hanford nuclear power plant in Washington state. Sure, he could have cited stats, but by highlighting the fact that anyone can grab a scientific instrument, he shakes up our expectations of what "reporting" is all about.
He visits Japan after the 2011 Fukushima reactor meltdown and zips around in a taxi, fretting over his own radiation exposure ("A battery-powered dosimeter kept me conveniently abreast of the harm I was inflicting on myself," he writes), but also taking the time to talk to fishermen, farmers and women sitting on stoops.
The resulting book is a 624-page colossus, a discursive masterpiece that's more accessible than it sounds, despite being riddled with extensive tables, charts and formulas. The logorrhea is deliberate. "After all, if a reasonably intelligent person, not super rich, but someone who is willing to put a little money into these things and educate himself—if I can't figure it out, how can I expect anyone to?" Vollmann says. "That's why I have all these tables in the book. It's complicated, and someone has to see it all. That's my job. People can read the book and say, 'All right, I can compare nuclear power to fracked natural gas and decide what I think about it.' "
What leavens the book is how much personal humor and pathos Vollmann manages to interject, even into those forbidding tables. One titled "Comparative power requirements and energy usages" is given a novel unit of measurement, i.e., "multiples of what was needed per minute ca. 1975 to operate a plug-in vibrator."
Elsewhere, he writes at length about what is for him a totemic example of energy consumption, the refrigerator. Coincidentally, or perhaps not, an appliance recycling center a couple of blocks from his studio features an impressive mountain of rusting enamel hulks. Vollmann only got a refrigerator himself in the last few years, and it occupies a lot of mindshare.
"I was very resistant to getting my little dorm fridge there," he says. "But I had a lot of unhappy guests who couldn't have cold sodas. Now I can go to the store and buy some ground turkey so I can make stir-fries. So I'm definitely part of the problem."
Vollmann proves that there is indeed a knowable, quantifiable truth to be told, that global warming is real and not, in fact, a matter of opinion. What Carbon Ideologies doesn't do, however, is offer up any actionable solutions, because Vollmann doesn't believe there are any.
It's a problem he knows how to unpack: "One of the ways in which the so-called regulated community"—power companies and power-consuming industries—"distracts everyone from its own greed is by saying, 'Oh, yeah, we all need to conserve. If only you would drive a little less or turn down the air conditioning.' Well guess what? None of that is going to cut it."
In Vollmann's nonfictional universe—a universe, remember, where grasping zombie hands already reach in through the window bars—the apocalypse is already under way.
"The only solution is to drastically reduce demand, contract economies, contract populations and make everyone materially impoverished," he says. "And who wants to do that? We'd rather let the next generation burn."
Carbon Ideologies shines a blistering light on the realities of climate change. By documenting his travels personally and anecdotally, Vollmann proves that there is indeed a knowable, quantifiable truth to be told, that global warming is real and not, in fact, a matter of opinion. What the book doesn't do, however, is offer up any actionable solutions, because Vollmann doesn't believe there are any. "If we were to stop all of our CO2 emissions today," he says, "the oceans would keep rising for 2,000 years. It's far worse than we think."
To drive home this inevitability, the book is written in the past tense, as a rune for future generations to decipher (shades of Vollmann as a latter-day Odin, suffering to bring home the truth?). It's addressed, ruefully and apologetically, to these future humans, and assumes they'll be reading it by campfire or sunlight. A vision that is sci-fi to us, but not to Vollmann, who is, if anything, future-adapted.
"It's interesting to think how Sac will be over the next 100 years," he says brightly. "We might be in one of the few sweet spots. We have two rivers, so we might not suffer from drought the way the rest of California will." The optimism doesn't last long. "But then we have floods," he says. "Eventually we've got to be underwater."
This is the key to Vollmann's particular brand of witness-bearing. It may seem impossible to the casual observer that anyone could move so fluidly between gentlemanly householding in Land Park and squatting in squalor on the riverbank—an everyman in an everytown—and could genuinely purport to see no particular difference in the human qualities of either lifestyle. But from a post-apocalyptic perspective—which is where William Vollmann truly lives—either option is an earthly paradise to be savored and adored compared to what yet may come.
* * * * *
The gonzo thriller he's currently working on, about the rogue son of a CIA agent hiding out in the wilds of the Sacramento River Delta, is a relative lark compared to Carbon Ideologies' sobering vision. Vollmann's been mounting forays into that particular wilderness of late, by land, sea and air, getting to know the squatters occupying islands, the houseboat dwellers, meth heads, survivalists and other lone eccentrics who populate that ecosystem like so many other species tagged for extinction.
One sunny day in early February, Vollmann and his attorney friend Mark Merin have found a captain to take them around in a rented boat. They meet up at 7 in the morning at a coffeehouse in Land Park and drive in Merin's Audi down to a tiny marina near Stockton to meet up with Captain Dave, a Delta denizen with an impeccably maintained 1986 speedboat that looks like something straight out of an episode of Miami Vice. The boat planes along nicely at 20 mph, cutting through the Delta's thousand miles of shallow channels.
Dave has talked up the backyard sloughs of Stockton as a kind of Mekong Delta, so the day's explorations start there, the boat's engine slowing to a purr as it crosses under the I-5 freeway. Motoring silently down a brackish waterway, Vollmann wonders aloud about the demographics of the local inhabitants. The waterfront homes that must have been chic in 1970 stand in disrepair, their decks littered with plastic lawn furniture. Many of the private docks are half sunk and covered in moss, and the few boats tied to them aren't much better off. One sits submerged but for a foot of its top deck, and has clearly been sitting on the bottom for months, if not years. It's not quite the Mekong, perhaps, but it doesn't look much like California, either. "Who do you think lives in that house?" Vollmann asks, pointing out a home that's built like a cheap, spray-stucco cracker box, but at the scale of a McMansion. Ghosting further down the channel, there's a silence to the narrow waterway. "I think these are working people," Vollmann says, noting that none of the homes show any signs of life on a weekday morning. His pocket-sized film camera is idle; this backwater is more civilized than what he's looking for, forgotten by time, maybe, but too on the grid.
Back on the open water, the boat speeds west through the heart of the Delta's swampy archipelago, some islands no more than clumps of reeds, others with small private docks for weekend boaters, the big, cultivated islands ringed by levees and drawbridges. Even though it's a balmy 70 degrees out, with blue skies reflected in glassy water, the day's expedition only encounters a handful of other skiffs carrying fishermen out looking for sturgeon, and one small, derelict sailboat meandering along, its decks laden with a hoarder's haul of suitcases, buckets and lawn furniture—someone's makeshift home, no doubt.
Vollmann describes a few of the self-sufficient survivors he's met on other trips to the Delta, where it's possible to fire up a dinghy, disappear among the reeds and live completely off the grid. He doesn't want to give away many particulars on the friends he's made down there in the maze of waterways, aware how fragile and tenuous their semilegal existence is. An existence that, like his, is almost technology-free, save for the odd propane stove or outboard engine.
The Washington Post declared The Dying Grass, volume five of Vollmann's Seven Dreams sequence of novels about the history of North America, "the reading experience of a lifetime." In 2013, Newsweek wrote that "the suggestion that he could win the Nobel Prize is not at all outlandish, for Vollmann may be the most ambitious, audacious writer working in America today."
This is the kind of thing he's on the prowl to discover, although all the wildlife he finds today are a few regal-looking herons and some lifelike decoys of mallards ranged around a duck blind. Merin spends most of the day swapping stories with Dave, their words lost to the wind and engine noise, while Vollmann scribbles in a notebook, which he writes in without ever looking down, turning the page every sentence or two. Sometimes he takes a snapshot of a rusty drawbridge or an abandoned floating shack.
That's where he imagines his readership 200 years from now—among the survivors of our folly, living more or less as hunter-gatherers in a devastated future landscape. "One of the reasons I love 19th- or 20th-century photography is that I don't have to use electricity to look at one of my prints. If I've done it right, it's going to last 500 years, and if we've lost our ability to use electricity, I can look at it in the sun. That's why I love books too."
The boat put away for the day, it's back to Sacramento, where Vollmann heads for Land Park to pack for his next research trip. He's leaving the next day for Seattle, to meet some lesbians for his novel, and to spend more time with the homeless—which is the thing he says he would most like to do, were life to consist of limitless possibility. Here's a man who has made it his life's work to defend the downtrodden, and to boldly document the decline and fall of Western civilization, but also, just a regular guy, contentedly living the dream.