10 Cool Winter Hikes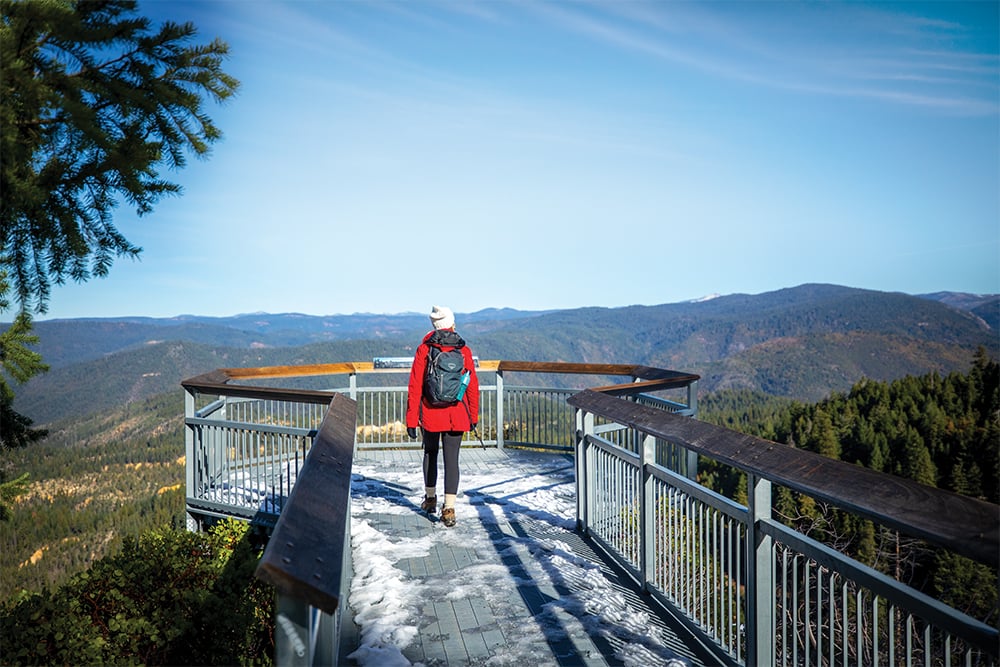 Most of us think of hiking as a fair-weather endeavor, but this winter, the best—and safest—cure for your pandemic-induced cabin fever might just be an unseasonable expedition into the great outdoors. Luckily, our region's topographical riches and relatively temperate temperatures (even in the dead of January) mean there's something for every kind of cold-season walker, whether you're an indoorsy urbanite jonesing for a riverside stroll, a history buff in search of a summit view, or an adventurous ambler looking for a snow day. To help us answer the call of the wild, Sactown's resident hiking expert has rounded up a dectet of soul-warming treks around town. Now's the perfect time to walk a mile (or 2 or 10) in her shoes.
AVERY'S POND
Location: Folsom State Recreation Area (starting point)
Length: 2.4-mile lollipop (out and back with loop)
Difficulty: Easy
Elevation Gain: 239 feet

"We need the tonic of the wilderness," Henry David Thoreau wrote, and he'd probably agree that in winter—especially in this socially isolated season upon us—we need the hot toddy of the wilderness more than ever, which is exactly what this restorative trail near Newcastle provides. After the summer boaters have packed up, Folsom Lake's water level drops dramatically, leaving most of the trailside views muddy and sad. Not so for this single-track hike (with plenty of pandemic-friendly turnouts for passing or stepping aside)—a loop that offers peek-a-boo views of the lake's northernmost finger along a colorful crimson canyon where the falling waterline reveals geological formations. Best of all, this hike culminates in a magical destination—Avery's Pond, a lush oasis you can circumnavigate in thoughtful, Thoreau-like contemplation. If you're looking for a hike to take with the kids, this could be the excursion they remember years later. Even the approach to the pond, with a mossy bridge and stone well, is storybook-worthy. Avery's Pond can make for an equally excellent Valentine's Day excursion, especially if you stop in Loomis at the Flower Farm Café's outdoor counter for a scenic picnic (I'd go for the applewood-smoked bacon BLT with a cup of hot, fresh-milled apple cider). Whether coupled or single, this hike provides that particular brand of nature-fueled ecstasy that Thoreau may have had in mind when he observed that "Heaven is under our feet as well as over our heads."
**********
BARGE CANAL TRAIL
Location: West Sacramento (starting point)
Length: 6.6 miles round-trip
Difficulty: Easy
Elevation Gain: Virtually none

Who knew? A peaceful, easily accessed oasis has been hiding in plain sight amid West Sacramento's industrial district, just a couple of miles from the Tower Bridge. The Barge Canal Trail, a path lining the man-made waterway that serves the Port of West Sacramento, has been the secret purview of local fishermen, long before the city upgraded it last year with amenities like seating and lighting along the way. Setting out from the parking lot, the paved trek soon gives way to well-tended gravel, with the canal on your right and a buffering tract of reedy, grassy fields between you and any development. Walk half a mile and you'll outpace the fishermen laden with gear, getting the place to yourself. Pause at the 1-mile mark to watch kayak fishers cast their lines against a backdrop of grain silos, shipping cranes, docks and vintage tugboats. At mile 2, the canal widens to become Lake Washington, where a graceful pod of white rowing shells dart past as a gaggle of geese looks on—and a red-tailed hawk sitting on a post eyes the geese. Covering the walkway's entire 6.6-mile length on a chilly morning, I encountered exactly three humans who weren't carrying armloads of fishing paraphernalia, and we exchanged pleasantries about how pleased we were to be in on the marvelous secret. But the Barge Canal Trail is too good to hide, so it's time to let the cat out of the bag (sorry, fish).
**********
YUBA RIM TRAIL
Location: Rice's Crossing Preserve (starting point)
Length: 5 miles round-trip
Difficulty: Moderate
Elevation Gain: 750 feet

You don't have to go all the way to Yosemite to channel Ansel Adams, standing on a jagged summit as you strike a rugged pose gazing out over postcard-worthy vistas of mountain, river, hill and dale. You don't even have to hike very far—the 5-mile, out-and-back Yuba Rim Trail, just south of the New Bullards Bar Dam, lets you skip basecamp and bag a full-on peak experience (not a metaphor here) the likes of which are normally reserved for hardy mountaineers willing to ascend thousands of feet in a day. The rolling hike along a mixture of single track and a dirt fire road (used by firefighters when needed) follows a ridgeline, although dense foliage keeps you from seeing very far, right up until the path dips, then crests, then opens up for the big reveal: Ta-da! Forested peaks, snowy peaks, big sky. But wait, there's more. Although the trail appears to end here in a red dirt clearing, pick your way along to your right, and the scenery opens up all over again, revealing a peak that's an easy scramble to the top. Take your time pathfinding—the rocky promontory is safely accessible—for a variety of vantage points. There is even a summit logbook for you to sign, tucked into a plastic bin and nestled in the rocks at the uppermost spire. Pro-tip: Hit the trail just after a rainstorm when the air is clearest and like the song says, you can see forever.
**********
SIERRA DISCOVERY TRAIL
Location: Near Nevada City (starting point)
Length: 0.9-mile loop
Difficulty: Easy
Elevation Gain: 36 feet

As I write, I have a foot-long pine cone on my desk, gifted to me several winters ago by an elderly sugar pine tree I consider one of my mentors—the tree equivalent of a spirit animal. The majestic conifers of the Sierra mountains are particularly generous with their ancient wisdom on a sunny, silent winter's day—so when clear skies are forecast after a flurry in the foothills, rent a pair of snowshoes and make your way to the fresh powder on this neophyte-friendly trail near Emigrant Gap outside Nevada City, and don't forget to carry snow chains. (REI rents basic snowshoes for $27 per day and $8 each additional day, reservable up to 30 days in advance by phone at the Sacramento, Folsom and Roseville locations.) The Sierra Discovery trail is perfect for beginning snowshoers: close to the main highway, well-traveled enough that you're never untethered from civilization, and mercifully short. Snowshoeing for the first time is a particularly humbling experience for veteran hikers. Used to mountain-goating along at three miles per hour? You'll cover half that distance and be eight times as tired. Whatever your athletic ability, you'll be a sweaty, satisfied mess by the time you circuit this groomed, hilly 1-mile-ish loop that passes through cathedrals of conifers, hugs the Bear River and overlooks a small waterfall. Looking for a gentler meander? Just throw on a pair of lug-soled boots and prepare to go walking in a winter wonderland. On the way home, stop at the Omega Diggings Scenic Overlook—about 10 miles away—for a short, quarter-mile tromp to a dramatically perched platform offering an expansive view of the Sierra Nevada over a seemingly endless expanse of evergreens—an uplifting reminder that whatever the sins of our species, the planet's wise and ancient tree population is still 3 trillion arboreal citizens strong.
**********
LOST SLOUGH WETLANDS WALK
Location: Cosumnes River Preserve (starting point)
Length: 1.5-mile loop
Difficulty: Easy
Elevation Gain: None

The 3-mile levee-top path that loops through the Cosumnes River Preserve in Galt is usually flooded in January and February, leaving just its shorter Lost Slough Wetlands Walk accessible, so this isn't so much a hike as a walking meditation—or it can be, if you arrive early. Stop by in the middle of most days and you're likely to find a pleasant amble among stroller-pushing day-trippers, but arrive at the stroke of dawn in the dead of winter, and it's all about the wildlife. It'll just be you and a couple of dedicated bird watchers. You will glide through the misty, shimmery morning in perfect silence as the sky turns from soft and silvery lamé to sun-buttered blue velvet, as thousands of roosting cranes, grebes, herons and cormorants rise up and greet the new day in a chaotic cacophony, swooping, darting, shaking out their morning feathers, running formations across the sky, and calling, cawing and honking out an unmistakable hymn to the pure joy of living. Every bench along the mile-long paved trail invites you to stop and observe this pageant, breathing in the crisp, cool air. End your visit with the half-mile wooden boardwalk that leads to an octagonal viewing platform, and turn your gaze skyward to enjoy the air show. As you wander back to your car, the first stroller will be unfolding from a minivan, but by the time the human wildlife chases the birds away, you'll be off in search of a strong cup of coffee.
**********
MARSHALL MONUMENT LOOP
Location: Marshall Gold Discovery State Historic Park (starting point)
Length: 4.5-mile loop
Difficulty: Moderate
Elevation Gain: 676 feet

Gold Country is peppered with sites of historical interest, but this one is something special, a scenic and invigorating hike on a single track that culminates with a picture-perfect hilltop picnic spot and ends with a fascinating meander through the remnants of the town of Coloma, once the epicenter of the Gold Rush. This hike combines the Monument and Monroe Ridge trails to form a 4.5-mile loop that includes two foothill summits, beginning just behind the visitor center. The best view, of a stretch of the American River framed by hills, is from the second summit, where an inviting picnic table sits under a spreading shade tree, right before you descend via a set of switchbacks and a wooden stairway. Time your hike to include an hour-long docent-led tour of the park grounds (11 a.m. and 1 p.m. daily), including the very spot where carpenter James Marshall first noticed flecks of gold in the sediment stirred up by the new technological wonder that was Sutter's Mill, powered by the flow of the American River—a scale replica of the mill brings the high-stakes storytelling to life, as does the Chinese grocery, bank and theater stocked with artifacts. Even in the days when the Pony Express was as close as the Wild West came to Twitter, the news spread like lightning. The gold may be mostly gone now, but there are still plenty of natural treasures for you to discover.
**********
UC DAVIS ARBORETUM
Location: Davis (starting point)
Length: 3.5-mile loop
Difficulty: Easy
Elevation Gain: 80 feet

While UC Davis public-facing edifices are known for their architectonics—think of the Mondavi Center, or the Manetti Shrem Museum—one of the university's oldest institutions is constructed almost entirely of vegetable matter. Established in 1936 (back when the school had fewer than 1,000 students), the UC Davis Arboretum's 3.5 miles of pathways weave through 100 acres of mature horticultural exhibits, comprising a living library of trees: Consider the craggy bark of the Catalina ironwood, appreciate the alluring acacia, and study squirrels gathering acorns from the California live oak. The area is so beloved that graduating students bejewel the metalwork of the bridges that crisscross the waterway with their bike locks as they bid farewell. The arboretum is also a working, educational laboratory, and as such is undergoing constant revision, so expect occasional well-signed detours. It's also equipped, currently, with soap-and-water hand-washing stations along the way. This is one destination that is accessible at any time of day (it's open 24/7)—one of my favorite visits was a moonlit evening jog in deepest, darkest February. It's also enjoyable in just about any weather: On a drizzly day, the aroma of moist bark curling off of the Sequoia sempervirens (coast redwoods) and mingling with the fresh scent of ozone is a heady concoction, so don't change your plans when it starts to sprinkle, just grab a yellow raincoat—because it's never too cool for school.
**********
NISENAN LOOP
Location: Nevada City (starting point)
Length: 1.85-mile lollipop loop
Difficulty: Easy
Elevation Gain: 300 feet

If I could live next door to one hike to peregrinate on a daily basis, this lollipop loop through the Deer Creek Tribute Trail system would be the one. It packs a lot of perfection into a mere 1.85 miles, starting with a set of pretty, stone-banked switchbacks through pine forest that lead to the Nisenan Tribute Bridge (or Angkula Seo, the name for Deer Creek used by the indigenous Nisenan tribe), a suspension span that passes about 40 feet over the burbling creek—and yes, it sways underfoot just enough to give you an adrenaline boost as you set off counterclockwise on the other side, climbing gently over a loamy single track. Few hikers realize how much artistry goes into mapping a path through the forest; a great trail pulls you forward through the landscape with delight and curiosity, with gentle grades and bends that allow you to sustain a pace that's effortful yet enjoyable. These relatively recent additions to the trail system represent to me the platonic ideal, built six years ago by the talented designers at the Forest Trails Alliance for the Bear Yuba Land Trust and The Sierra Fund. The loop we're following levels out as it follows a culvert that dates back to 1850. When you see a trail intersection, head straight through it for a few hundred feet to take in the Nisenan garden maze to the left, then backtrack to the intersection and head downhill, looping back to the bridge for your return. When you finish your hike, you're a scant mile from Nevada City's quaint Broad Street, where you can duck into Choquiero Chocolate and pick up a hot cup of ceremonial cacao, an unsweetened elixir with the body and bite of espresso that's the perfect finish to a perfect trail.
**********
QUARRY TRAIL
Location: Auburn State Recreation Area (starting point)
Length: 10 miles round-trip
Difficulty: Moderate to Hard
Elevation Gain: 1,250 feet

I'd like to rechristen this wild, welcoming, wide-open path the Best Friends Forever Trail, at least for the duration of the pandemic. Why? Because at an average of 9 feet in width, it's a perfect venue for two friends who share everything except a Covid pod to convene. Pre-pandemic, my friend Ellie and I used to spend hours deconstructing our love lives and solving the world's problems while hiking with her golden retriever over winding single tracks throughout the region— but narrow trails force you to hike single file, meaning that one of you is always breathing the other's exhaust if you stay within gabbing distance. The Quarry Trail near Auburn solves that conundrum nicely: Two can stride side by side at a safe distance apart here over undulating terrain that offers a consistently comfortable rate of effort (you'll be able to walk and talk the whole way) and consistently lovely river views. It's also an impossibly long trail. Got nine months of pent-up relationship drama to unpack? Go for it! You've got 10 miles of trail to burn. The low-angled winter sun dapples the canyon foliage and rushing rapids with sequins and dashes of gold and silver, especially toward sunset, when curious wildlife emerges as well. On a November hike, I counted no fewer than five curious black-tailed deer as the day waned, but bears, foxes and bobcats have been sighted in the area too, another reason that rangers advise bringing a friend—"hike paired, not scared" is good advice for all walks of life.
**********
WEIMAR INSTITUTE TRAILS
Location: Near Colfax (starting point)
Length: 3.3 miles round-trip
Difficulty: Moderate
Elevation Gain: 500 feet

Here's an under-the-radar gem, known mostly to equestrians, that harbors unique surprises. I didn't discover it for years, as nearby Stevens Trail—arguably the Grand Canyon Rim Trail of the Sierra foothills—was always the draw in the Colfax area, but the well-signed, 14-mile trail system that loops throughout the grounds of the Weimar Institute is a revelation. Half a mile after starting down the Coyote Creek Trail, you'll take a right turn onto Manzanita Trail. As you climb, the grove of manzanitas thickens, closing over your head, and your path becomes a tunnel weaving through this density of red limbs, an otherworldly landscape that reminded me, when I first encountered it, of the scenes from the 1966 sci-fi classic Fantastic Voyage, where a miniaturized Raquel Welch travels among the capillaries in a scientist's brain. This is a hike not of this Earth. As the manzanitas thin again, you emerge into the Weimar Cemetery, which looks like a movie set from a different genre. A multitude of small wooden stakes occupy a solemn grove of oak and pine, with occasional marble headstones standing in stark contrast. These are the graves of veterans of World War I and II, the Spanish-American War, and other conflicts. Arriving at such a monument by trail has an impact—you'll feel the weight of human history set against the silent, reclaiming kindness of nature, and it's a moment of swelling yet humbling emotion. It's something to contemplate as you continue your hike by following the Frontier Trail to the left for almost a half-mile, then heading down the Sugar Pine Trail nearly a third of a mile to rejoin the Coyote Creek Trail. From here, head down to the second creek crossing, then return up Deer Path on the other side, restored by the knowledge that while some things never change, there can also be something new under the winter sun.
**********
WINTER HIKING TIPS
Layer up. You should feel chilly at the start of a hike, not cozy, because the exertion will quickly warm you up. You'll regret a puffy parka in about 10 minutes, especially if all you're wearing under it is a Cake concert tee. Instead, wear layers you can tie around your waist or stuff into a daypack as needed. And when it comes to rain, bring a poncho because it will provide ventilation and cover your daypack.
Choose wool, not cotton. Look for light, breathable fabrics, preferably containing wool (it helps your body retain heat) or technical blends if you're sensitive to wool. Above all, avoid cotton—no jeans, no tube socks—which retains moisture. When you stop moving and sweating, wet cotton fabric will continue to siphon away your body heat, putting you at risk for hypothermia.
Wear big boots. Blood rushes to your extremities when exercising, and your feet can swell up half a shoe size. Avoid blisters by making sure your footwear is roomy rather than snug. Carry moleskin, soft adhesive-backed fabric that sticks firmly to feet (unlike regular bandages, which tend to fall off), and use it at the first hint of a hot spot. A set of microspikes, lightweight traction studs on elastic bands that slip over your shoes, will come in handy on frozen ground.

Start early. Did you know twilight is shorter in winter, due to the angle of the setting sun? This means you have less time in the lingering light to get back to the trailhead. The temperature also drops fast once the sun sets—plummeting 10 or 20 degrees in an hour. So aim to be back in your car an hour before sunset, and pack a flashlight, just in case.
Watch the weather. Check the forecast for the town nearest your trailhead—then prepare for the worst. Trekking poles are always great because they distribute effort to your arms on uphill stretches and save your knees going down, but in winter they also help you keep firm footing on mud or ice.
Hydrate. Your body requires adequate water to function properly, so carry liquids on any hike. A hydration bladder, which comes with a drink tube for hands-free intake, is a good choice in winter. You can also stash a thermos of something hot in a backpack.
Charge up. Cold weather can drain your phone's battery. Carrying it in an inner pocket close to your body can help, but always bring a small backup power pack. Bring a map too—paper can't run out of batteries.
File a flight plan. Always let someone know where and when you plan to hike. If you hike frequently, you can buy a tracking device like Spot ($100-$200 plus activation and subscription fees; findmespot.com) that pings off GPS satellites, not cell towers, and can send your location to emergency responders with the push of a button.
Be Covid-conscious. Hike on narrow trails only with household members, and always wear a mask when in sight of others—don't wait until you're about to pass each other to fumble one out of a pocket. Pick trails you can drive to and from on a tank of gas and bring water and snacks from home so that you won't have to stop anywhere. If the trailhead parking lot appears crowded, the trail will likely be crowded too, so be prepared to leave. And last but not least, choose outings well within your known limits—the last thing we need during a pandemic is to burden first responders with a search-and-rescue event.