10 highlights to savor during 2014 Farm-to-Fork Restaurant Weeks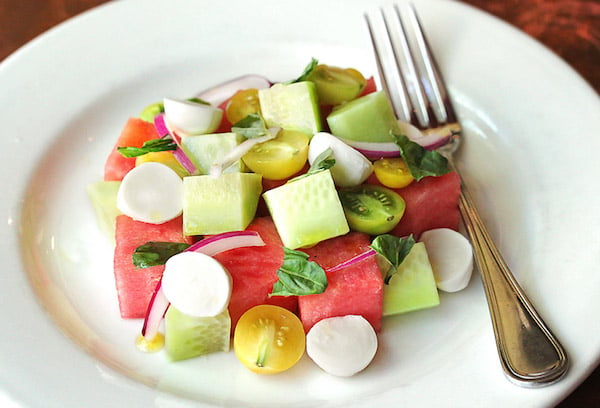 Nearly three dozen (and counting) restaurants around the city are currently signed up to participate in Sacramento Farm-to-Fork Restaurant Weeks, a 16-day spotlight on local ingredients and their growers running from Sept. 13-28. Some of your favorite eateries will be serving up the option to dine from fixed price menus ranging from $10 to $45, while a portion of proceeds from Restaurant Weeks—which is hosted by the California Restaurant Association's Sacramento chapter in partnership with the Sacramento Convention and Visitors Bureau—will benefit local food banks and the Food Literacy Center.
Have a look below at some of the highlights planned for 2014.
Café Bernardo
Café Bernardo locations around the area will offer a $10 lunch special that includes watermelon and cherry tomato salad using fruit from West Sacramento's Yeung Farms and tomatoes from Rancho Cordova's Soil Born Farms, or a chopped grilled chicken salad with an egg from Vega Farms in Davis. cafebernardo.com
DeVere's
DeVere's downtown location will be serving up a straightforward $10 wine pairing with an heirloom tomato and arugula salad from West Sacramento's Yeung Farms and arugula from West Sacramento's Del Rio Botanical, paired with a glass of sauvignon blanc from Michael David Winery in Lodi. 1521 L St. 231-9947. deverespub.com
Dos Coyotes
This homegrown chain—with locations in Davis, Roseville, Arden-Arcade, Folsom, Elk Grove and East Sacramento—has created three farm fresh specials under $10. Try the Yolo burrito with baby heirloom tomatoes from Capay Organic or a roasted corn quesadilla with fire-roasted, sweet corn from G&S Farms in Brentwood and Sierra Nevada Cheese company pepperjack. doscoyotes.com
Ella
This power lunch favorite is creating a tempting $45 tasting menu featuring a heirloom tomato salad using tomatoes from West Sacramento's Watanabe Farms and a tempting Bartlett pear tart made with fruit from Courtland-based Stillwater Orchard, as well as rosemary whipped cream and hard cider caramel. 1131 K St. 443-3772. elladiningroomandbar.com
Frank Fat's
This venerated downtown eatery will serve a $35 three-course farm-to-fork special that includes items like chilled Szechuan heirloom tomato soup using tomatoes from West Sacramento's Yeung Farms and stuffed quail with sticky rice, Chinese pears and Fuji apples. 806 L St. 442-7092. fatsrestaurants.com
Hock Farm
For $35 per person, you can get your choice of soup, salad and three entrée choices, including a local king salmon with smoked eggplant, roasted summer squash and cherry tomatoes from Soil Born Farms in Rancho Cordova. For dessert, don't miss the stone fruit and farmers' market berry compote with vanilla bean gelato. 1415 L St. 440-8888. paragarys.com
Pizza Rock
Downtown's hip pizza joint will be featuring a $40 four-course menu chock full of fresh produce from Loving Nature Farms in Clarksburg, including a club sandwich with moon and star watermelon, a tomato bisque soup with heirloom and Sungold tomatoes, a spinach and arugula salad, and spaghetti squash primavera. 1020 K St. 737-5777. pizzarocksacramento.com
The Porch
The Porch is creating a $45 three-course menu that includes a watermelon salad made with Guinda-based Full Belly Farm's yellow watermelon, as well as stuffed organic squash blossom made with Sierra Nevada goat cheese, local honey, semisweet chocolate and fresh fruit. 1815 K St. 444-2423 theporchrestaurantandbar.com
Shoki Ramen House
If noodles strike your fancy, head to Shoki Ramen House for a $15 special with the amazingly named "Organic Soupless Edamame Ramen with Samurai Sunrise," made with organic noodles, and local ingredients like mushrooms from Dragon Gourmet Mushrooms and bean sprouts from Dixon-based company Salad Cosmo. The savory edamame sauce is also made with soymilk from Sacramento Tofu Company. 1201 R St. 441-0011. shokiramenhouse.com
The Waffle Experience
This new sweet spot in Natomas that opened in August is whipping up three $10 waffle specials that include the "Strawberry Fields" made with organic strawberries which often come from Feel Better Farms in Winters or another local farm, applewood smoked bacon, blue cheese and local arugula and almonds. 4391 Gateway Park Blvd. 285-0562. thewaffleexperience.com
To browse the complete, regularly updated list of participating restaurants here. Bon appetit!