10 local Olympians to watch at the Summer Games in Rio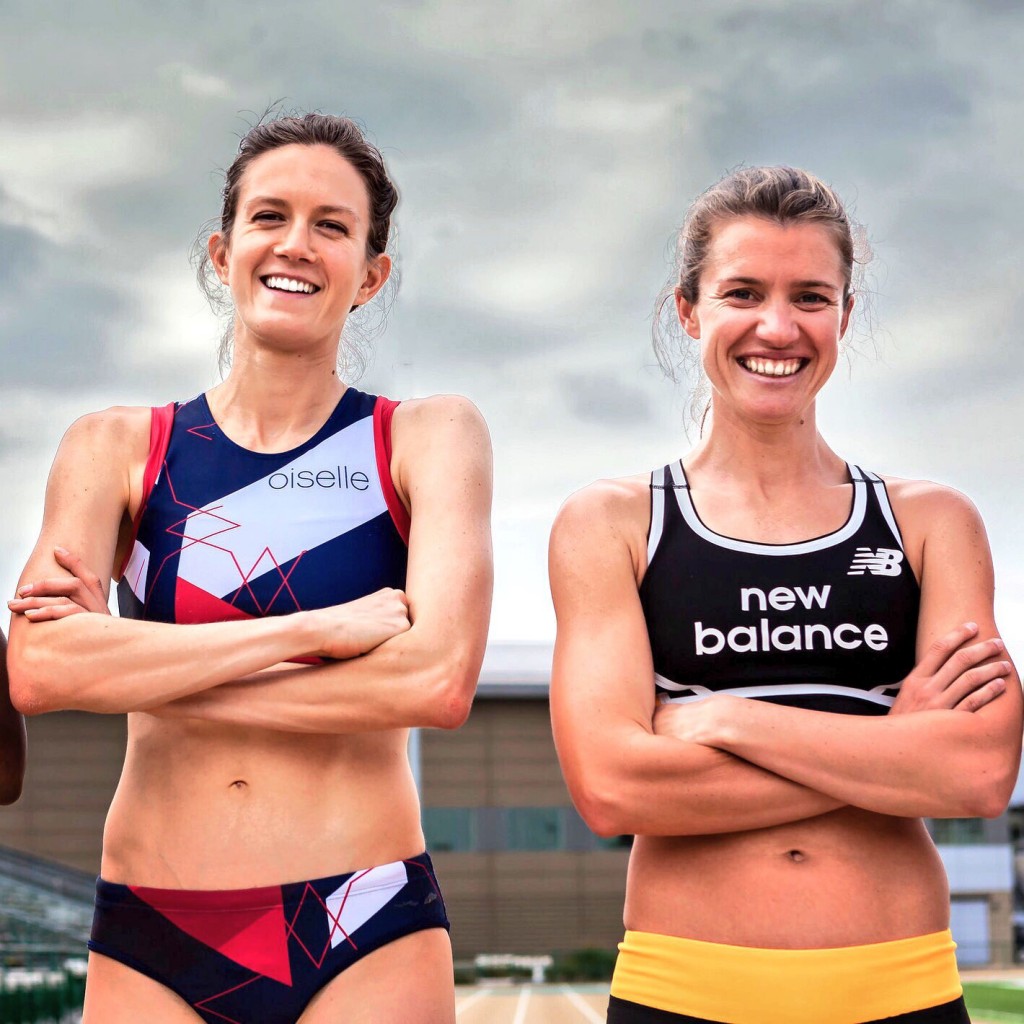 We profile open water distance swimmer Haley Anderson, 24, of Granite Bay in our August/September issue (click here to read the story), and will be cheering her on in the women's open water 10K, swimming's equivalent of a marathon. Anderson earned the silver four years ago in London at the same event, missing winning the race by a mere four tenths of a second, so she's expected to do well in Rio—maybe even taking home a gold medal to match the one her older sister Alyssa won in 2012 for the 4×200 meter relay.
But she is far from being the only athlete from the Sacramento region heading to Rio. Here are nine other local Olympians to root for this summer:
Joanne Fa'avesi, 24, Sacramento — Rugby Sevens
Joanne "Nana" Fa'avesi grew up the youngest of seven children in a rugby-playing family, and helped her team at Luther Burbank High School win a championship in 2010. Upon graduating she played for four years with the Sacramento Amazons club before being invited to the development camp at the Olympic Training Center. She made the Eagles Squad (Team USA) and silvered in the Pan Am Games in 2015. The 2016 Games will be the first since 1924 to include rugby, and the first ever to include women's rugby. Nana Fa'avesi will be the first Tongan-American woman to compete in the Olympics for Team USA.
Alex Obert, 24, Loomis — Water Polo
Alex Obert's dad made him join a sports team—any sports team—to get in shape. Obert, who went to Del Oro High in Loomis, picked water polo, and ended up becoming league MVP in high school. He attended Sierra College, playing water polo for the Wolverines before transferring to University of the Pacific on an athletic scholarship, where he became a three-time Division I All-American, helping his team reach the NCAA National Championships in 2013. He scored four goals in the 2015 Pan Am Games, in which the U.S. won gold, and scored four times in the 2016 FINA World League Super Final for the silver. Performances like that earned him his seat on a plane to Rio.
Seth Weil, 29, Davis — Rowing: Men's Four
The former sailor and windsurfer discovered rowing in 2005 as a freshman at UC Davis. "I was tall, and someone came up to me and said, 'You should go out for crew,'" Seth Weil says. "I never looked back." Weil rowed for the Aggies for six years while pursuing majors in aerospace, mechanical engineering and psychology.
Weil's path to Rio has had its ups and downs. After college, he tried to transition to rowing a single scull (in which a lone rower wields two oars, as opposed to a sweep boat, in which rowers specialize in rowing either port or starboard) without success, then spent a season off the grid to regroup, training on Lake Samish in Washington, before getting a call to fill in for a sick rower at the U.S. Rowing Team's 2013 training camp. Weil made his mark; two years later, U.S. Rowing named him 2015 Male Athlete of the Year.
Get Weil started on the topic of the mechanics of rowing and you'll be astounded at the level of complexity involved in the sport, which he calls "an efficiency game." Chasing the perfect stroke led the athlete to co-found a tech startup, Hegemony Technologies, based in Davis, which has prototyped an iPhone app (called simply The Rowing App) that gives rowers immediate feedback on a range of performance metrics.
"It's basically using sensors to get better insight into rowing specifically, the dynamics of moving boats," Weil says, adding that this is the kind of data that has heretofore only been accessible to elite athletes. "People who don't have access to high-level coaching and high-level data can hopefully, through [the app], start to get some insight into their own rowing."
Weil and his partners, CEO Paul Crawford and CMO Esther Lofgren (a 2012 Olympic gold medalist in the women's eight crew event), plan to launch a Kickstarter campaign in August to fund their commercial launch. But Weil isn't thinking about that as he prepares for Rio. "Racing is my No. 1 priority," he says. "Competing is the biggest thing I'm looking forward to, and the experience of being around all those high-performance athletes. [I'm going to] take it all in."
Kasey Perry-Glass, 28, Orangevale — Equestrian: Dressage
Equestrian events have the distinction of being the only Olympic competitions in which men and women compete directly against each other. Dressage (the term means "training" in French) involves the performance of tightly controlled, balletic footwork on the part of the horse, achieved through close collaboration between horse, trainer and rider—although it's the rider who collects the medal. In a sport steeped in tradition, Kasey Perry-Glass is a bit of an innovator. Her unusual approach includes taking on all the work of caring for her horse, Goerklintgaards Dublet, herself, whereas most of her peers leave the mucking out of stalls and currying of coats to a professional groom.
If she takes gold, Perry-Glass will be the first American dressage competitor ever to do so. If you think dressage looks genteel, don't underestimate Perry-Glass's sheer athleticism; When she isn't training or showing, she runs marathons.
Jamie Whitmore, 40, Sacramento — Paracycling
Jamie Whitmore grew up in Sacramento, where she swam, ran track and played softball and volleyball at Valley High School. She didn't discover mountain biking until college, but when she did she found a calling. The athlete had 37 Xterra (off-road triathlon) championships under her belt when she was diagnosed with cancer of the sciatic nerve in 2008 at the age of 31. Whitmore lost her left hamstring and most of her left glute muscle to surgery and was briefly paralyzed. She was told she'd never ride a bike again.
Her answer? She got back on the bike. "I wasn't going to let cancer win," she says. Three years after her initial diagnosis, Whitmore emerged cancer-free. She won the paracycling world title in 2012, the same year she was inducted into the Xterra Hall of Fame and gave birth to twin boys, Ryder and Christian.
In 2016 Whitmore became the only disabled woman to have ever finished the Leadville 100 in Colorado, a grueling 104-mile, high-altitude mountain bike race. Although the muscle tissue she'd lost interferes with her walking gait, she retains use of her knee and her quad muscle, which just happen to be the anatomical features cyclists rely on most. In other words, Whitmore may have a limp when she walks, but she is still a powerhouse on a bike.
The only peak experience left for this astounding athlete to bag is Olympic gold. What has been the biggest challenge in getting to Rio? "Balancing life!" Whitmore exclaims. "As a mom, coach, motivational speaker and athlete, there simply is not enough time in the day to do everything."
Kim Conley, 30, West Sacramento — Track and Field: 5,000 Meter
West Sacramento's Kim Conley is headed for her second Olympics to compete in the women's 5K race. Conley was widely expected to qualify for the 10K as well, but she suffered a race-ending "flat tire" in the trials, when another runner stepped on the back of her heel.
When she turned pro after graduating from UC Davis in 2008, Conley stayed in the Sacramento region, taking a coaching job at her alma mater, and founding The NorCal Distance Project, a Sacramento-based professional training group for female distance and middle-distance runners, with her college coach, Drew Wartenburg. "The biggest factor that helped me return to the Olympic stage is having a team," Conley says.
"We train together at Sac State's Hornet Stadium, on the American River Parkway, and at Fitness System Land Park. The presence of a team and system lends structure to the training environment and also makes the process much more enjoyable," she says. "The entire package that an elite [athlete] needs to perform at a high level—from teammates and training partners, to great training locations, and a high performance support system—exists in Sacramento."
Kate Grace, 27, Sacramento — Track and Field: 800 Meter
Conley is especially exited to be headed to Rio alongside fellow Distance Project teammate Kate Grace, who qualified to compete in the women's 800-meter race. Grace, grew up in Santa Monica, graduated from Yale, and trained in New Jersey and Oregon before eventually finding a home in Sacramento. "Reading the mission statement of NorCal DP felt like perusing online dating profiles and finding a match," she blogged in June 2015, announcing her move.
Now that she's a local, Grace echoes Conley's enthusiasm for the area. "Sacramento is a hidden gem for distance training," she says. "Between the miles of paths along the American River, and the number of local parks, we have a big variety of places to work out. The mild winters mean we can train outside year-round. And we have a network of support from chiropractic and massage practices that are accustomed to dealing with elite athletes."
Cale Simmons, 25, Rocklin — Track and Field: Pole Vault
It's a bird! It's a plane! It's Cale Simmons!
The 25-year-old Rocklin native made the track and field team in the men's pole vault after participating in the U.S. Air Force's World Class Athlete Program, which allows promising athletes to train full-time in their sport. Simmons and his identical twin brother Rob had been pole vault champions together throughout high school and the Air Force Academy; Rob is now a pilot and cheers his brother on from the cockpit of a C-17 jet plane.
Just in case you're thinking of the pole vault event at your high school track meet, where knock-kneed kids struggled to flop over a bar no higher than eye level, have a look at the video below, in which he demonstrates his superpower: the ability to leap tall buildings in a single bound. It's not much of an exaggeration—at 18-plus feet, the Olympic standard (the height an athlete must clear to qualify) is literally as tall as a two-story building.
DeMarcus Cousins, 25, Sacramento — Basketball
Last but not least, Kings star DeMarcus Cousins, a two-time NBA All-Star drafted by Sacramento in 2010 in the first round as the fifth overall pick, made the final cut to compete on Team USA's men's basketball team, playing center. The United States has won 14 gold medals since basketball became an Olympic sport in 1936, so chances are good Boogie will bring home some bling with which to festoon the new Golden 1 Center next season.
This summer's Olympic Games (Aug. 5-21) and Paralympic Games (Sept. 7-18) will be aired or streamed across a panoply of NBC-owned properties, including NBC, NBCSN, Telemundo, Bravo, CNBC, MSNBC, USA Network and more. For complete listings visit nbcolympics.com.
You Might Also Like
Swimmer Haley Anderson goes for the gold in Rio
The Rise and Rise of rock climber Alex Honnold
Q&A with former Sacramento Kings star Scot Pollard