E-Waste Not
The last place you want to toss old tech is in the trash. Instead, there are far more environmentally friendly—and sometimes even profitable—ways to eliminate your e-waste.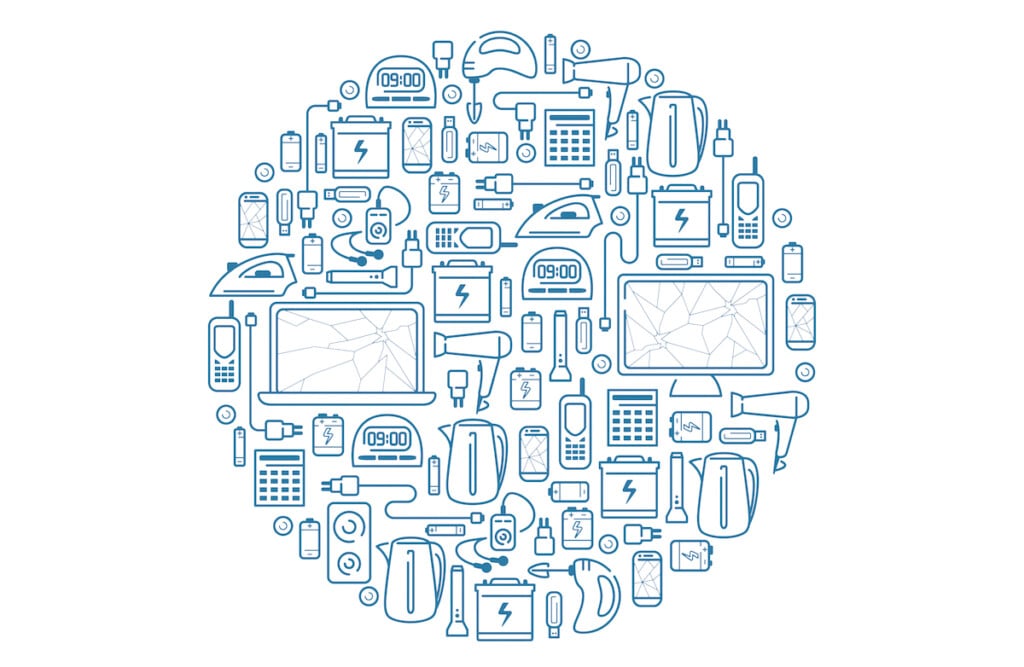 Spring cleaning season is here. When it comes to e-waste—those old smartphones, the abandoned laptop we've all said we'd deal with eventually, the Tupperware container filled with dead batteries—discarding them responsibly takes a little effort, but goes a long way. The trouble with tossing them in the garbage is that many forms of e-waste contain lead, mercury and more than 1,000 other dangerous substances, less than a quarter of which ends up recycled safely.
The good news is that city programs, private companies and the California Environmental Protection Agency's CalRecycle department (which provides advice, recycler lists and more at calrecycle.ca.gov) make it easy to responsibly shed those polluting products. They offer up everything from curbside e-pickup to services like shredding or demagnetizing your hard drive (for extra security) to offering cash for your long-discarded tech. It's time to hit the delete button on toxic trash.
Cell Phones
Say no to the old phone drawer. Apple will recycle any iPhone or Android phone for free, in store and by mail. They also offer store credit for models dating back to the iPhone 7 ($40) and Galaxy S9 ($30)—the newer the model, the more you get. Or stop by one of our area's 20 EcoATMs—automated, brand-neutral, phone recycling kiosks found in Walmart, Foods Co. and other locations. With easy instructions, all delivered by a cheery on-screen robot, the machine analyzed our old phones, offering $20 cash for our iPhone 7 and $120 for our iPhone 11, paid right then and there.
Computers
It's standard practice for recyclers to destroy data, but for extra peace of mind, North Sacramento's Modern Waste and E-Waste Gurus, and South Sacramento's E-Waste Recovery Systems all offer verified hard drive destruction. Modern Waste, which is R2 certified—a standard recognized by the EPA for environmental sensitivity and data security—removes and shreds your hard drive for a $12 fee. To witness the shredding first-hand, E-Waste Gurus and E-Waste Recovery Systems charge $10 to $15. And Apple recycles all Macs and offers store credit for those up to seven years old.
Batteries
The state of California classifies batteries as hazardous waste. So what's a good recycling-minded resident to do? Cities like Roseville, Folsom and Elk Grove provide curbside pickup options (more details below), but others, such as Sacramento and Davis, do not. And while landfills accept batteries, retail stores are more convenient. Home Depot, Best Buy, Staples and CVS all take rechargeable batteries, while Nugget Markets, Ace Hardware and Rite Aid take standard household batteries and AutoZone and O'Reilly's offer $10 gift cards when you bring in your old car battery.
Large Appliances: Drop-Offs
While recycling a phone or a laptop is one thing, the issue becomes a bit, well, bigger when you're dealing with a washing machine. Appliances—large and small—are more difficult to handle for recyclers, leading most private companies to pass, or to charge extra. But Rancho Cordova-based TKO Recycling will take most appliances at no cost (sorry, no refrigerators). You can also recycle all large appliances for free at public facilities like Kiefer Landfill, located just east of Sacramento, or at Elk Grove's Special Waste Collection Center if you're a city resident (yes, they'll check).
Large Appliances: Pickups
If the idea of loading and unloading a massive appliance yourself is threatening to kill your recycling buzz, our sore backs agree. Most areas, including the city and county of Sacramento, offer options for free curbside appliance pick-ups at least once a year, provided you get the item to the curb yourself. For those of us living in apartments or needing extra help, hauling services like Rancho Cordova-based Junk King and Sacramento and Roseville's Golden State Junk Removal will pick up appliances for between $50 and $200, while Best Buy will pick up and take two major appliances for $199.
Best E-Waste Recycling Experience
Yolo Employment Services (YES), a nonprofit offering employment for people with disabilities, makes the experience a breeze with its welcoming and efficient service. The YES Recycling Center—located just two blocks from Woodland's charming Main Street—boasts a grassy, tree-shaded drive-up lane. There, a team of friendly attendants helped us unload an old TV, monitor and computer—at other facilities, you're typically on your own—all of which they accepted for free (there's a 10-cents-per-pound fee for other e-waste items like vacuums and microwaves). yoloes.org
---
---
The Golden State is no stranger to forging its own environmentally forward path. "Later is too late to act on climate change. California isn't waiting anymore," Gov. Gavin Newsom said last year after signing a bill strengthening the state's stance on e-waste—one of multiple new 2022 laws raising recycling standards. And that statewide commitment means there are now more ways to recycle, no matter where you are. Though each city and county differs, requesting an e-waste pickup is often as easy as following the contact instructions on their website or mobile app and making an appointment.
SACRAMENTO
In the fight to keep the City of Trees green, there are plenty of good options. Anyone with a house can schedule two free e-waste and appliance curbside pickups a year by dialing 311, emailing 311@cityofsacramento.org, or using the Sac311 app. Each appointment allows for two appliances—everything from microwaves to water heaters—and four items of e-waste. Meanwhile, Sacramento County offers unincorporated residents a free annual bulky waste pickup (including e-waste and appliances) scheduled on its website or the SacGreenTeam app. And while apartment dwellers are dependent on their building's specific hauling service, every city and county resident can recycle e-waste for free at local landfills. Sloughhouse's Kiefer Landfill—well maintained, pleasant, and even sporting a picturesque overlook of rolling hills—tops our list.
FOLSOM
When it comes to recycling in Folsom, save the gas, because they'll come to you. The city offers free e-waste pick-ups year-round for residents as part of its household hazardous waste pickup program. You can schedule a collection via email at solidwaste@folsom.ca.us or by calling 916-461-6730, or through the Folsom Waste Collection app, and say goodbye to your old TVs, computers, electronics and batteries (not to mention materials like motor oil, paint, and pesticides). As for appliances, the city allows residential addresses three free bulky item pickups a year.
ELK GROVE
Have a question about e-waste in Elk Grove? Chances are the answer is at the city's Special Waste Collection Center. Located just across Highway 99 from Sky River Casino, the facility accepts drop-offs for e-waste, along with hazardous materials and traditional recyclable items, from all city residents for free. But when it comes to screens and batteries, skip the trip. For each residence, three pickups a year are available for bulk waste like televisions and monitors (you'll need to call 916-635-2500 to make an appointment and notify the city that your bundle includes those items). And you can simply put your household batteries out in a resealable clear bag on top of your standard curbside recycling bin.
ROSEVILLE
The urge to recycle is in the air. Just this past March, Roseville completed the rollout of its free hazardous waste pick-up program. With electronics, from cell phones to televisions, as well as car and household batteries, on the list of accepted items, the program allows residents to schedule appointments by emailing wscst@roseville.ca.us or by calling 916-774-5770 for 20 to 125 pounds of waste to be picked up with your curbside bins. For everything and everyone else, e-waste drop-offs are free at the Western Placer Waste Management Authority (WPWMA) facility in southern Lincoln, with general appliances (for $9.50) and refrigerators (for $42.50) accepted too.
PLACER COUNTY
With more than half a million acres of dense forest and precious nature at stake, it's not much of a surprise that Placer takes recycling seriously. Every town in the county, and the unincorporated areas, allow residents to schedule free pickups for e-waste and batteries. Meanwhile, locations like Recology Auburn Transfer Station, just north of Auburn, and Lincoln's WPWMA facility (where appliances are slightly less expensive to recycle) offer residents free e-waste drop-offs as well.
YOLO COUNTY
The e-waste recycling opportunities for most cities in Yolo County might be more limited than in Sacramento, but there are still ample ways to help keep Mother Nature healthy. Seniors and people with disabilities can mail in an application for two free bulky waste pickups a year, which includes e-waste and appliances. West Sacramento offers all residents two similar pickups for free, plus two more for batteries and other hazardous materials. And all county residents can drop off e-waste—including countertop appliances like microwaves—for free at the Yolo County Central Landfill in Woodland, with a small fee for large appliances. A mere $25, and it's see ya later, frigerator.
Discover More from Our Special Eco-Themed Issue:
Can Electric Bikes Help Save The Planet? – The rise and future of e-bikes
Where It's Easy Being Green – The plastic-free, Earth-friendly Nudge Eco Store
Eat Eco – Local restaurants raising their sustainability game