Eat Eco
Greener eggs and ham ... and chicken and carrots. Restaurants around town, from Mulvaney's in midtown to Almighty in El Dorado Hills, are dishing out planet-wise plates and raising their sustainability game.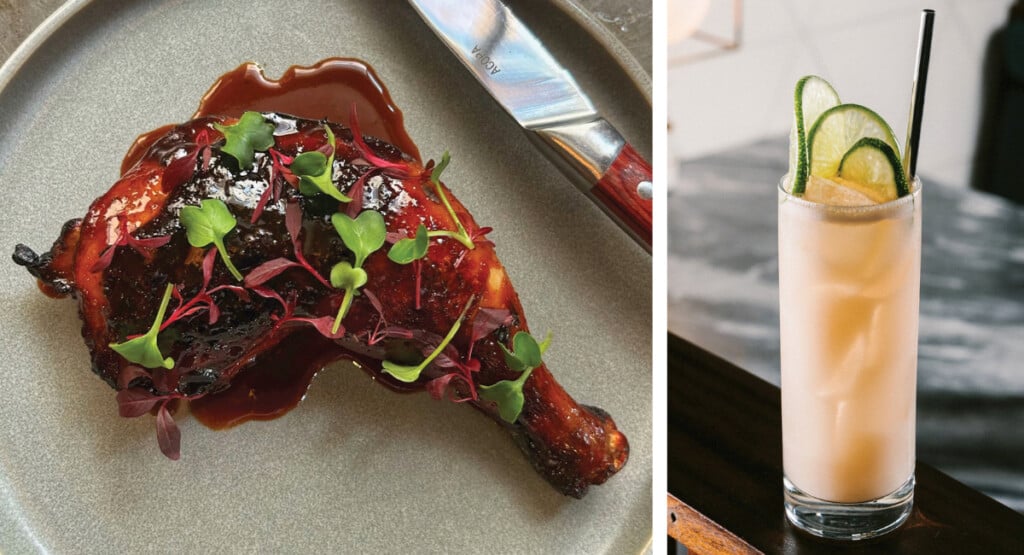 From composting to whole-animal use, metal straws to solar panels, eco-friendly practices are as much a part of many local restaurants' business as counting receipts at the end of the night.
A strong sustainability emphasis makes sense a decade after Sacramento branded itself "America's Farm-to-Fork Capital," since sourcing regionally means that food travels a shorter distance than usual, thus reducing greenhouse gas emissions and lowering carbon footprint.
But minimizing waste was a baseline in the dining industry long before that, says Patrick Mulvaney, who owns midtown Sacramento's homiest fine-dining restaurant, Mulvaney's B&L, with his wife, Bobbin. For example, the chef points out that restaurants have historically recycled oil, glass bottles and cardboard.
As environmental awareness grew in recent years, "our efforts became additive rather than being new," he says. " 'Let's make sure all our to-go bags are compostable,' and 'Let's move from plastic to bamboo to-go forks.' "
As one of the Sacramento restaurant scene's most vocal advocates for and enactors of environmentally responsible practices, Mulvaney is the godfather of the current strain of eco-activism that started in the aughts, when composting became de rigueur in enlightened circles. The expansive "Green Promise" page on the B&L website testifies to the Mulvaneys' zero-waste-seeking commitment, down to the biofuel that powers the equipment-rental trucks the business uses.
There are several other forerunners as well, among them Magpie Cafe owners Janel Inouye and Ed Roehr. For all these culinary eco-warriors, sustainability starts with what they allow into their kitchens.
Known for rustic New American dishes that always seem wholesome regardless of fat content, Magpie counts long-established relationships with area growers like Newcastle's Twin Peaks Orchards, itself a zero-waste proponent that turns its stone fruit discards into jams or dried fruit.
Local and sustainable "has always been a priority for us, but when we first started catering in 2005, we had a lot of explaining to do as far as what the end product was," Inouye says. "People wanted something out of season like asparagus in the winter, and we would say, 'Trust us, you'll be so much happier with these beautiful rainbow beets.' "
Sacramento was not yet as savvy to the Sasquatch-size carbon footprint of out-of-season, out-of-town produce as was Santa Cruz, where the couple previously had lived. "There was just less understanding and less connection to food than there is now."
But they stuck to their principles. "You can't do anything that is inauthentic to yourself and your beliefs," Inouye says. They attracted early adopters, won over diners, expanded their catering business in 2010 by opening a brick-and-mortar eatery on R Street, moved to a much bigger space on 16th Street in 2015, withstood a pandemic, and have maintained diner trust as the sustainability conversation has moved into its post-"organic" phase.
" 'Growing organic' is becoming 'greenwashing,' " says Nick Dedier III, using the term for businesses that oversell their sustainability creds. The restaurateur—who co-owns Milestone and Almighty Bistro in El Dorado Hills, as well as Chicken Shop in Cameron Park, with his fiancée, Alexa Hazelton—notes that organic farming can mean little without soil sustenance.
The pinnacle now is regenerative agriculture, which aims to rehabilitate soil and improve biodiversity and climate resilience. Almighty, the gluten-free eatery that Dedier and Hazelton opened last August, serves beef, pork, eggs and chicken from Sonny's Farm, a regenerative start-up on the site of an old golf course in El Dorado County.
Regenerative practices are especially vital with beef producers, given the damaging methane produced by cows, which is why Mulvaney chose to partner with Marin County's Stemple Creek Ranch, a regenerative, carbon-neutral ranch that adds as much carbon to the soil (through measures like composting and growing plants) as it emits into the atmosphere.
The next step in a restaurateur's daily eco-friendly journey is using every possible part of an ingredient. This has always been key to kitchen culture—and the bottom line, says Mulvaney, known for his "everything but the oink" strategy and magnificent outdoor roasts of glistening whole pigs. "You don't make money off the top, you make it by saving things—using bones to make stock for the soup, turning tops of carrots into pasta," he says.
---
READ MORE: Stronger Together – A conversation with Patrick and Bobbin Mulvaney
---
Over at the Michelin-recognized Canon restaurant in East Sacramento, chef and co-owner Brad Cecchi shape-shifts leftover ingredients in his own pursuit of "total utilization."
"We will take scraps of bell peppers—the ribs on the inside, the seeds, the stem, the shoulders on the top—and we'll use them to create a fermented liquid that we use in our Beaches & Cream cocktail. And the pulp from that ferment goes to make a romesco sauce that we serve on our Romanesco broccoli dish," Cecchi says. Canon even tackled one of the last frontiers of frustration for zero-wasters—the bloodline on tuna. "We cook it down into almost a Marmite paste that we use to flavor a lot of recipes like our Caesar dressing," he explains
Canon was among the first restaurants in town to use metal straws, which they started to offer in 2018 after Cecchi and co-owner Clay Nutting caught wind of the war on plastic straws to come.
At Canon's sister restaurant Franquette, a French-inspired West Sacramento wine bar and cafe that opened in early 2022, vegetable scraps, coffee grounds and other compostable waste go to the nonprofit Center for Land Based Learning's urban farm, located across the street. "We have been partnering with them since day one," says the chef. "We have access to their compost bin directly."
For their part, Magpie and Mulvaney's have been composting long before California mandated organic waste collection last year. Through its long-standing relationship with Atlas Disposal, Mulvaney's has even been feeding food scraps into an anaerobic digester that produces its own biofuels over the past decade.
Meanwhile, Inouye and Roehr once carted compost to the city's Fremont Community Garden. But for years now, they have been working with Green Restaurants Alliance Sacramento's ReSoil program, which makes pickups once a week. ReSoil collects more than 200,000 pounds of food scraps a year from area food producers and distributes them to local gardens, farms and residences for composting.
For Magpie, eco-friendliness is also foundational. When Inouye and Roehr moved to their current midtown space in the 16 Powerhouse building, Magpie became one of the few regional restaurants housed in a Leadership in Energy and Environmental Design (LEED)-certified structure. Eco-focused elements that came with the place include LED lighting throughout and solar panels on the roof.
Franquette's build-out as part of The Block apartment complex includes an all-electric kitchen, and an above-ground—rather than the traditional in-ground—grease trap, "so we could monitor what we are putting into the sewer system," Cecchi says.
Looking ahead, Mulvaney's B&L has been eyeing participation in the global Zero Foodprint (ZFP) initiative spearheaded by Anthony Myint, co-founder of San Francisco's Mission Chinese Food restaurant. Zero Foodprint helps fund regenerative farming practices through a 1% add-on to each diner's tab at partner restaurants, which includes Berkeley's Chez Panisse and Healdsburg's SingleThread. Mulvaney's and Empress Tavern are the only two Sacramento restaurants listed on ZFP's website, under its "Pledged/ In Progress" list.
Michael Thiemann, Empress Tavern's former chef-owner who landed at Mulvaney's as its new executive chef earlier this year, and Sarah Wasson, B&L's new managing partner—who is Bobbin Mulvaney's daughter and Patrick Mulvaney's stepdaughter—recently met with Myint. Should they pursue full partnership with ZFP, "then we will see how we can fund it," Mulvaney says, referring to the 1% add-on requirement. "It would be out of my pocket, rather than putting it on the bill. We're trying to figure out how to absorb that and pay an equivalent amount of money out of our operating costs."
After all, it's for a really good cause— Earth's survival. And Wasson's leading role at the restaurant has reinforced Mulvaney's longtime view of the sustainability imperative. "It is obviously more poignant for me, given that our daughter has come in to take over," he says. "This is about turning it over to the next generation."
Discover More from Our Earth Issue:
Can Electric Bikes Help Save The Planet? – The rise and future of e-bikes
Where It's Easy Being Green – The plastic-free, Earth-friendly Nudge Eco Store
E-Waste Not – Your guide to e-waste recycling in the Sacramento area