Stronger Together
Patrick and Bobbin Mulvaney are arguably Sacramento's First Couple of Farm to Fork. With Sacramento celebrating our region's agricultural bounty in September, we sit down with the owners of Mulvaney's B&L to talk about the impact of the pandemic on the restaurant industry, the life lessons learned from Bobbin's bouts with cancer, the controversy surrounding local caviar purveyor Michael Passmore, the importance of openly discussing mental health issues in the workplace and the community, and their efforts to lend a helping hand, one loving spoonful at a time.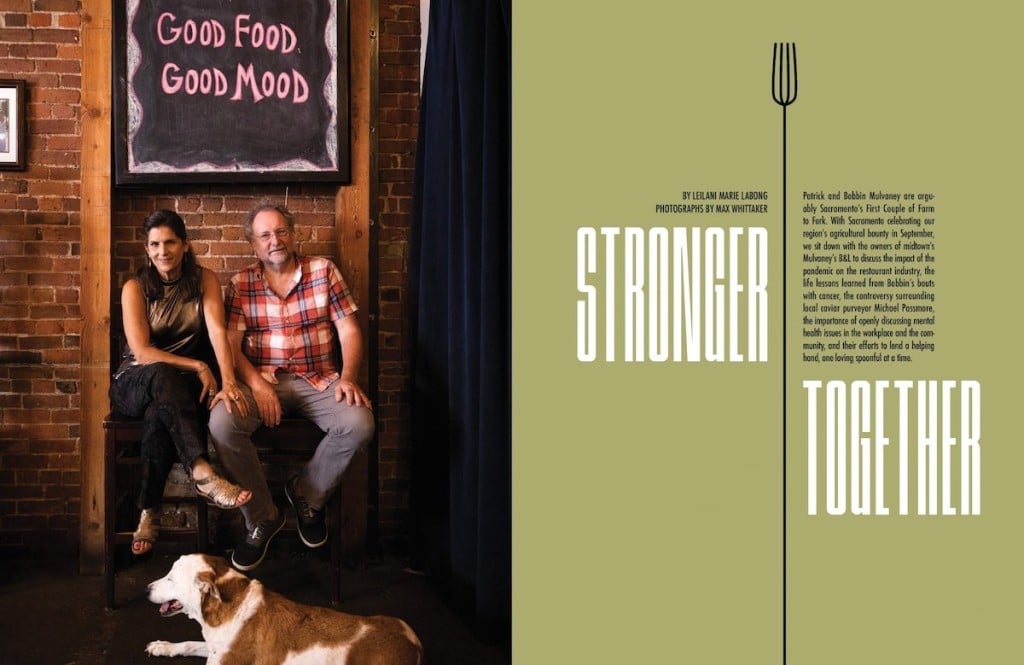 On a July afternoon in the lobby of Mulvaney's Building & Loan in midtown, a chalkboard is boldly inscribed with a quote from Helen Keller: "Alone we can do so little. Together we can do so much." During the course of the pandemic, that unifying idea has been a touchstone for owners Patrick and Bobbin Mulvaney. Despite the couple's seemingly superhuman fortitude to overcome some pretty harrowing circumstances over the years—through Bobbin's multiple bouts with cancer, through a rash of suicides in the local restaurant industry—the two community leaders found themselves, like the rest of us, in a scary, unprecedented limbo over the last year and a half, leaning more than ever into the community they've helped build over 15 years of beautiful meals and conversations at their ag-centric eatery. From mobilizing forces to feed needy schoolchildren and isolated seniors, to hosting alleyway pop-ups that served casual to-go fare outside their white tablecloth establishment, pandemic life for the Mulvaneys may have been unusually hectic (you try making 4,000 tasty and nutritious meals per week out of your kitchen), but they've faced it head-on, with characteristic aplomb and straight-shooting. We catch up with the local food advocates as they and their peers attempt to emerge from the long pandemic together. "Food is part of our civic engagement. Cooks, chefs and restaurateurs are acknowledged as leaders and helpers and doers," Patrick says. "I think about Mister Rogers, who said, 'Look for the helpers.' Well, goddamn, there are a lot of helpers in our industry."
The pandemic was especially tough on restaurants. Reflecting on the past year and a half, what was it like?
Patrick Mulvaney: We've had the restaurant for 15 years now, and all of a sudden, the promise that Bobbin and I have made to people who come to work at Mulvaney's—that we have a career and a space for you—was gone. That was all taken away in March of 2020. [California's stay-at-home order that spring mandated that restaurants shut down their dining rooms and only stay open for takeout and delivery.] We didn't know what kind of shape the future was going to take, so it was super scary.
We took a couple of days off to figure out what resources we had to get our employees straightened out. Bobbin was like, "We need to see them every week, and we need to feed them and give them toilet paper." So once a week, we had them come in 6 feet apart to pick up dinner kits and toilet paper, and they could buy some wine if they wanted. As soon as the restaurant closed, we weren't privy to the text message strings that were going on between employees, but I saw some of them, and it was really heartening to know everyone was reaching out to each other.
Then the other thing we thought about was all these empty restaurants, antsy cooks and food in the field that wasn't being sold. We knew there were hungry people. And so a week later, we were talking with Sac City Unified [School District] and with Brad Cecchi and Clay Nutting from Canon, our partners in Family Meal Sacramento [a pandemic-born initiative to provide those in need with free, precooked meals]. What do we do, how does this work? Schools were freaked out because they had 45,000 kids eligible for free or reduced lunch and breakfast. That was 240,000 meals a week that they had to figure out how to make and distribute. So we said, "Well, we know how to feed people. Let's do it."
That next Monday, we started with 400 meals a day. In the second week, it went up to 800 [a day]. We also got a small contract from the city to feed seniors, and then a bigger contract. Gov. Newsom came with funding from FEMA for us to do a breakfast, lunch and dinner program for seniors, which turned into [the statewide program] Great Plates Delivered. About 40 restaurants participated in this throughout the year. In the first three weeks of the pandemic, we figured out how to make food that was safe, healthy and ready to eat, but also tasty because we have a sense of pride. The city funding ended in June 2021, but in partnership with Meals on Wheels, we're still feeding people, hoping like hell that someone in this relay race will come by with a baton filled with money so we can keep going.
Bobbin Mulvaney: I have a lot of mixed feelings about the pandemic, about closing down. I think the first thing is that it was just frightening to me. I think that my mental health was at its most fragile at that time. I've certainly had some health issues that have kept me isolated for long periods of time.
How is your health these days? Is cancer something that's in your rearview mirror? [Bobbin is a colon cancer and two-time breast cancer survivor.]
Bobbin: I am healthy. I don't say "remission," I say "cured."

It's been 28 years [since my last bout]. I think it's always in the rearview mirror and mostly I'm careful about stress and not getting myself involved in so many things that I feel fractured. One of the things that I've learned over the years about myself is that my mind is a drunken monkey—it is always busy and going 100 miles an hour, and then I push myself right into a brick wall to try to keep up with my drunken monkey brain. And then my body pays for it.
I really had to find the blessing in being in that behavior of isolation. I wish I could have been able to reach out, but I really couldn't. Patrick was out and about every day. He was being careful and masking and washing, but I pretty much stayed home to do what I could do from there. I've learned to work really well by text. And we had a new granddaughter.
So you hunkered down.
Bobbin: I hunkered down. I was really trying to think about our parents and our grandparents and what they did, because I know their stories from the Depression. You know, my grandpa had a beehive and he grew honey, so he could trade it with the neighbor who had butter. People helped each other. It's part of my DNA.
What insights have you gained about the local restaurant industry?
Patrick: How cohesive and tight and giving the restaurant industry is here. I think for me, the most important lesson that we've learned is how giving the community is. The first week, I needed 800 pieces of fruit and I was freaked out. I asked for 800 pieces of fruit from the Sacramento Food Bank—and they actually gave them to us. My friend Blake Young [who is the Sacramento Food Bank's CEO] then called the next week and said, "Do you want some beef? I have a bunch of fresh beef, a tractor-trailer full." Superior Farms gave us 4,800 pounds of frozen lamb vindaloo they couldn't use. Pacific Coast Producers came with like eight pallets filled with tomato product. Michael Bosworth from Rue & Forsman Ranch said, "I left rice for you at [wholesale distributor] Produce Express." I thought it was a couple hundred pounds. He said, "No, I left you a f–king ton of rice, and when that's done, I'll give you another." The citizens of Sacramento gave us enough money to feed 150,000 people. That kind of generosity is amazing.
Bobbin: We found out that we're creative. We're very creative. We started doing meals to go in the alley [next to Mulvaney's B&L]. I think we started with fair food like corn dogs and funnel cake and caramel corn, which we did twice because it was so popular. Then we started doing pop-ups on Saturdays. Just smaller ways of bringing people together where we could still be outside. It was an adventure. It really was an adventure.
But not usually a fun adventure, I assume.
Bobbin: No. Every time we reopened, it was like opening a new restaurant. Talk about pivoting. I felt like a f–king ballerina.
Patrick: It wasn't fun, but it was engaging. And it was fulfilling. Because we have that background of going other places and setting things up—our catering business is 20 years old—we were probably better prepared than other folks were. Bobbin and I, this is what we're trained for. If someone else is doing something else, God bless 'em. This is a scary, uncertain time, and everyone has to navigate it in their own way.
Many restaurants are having trouble building their workforce back. What about you guys?
Bobbin: We had so many staff here for many, many, many, many years. When we say, "the B&L family," we're really serious about it. I think because of Covid, because of the stress, because of the unknowing, people were really looking at their lives and what they needed at this time in their lives. Maybe people who were on the line were going to work with their uncle's construction business, because construction didn't [shut down]. Or, "I'm going to go back to school to get my master's since this is a good time to go work from home." It really impacted our industry. And we really have to support the people who are sticking around.
It's organic. It's people, feelings, food, heat, all of these things. Every day is a rodeo and we may have the best-laid plans, but when the beast is unlocked out of the gate, things happen. We may not be able to have everything perfect, in the way that we dream about. I wasn't always good at taking criticism. Someone would write that the chair rails on our barstools were dusty, and I would be crushed by that. But now, are you kidding? With what we've been going through, I've had a little more opportunity to reflect. When I was a young businesswoman, I had a small child and had breast cancer. I was coming home and picking up things off the floor and trying to get the dishes done and the laundry done. What I used to say to myself sometimes was, "Step over the Barbie. Just step past it." I couldn't do everything. I was okay that there was a little bit of mess in my life. Things need to be taken care of, but not this second.
You've gotta love people where they are. That's part of dealing with mental health. We've been talking about providing some internal education. I'm calling it shared knowledge in mise en place—actively listening so staff members can find out where they are, right then and there. I want to know, "What are the personal things that you want? What's taking up your time? How do you know if your plate's too full, how do you move things around?" I have had a lot of opportunity to go to, you know, self-awareness retreats and mental health retreats. I wanted to put that in a language that our staff could understand. Let's just start with the very basics.
Patrick: We had people [leave] who were good. It's heartbreaking. But it's like she said, we have to support them in their choice and love them where they are. There's been a lot of talk about [restaurant workers not returning] because unemployment [benefits] are too generous. I would suspect that's some of it. But I think that mostly it's that issue of, "What do you want to do? How are you changing by being away for so long?"
So this is a little soapbox for me: The New York Times had a piece on journalists, healthcare workers and office workers and lawyers saying that they weren't thriving, but they weren't in depression. They were "languishing." But then you swipe right on the iPad and [there were other articles] that talked about how lazy-ass restaurant workers were just staying at home collecting [unemployment] money. I was like, "No, they're languishing too."
In 2018, you founded a mental health program called "I Got Your Back" in response to a rash of restaurant-worker deaths due to suicide and drug overdose—over a dozen were lost in our region, including one of your friends and former chefs, Noah Zonca, who took his life in May 2018. A month after Noah's death, Anthony Bourdain also died by suicide, putting a global spotlight on the stressful, fast-paced culture of the food industry. How crucial was the program during the pandemic?
Patrick: In whatever amount of time we've been talking about mental health, changing the way we talk about it here at the restaurant, it meant that people were better prepared to engage in that stuff. That piece is vital. It also reminds us of what Bobbin says, "Love people where they are."
Bobbin: I'm loving that I keep hearing you say, "Love them where they are."
Patrick: But that's the challenge, right? So [the program] gives us the space to say, "Hey, we've all been afraid." Bobbin and I no more or no less than anyone else.
Would you say "I Got Your Back" is going strong?
Bobbin: I don't think it's going strong. Here's what I really feel: What a blessing that Patrick has been able to be part of this huge national and international movement. We started a conversation and set up a wonderful network across the country. Especially during the pandemic when we could not get together. I guess what I'm trying to say is, I am concerned about what happens right here and under my feet every single day as I'm walking. I see Patrick every day communicating with people and getting more information and giving them information and connecting them together all over the country. Whereas I want to look at it more from just really what's under my feet.
Patrick: It's important and for sure it isn't as far along as we'd like, and that's frustrating. We give ourselves some grace, given the pandemic. We took time out. People talk about mental health and say, "What are you doing for yourself?" What I do for mental health is eat and drink at other people's restaurants, preferably in different cities. And I couldn't do that. If there was a savior through this, for me it was the learning process.
Because in March of 2020, I would have told you that we didn't know how to make 4,000 meals a week at the restaurant, socially distanced, with food safety, taste and nutrition in mind.
It's a big, hairy, audacious goal, but we'd like mental health to be part of the conversation in every workplace, in restaurants— most importantly in our own—in a way that's intentful. It is part of our conversation here, but not as intentful or as effective as we'd like it to be. I was thinking of the analogy of a sponge— we're pretty wrung out, right? There's no bandwidth. But the hope is that as the pandemic comes to an end, that space opens up and allows us to refocus: What does "I Got Your Back" look like in Sacramento in an intentional way? And how do we reengage the community?
Speaking of community, local agriculture has suffered a recent scandal with the news that for years, one of your trusted purveyors, fish farmer Michael Passmore, has not been making caviar at his sturgeon farm in Sloughhouse, as he had claimed, but rather sourcing product from different countries. Did the sanctity of the farm-to-fork movement take a hit?
Patrick: I'm a sinner. I'm not always perfect. So things aren't always going to be perfect. But we're trying to be good, right? We're trying to be better. And sometimes people might take advantage of that. That's hard, and it hurts. But you have to be able to say, "That's not on me." I completely trusted him. Or I didn't want to face that he wasn't completely trustworthy.
Bobbin: That your husband had been cheating on you the whole time.
Patrick: Did I see lipstick on the collar? I don't know. But I think back to your article… [Sactown published a profile of Michael Passmore in 2019.]
In which I quoted you as saying, "Michael works hard, but he also has a line of bull a mile long."
Bobbin: True! He's a salesman.
Patrick: My responsibility is…we didn't sniff it out and act on it. But going forward, it makes us more alert to those things.
So as a diner in America's Farm to Fork Capital, how can I trust the sourcing listed on the menu?
Patrick: Trust me. I'm a sinner, but I'm always going to tell you the truth. If I'm saying it's Bledsoe pork, then it's going to be John Bledsoe's pork. If I'm saying the peaches came from Twin Peaks, then I know that Camelia Miller had them on her farm and picked them. And I trust her. The truth is that I don't go out to Twin Peaks, but I can taste it.
We're still in the middle of the richest agricultural region in the world. Ray Yeung is still growing these crazy tomatoes. Ron Kelley has the killer melons. And we know Stillwater Orchards has pears that come in August, which freaks me out because in New York [where I'm from], they come in the fall. Emily McNamara [at Sierra Orchards] is now bringing eggs on a weekly basis. It's cool to see because when they had pullets [young hens], the eggs were too small to fit into their boxes, and now as the chickens get bigger, the eggs get bigger. We tell those stories. For me, one of the most important parts about having a restaurant is telling those stories. It builds community and pride and makes Sacramento a place that is… We are agriculture, we are food. This is what we do.
Have we sometimes had a commercial onion? Yeah, maybe. Have there been days where we ran out of Bledsoe pork chops and we [forgot to] tell everybody? That may have happened. Sorry, busy restaurant. I'm doing my best. I wake up in the morning and I do the best I can. It's not always good, but it's always the best I can. So for that, I guess you have to trust, right? When you trust someone and your heart's broken, then you pull back a little. And then you have to reach out more tenderly to see how you can trust.
We can certainly bring people in the back and show them the boxes, right? Here's the sticker from Fiery Ginger [in West Sacramento] and you can go across the river to see Fiery Ginger. Here's Aldon's Leafy Greens. Aldon doesn't have labeled boxes, but you can go to Fair Oaks and see his hydroponics. You can see Ray Yeung's tomatoes from the Garden Highway. You can actually see these things.
I interviewed a local chef once who said that he thought, at least early on, that farm to fork was just a marketing ploy. What do you think of that now?
Patrick: At first I thought, "Well, it's marketing," although I didn't think it's a marketing ploy. I didn't know how to respond. But after a few years, I thought, "Yes, it is marketing. And it's f–king brilliant." It's brilliant because it acknowledges who we are. It embraces our identity, and helps civic pride and helps other things happen around it. Without farm to fork, would there be 30 acres of urban ag in West Sacramento? Would the Food Literacy Center be building its own building [in North Land Park at Leataata Floyd Elementary School]? Would we have as active a farmers' market network as we do now? Would our beer profile be as high?
Twenty years ago, I would go to meetings and people would say, "What are you doing? Why are you here? You're a cook." Or even worse, "Why is there a cook here?" But now we've moved food to center [stage]. It's a national conversation. I'm talking to people from Atlanta and Seattle and Toronto and New York—we're all pushing towards the same thing. So f–k yeah. Is farm to fork a marketing tool? Yeah, but would this stuff be happening without that? I don't know how far along I would be in a conversation or how much people will be looking to Sacramento to participate without that.
Bobbin: My problem is that the people doing the marketing are not connected to the food industry. You can get all the smart people in the world together, but the truth is they're not knowledgeable and they may not have wisdom about food.
I have forever felt that people don't put the right amount of value on food. Here's the perfect example: When my daughter was young, she wanted a hamburger that was $1 from a specific hamburger place that had a big plastic slide. I had to explain to a 4-year-old that if that hamburger costs $1, but only one dime of it is what they pay for the meat and the bread and the pickle, do you think that that's enough money to feed someone good food? She knew that it's absolutely not enough.
In fact, we had a food writer around here one time who was slamming a beautiful steakhouse, saying "I could go to Safeway and buy this steak and do it better." Well, that's between you, the broker, and the grocery store. If you go to that [steakhouse], you have a hostess and the overhead of air conditioning and a beautiful building. You have distributors and farms that have all agreed to grow their meat in a particular way. So you have guaranteed sustainability. You cannot compare that with, "I'm going to go to Safeway to buy a steak." It just doesn't make sense. It's not educated. So with farm to fork, I think people have gotten more educated.
Where you eating these days? Which restaurants are you supporting?
Bobbin: Hawks on Alhambra [Boulevard]. Tres Hermanas.
Patrick: Mattone. We just can't say the "B" word. [The family of the late chef Biba Caggiano has filed a lawsuit against Mattone—a new Italian eatery in East Sacramento helmed by former staffers at Biba Restaurant—for such charges as false designation of association.]
Bobbin: You haven't cooked much in the eight years we've lived in our house.
Patrick: We've been running hard, but we have had our kids over for dinner once a week. People have asked me, "What has been your centering piece during the pandemic?" And for me the centering piece was cooking. As you become a chef, you don't really get to do it at home that much. You lose your centering piece, and certainly for years I didn't think about what that cost me. So not only do I enjoy having family over to eat dinner, but it's a good place for me every week to remember that food is love. And to pour the love into the food.