From Paris with Love
Channeling the cafe culture of the City of Light, the team behind Canon—including a husband-and-wife duo who trained in Paris—launch Franquette in West Sacramento.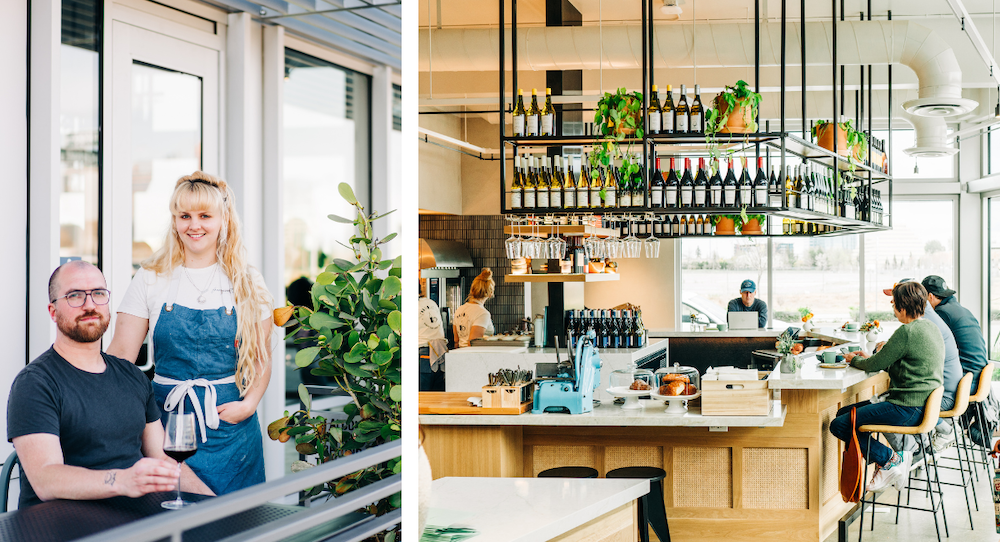 A remarkably clear twilight befell a Tuesday evening in late February as we pulled up to Franquette, the new French-inspired wine bar in West Sacramento. We could see through the tall windows of the no-reservations spot, located on the ground floor of a Fulcrum Property residential complex called The Block, that the bar stools were all occupied. Just one week into Franquette's highly anticipated opening, the early bird contingent, mostly comprising neighbors from the burgeoning Bridge District—an optimistic outpost anchored by the Sacramento River Cats' home turf, Sutter Health Field, and the architecturally windswept tap room of Drake's Barn (another Fulcrum development)—had already staked its claim on the best 18 seats in the house, roughly half the room's capacity.
My dining partner and I were delighted, and frankly relieved, to find that the cafe's lone private booth was available (there is also a communal banquette on the other side of the room near the white oak coffee bar designed by local woodworking company PhillBuilt, plus some outdoor seating). Though somewhat tucked away in the small industrial space—softened with natural materials and a muted palette drawn from the landscapes of wine-growing regions in France and Northern California, including Yolo County—our table was nevertheless enveloped by the friendly energy emanating from the hub. "The bar is the center point of the whole restaurant," says beverage director Jack Winks, who holds the same position (as well as that of general manager) at Canon, Franquette's acclaimed sister eatery in East Sacramento. "The cooking is happening back there too. So it's definitely the place everybody wants to be."
Cue record scratch: The vaguely horseshoe-shaped, cane-front, quartzite-topped bar isn't just where Jack pours glasses from a thoughtful wine list featuring fringe producers from lesser-known grape-growing areas like Alsace and Jura in France. The bar also happens to be where his wife, head chef Elena Winks, who trained at Paris' prestigious culinary school Ferrandi and served as pastry chef at Canon, skillfully prepares the all-day cafe's pastries and small plates in a 12-foot-long galley kitchen. As it happens, size matters, and the cozy confines of Franquette mean, for example, that the daily wine list is limited to no more than 18 varieties, with no room for expensive, dust-gathering library vintages. ("That's deliberate. I want people to be able to taste the wine," says Jack.) Similarly, just one modest armload of sandwiches au jambon—ham and comté cheese baguettes with herb-mustard butter, destined to accompany the soup du jour, like the velvety celery root bisque with garlicky pistou—is up for grabs at lunchtime. And only a dozen each of Elena's flaky breakfast pastries, from the mushroom galettes with nutty Ossau-Iraty cheese to the walnut croissants (whose buttery frangipane cream is warm and comforting in a rustic way that surpasses the traditional almond variety), are baked every morning due to the chef's desire to make everything in-house.
While living in Paris in the early and mid-2010s, the Winkses made the rounds with the convivial expat community working in and frequenting the City of Light's best restaurants, unwittingly gathering intel for Franquette, then still years in the distance. (The couple, who have a 1-year-old son named Charlie, moved to Sacramento—where Elena was born and partly raised—in 2017.) For instance, Franquette was crafted in the spiritual mold of the tiny downstairs wine bar at Verjus in the 1st Arrondissement, which opened each day for everything from chardonnay to charcuterie to conversation, a casual cranny in contrast to its more formal fine-dining restaurant upstairs. "[The wine bar] just had an engaging vibe," says Jack. "Everybody who came in got greeted with, 'Hey, what are you drinking? We have this great wine we're pouring today.' That's what a wine bar is all about and that's what I want Franquette to be like." Clay Nutting, a partner (along with Jack and chef Brad Cecchi) of Humble Concepts, the hospitality group that owns Canon and Franquette, explains that "franquette" is French slang for "unfussy" or "come as you are."
But it was Verjus' sibling establishment Ellsworth that inspired Franquette's small plates. "It had more home-cooked, simpler food than [the upstairs restaurant at] Verjus, with just as much thought put into the menu. More my style—what I'm more comfortable with and enjoy making," says Elena, who worked in both kitchens. She grew up cooking for her family, inspired by the culinary prowess of her two grandmothers, especially the one in Germany, who would painstakingly prepare a work-intensive, but nevertheless comforting, daily consommé afloat with either flädle, a pancake-style noodle, or Jack's favorite maultaschen, a large pork ravioli.
"Every idea comes from either a meal that's been cooked by family or that I've had with Jack while traveling," says Elena. While the roasted beet salad—a toothsome tumble of the earthy-sweet taproot placed atop a cloud of house-made fromage blanc—is sprinkled with a uniquely savory brown-butter-cumin shortbread inspired by a similar dish at Ellsworth, the salad of warm frisée and lardons, tossed with Dijon vinaigrette and topped an unctuous poached egg, stays true to the traditional preparation.
"I ordered it at a restaurant in the 10th Arrondissement thinking I was going to get this healthy green salad," recalls Elena. "At first, I was kind of disappointed. Like, 'What is this bowl of beige lettuce?' Then I took my first bite, and I was like, 'Oh my god, this is like the best thing I've ever eaten.' It was warm, greasy, bitter, so good. There's a reason it's a staple of French brasserie menus. It's just one of those classic dishes that is memorable and delicious."
The poached potatoes at Franquette are an homage to the spud obsession in Germany, where, according to Elena who lived there as a child, "they're seen as [special] as heirloom tomatoes." Like an archipelago of tuber islands in a sea of red cabbage beurre monté, each buttery tater gets some acidic lift from a pinch of house-made apple-fennel sauerkraut. We paired this dish with one of the heartier selections on the menu—the boulettes de canard, juicy Liberty duck meatballs served à l'orange, which Elena debuted at last year's Tower Bridge Dinner to herald Franquette—after having whet our palates with a combination first course of the beet salad and a cheese plate. Not to be confused with a cheeseboard, Franquette's ever-changing cheese selections spotlight a single variety, like the recent Vacherin Mont d'Or, an oozy, barnyardy fromage that's widely regarded as the holy grail of French raw milk cheeses.
Jack often considers the region of origin to find an intuitive wine pairing for the cheese: Case in point, both the Mont d'Or and the 2018 Pepins Blancs chardonnay by Kevin Bouillet, a suitably crisp and bright counterpoint, hail from the Jura Mountains along the French-Swiss border. The wine expert is also stoked to pour emerging winemaker Mélanie Pfister's crémant-style sparkling wine, a perfect accompaniment to the oysters with mignonette sauce. "It's lemony and refreshing, and a really great alternative to Champagne," he offers. The Alsatian gewürztraminer by Spitz & Fils, wonderfully aromatic with notes of rose and honeysuckle, was a floral blessing for the opening dessert lineup, featuring a perfectly caramelly (that is to say, not too sticky-sweet) apple tarte tatin, as well as a Bosc pear poached in mulled riesling with anise, cinnamon and fresh orange juice.
Though Franquette could easily fit into Paris' legendary cafe culture, it feels right at home exactly where it is, on a busy corner in West Sacramento. The lively cast of characters that rounds this bend in the sidewalk is represented in the wine bar's only colorful diversion from the muted design, a punky mural hand-painted by Bob's Burgers animator and former Sacramentan Jay Howell. "[The figures] could be anyone. They're strangers, yet familiar, like in any neighborhood. That's part of the fun," says Nutting, who worked with Sarah Barkawi of Fulcrum Property and interior designer Matthew Lechowick to develop the look of the space. Jack co-signs the sentiment: "There's already a community building at Franquette that definitely reminds me of places in Paris. You can just turn up for a glass of wine, without any preconceived notions about what kind of evening you're going to have." Oh la la. 965 Bridge St. West Sacramento. hellofranquette.com
You Might Also Like