Michelin Man
Brad Cecchi, who grew up in Carmichael and went on to earn a Michelin star as executive chef at Calistoga's Solbar, has returned to his hometown to helm the kitchen at the new East Sacramento restaurant Canon. The Land Park-based 34-year-old dishes about mixing global flavors with local ingredients, his take on the ubiquitous avocado toast, and how everything is coming up rosé.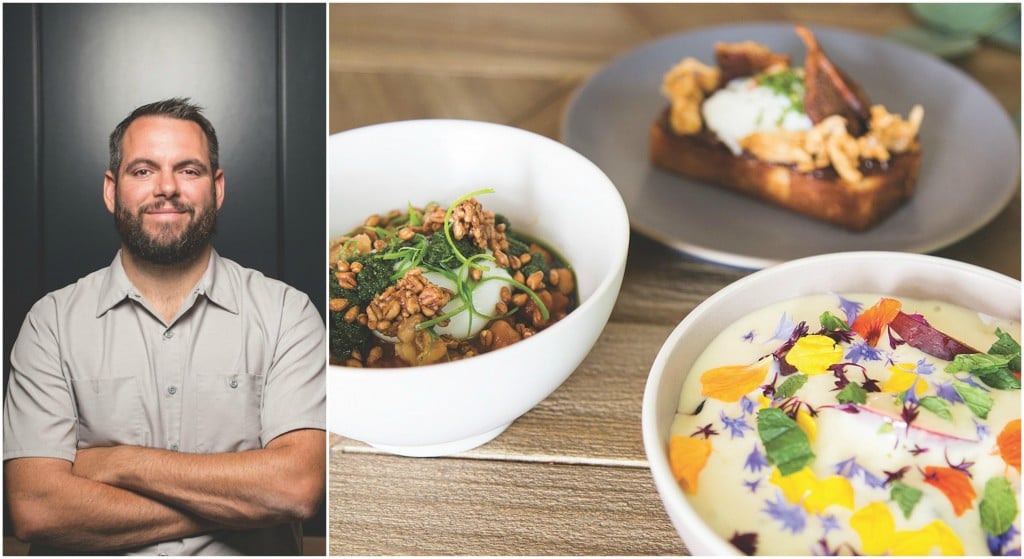 Canon
1719 34th St.
403-1723
canoneastsac.com
R
You were the executive chef of Solbar last year when it was awarded a Michelin star, a rating the restaurant has held since 2008. What was that experience like?
I mean, professionally it was the best day of my life. You don't know when the [inspectors] came, but you know when the guide comes out. So the day [of the announcement], you wake up, you get dressed, but you can't focus. You're waiting anxiously, and then you get a call from an unknown phone number and it's somebody saying, "Congratulations." It's a relief. It's exciting. It's reinvigorating for the next year.
How did you get to that point in your career? How did you get started in the restaurant industry?
While still in high school, I started taking [cooking] classes at American River College, and I got lined up to be one of the opening line cooks at the [then-new] Embassy Suites in Sacramento. That was my entrance. Through the American River program, I got an apprenticeship at The Broadmoor in Colorado Springs, which is a big five-star, five-diamond resort.
I decided I wanted to get really serious so I applied to go to the CIA, The Culinary Institute of America, in New York. I had been there for a little over a year when I came back [home] and helped open Mulvaney's in 2006. Then I went back to school, graduated, and came back here and worked at Mulvaney's for a couple of years. And I was at Grange from 2008 until 2013. I started there as a lead line cook and was [eventually] promoted to executive sous chef.
And then the former Grange food and beverage director, Troy Christian—who was a huge mentor to me—became the opening general manager of [food and beverage] at the Westin in Cleveland and gave me the opportunity to be executive chef at a really big hotel with a huge restaurant, catering, room service and a Starbucks—this whole big-business type of thing. So my wife and I moved out there for that. [That job] was the most difficult thing I've ever done. It was unbelievable. I would go home and cry at night. I had 150 employees under me. I had like eight or nine sous chefs. And I was only 29. It was crazy.
[In 2014] I was recruited by Solbar. I wasn't necessarily looking for work, but when you're in this business and you get a call from a Michelin-star restaurant to come, you [say yes]. I was there until January of 2017, so a little over two years.
What was behind your decision to return to Sacramento this time?
I love Sacramento, [and I wanted] to come back and do something special. I didn't
want to come back and do something mediocre. For me it was about finding partners who were the right people, who allowed me to have some artistic freedom. I wanted to do a really cool restaurant that kind of pushed the boundaries of artistic freedom, and I wanted to do it with somebody who I thought was really cool and was in touch with the community—Clay is both of those things.
You're referring to Canon co-owner Clay Nutting. How did you two connect?
I met Clay back in 2012. He had contacted me about working at LowBrau and opening Block Butcher Bar [which he co-owned], but I had already taken the position in Cleveland. And then out of the blue one day, I got a Facebook message saying, "Hey, I'm no longer with LowBrau and I'm starting a new project, and I was wondering if you would be interested in being my partner."
When we met that first time, he was like, "I want to be a tastemaker. I want to do something new and I want to push the envelope a little bit." People like that often don't sacrifice that artistic license. We're bringing something that's new to town, and it may be met with a little bit of apprehension at first, but I wanted a partner that would stay the course with me and [believe] that we could be creative and ultimately successful based on that factor.
What's your food concept for Canon?
[At Solbar] we had a tasting menu and a Michelin star, and the whole environment was kind of stuffy. And I don't want that. I'm very conscious of the fact that people may think that's what I'm coming back to town to do, but this is a casual restaurant. We want people to sit down and have fun and eat cool food that's meant to be shared, so it's not this pretentious plating. It's kind of piles of stuff, which is not a very romantic way of putting it, but it's meant to [inspire] a social environment. There are elements of cool modern techniques, but it's done in a way that is approachable. I mean, we're serving tater tots, [even though] we're serving them with a 60-ingredient mole. It's unpretentious. The [dishes] have awesome, big, global flavors, but are presented as a sliver of Americana. People should be able to get excited about it.
A lot of restaurants in Sacramento [use] this kind of really cool California-Mediterranean cooking. It's a style of cooking that pays homage to the bounty of Sacramento Valley. I want to find a way to do that, but a little bit differently. I still want to use local ingredients, but I want to play with things like fermentation. I want to play with building flavors using umami, adding Asian ingredients to things, like fish sauce, but not to make an Asian dish. I might add it [instead] to my barbecue sauce just because I think it would add a cool flavor.
Canon [as a word means] a standard by which things are compared to. I'm not so conceited that I want this restaurant to be what other restaurants are compared to, but we have aspirations to use the can-on of ingredients that we feel provide the best kind of experience, and that goes across the board, from beer to wine to the food and our style of service.
Can you tell us more about the tater tots?
They're house-made tater tots with mole madre. It's a 60-ingredient chocolate mole with three different kinds of heirloom dried chiles and four different kinds of nuts. It's like a puddle of mole with tater tots stacked on top of it. The tater tots are made from local Kennebec potatoes, which are steamed, seasoned and salted in-house, and shredded, pressed and punched, so there's a whole process. It's one of the dishes that really identifies with what our concept is.
What is another example of a dish that you're excited about?
We also have a play on a halibut ceviche, with raw California halibut tossed in lime, with some fish sauce. It's being served with charred avocados and a charred tomato leche de tigre [or tiger's milk, the liquid left over from marinating ceviche]. So we have this beautiful halibut, lightly tossed and served raw, and it sits in this puddle of leche de tigre made with charred tomatoes, fish bones, citrus and cucumbers that's mushed together and strained, so it's this really flavorful broth that the raw fish will sit in.
You also have a fresh take on brunch.
I feel that there are plenty of places in town doing great brunch, so I wanted to make sure that we separate ourselves. So we have a Moroccan-style chickpea stew with a poached egg in it. And because toast is really big right now, I wanted to do interesting interpretations of that. We have like five toasts. Our avocado toast is topped with Dungeness crab, preserved lemon and roasted tomatoes. We also have a bacon toast that's made with potato bread, bacon jam and millionaire's bacon, which is bacon crusted with brown sugar and cayenne pepper, and that has a poached egg in the middle of it.
What's the bar program like?
[The bar has] 16 beer taps. All craft beer. Clay is a big beer nerd. He's really spearheading that program. Our "canon" of craft beer is what we deem to be the best or the standard, or something we're really excited about, so we have sours, stouts, IPAs, the whole gamut. We have a draft cocktail and kombucha on draft.
Our wine list is very boutique. We want people to nerd out on the things we are doing, so [while] our list has recognizable varietals, it's a list from all over the world. We have different champagnes, cavas, white Burgundies, California chardonnays and Italian varietals like Brunello di Montalcino. Because we're doing food that's meant to be shared, we end up getting different flavor profiles being served at the same time, so we wanted to be conscious of designing the [beverage] list to have food-friendly wines that can play well with a lot of different things.
We also have two wines on draft. One of those is and will probably always be a rosé. On my last night [at Solbar], I went out with some of my coworkers after work in downtown Napa, and I saw somebody wearing a NOFX hoodie, with the hood up, listening to some crazy music in a bar and drinking a glass of rosé. I was like, "That's awesome." That's what I want my restaurant to be. I want some skater dude in a punk rock hoodie drinking rosé at my bar. I want Canon to be a standalone beacon of cool. S
Canon will soft-open Oct. 3-7 with a limited menu. The soft opening is invite only, and guests can receive an invite by signing up for the restaurant's email list. Canon will host its grand opening Tues., Oct. 10, and its hours will be as follows: Tues.-Thurs. from 4-10 p.m.; Fri. & Sat. from 4 p.m.-12 a.m.; Sun. from 4-10 p.m. Brunch service will begin the first weekend in November.