A League of Her Own
Rebecca Lowe's colleagues at the NBC sports desk refer to her affectionately as "Mother of Dragons"—such is the fierceness of the 36-year-old London native's passion for English Premier League soccer, which she covers for a growing American fan base. The broadcaster—who lives in El Dorado Hills with her husband Paul Buckle, head coach of the Sacramento Republic FC, and their 1-year-old son, Teddy—shares the inside scoop on how she manages her dual roles as a soccer guru and soccer-loving mom, and why there's nothing quite like rooting for the underdog.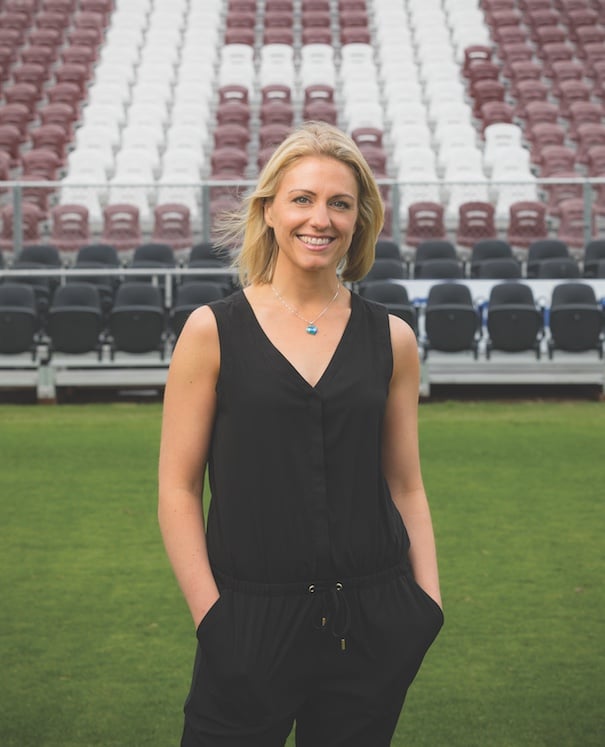 The new English Premier League season starts Aug. 12. Do you have any predictions?
I think one or the other of the two Manchester clubs will probably win the league, and at the moment I would say it's going to be Manchester City. The race for the title will be as open as it's been for a long time. Football in the Premier League changes by the day. It's like a soap opera; you can't take your eyes off it for a second or you'll get behind in the storyline.
You moved to Sacramento from the East Coast about a year ago—how's the transition to a California lifestyle going?
I'm loving Northern California, with the whole farm-to-fork thing and the organic ethos. Everything is so fresh. We live in El Dorado Hills, and we're just getting into bikes—we'll put Teddy on the back. I'm at my happiest when Paul, me and the baby are down at the farmers' market on a Sunday. I buy crazy vegetables—I don't even understand what they are. I just put them all in a pot and cook weird stuff.
Most Premier League games take place on the weekends in the U.K., and the NBC studio where you tape is in Connecticut. As the network's lead host for coverage of the league, what is your typical travel schedule like during the season?
I put Teddy to bed Thursday night, have dinner with Paul, then take the red-eye to New York. I'm at my hotel in Connecticut for the whole of Friday—conference calls, writing scripts, planning, research, stats, everything I need to get ready—and then I have to get up at 3:15 in the morning Saturday, because I work on British time. I do the show Saturday and Sunday, and I take the flight back out of JFK at 7 p.m. on Sunday night. It's kind of exhausting. My body clock is a bit weird.
How did you first get into soccer?
My dad took me when I was 9 to watch his [favorite] team, Crystal Palace, in South London. And I don't know why, but it really got inside me: The stadium, the fans, the colors—red and blue—the excitement of the game. And I got to spend time with my dad, who is my hero [Chris Lowe, now retired, was a BBC newscaster for 37 years]. I watched football, week in, week out all through my childhood and all through my teenage years. My friends were out shopping on a Saturday down at the local high street or the mall, and I was at the Crystal Palace [stadium].
Will you be raising Teddy as a Crystal Palace fan?
This is a bone of contention in our household. He has a lot of Crystal Palace outfits. Paul is like, "He has to make the choice," and I'm like, "He's my son. I've made the choice for him." My dad keeps sending him Crystal Palace outfits from the club shop, so what do you do? You've got to keep Grandpa happy.
The downside is we're normally rubbish. The upside [of] that is when we're good—which is rare—it's the best feeling in the world. It's this feeling you don't really get if you're a fan of a club that always does well.
How did you turn your childhood passion into a career?
I [first] wanted to be an actress. A friend of mine, Lucy Lott, and I were going to be the greatest comedy acting duo that London had ever seen. The summer I graduated [from the University of East Anglia in 2002], she and I went to this audition for a BBC sitcom. The less said about that audition the better; it was horrific. We had to sit in a circle, and the man said, "Right, we're going to go around, one by one: Be funny." What?! You can't just be funny.
Needless to say I was not funny and I didn't get the job. But also on a leaflet was a search for a soccer reporter for [the BBC's main soccer program] Match of the Day. So I filled out the application. Five or six months later, I got this letter in the mail saying I got through to the next round, and then [after a test assignment] I got another letter saying I was through to the final [round].
So I turned up at the BBC Television Centre in London on a Saturday. There were seven finalists, and the prize was a six-month contract as a reporter. Up until the end of that day I wanted to be an actress, [but as] I walked out, I remember thinking, "OK, I really want this now." On Monday my phone rang and the guy said, "I'm pleased to say that you've won." I was terrified, but I started two weeks later.
You were at the BBC for almost five years, and then you left. 
My dad was like, "Nobody leaves the BBC. You just don't!" But I said, "Dad, I've got to go because I know I'm not going to get where I want to get to [if I stay]." So I took a sort of sideward stroke and joined Setanta Sports. I was covering much lower league football, but the role was a lot bigger and I was able to show my personality. Then [in 2009] I went to ESPN as the Premier League sideline reporter, which was officially terrifying. The first time I saw Sir Alex Ferguson, the [then] Manchester United manager—the legend—walking toward me for an interview, my knees were knocking together. That was the hardest, toughest four years of my career by a country mile.
What made that time so difficult?
The English Premier League is a tough place to work as a sideline reporter. Post-match interviews are not easy for either party. It's not easy for the person asking the questions and it's not easy for the person answering them. Neither of you wants to do it, actually. But in this culture, there's a demand for it, even though often what is said isn't a lot because the manager or players are trying to formulate their thoughts and the interviewer has to ask the tough questions because that's [the] job. Some managers were very, very difficult. And there was a lot of travel involved—I would do about 1,000 miles a week in my car. So it was a very lonely job.
And as a female sports reporter, you experienced some sexist behavior.
I spent a lot of time doing my job with quite a lot of abuse from the stands. I never had any problems with the players or managers, by the way. It was mainly the fans. People shouted things about my body. They shouted things about my lack of knowledge, but mainly it was a physical thing, like, "Show us this, show us that!" It was just grim. Why would you do that to somebody? I'll never understand it.
There are so many campaigns in England for kicking racism out of football, to keep homophobia out of football—all of which is fantastic and brilliant, and they've made great strides and have actually improved the stadium [atmosphere] to no end—but there is nothing to protect women. And there are a lot of women who work at games, whether they are photographers, journalists or physiotherapists.
Do you still feel like you kind of have to prove your knowledge as a woman working in sports?
Not in this country. The way I'm treated by everyone at NBC and by the viewers, I don't feel that now. I feel like females in sports here are not as alien as they are in England. It's really important for me to say [though] that since I left England, a lot more women have come through, and that is brilliant. When I see these women I feel so proud. I remember when there was just a handful of us. Now there are probably like 25, maybe more, and that's a really good thing. That's definitely progress.
In fact, you've been nicknamed "Mother of Dragons" by the guys at Men in Blazers [an NBCSN show about the English Premier League].
Oh, God. The problem is it's from Game of Thrones—I don't watch Game of Thrones. I remember asking someone, "Is this a nice thing or a nasty thing?" I love the guys [hosts Roger Bennett and Michael Davies] to pieces—they're really good friends. And it's a compliment from them, I'm sure. ["Mother of Dragons" is an honorific title given to Daenerys Targaryen, portrayed by Emilia Clarke, on the HBO series after she becomes an adoptive mother to three dragons, who give her an advantage in the quest to claim the mighty Iron Throne.]
Speaking of soccer in America, the sport has definitely been gaining traction in recent years. Do you think Major League Soccer will ever be a contender against other countries?
This country—with the size and the talent that is here, and the facilities—should be winning the World Cup every four years. Once this country fully awakens to soccer—and it's half awake to it [now]—it's going to be a force.
How is the experience of attending a soccer match here different from going to one across the pond?
The atmosphere in America is a lot more positive. I remember one of the first times I went to [Papa Murphy's Park], it was either nil-nil or [the Republic FC team] was down one-nil, and the [fans] were still cheering. I'm not used to that. Growing up, I'd boo the ref and give him loads of stick. That's all I knew. This is a breath of fresh air for me, I have to say.
Also, in England, 20 minutes before a game everyone is in their seats ready to go. It's like theater. You don't leave your seat. I think it's very much a British thing to concentrate only on the game for those 90 minutes. Here, people mill around a lot more. It's like an event, whereas in England it's more like a ritual.
Are you anxious for the Republic to make the move up to the big leagues?
There's just no better place for MLS. The team is ready, the city's ready, the stadium will be ready—everything is set. You just need to come to one game here [to see that] MLS is written all over this city. We're good to go—we just need that green light.