Double Vision
With their new Sacramento-centric HGTV home design series, premiering March 12, Land Park's Kele Dobrinski and Christina Valencia are helping couples find their aesthetic middle ground. And when they're not swatch-buckling on a national television show, the husband-and-wife duo are helping redefine and reinvigorate both the private and public spaces where locals want to spend their time—from a jazzy new patio for an East Sacramento restaurant to a complete rebranding strategy for Broadway's Tower District. Their story-driven work has led to the cornerstone of their design philosophy: making memories.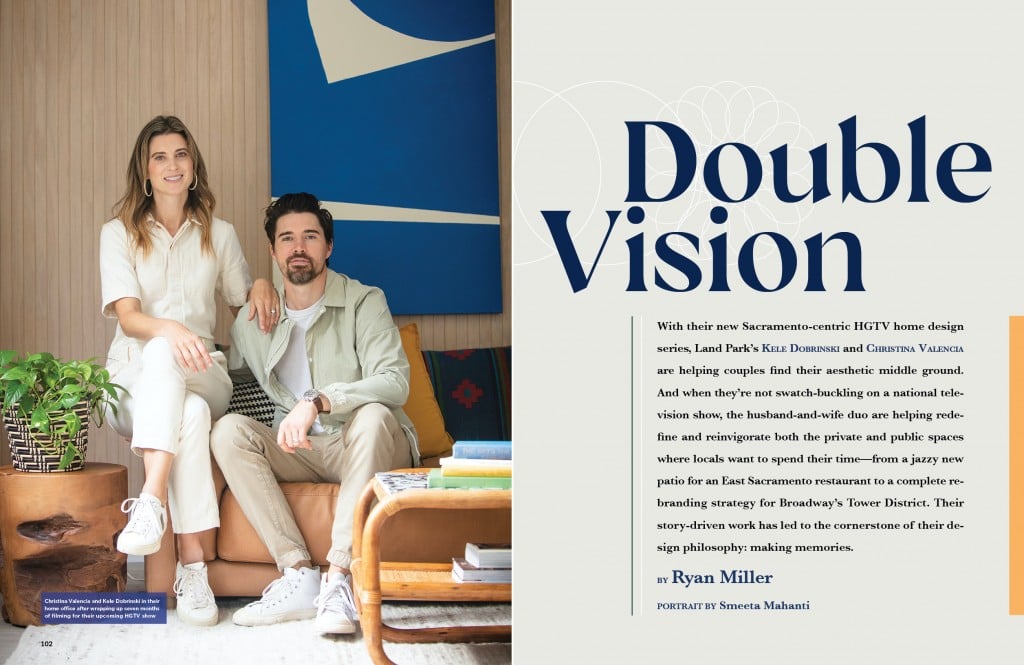 S

Suddenly, there was a fountain.
Christina Valencia and Kele Dobrinski were days away from wrapping up seven grueling months of filming for their soon-to-air show on HGTV, the television network devoted to all things home improvement.
Titled Mash-Up Our Home and scheduled to debut March 12, the seven-episode series will feature Sacramento-area residences redesigned by Valencia and Dobrinski, the married founders and owners of Colossus Mfg, a multifaceted creative studio based in Land Park.
In that final week of filming, in November 2021, they had one last home to complete. After the process of reimagining and remaking all these local living spaces, the couple was running out of time and chose to abandon plans for a majestic fountain in the front yard. Instead, they would settle for a small birdbath. But at the last minute, Valencia and Dobrinski couldn't live with the compromise. They needed something with "more weight, presence and visual impact," says Valencia.
So they scrambled, and quickly located, transported and placed a five-foot-tall, three-tiered, mission-style terra cotta fountain encircled with lion-head busts spitting out water to end their year-long endeavor with both a literal and a metaphorical splash.
Welcome to the world of Colossus, which has been spinning practically nonstop since launching in 2018. The studio's portfolio includes home remodels that have appeared in national shelter magazines like Dwell, Domino and House Beautiful, and a jazz-inspired update to Canon, the celebrated East Sacramento eatery that scored a coveted Bib Gourmand award from the Michelin Guide.
And while the HGTV series will certainly shine a national spotlight on Valencia, Dobrinski and the Sacramento area, it may not even be the couple's most impactful project in the Capital City this year. If scheduled plans proceed, Colossus' vinyl record-inspired rebranding of the entire Broadway district surrounding the Tower Theatre—existing only in renderings for the past two years—may finally burst to life in a kaleidoscope of vibrant colors befitting the greatest record store the world has even seen.
Splashy, indeed.
✦ ✦ ✦
When Valencia and Dobrinski take on a new endeavor, they go all in: whether they're committing to a "wow factor" in a home redesign with no time to spare, or deciding to leave Bay Area corporate jobs—Valencia, 38, was in marketing and public relations (spending years at Conde Nast, the New York-based publisher of GQ, The New Yorker and Vogue); Dobrinski, 39, was in tech and advertising (working with some of the biggest names in advertising, from Wieden + Kennedy to TBWA\Chiat\Day)—for the more family-friendly Sacramento area.
It was also a homecoming of sorts for Dobrinski, who grew up in Grass Valley and Auburn, and whose parents now live in Land Park.
"Kele and I had thought about starting our own business together for a really long time," says Valencia. "So, it wasn't just happenstance. It was something where Kele and I had been in the business of storytelling our whole careers—television advertising and PR—but we always loved this idea of experiential design."
"And we've always had an interest in hospitality," adds Dobrinski. "Everything from hotels to restaurants, bars and spaces where you can create an experience that's top to bottom—from branding to the interior."
The name of the new venture came from the ancient sculpture known as the Colossus of Rhodes—a massive likeness of Helios, the Greek sun-god, that was once the tallest sculpture in existence and one of the Seven Wonders of the Ancient World.
"The idea is something that feels very ambitious and almost out of reach," explains Valencia. "That monument, when it was built, it didn't seem possible. I think of it as being a symbol and inspiration for even more ambitious things in the future."
Colossus' trajectory began with a 1930s Spanish Colonial Revival home in Land Park, which the couple took "down to the studs" for a remodel that would soon be featured in Sunset and other publications. The house now features classic touches, like exposed wood beams inside and a bell hanging above the house, all mixing with unexpected elements like a front-yard pool.
They also built a spacious office over the garage to reduce their commute to a few steps—and stay near their three boys, ages 3, 6 and 8.
Family is a priority for Valencia and Dobrinski, despite punishing schedules. The five spend time together outdoors, especially hiking around Lake Tahoe. They even bought and completely remodeled a ramshackle A-frame cabin, coined Van Norden Lodge for its proximity to Van Norden Lake in Soda Springs, which doubles as an Airbnb near Boreal and Sugar Bowl ski resorts when they're not using it.
The couple's extreme makeover of the mountain property— and specifically how Valencia found inspiration for a bathroom tile backsplash in the blue-and-white duotone pattern on a 1970s ski glove—led directly to their HGTV show.
Matt Trierweiler, the director of original programming and development for HGTV, says the network had been scouting for talent who could helm a show devoted to helping couples with opposing design sensibilities bridge their aesthetic divides.
"We started talking about finding real homeowners who are in conflict," he says. "Where they've got completely different styles and viewpoints on what they want to do for renovation."
High Noon Entertainment, the production company that created popular shows like Cake Boss for TLC and Fixer Upper for HGTV, had come across an article about the Van Norden Lodge—and the ski-glove backsplash. After talking with Valencia and Dobrinski, they came to appreciate the couple's penchant for marrying old and new—and unexpected—design elements, in their remodels.
"Through that conversation, [High Noon] realized that they fit this concept perfectly," Trierweiler says.
The couple worked with High Noon for about a week to produce a seven-minute proof-of-concept video, showing how they mix genres to create a cohesive aesthetic, rather than a stylistic mishmash, and their approach was a winner.
Trierweiler says the HGTV team liked Valencia and Dobrinski "first and foremost," but they also liked the variety of architectural styles in the Sacramento area. The production team rounded up seven design-clashing clients in need of help in Land Park, River Park, Cameron Park, Arden-Arcade, Carmichael and Orangevale.
"What I think makes them special for this whole idea of putting different styles together is they come from different backgrounds, rather than just pure design and renovation," Trierweiler says. "They come at it from a very creative angle. So when you're trying to put things together, like they do, they just have a real knack for it, in a way that we haven't seen."
✦ ✦ ✦
Having a "knack" for unique designs doesn't make projects impervious to unexpected issues. Like navigating a couch up a tight stairwell, the need to pivot is an expected hazard of life in design and construction. Crews have to be nimble enough to turn on a dime—or at least a penny nail.
The Colossus team knows well the surprises hidden in old homes. Once they discovered an unexpected sewer line when digging a pool for a backyard revitalization project in the Fab Forties. In the end, they turned to the virtue of flexibility, rotating the entire design so no waste pipes were nicked.
It's not always so simple. Shipping delays, supply chain disruptions, and pandemic uncertainties have further complicated remodeling efforts—especially those on tight deadlines. Such hurdles were part of the storyline for the HGTV show, as the Colossus team dealt with such challenges from 9 a.m. to 6 p.m., four to five days a week, as the cameras rolled.
At one point, Dobrinksi says they ran out of white oak wood, and due to industrywide supply shortages, their contractor drove all the way to San Diego and back to retrieve more. A three-week delivery delay prevented some rugs from arriving on time for one of the shows "reveals," so the couple dove into their own warehoused collection for replacements.
A key strategy for mitigating problems, according to Valencia and Dobrinski, is staying hyper-organized. On Mash-Up Our Home, for example, they bought seven small milk crates to represent the seven houses they worked on.
Each bin held samples of the materials to be used for that home's renovation. The result was a visual and tactile mood board made up of tiles, pieces of wood and stone, copper sheets and more. Just a glance into a container revealed the colors and textures they were working with.
To fill these bins, they turned to a large, two-door cabinet in their office, like the kind filled with fragile biological specimens in the backrooms of a museum. Valencia opened several of the drawers, revealing a sensory library made up of swatches and samples.
The collection has grown over the years, as they've filed away spotted felt squares, paint chips, and other intriguing and inspiring odds and ends. The contents are invaluable for design inspiration—as well as visualizing how different materials play off of each other, and giving clients options to consider.
Organizational strategies, like the cabinet and bins, along with an attitude of flexibility have allowed the couple to tackle multiple projects at once—more projects than they initially knew they could.
"It turns out, we can take on seven at one time," Valencia says, referencing their show schedule. "But we would like to take on less." Dobrinski estimated that a typical non-filming year might involve eight to 12 projects, ranging from branding work to full remodels, each in various stages of completion. Clients come in different ways: old and new friends seeking a remodel, strangers who saw their work on Pinterest, and their own proposals for work they find interesting and rewarding.
They do have help. Colossus has one part-time assistant and a tight network of contractors they work with regularly. To help with the show, they hired a part-time woodworker and recruited a crew of five contractors.
Family members also pitch in. Dobrinski's father, a former electrician and contractor, helped out in the final week of filming, following a family tradition of getting things done.
Valencia recalls their own home remodel: "Kele's grandfather was out there with the jackhammer one day. He was 90 at the time. We're like, 'Grandpa, whatcha doing out here?' 'Uh, just helping!' Kele comes from a long line of doers."
✦ ✦ ✦
When Valencia and Dobrinski moved to Land Park in 2016, they knew they wanted to do more than update the house. They wanted to be heavily involved in the neighborhood and surrounding community. Dobrinski says they hoped to shape the area in a way that honored its traditions and history while helping it evolve and encouraging it to find its "long-term place."
They didn't know, however, that they would soon be awarded the opportunity to re-envision the nearby historic Sacramento commercial district colloquially known as the Broadway corridor.
The opportunity came about thanks to their oldest son, who attended the same preschool as the oldest daughter of Andrew Skanchy, president of the board of the Greater Broadway Partnership. The children recognized each other when both families were dining separately, before the pandemic, at Willie's Burgers in Old Sacramento.
"So, then we started talking," Skanchy says. "Like, 'Oh, you guys just moved here from the Bay Area? We just moved here from Santa Monica.' We kind of struck up a conversation and bonded over moving to a new city and not knowing anyone and also living close by each other."
Skanchy and the Broadway Partnership board had been discussing "placemaking" as a way to revamp the Broadway corridor, aiming to attract more visitors and give businesses an identity to rally around. He invited Dobrinski to some meetings and the project began to take shape, informed by conversations with local residents, shop owners and local leaders.
When the board issued a request for proposal, Colossus put together a presentation that focused on the legacy of Tower Records. The area had been loosely called the Tower District for decades, but there was never a branding effort attached to it. Applying their design and marketing backgrounds to the concept, their plans were approved on March 11, 2020—just days before Covid closed the world down.
"I did like the fact that one of the first things they did was, they reached out to all of the surrounding neighborhoods and people and asked for their thoughts. You know, 'What do you think of when you think of Broadway?' " says Joan Borucki, the Broadway Partnership's executive director.
"They also spent time talking to the board members to get their input. We had, at the time, a number of board members that had owned property and businesses in the district for a very long time, and then we had some other board members that were younger and newer. It was good to see that they could work with both sides of that and pull them together."
The area in question, as defined by Skanchy, spans "X Street and Broadway, from the 99 to the 5." The brand book developed by Colossus starts with black-and-white photos of the Tower Cut Rate Drug Store (now the Tower Cafe, it's where Tower's founder, Russ Solomon, started selling records out of his dad's drug store as a teenager), before transitioning to color, Wizard of Oz style, to the iconic red letters on the yellow marquee that introduced Tower Records to the world.
"It's this thing that started at a little drugstore on Broadway," Dobrinski says. "It was a kid that had a crazy idea. His dad gave him a little bit of space to try something, and it worked and it grew into this massive, global movement that was inclusive to everyone."
"Tower meant something to everyone around the world for a period of time. [People] from all walks of life could come into the same store and geek out about music in every genre," he continues. "I think it's so cool to have something like that born here."
The Colossus team, as usual, went big. They proposed rebranding the district as "The Birthplace of Vinyl" and built a design heavy on blocks and bands of color, stacked like the vintage Polaroid logo crossed with refrigerator magnet poetry in a mid-century modern font.
Mock-ups show a street signpost pointing the way to The Grand Ole Opry, The Fillmore, the CBGB and Capitol Records. Large records stand as sculptures, in the Colossus vision, with a particular album by Prince glowing purple after the sun sets.
In addition to the visuals, the rebranding includes ideas for events, from weekly "mash-ups," which pair unlikely businesses in the district for evening activities, to an annual vinyl festival that could be the pinnacle of the area's calendar.
These plans, and more, were moving along when—like a needle scratching across a prized LP—Covid shut it all down.
"The board didn't feel like it was responsible to be spending money on a rebrand at that time, so it got shelved, and we've kind of been consciously waiting to start to roll it out," Skanchy says. "I think we're getting to the point now where it makes sense."
✦ ✦ ✦
As for what's next—after the rebranding of the Broadway district and the debut of the HGTV show—Valencia and Dobrinski are considering a number of local opportunities, including the possibility of creating their own hospitality project, like an Airbnb, but with the unified brand experience and service aspect of a good hotel.
"They've got incredible talent in designing space," says Clay Nutting, co-owner of Canon in East Sacramento. "They really get how people relate to spaces and how important it is, especially in the hospitality business."
For their work with Canon in mid-2019, Valencia and Dobrinski broke down the word "canon," exploring its definitions. They also dissected conversations with chef Brad Cecchi about dishes that are constantly evolving. That led the couple to think of jazz, a fluid but unmistakable and ever-evolving genre.
"The idea is you're going to get an amazing seasonal drink from Jack [Winks, Canon's GM and bar director]. It's going to blow your mind, but it will be ever-changing. It will never be the same," Valencia says. "Because Jack and Brad and Clay are kind of these jazz musicians who get up on stage every night and iterate and iterate and iterate to make things better."
Once on that path, they transmuted the blue musical notes that grace so many knockout improv performances into blue colors around the patio: cushions, pillows, tiles of a fire feature that defines but doesn't dominate the space.
The couple also helped Canon with refreshing their brand in terms of a new logo, menu designs, coasters and more.
Nutting said that their work was "invaluable" for the restaurant, which in recent years has defined pairing food and drink with a deep sense of place, creating a venue that is both unmistakably Sacramento and broadly accessible.
Canon has attracted international attention for not only its seasonal cuisine by Cecchi, but also its look and vibe. The Michelin Guide calls it a "cool space that contrasts deep tones against bright whites."
"One thing about Sacramento is people love dining outdoors," says Nutting. "And in our humble opinion, I think we have one of the most—if not the most—beautiful outdoor patio environments in Sacramento."
✦ ✦ ✦
Before launching into anything new, Valencia and Dobrinski decided their first post-filming priority was to get away to Nevada City for a few days, alone, and then to take their sons to Costa Rica for a two-week reptile-exploration excursion.
Work has at times accompanied them on such trips. For example, when Valencia and Dobrinski were on a family vacation in Idaho in 2020, they were negotiating details with HGTV and consulting with their entertainment lawyer—although they did put him on hold once so they could rouse their sons to watch a herd of sheep pass by their trailer.
As work sometimes infringes on home life, the reverse is equally true. For the couple's Land Park home, Dobrinski took two heirloom chairs passed down from his grandmother and reupholstered them, replacing the original celery green covering with cobalt blue velvet so richly hued that it rivals the depths of their beloved Lake Tahoe.
Dobrinski also designed and built the living room's light fixture. His goal was to fit brass and bulbs together to create something that was "super modern," specifically to contrast with the classically Spanish design of the home. The result is a branching sculpture of metal and light, resembling a giant model of a molecule, with glowing orbs for atoms—the countless building blocks that make up everything around us, that swirl and remix and connect objects to people, the present to the past.
If anything, Colossus is about finding those bits and pieces, discovering the world's constituent parts—like pulling the bright colors out of an old ski glove—and using them to build something fresh and surprising.
All of this underscores the idea that styling a physical space is one thing, but the stories of the people who inhabit that space and interact with it—who shape it and use it and infuse it with love each day—are what really matters.
"The thing for me about hotels or restaurants or even homes, truly, is you can build the foundation of someone's experience," Valencia says. "If we do our jobs right in someone's home, we are setting the backdrop for amazing memories to come."