Can Electric Bikes Help Save The Planet?
Pre-pandemic, electric Jump bike rentals in Sacramento trailed only Paris in popularity. Today, electric bike ownership is soaring. From commuters to joyriders to grandmothers, e-bikes are turning even non-cyclists into e-vangelists (like Rocklin City Councilmember Jill Gayaldo, pictured below) and creating a greener, less fossil-fuel-filled world. Now we just need more of our region's leaders to make it easier and safer for all of us to plug and play.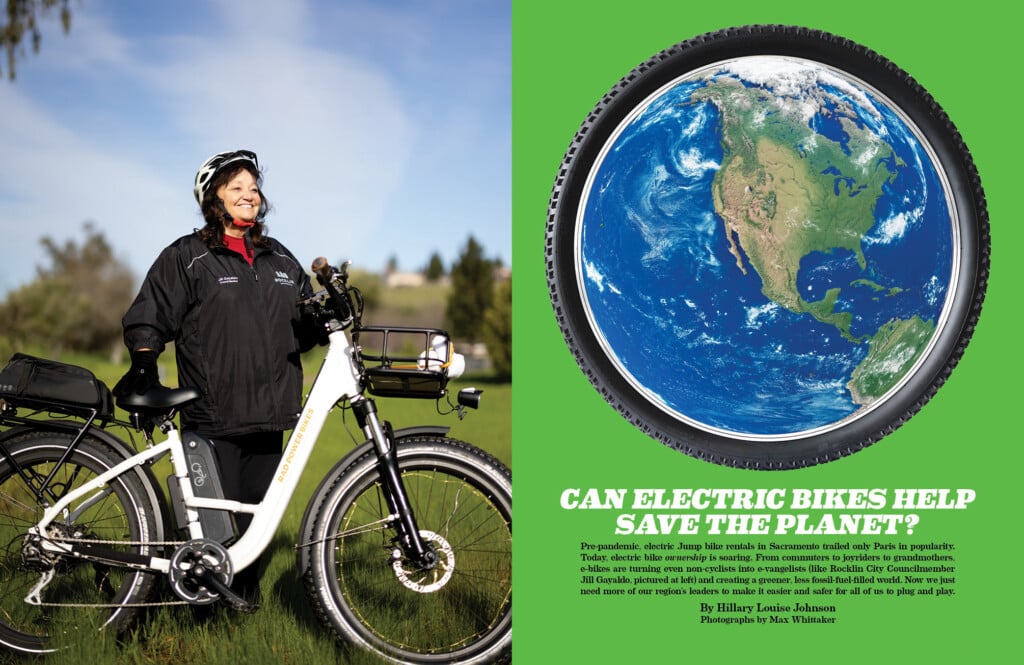 WWhen the first neon red Jump electric bikes turned up on my corner in early 2018, I jumped.
I rode them everywhere—to work downtown, to Nugget Market, to Mayahuel, to Broderick Roadhouse. I wasn't the only one. Christopher Cabaldon, then the mayor of West Sacramento, told The Sacramento Bee that he rode them up to five times per day. Maybe they weren't the jetpacks that Elroy Jetson zipped around in, but they were pretty close, and the fleet quickly grew to 900 e-bikes. By October 2018, the number of Jump rides exceeded that of ride-share trips according to Uber, which purchased the micromobility company that April. Just a year later, Sacramento had become the No. 2 city worldwide in Jump rides, second only to Paris.
Which makes perfect sense if you consider that each of the top five major U.S. cities for cyclists in 2022, according to advocacy group People for Bikes, has succeeded despite some major geographic drawbacks—San Francisco faces brutal hills, Portland and Seattle ubiquitous rain, and New York City boroughs Brooklyn and Queens (which were counted as separate cities in the rankings) frigid winters.
But not here. Sacramento + e-bikes = paradise. Our relatively mild climate and gentle topography make riding a nearly year-round pleasure. And the lack of hills means that just a little boost'll do ya. Without steep inclines, you're less likely to drain your battery—one barrier to adoption for both electric vehicles and e-bikes is "range anxiety," worrying about running out of juice. Bonus: AAA recently extended its roadside assistance to include e-bikes. They won't charge or repair them, but if your bike gets damaged or gets a flat tire, they'll pick you and your bike up.
Noted urban planning guru Brent Toderian—who was Vancouver's chief city planner and a leader in that city's successful push for active transportation ("active transportation" is planner-speak for making cities more bike and pedestrian friendly)—didn't see much to praise in the way of bike infrastructure here in February, when he toured our town in preparation for his keynote speech at the Downtown Sacramento Partnership's annual State of Downtown breakfast. He called us out for those one-way streets that shoot vehicles off freeway exits like T-shirts blasting out of a cannon during Kings games at the Golden 1 Center. But he especially didn't like downtown Sacramento's policy of putting "cars first, second and third."
In one survey that came out last year, Sacramento drivers were rated the second worst in the country, likely due in part to our infrastructure that does nothing to slow down reckless, unchecked careening in our densest areas (speeding is second only to intoxication as the reason for most crashes).
After the State of Downtown breakfast, Toderian told me by phone that when it comes to transportation, he primarily considers himself a pedestrian; he doesn't even own a car. "My family does bike, but we don't do it that often. I think it's important to note because people get written off, sometimes unfairly, as so-called bike activists. I support safe biking not because I am a person who rides a bike, but because I'm someone who understands how important it is for cities to function better." My Jump bike conversion, he says, is what it's all about.
"They call it the e-bike effect," Toderian says. "It promotes mode shift from vehicle trips to e-bike trips, which is the holy grail of better urban mobility. The best thing that urban biking can do is replace vehicle trips, and studies have shown that e-bikes are a gateway to bike ridership in general. They've introduced more people to biking that might never have otherwise used a bike."
A UC Davis study of Sacramento's burgeoning bike-share program in 2018 revealed that the city was starting to accomplish just that. Riders weren't just joyriding along the American River Trail; around a third of their trips were indeed replacing car rides.
The Department of Transportation has done the math on why this is impactful: 28% of all car trips in the U.S. are less than one mile. If we took only a third of those—roughly 10% of the total—by foot or by bike instead, that would be a huge boon for smoggy Sacramento County, which the American Lung Association awarded a failing grade of "F" for ozone and "24-hour particle pollution" on its 2022 air quality report card.
---
READ MORE: The regional fight for cleaner air – Q&A with Alberto Ayala, Director of Sacramento's Air Quality District
---
That's even before you consider the fact that retailers and restaurants on "complete street" corridors where protected bike lanes have been built—often replacing parking spaces and/or car travel lanes—earn more revenue due to an increase in walk-in customers. Or that protected bike lanes reduce injuries by up to 75%. Simply replacing our gas cars with electric versions will not reach these important markers. "If anybody is out there thinking we don't need to facilitate e-bikes because we have e-cars," Toderian says, "that's just wrong."
And e-bike consciousness is on the rise. While e-bikes are generally more expensive than regular bikes—most fall into the $1,000 to $5,000 range (Wired magazine recently selected a $2,500 electric Trek model as "Best for Most People")—the state is creating a new incentive program that will soon offer lower-income Californians $1,000 to $2,000 toward e-bike purchases. "This has been a long time coming," says Jared Sanchez, the policy director of the California Bicycle Coalition, which lobbied for the initiative.
The Sacramento Area Bicycle Advocates (SABA)—a bike advocacy group which, among other things, hosts valet bike stations at many events throughout the region each year—just received a $180,000 grant from the Sacramento Area Council of Governments (SACOG) for a two-year program starting this spring, to build awareness around e-bikes. According to SABA's executive director Deb Banks, part of the funding will be used to build a fleet of models for participants to test drive, since riding is believing. She hopes to recruit riders from areas with longer typical commute distances, like South Sacramento, who might not have considered biking to work an option. "Who wants to arrive at work a literal hot mess?" says Banks. "An e-bike lets you get to work feeling fresh, and great." And the City of Elk Grove also received approval in February for a $250,000 SACOG grant to start an e-bike lending program, including cargo e-bikes, trikes and adaptive bicycles to help seniors and disabled citizens get rolling.
But there are some very real obstacles to wider adoption in Sacramento—or rather too few obstacles if we're talking about the physical barricades that safely separate bike lanes from vehicular traffic. In 2018, the City of Sacramento installed a couple miles of what are called "buffered" bike lanes—essentially lanes created by pushing automotive parking spaces out from the curb. There are a few more miles of these planned, but it's a drop in the bucket for what is needed to develop a network of safe bike lanes that will encourage cyclists on both electric and analog bikes to brave the streets of Sacramento.
When Covid-19 struck, all the cheerful red Jump bikes disappeared from downtown, bringing an end to what I now think of as halcyon days. When a diminished fleet of around 400 of them made it back here, they looked like they'd been sent to the future to fight SkyNet's terminators: bruised, scarred and with battered, ugly, acid-green Lime badges pasted on crookedly in half-hearted haste (Lime bought Jump in May 2020).
One blustery day this February, I tried to use my phone to rent a Lime bike in order to join a Sunday bike tour hosted by SABA, but I couldn't scan the QR code because it had been burned by a cigarette. There was another bike across the street, but its basket was full of trash, so I hand-keyed in the code, and the app offered me a special "deal" of $14.99 for the first hour. (Most rides pre-pandemic cost me just a buck.) I thought: one step forward, two steps back. Sigh.
A dozen riders showed up in rain gear for the tour, among them SABA's office manager, Jeremiah Rohr, riding a Specialized Turbo Como that looked like what Darth Vader would ride if he gave up his plasma-guzzling Death Star for an e-bike. At 6-foot-4, Rohr needed a serious steed for his 16-mile round-trip daily commute.
As we paused at a light on our way toward the buffered bike lane on 10th street—one of very few downtown—one of the riders gestured wide. "You know, this used to be a vibrant, multi-ethnic neighborhood before the Capitol Mall project," he said. Before they razed it all in 1959 to make way for… commuters in cars.
---
READ MORE: 8 Great Ways to Make Sacramento More Fun, from reimagining Capitol Mall to resurrecting a popular local food tour
---
If Sacramento could wipe out a neighborhood and reinvent the city with the sole purpose of bringing commuters downtown, then surely we could reinvent it again to be more multimodal?
Well, not exactly. Sacramento's Transportation Planning Manager Jennifer Donlon Wyant quickly disabused me of that notion when I called her to pose that question (she rides a Gazelle—an electric take on a traditional Dutch bike, zipping down side-streets from her home in East Sacramento to her office downtown).
"There was an incredible amount of federal dollars, an incredible amount of funding to make that happen," Wyant said of carving up downtown to get office workers in and out as expeditiously as possibly via Capitol Mall. Today, there is precious little money to go around. The city applied for a $20 million grant under Biden's much-touted bipartisan infrastructure law to redesign a dangerous one-mile stretch of Marysville Boulevard in North Sacramento. "$20 million for one mile," Wyant said. "That's what other cities are paying for best practices." But Sacramento failed to make the cut; only 37 of 234 applicants received funding. "They encourage us to apply again," she says.
Okay, but that was an ambitious plan to remake an entire street. What about Toderian's call for simply doing away with our one-way streets to slow down traffic—given that slower streets are safer for all commuters, including motorists? "There are a lot of benefits of converting streets to two-way," Wyant agreed, but putting in new traffic lights costs around a million dollars per intersection, and the only way to find the funds is to write more of those time-consuming, moon-shot grants.
Toderian endured a similarly glacial process when, as Vancouver's city planner for six years until 2012, he helped oversee the Canadian metropolis' decades-long transformation into a thriving bikeopolis. His one regret? It took too long. "We pulled the Band-Aid off too slowly. We only started seeing success as the [bike] network was starting to be completed," he explains. "[Sacramento's] problem is that you're going too slow as well."
My Sunday SABA tour sampled all types of bikeways around town: We rode sidewalks on deserted K Street, tried out a short buffered lane downtown, took busy streets two abreast (what cyclists call "taking the lane," perfectly legal when there is no bike lane), and slow-rolled through stop signs on low-traffic side streets to avoid busy Broadway. By the time we ended at Oak Park Brewery, I'd racked up a $43 tab with Lime. We rode for three hours–about one minute of that on a protected bikeway, on a brief stretch of 10th street. Clearly, more than the bike itself was broken here. One rider, a SABA volunteer, pointed at my bike and said, "$40 bike ride," and then pointed at the cars parked for free at the curb and deadpanned, "Subsidized free parking." We shrugged sadly. I took an Uber back to midtown because it was cheaper than the bike.
When I spoke to the folks at SACOG—which has the contract with Lime on behalf of Sacramento and West Sacramento—over Zoom the next day, I was eager to ask about what had happened to the once-promising bike-share program.
"When SACOG first launched the program, it was the largest all-electric assisted bike system in North America," said Nicole Zhi Ling Porter, the group's Innovative Mobility Program analyst. I may have misread her facial expression over Zoom, but it seemed to me she was trying not to wince in acknowledgement of how poorly bike-sharing under Lime had fared. A whole new program is in the works, she assured me, though it is too soon for an announcement. "We're taking the lessons that we've learned so far and bringing something that's even more transformative to the shared micromobility space," she said. Details remain under wraps.
The tagline on Susan Handy's UC Davis web page reads, "Bicycles will save the world." Handy is the director of the National Center for Sustainable Transportation where she studies strategies for reducing automobile dependence. Re-envisioning how humans move through space, including by e-bike, is the topic of her book, Shifting Gears: Toward a New Way of Thinking About Transportation, which will be published by MIT Press in October.
"E-bikes vastly expand the potential for biking as a mode of transportation," she told me over Zoom. "Trips that may be too far away for a regular bike ride become possible with an e-bike." When one of her family's motor vehicles died, they simply started biking more. "We've got the e-bike to run errands in town, and we use the car mostly for out-of-town trips," she says, "and it saves money."
Now, just imagine a near-future Sacramento where every household with 2.5 kids has an electric car in the garage, but instead of a second vehicle, there's an electric cargo bike in the bay next to it—a burly, fat-tired workhorse with room for up to three child seats and enough cargo capacity for a Costco run. Where adults ride e-bikes to mass transit (Sacramento Regional Transit is in the process of lowering the entryways on light rail train cars to make them more accessible—both for people with disabilities and those carrying heavy e-bikes).
Another area Handy's center is studying is how to replace so-called "last-mile delivery"—the trucks you see chronically idling while double parked at the curb or blocking the bike lane—with cargo e-bikes. The U.S. Postal Service even launched a pilot program last year trying out e-bikes for mail delivery. "Any increase we can get in the share of trips that are made by bicycling is good for the environment, good for health and good for communities," Handy says. "Also, it gets safer the more people are out there biking."
Secretary of Transportation Pete Buttigieg told the League of American Bicyclists at the 2022 National Bike Summit: "Once you boost bicycle commuting over about 2%, there's a tipping point when it comes to safety, because everybody knows to look out for bikes." Pre-pandemic, that number topped 6% of commuters in Vancouver. Meanwhile, in Davis, where Handy lives, a stunning 20% or so of commuters biked to work—surpassing all U.S. cities that were surveyed—according to a 2017 report by the U.S. Census Bureau.
While Sacramento clearly has some work to do, I was pleasantly surprised to learn that the share of commuters who ride to work in the capital city had reached 1.8% pre-pandemic, so that bright future is within reach.
But people who take up e-biking don't usually do it just because it's greener than driving. They do it because it's fun. People who give up their car commute to walk—or bike—experience the same happiness "bump" that falling in love bestows, according to sustainable design collective Arup.
Who's that youthful grandmother bombing down a bike path through a golf-course-turned-city park in Rocklin, waving at the herd of goats mowing the grass and blasting Barry Manilow from a speaker bungee-strapped to the basket of her Rad Runner fat tire e-bike? Why, that's Rocklin City Councilmember Jill Gayaldo, on her way to a ribbon-cutting ceremony.
"People are used to me. When they see me, it seems like they feed off of the fun," she says cheerfully. "I'm full nerd-ball: I've got this sweet basket that I had installed on my e-bike so I can put my agenda for city council in it. I've shown up to some council meetings with not the best hair in the world after taking my helmet off."
When she bought the bike in October of 2021, Gayaldo had no inkling it would change her life. "I am not an exercise person, it's just not who I am," she says, lowering her voice to a conspiratorial whisper for effect. "I just didn't realize how much I would love it. Now I think, I don't have to take my car for that 2-mile drive. I jump on the bike. I've put 504 miles on that baby."
Five hundred and four miles: That's about 440 pounds of CO2 saved, or 22 gallons of gasoline, for those of you doing the math.
Gayaldo is a convert who is determined to also be a changemaker, and she is just the right person to do it. She has served on the Rocklin City Council since 2018 (she was mayor of the city of 73,000 in 2021), and she chairs the transportation committee for SACOG. Before that, she was director of transportation for the Elk Grove School District, where she added a dozen fully electric school buses to the fleet, earning a lifetime achievement award from the Sacramento Clean Cities Coalition. Now, she has set her sights on transforming the Sacramento suburbs into a biker's paradise by connecting the dots—turning isolated pleasure-paths to nowhere into a network of transportation routes.
Neighboring cities like Roseville and Lincoln have great bike paths too, Gayaldo notes, and builders are now including bike and pedestrian paths in new developments because it's seen as a desirable amenity that boosts property values, but the problem is that they don't always connect, especially across jurisdictions. "We're just a few hundred yards from having a really good trail system," Gayaldo explains. "Roseville has a tremendous bike or walking trail system, and in Rocklin, we've got William Jessup and Sierra College. I have to connect them. I'm really going to be pushing hard to get that to happen. I know I can get cars off the street!"
It's counter-intuitive to think that the suburbs—the land that cars built—might be bike-friendlier, sooner, than the urban core, but that may just be the ironic way the infrastructure cookie crumbles.
One sunny, cold afternoon in early March, I headed over to Ken's Bike, Ski and Board in Davis. I wanted to see what a real, car-replacement-capable e-bike rode like, and to see how it felt to roll through the streets of a town known as the Bicycle Capitol of America. So, I rented a Trek identical to the one Jeremiah Rohr of SABA had been riding—a sleek gunmetal-gray model. Staffer Robi Pochapin explained that the bike's pedal-assist motor made the bike "you times four." I put the $79 daily rental fee and $500 deposit on a credit card and the $3,500-ish bike was mine for the day.
On first pedal, the bike was clearly a bike. It didn't zoom or surge or feel like a rocket. The power was so subtle as to be imperceptible—at first. I navigated through downtown Davis, taking the whole lane down 2nd street, in line with the cars, because no bike lane existed. Davis' small-town grid, unlike Sacramento's urban one, moves at a slow, stately pace perfect for integrating bikes and cars. And Davis' drivers are used to bikes' heavy presence, so I never felt in danger. I passed a sign that read, "UC Davis main quad: 0.6 mi; 12 min by foot; 04 min by bike." I've driven to campus before: parking and walking to your destination takes at least 20 minutes.
Four minutes later, I cruised through the gates onto UC Davis' virtually car-free campus, around a bicycle roundabout, slowing to a leisurely pace, watching out for pedestrians, who were likewise watching out for me. Our heads were on swivels. It just worked.
By the time I found open pavement on a path along Putah Creek—used by professors who live in suburban-style neighborhoods to whiz to campus—the bike felt like an extension of my consciousness. I wasn't thinking, just steering—and soaring. I can only describe the sensation as feeling like flying in a dream. The bike felt like part of me, and as such it virtually disappeared as I flew through space and time. An analog bicycle gives me the sensation of health and effortful freedom. An e-bike is like gaining a superpower. I was hooked. Here, at last, was my jetpack.