8 Great Ways to Make Sacramento More Fun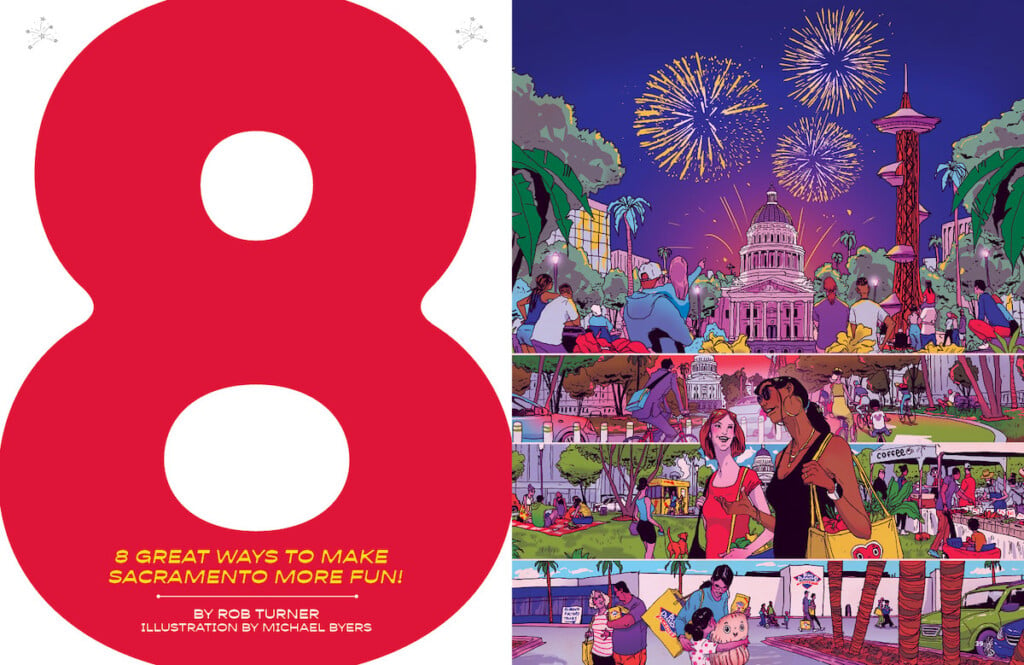 Let's Celebrate Democracy… Where It Happens
With an urgent new focus on democracy in America, our very own state house is where we should gather to commemorate the Fourth of July in star-spangled fashion.
When it comes to state capitol buildings, Sacramento won the architectural lottery.
Modeled loosely on the U.S. Capitol, ours is unquestionably one of the most stunning of the 50 such structures sprinkled throughout this great land. Neighboring state capitol buildings like those in Nevada, Oregon and Arizona don't hold a candle to our majestic domed edifice.
But oddly, it rarely takes center stage in city celebrations. People mostly visit when, well, they're really pissed off about something, i.e., protesting.
So what if we flipped the script and made our Capitol the centerpiece of Sacramento's Fourth of July festivities? These days, our Independence Day fireworks take place where nearly all of our fireworks shows take place—down by the river. It's a lovely setting yes, but we already hold our New Year's Eve display there (and a slew of post-game fireworks for River Cats games), so let's mix it up and hold the Fourth fireworks where they belong—over our state house.
As I suggested back in 2016, not only will the fireworks surrounding the Capitol dome provide the ultimate visual feast, but tens of thousands can watch that placemaking spectacle from Capitol Mall.
Other capital cities are already using their capitols to serve as beautiful backdrops for their pyrotechnic displays. In Jefferson City, Missouri, and Bismarck, North Dakota, their Independence Day festivities take place with their state houses front and center. Meanwhile, the capitol in Hartford, Connecticut, is the main attraction during that city's New Year's Eve fireworks, and its counterpart in Little Rock, Arkansas, is the focal point for that city's annual Christmas fireworks show. There have also been sparkling spectacles encircling the capitol domes in Oklahoma and West Virginia on special occasions.
In fact, it's happened here before (with lasers, no less!), at the 1982 celebration of the Capitol's restoration project (pictured above). The Sacramento Bee reported that approximately 75,000 people gathered downtown to see "a dazzling fireworks display that shook the city and lighted the sky." The spectacle lasted about 40 minutes, and "midway through the show, laser beams shot from the Capitol dome, crisscrossed over the mall and disappeared into the darkness beyond the Tower Bridge." The audience "gasped" and "cheered."
Like in North Dakota, where the Bismarck-Mandan Symphony Orchestra accompanies the festivities, it would be perfect if the Sacramento Philharmonic & Opera could perform patriotic classics here during Independence Day gatherings at the California State Capitol like they did for the Fourth on the Field event in West Sacramento in 2021.
In 1996, a code was adopted that prohibits fires on state property. California Highway Patrol, which oversees Capitol security, says the ban includes fireworks over the Capitol. The Fourth of July should be an exception. Sacramento Mayor Darrell Steinberg, former president of the state Senate, should have some influence here. If other state capitols around America can host dazzling displays once a year, then surely so can we.
Put a Lid on It
How can we make Sacramento splashier? Cover a key section of I-5 and reconnect our city to its namesake river.
From the late '50s to the early '70s, Sacramento and dozens of other places around the country made one of the biggest urban design blunders in their respective histories.
In the race to construct a national highway system, cities made planning decisions that they would come to regret. Here, when the placement of Interstate 5 was being studied, the initial proposal was to locate the roadway along the West Sacramento side of the river. But civic leaders believed that placing I-5 on the Sacramento side of the river would energize our economy by providing easy access to the city's core for thousands of drivers every day. In fact, the city's intense desire to lure Macy's to its current spot downtown was a major factor for the placement of the new highway.
What that decision would mean, of course, was not only bulldozing blocks of historic buildings—today's Old Sacramento is what was left, saved by preservationists—but more critically, severing downtown from the historic district and the waterfront.
In our defense, many other cities didn't foresee the role that rivers would eventually play as civic amenities for their communities either.
But now cities everywhere realize how critical their riverfronts are to their residents' quality of life. The difference is that many cities have seen the error of their (high)ways and have rectified—or are rectifying—the problem.
Cities like St. Louis (which built a 285-foot-long park and "land bridge" over Interstate 44 to connect downtown to the Gateway Arch and the Mississippi River in 2018) and Duluth, Minnesota (which created a 2.5-acre park in 1992 and tied downtown to Lake Superior), and many more have taken steps to deck (or "lid") their poorly situated roadways and replace them with people-centric spaces.
As for Sacramento, we've been trying—and failing—to do the same for decades.
"We want to make a very strong linkage between downtown and Old Sacramento," said architect Ted Leonard, the project director for Old Sacramento. "We're trying to pull it all together."
This quote, which espoused the idea of decking part of I-5 between downtown and the riverfront, appeared in The Sacramento Bee… in 1993.
In 1998, the paper's then-urban design columnist Gary Delsohn wrote, "One of the worst planning decisions ever made in Sacramento was to put Interstate 5 on the Sacramento side of the Sacramento River, walling off downtown from its greatest resource…. Where is the bold vision and leadership that has turned downtowns in cities like San Antonio and Portland into something special because someone realized water was a great thing?"
So what should we do now? Try again, and this time succeed. We now have the advantage of decades of case studies for how other cities have pulled off such feats.
Most recently, San Francisco buried six lanes of Highway 101—lanes that had separated The Presidio from the waterfront. The new Tunnel Tops park opened last July to well-deserved rave reviews.
In the Midwest, Cincinnati is actively moving to cover a portion of its downtown freeway that similarly cut the city off from its waterfront. It applied for a grant from the Reconnecting Communities pilot program, a part of the federal infrastructure law that was passed in 2021 (the deadline was last October, but the initiative will be accepting applications again later this year, so there's still time for us to apply) and is planning an 18-month engagement process to study the best uses for the project that would add about three city blocks—or 2.6 million square feet—of undeveloped space to their downtown.
The city's mayor, Aftab Pureval, called the project a "generational opportunity to reconnect communities, reclaim public space, and transform the face of Cincinnati."
We too have a generational opportunity here.
Sacramento—like other cities hit hard by the pandemic—faces a future where our downtown needs to reinvent itself with more of an emphasis on residents and tourists rather than primarily office workers.
Just imagine blocks of brand-new park and event space that would help transform our riverfront and downtown into a place where people want to live, work and play. As Gary Delsohn wrote 25 years ago, we need "bold vision and leadership" to make this happen.
Will that bold vision and leadership come from Congresswoman Doris Matsui, whose late husband, Congressman Robert Matsui, secured $3.5 million in federal funding in 2001 to study decking I-5?
Could it come from Sacramento County Supervisor Phil Serna, whose district includes downtown? His father, Mayor Joe Serna Jr., sought support from the state for exactly such a plan in 1998, saying: "I-5 bifurcates Old Sac and the waterfront. We want to reconnect the downtown physically with the waterfront."
Or will Mayor Darrell Steinberg, who has championed a revitalized waterfront since he took office, lead the way? "We have a dramatically underutilized asset for our city and our region," he said in 2018, referring to our waterfront. "It's time to stop imagining and to start doing."
When it comes to connecting our city to a certain river named Sacramento, we couldn't agree with him more.
Build an Observation Tower
In the Pixar film Up, young Ellie declared, "Adventure is out there!" But in a flat valley city like ours, we'd argue, "Adventure is up there."
There are two very compelling reasons for some very smart developer in Sacramento to build an observation tower.
One is that people love observation towers, and Sacramento's status as the City of Trees or River City only truly comes into sharp relief when you're up high.
The bird's-eye view is breathtaking, and while there are a few good places for an elevated perch, my vote would either be near the Tower Bridge and Capitol Mall (for postcard-perfect vistas of both landmarks) or near the confluence of the Sacramento and American rivers—a stunning sight as the clear blue snowmelt from the American River contrasts with the silt-filled brown of the Sacramento River. The views of the snow-capped Sierras alone would be worth the price of admission.
And make no mistake, people are more than willing to pay for such an eye-opening experience.
The Space Needle in Seattle draws 1.3 million visitors a year, who pay $35 each for an adult ticket. Pre-pandemic, the Gateway Arch in St. Louis, the city's top tourist destination, drew 2 to 2.5 million visitors per year—attendance is now climbing back up, with adults paying up to $19 each. The Forest Tower south of Copenhagen—which was completed in 2019 and promptly made it to Time magazine's list of the World's Greatest Places that year—drew nearly 400,000 within a year of its opening, with visitors paying up to $28 to walk up about 150 feet for a magnificent view of nature.
Currently, Sacramento's top stand-alone tourist attraction is the California State Railroad Museum, which welcomes about 500,000 visitors per year.
---
READ MORE: Top of the Town – We invited seven architecture firms to design observation towers for Sacramento
---
The second reason we need one: the chance for a great skyline and a sense of place.
There's no denying that Sacramento, for all its many charms, can't boast of much of an impressive skyline. But a beautifully designed structure can change all that. It doesn't take 10 great buildings, just a single fantastic one. Close your eyes and picture Paris. Now try to picture almost any structure other than the Eiffel Tower. You'd be hard-pressed to, even though like us, they have some bad buildings too.
If someone builds an observation tower here—with a remarkable design—locals and visitors will flock to it like birds, seeking a sense of adventure and wonderment, and a newfound appreciation for this great city we call home.
Turn Bus Shelters into Works of Art
Every city needs bus shelters and more public art. Let's combine those necessities to transform our streets from ho-hum to va-va-vroom.
No matter where you are in this region, public art makes your neighborhood, city and county better. There's no such thing as too much. Full stop.
And whether or not you personally ride a bus, we need bus shelters. Sacramento is getting hotter and hotter, so we have to provide more shade for commuters. Additionally, we need to rely less on gas-powered single vehicles, and with plans on the drawing board for new Bus Rapid Transit lanes—lanes reserved exclusively for buses—the goal is that public transportation will become an even more attractive option as drivers sit in rush hour traffic and watch these buses fly by.
There's also a sad reality that some poorer neighborhoods don't have shelters at bus stops at all.
So let's get creative and fulfill both our public transportation and public art needs by creating bus stops that are also showstoppers.
In Baltimore in 2014, a massive bus stop—made of steel and wood, and fashioned in the shape of the word "BUS" with 14-foot-tall letters—was installed outside of an art gallery and performance space venue. It was designed by a Spanish artists' collective and fabricated in Baltimore.
And it's fricking genius. Here we could create something that evokes the names of various neighborhoods or cultural sites. The bus shelter nearest to the Crocker Art Museum could spell out ART, or an Oak Park structure could be shaped like OAK.
In Portland, Maine, a nonprofit arts council called Creative Portland partnered with the city's transportation authority in 2017 to build and install four beautiful bus shelters designed by local artists. Each shelter cost about $15,000, with $4,500 going to the artist. To cover the costs, Creative Portland applied for and won an "Our Town" grant from the National Endowment for the Arts (NEA) for $25,000, for which they needed to match or exceed the amount in the form of cash and in-kind donations like materials. The local transportation authority even gave up some advertising revenue by not placing ads on these art shelters. And in 2021, Creative Portland won a second NEA grant, and five more artist-designed shelters sprang to life this past September.
Each bus shelter should relate to its surroundings. Imagine how much fun artists could have with bus shelters at Fairytale Town or the Sacramento Zoo, for instance.
In fact, Sacramento has gotten creative with at least one of our shelters before.
In 2017, to mark the opening of a new Sacramento Philharmonic & Opera season, we at Sactown partnered with the SP&O, Regional Transit and Clear Channel (which sells bus shelter advertising and shares a small portion of the revenue with Regional Transit) to create what we called the World's Smallest Concert Hall—an idea inspired by Pittsburgh's Smallest Jazz Club bus shelter (which stood outside a jazz education center for 10 weeks in 2015)—in front of the then Community Center Theater.
The shelter was "wrapped" by graphics that touted the SP&O season's lineup, speakers and a used iPod were installed to play classical music 24 hours a day, the B Street Theatre donated some old folding theater chairs, Allied Custom Upholsterers reupholstered the chairs at no cost, and a $25 plastic chandelier from Amazon provided the sparkle. Concertgoers were decidedly wowed.
There's not a corner in the region that couldn't benefit from this kind of creative—and utilitarian placemaking.
So what are we waiting for? It's time to pull out all the stops.
Reinvent Capitol Mall Already
Bookended by our two grandest civic structures, no public space has more potential. Let's stop squandering it. Here's how.
For anyone who takes the "Downtown Sacramento" exit off I-80 East, the journey starts promisingly enough. The roadway slopes gently upward to reveal a sweeping view of the Capitol, and then down through the iconic, Art Deco-era Tower Bridge that stands as a fitting portal to the city.
But once drivers emerge through the eastern end of the span, they are welcomed by a sad strip of lifeless, dirt-slash-browned grass that runs the six-block length of Capitol Mall. What many have envisioned as the potential Champs-Élysées of Sacramento is merely a deserted and unattractive public corridor whose green space—such as it is—gets trampled on by a sparse string of events like the Farm-to-Fork Festival one weekend a year, and a single-day beer festival.
Watch out, Paris.
Sadly, despite the many fits and starts over the past century, the mall remains one of the capital city's greatest urban planning failures.
As I wrote in a 2015 essay, generations of efforts to right this civic wrong have failed in spectacular fashion. In a Nov. 4, 1949 Sacramento Bee article, the chair of the city's planning commission and the Capitol Mall Advisory Board, Mrs. Arnold Waybur was quoted as saying, "From 1907 until the present, plans for a mall have been offered."
Indeed. In 1923, the renowned German city planning expert Dr. Werner Hegemann—whom The New York Times called "one of the world's greatest authorities on city planning"—was brought in to consult on the space and predicted that "much of the city's destiny would be linked to a stately and magnificent mall."
In 1935, a plan was unveiled that would extend Capitol Park nearly all the way to the Sacramento River. While some streets were included in the plan for automobiles, it was primarily a park space designed for pedestrians.
A dozen years later, the Sacramento City Council "adopted a planning commission report on a proposed plan for the mall." But again, nothing.
Then in 1956, the Bee reported that the city's planning director called the then-new proposal to add a 22-foot-wide grassy strip to the middle of the two-way street, "a ridiculous ribbon," and said, "Too much emphasis … has been placed on traffic features of the mall and not enough on making it a thing of beauty." Bingo. A few years after that article was published, Bee writer Ralph Blagden weighed in, noting that "in 24 years our vision has shrunk from an enlarged, widely grassed and monumental Capitol Mall… to an emaciated, spaghetti-like green strip."
And arguably Sacramento's most heralded architect, Leonard Starks—designer of the Elks Tower, the gorgeous downtown post office, McClatchy High, and the storied Alhambra Theatre—was so outraged by the proposed median that he railed, "You are prostituting the architectural profession to call this ridiculous shoestring a mall. Let's not do something today we're going to be sorry for 25 years from now."
That, fellow Sacramentans, was nearly 70 years ago.
A space that could be a spectacular urban magnet is instead an embarrassment for anyone with even a modicum of civic pride.
But here's the good news: After generations of neglectful state ownership, the city took ownership of this coveted urban canvas in 2006.
As for the bad news: After generations of neglectful state ownership, the city took ownership of this coveted urban canvas in 2006.
There was a brief glimmer of hope in 2011 when the city and the local chapter of the American Institute of Architects (AIA) held an ambitious design competition to rectify this decades-old injustice. Almost 50 entries were submitted—many with great promise. Ideas included creative fountains and landscaping, observation towers, amphitheaters, public art and multilevel pedestrian-only spaces—all of which would be exciting contenders. Judges were assembled. Winners announced. And then, right on cue… crickets.
Since that competition, the city's budget has included over $12 billion in expenditures, including $2.7 million in 2011 to bring cars back to downtown's K Street in what turned out to be an unequivocal failure (more about this below). But where is the funding to invest in a potentially transformative and people-centric project?
Downtown needs gathering places more than ever, and there are few sites as promising as this one, flanked by two of our grandest edifices: the Capitol and the Tower Bridge—structures that reflect a time when ambition actually intersected with accomplishment in Sacramento.
Now is the time to reconvene a panel of design professionals—not politicians—and either dust off the 2011 submissions or host a new global competition that reflects what cities have learned about great urban design in the past decade. The AIA is a natural and neutral organizing agent for such an endeavor, but this part is critical: it needs to be backed with the promise of public and private dollars this time, at least enough to advance the winning ideas to a bare minimum of progress. Private downtown property holders have a stake in the future of downtown, and the city and county do too, so they should all be ponying up.
It's time to live up to our potential. I couldn't agree more with our city's patron saint of architecture, Leonard Starks, when he said in 1956, "If we are not going to try to give the people the kind of a mall they want, I say let's get out of here."
Bring Back the Blue Diamond Almond Tour
Food factory tours have exploded in popularity over the decades. We should resurrect one here that both locals and visitors were nuts about.
When it comes to making cities fun, there's a name that urban planners use to describe the kinds of projects that bring a place to life—civic amenities.
They range from museums and theaters to zoos and aquariums. They are what tourism bureaus tout to attract visitors, and when done exceptionally well, they raise the profiles of cities to people around the country and the world.
In Atlanta, for example, the civic amenities include the stunning Atlanta Botanical Garden (complete with a tree-top canopy walk, which, as the City of Trees, we definitely need here), the Martin Luther King Jr. National Historic Park, the Jimmy Carter Presidential Library and Museum, the National Center for Civil and Human Rights, Centennial Olympic Park, the Georgia Aquarium (the largest aquarium in the United States), and, of course, the World of Coca-Cola museum and tour.
That's just a small sample of what the Georgia capital has to offer.
Moreover, the leaders there have successfully capitalized on what makes their city unique. We have great art museums like the Crocker and Davis' Manetti Shrem, but every large city has great art museums, and every city has attractions like a zoo.
The amenities that define a city's character are those that tap into its rich history. Our finest examples of that kind of amenity are Old Sacramento (which evokes the Gold Rush and Old West), the California State Railroad Museum (which celebrates our pivotal role in the Trans-continental Railroad), and… well, that's about it. In fact, the railroad museum was the only Sacramento attraction to be listed in a recent Los Angeles Times article on "The 101 Best California Experiences." The only one.
There are plenty of other aspects of our history that we could bring to life, but none more so than if we revived the Blue Diamond Almond Factory Tour.
We first floated this idea a decade ago, and all these years later, it remains the single most obvious, most natural civic amenity that we as a city could conjure.
For those too young to remember, the Blue Diamond factory at 16th and C streets actually did have public tours for decades. They were launched in 1966. In a 1967 article in the company's in-house publication Almond Facts, the mile-long tours were described as "surprisingly popular, exceeding all expectations." (Pictured above is an ad published in the Bee in 1982 touting them.)
But the tours ended in the '90s, according to the company, "for liability reasons due to strenuous state regulations requiring additional investment in plant facilities."
When we first suggested this idea in 2013, the company's revenues were around $1 billion. Now they are $1.6 billion a year. Surely they can afford to build a marketing juggernaut—juggernut?—like this.
The fact is, food tours are still wildly popular.
The Ben & Jerry's Factory Experience Tour is the No. 1 tourist destination in the state of Vermont, while Tillamook Creamery in Oregon—which offers self-guided tours, guided tours and special ice cream tasting experiences—draws over 1.3 million visitors per year.
In our own backyard, the Jelly Belly Factory Tour in Fairfield draws over 500,000 visitors per year, and just added a brand-new museum component this past June.
Blue Diamond is Sacramento's biggest global brand since Tower Records. It's the world's largest almond processor, exporting its products to over 100 countries.
With Blue Diamond's investment in flavored almonds (they recently introduced inventive flavors like Korean BBQ and the holiday-themed peppermint mocha) and almond milks, a tour or a similar experience—whether it's in the actual factory or simply nearby (the World of Coca-Cola isn't located at the bottling facility)—would be a massive hit and likely one of our top tourist destinations overnight. Done right, it would be a fun place to take friends and family visiting Sacramento.
Perhaps a change in leadership will open the door for this opportunity. A new CEO, Kai Bockmann, took over on Jan. 17. So now might be the right time for our city's leaders—Mayor Steinberg, Downtown Sacramento Partnership, the Greater Sacramento Economic Council, the Sacramento Metro Chamber and others—to engage Blue Diamond and convince them that a behind-the-scenes tour of some kind would not just be great for Sacramento, but an incredibly savvy marketing opportunity for their brand. We can't simply wait and hope.
It's time to break out of our shell. Let's go nuts.
Install More Protected Bike Lanes, Please (Now)
Cities everywhere are racing to create healthier and safer—and far more fun—communities with protected bike lanes, which boost sales for retailers, reduce accidents, fight climate change, and improve auto traffic. It's time to move at the speed of progress.
Making people want to live in—or visit—any urban area, whether it's downtown Sacramento or downtown Roseville, all comes down to quality of life.
People hate traffic, and we all hate looking for parking. Not to mention, the startling acceleration of climate change is hitting Sacramento hard, along with the rest of the world, including our city's single hottest day in recorded history—116 degrees on Sept. 6 last year (our previous September high was 109). And science has clearly shown that more heat brings unhealthier air, especially in car-dependent cities.
Downtown Sacramento is finally getting some long-awaited housing projects, which is absolutely critical for the district in a post-pandemic world filled with empty office buildings whose occupants aren't around in sufficient numbers to support the restaurants and retailers that are the backbone of any dynamic city.
But if we want to make Sacramento come alive, we can't do it without protected bike lanes—lanes that are separated from vehicular traffic by physical barriers and encourage biking by making cyclists feel safe. Today, with very few such bike lanes, people feel nervous riding on the streets, and pedestrians feel unsafe with cyclists and scooterists taking to the sidewalks to avoid cars. The rise of bike-sharing and e-bikes is also creating more of a demand for protected bike lanes.
Study after study shows that protected bike lanes boost sales for the retailers and restaurants adjacent to them—a benefit that struggling businesses in the city could use now and in the future. The logic is that when riding a bike and seeing a store or cafe that you might want to visit, you can just stop and walk in.
While cities across America are prioritizing what is called active transportation—giving people more and better options for walking, scootering and biking—Sacramento is decidedly in the slow lane when it comes to bike infrastructure.
I wrote about this in 2017 and back then, of the 35 largest cities in America, Sacramento ranked dead last for the total number of protected—often also called "separated"—bike lanes. We had no protected bike lanes at all.
A year later, in 2018, we installed 2.6 miles of protected bike lanes. Nearly five years later, we're up to 4.9 miles.
For comparison, Portland currently has 29 miles of protected bike lanes.
San Diego has 35 miles.
Seattle has 35 miles (with plans to hit 50 miles by next year).
San Francisco has 43 miles.
And yes, all of these cities are also dealing with the same problems we face, like homelessness, crime and lack of affordable housing. But they also all see what our region's leaders don't appear to—that funding bike infrastructure in a meaningful way will help them achieve many of the other goals to improve their cities.
In 2021, San Diego Mayor Todd Gloria said, "If we're going to make meaningful progress towards hitting our climate goals, if we're going to change the culture around transportation in San Diego, then we're going to have to connect our neighborhoods with a seamless network of protected bike lanes."
And in Seattle, in 2019, the city's department of transportation revealed that by converting a regular bike lane (marked only by paint) to a protected one, ridership surged a stunning 413%.
Guess what else? It's just fun to ride a bike in a safe environment.
But despite the successes all around the country, our failure to build dozens of miles of protected bike lanes by now is a blind spot that appears to be almost wholly unique to Sacramento. Nearly every other major city seems to get it.
Yes, there are 5.4 additional miles of separated bike lanes on the way in Sacramento over the next year or so, but if our region's leaders truly want to revitalize downtown—and make substantive positive changes for the entire city—there needs to be a much greater sense of urgency on this front.
Mayor Steinberg and the rest of the council—along with state representatives like Assemblyman Kevin McCarty—need to find the funds to make this a reality or risk falling even further behind on our climate and safety goals, and leaving downtown without a key quality-of-life indicator.
It's time for local leaders to kick their efforts into higher gear.
Return K Street to the People
When it comes to first impressions of our city, downtown's K Street is arguably our most important corridor. It's time to reimagine "The Kay" as a thriving pedestrian mall.
If Capitol Mall has been cited for generations as the potential Champs-Élysées of Sacramento, downtown's stretch of K Street is the one place where that lofty dream actually came the closest to being realized—a long, long time ago, of course.
From the 1930s to the 1950s, it was the beating heart of the city's entertainment and retail district, with an abundance of movie "palaces," retailers and restaurants lining the bustling street.
But the nationwide post-war exodus to the suburbs killed it. Megamalls, cineplexes and abundant parking lured Sacramentans away from the central city. K Street merchants struggled and closed in large numbers, and for decades after that, K Street became the victim of one failed experiment after another.
One of the district's most recent misfortunes came in 2011, when the city voted to reintroduce cars to K Street after a 42-year absence in an effort to revitalize the corridor. It didn't work.
A dozen years later and K Street's situation—at least between 8th and 12th streets—has only worsened, even though the area is now anchored by our new $600 million arena on its western flank, and the $350 million in renovations of the convention center and performing arts theater on the eastern side.
So after a billion dollars of investment on both ends, our once grand urban promenade still struggles with empty storefronts. Pyramid Alehouse at 11th and K closed in 2013 and the space—in a prime location one block from the State Capitol—has sat empty for a decade (a non-retail lease for the space was recently signed, which sadly is one more obstacle to the street's chances for a renaissance). Pandemic casualty Ambrosia Café across the street also remains empty. The list of shuttered businesses—some in structures owned by neglectful property owners—is long.
Just how critical is this four-block stretch?
K Street is the first impression for tens of thousands of first-time visitors to Sacramento. Not only does the newly expanded convention center draw throngs of attendees from all around the country, but every single major downtown hotel is bordering "The Kay" or within blocks of it. This is as close to a code-red urban emergency for tourism and economic development officials as we have.
Cars are clearly not the answer. They haven't helped the existing businesses, there's virtually no street parking on K, and very few cars even traverse the street to start with.
People are the answer. So let's bring back the pedestrian mall.
The good news is that the 153-unit Cathedral Square apartments are set to open this spring on 11th between J and K. There's also talk of other residential projects popping up nearby.
Let's follow in Denver's footsteps, whose 16th Street pedestrian mall is the No. 1 tourist destination in the city. Or let's take a page from Times Square, where outdoor chairs and tables replaced vehicular traffic. We need street furniture, public art, creative events—civic bells and whistles that attract people to this street and support our existing retailers while drawing new ones. And if we need to threaten the use of eminent domain (where the city forcibly purchases blighted properties for fair market value) to get property owners to wave the white flag and bring this street back to life—like the city successfully threatened to do on the now-thriving 700 Block of K many years ago—let's toughen up and do it already.
We can't just hope it will get better.
Yes, the homeless crisis urgently needs to be addressed in this neighborhood. But as Mayor Darrell Steinberg is fond of noting, we can walk and chew gum at the same time.
Now would be a good time for the mayor and the city council to walk the walk.