Spinning Our Wheels
Despite having one of the country's great biking paths along the American River, Sacramento is trailing the nation when it comes to safe urban cycling options. It's time to shift gears.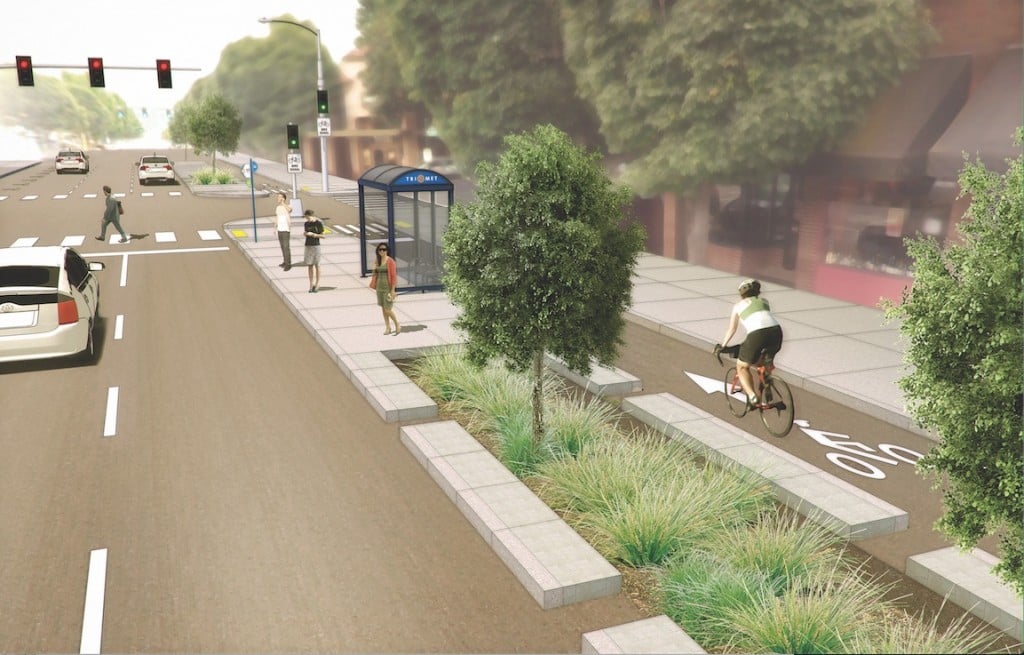 On May 14, Sacramento will host the Amgen Tour of California, with the men's race kicking off next to the State Capitol and the women's race finishing there.
It's a great, high-profile moment for our city. Let's just hope that no local cyclists get hit by a car while the world press is at our door.
You see, for a town so celebrated for its temperate weather, the extraordinary American River Bike Trail and its prominent annual role in the Tour of California, in the national race currently underway to build what are known as protected bike lanes, we're not just behind, we're pretty much in last place.
Not a cyclist? That's OK. This involves you too. There are several important reasons you should care as much or more than the cyclists themselves, even if you haven't touched a Schwinn since grade school. We'll get to that in a minute.
But first, what is a protected bike lane?
While the name varies—it's also sometimes called a separated bike lane or cycle track—in a nutshell, it is essentially a lane that includes physical barriers, such as poles, planters or curbs, to prevent cars from being able to enter the cyclist's space. These paths make cyclists feel far more secure (thus encouraging more riding), prevent accidents, and boast many financial and safety benefits that extend far beyond the cycling community.
In fact, while their primary purpose, of course, is rider safety, protected bike lanes are also the latest arrow in the quiver of American cities who are feverishly competing for coveted millennials and other valued members of the modern workforce. These lanes speak directly to a contemporary ideal of quality of life—quite simply, young people are driving less and biking more because cycling is healthier, cheaper, and better for the environment.
It's in this race with other cities—where we're competing for companies, workers, tourists, etc.—that we're basically spinning our wheels, going nowhere fast on a virtual stationary bike.
To wit: Of America's 40 largest cities, 32 already have protected lanes, and many have had them for years. San Diego built its first in the 1980s. New York, with some of the most congested streets in America, opened its first one along 9th Avenue in 2007 and added 18 miles of them in the last year alone. And not only have the efforts made the roads safer—in 2015, Manhattan had approximately half the number of cyclist and pedestrian deaths as Sacramento (24 as opposed to 44)—but small retail businesses along the 9th Avenue protected lane saw a dramatic sales increase of 49 percent within three years after the lane was installed, versus just 3 percent for the rest of the borough.
San Francisco, even with its hilly terrain, boasts 14 miles of protected bike lanes with many more on the way. In April 2016, Oakland opened one on Telegraph Avenue, and in less than a year reported a 40 percent drop in collisions over previous years; this despite a 78 percent increase in bike ridership. In Portland, meanwhile, the city deems these lanes to be so critical, that it directed they become the "design standard" for all new construction and roadway retrofits.
Sacramento? We're barely competing.
Of the eight "Top 40" cities that do not currently have protected lanes—which includes Sacramento—Phoenix already has numerous "buffered" bike lanes (paths separated from auto traffic by painted no-drive zones; not as safe as cycling tracks, but a nice start), and Fresno, Oklahoma City, Jacksonville, Florida, El Paso, Texas, and Mesa, Arizona, have protected lanes scheduled for completion in 2018.
Mesa city bike planner Jim Hash says, "I have a dedicated budget to put in another five miles over the next two years."
That leaves Sacramento and Las Vegas as the only two "Top 40" cities in America without an imminent protected bike lane in sight. In fact, we're not even among the first 20 cities in California to create one.
Our first such planned path—a 0.8-mile stretch from C Street in midtown to Richards Boulevard—was first proposed in 2014 and is currently scheduled for completion in 2020. That's six years in the making. This in the same city that built the world's most technologically advanced sports arena in 26 months.
In September, Bicycling magazine ranked the top 50 bicycle cities, and Sacramento merited a lackluster No. 37, and that's only because of the amazing American River Bike Trail. "Even with its impressive trail network, an increasing number of downtown developments (such as the new Golden 1 Center arena), and a large contingent of bike commuters," the magazine declared, "Sacramento lacks any progressive bike infrastructure, such as protected bike lanes and bicycle boulevards."
Yes, you read that right. The capital of California "lacks any progressive bike infrastructure."
Our absence of urgency for this universally lauded civic amenity is nothing short of baffling. Not only are these lanes providing safe areas to ride but, by extension, they're making their cities more desirable places to live. Hardly a day goes by that our local leaders don't speak of luring tech companies to the region, attracting talented twenty- and thirtysomethings and creating a destination city.
The powers that be in other towns do too, which is why they've put these cycling tracks at the top of their agendas.
For instance, New York City recently completed more than 400 miles of these lanes. "We know that protected bike lanes not only get more people cycling, they calm traffic and save lives," stated Mayor Bill de Blasio last September.
Until September, Philadelphia was the largest city in the U.S. without a protected lane. At the ribbon cutting for the city's first such lane, Mayor Jim Kenney committed to adding 30 miles of new cycling tracks during his current term, which runs until 2020. Sacramento is scheduled to create a mere 0.8 miles in that same time period.
When Tampa, Florida, opened its first separated lane last summer, the transportation director of the Tampa Downtown Partnership, Karen Kress, spoke at the time of the escalating bike traffic in the area, saying, "It is blowing up. There's been so much pent-up demand for safe cycling conditions. [Commuter cyclists] are coming out of the woodwork."
In 2010, Chicago Mayor Rahm Emanuel committed to building 100 miles of new bike paths by 2015. He hit that goal, with about 80 of those miles being buffered lanes and about 20 of them being protected lanes. In 2016, he committed to another 50 miles of new protected routes by 2019. In addition to rider safety, he also cited the economic value of such an amenity. "As we add more and more bike lanes, we continue to recruit more companies and more and more workers who work in the new digital economy," said Emanuel. "So these types of investments actually lead to economic growth."
Meanwhile, in Des Moines, Iowa, where the first protected lane was approved in March, Larry James of the local chapter of the Urban Land Institute (the driver behind this effort) bemoaned, "We are way behind the curve in pushing these ideas."
Hear that, Sacramento? Des Moines plans to install its first protected lane this summer and they're beating themselves up for being "way behind."
In fact, we're even getting trounced by our next-door neighbors. Davis is the home of America's first-ever bike lane, built in 1967, as well as the country's first protected intersection (which protects bicycles all the way around an intersection), built in 2015, and has two more on the way. West Sacramento will debut almost three miles of separated lanes this year and Rancho Cordova will open two miles of them next year.
But there is hope for Sacramento.
For all the bad news, Jim Brown, the executive director of the Sacramento Area Bicycle Advocates (SABA) is cautiously optimistic. He says that the city's Bicycle Master Plan was badly outdated before being updated last August. He also believes Mayor Steinberg will be more engaged on this issue than his predecessors. To his credit, our new mayor did cite the need for protected bike lanes on his campaign website last year, and he also suggested having bicycle-friendly infrastructure be part of any new developments. In addition, his chief of staff, Mike McKeever, was, until recently, the head of the Sacramento Area Council on Governments, a regional transportation planning agency.
Brown also believes we have one of the most pro-bike city councils ever, and that the new crop of progressive urban developers building in the central city are financially motivated to construct fewer parking spaces and create more alternative transit opportunities.
But he's most excited about the city's new "bike czar" (less of a mouthful than Active Transportation Program Specialist) Jennifer Donlon Wyant, citing her experience with Alta Planning, a private sector company that has designed protected bike plans for Seattle, Memphis and elsewhere. He says her enthusiasm and her expertise in securing federal grant money for such projects will give Sacramento a big leg up.
Sacramento and Las Vegas are the only two "Top 40" cities in America without an imminent protected bike lane in sight. In fact, we're not even among the first 20 cities in California to create such a lane.
Of course, as Mayor Steinberg also stated on his campaign website, "We cannot make meaningful progress if we do not provide the necessary staff and resources." That's the key. Will the mayor, the council and other civic leaders commit the staffing and funding necessary to help Sacramento play catch-up? According to Brown, Sacramento spends only a fraction of what other cities spend on their transportation budgets. Of course, it didn't help that Measure B, a proposed half-cent sales tax for transportation and transit, narrowly failed at the ballot in November.
But, in the end, there are no good excuses. Sure, we can blame factors like funding deficits and staffing issues, but so can every other city. Yet they are finding ways to build protected lanes. They're prioritizing. Whatever we're doing to create a bike-friendly city simply isn't happening fast enough. Period.
SABA's Jim Brown, arguably as astute an observer of cyclists' needs in our city as anyone, would like to see a protected lane installed on L Street between 5th and 15th streets, connecting midtown to the Golden 1 Center. Because these types of lanes need more space than regular bike lanes, they often require cities to remove street parking and, in some cases, reduce the number of lanes devoted to cars (which, surprisingly, often results in better traffic flows or cities all over the country wouldn't be doing it). He's concerned, however, that Sacramento will be more reticent than ever to remove any downtown parking spots since the revenue from those spots is helping fund the city's portion of the new arena.
It's a valid concern and one we need to be mindful of, but the result of a protected lane on this specific route would be fewer accidents, more cyclists commuting to the central business district, less traffic and cleaner air. This could also be the single highest-profile way to trumpet our bike-forward culture to both locals and, importantly, out-of-towners—those staying in our downtown hotels and those visiting the State Capitol (at 11th and L), which draws 600,000 visitors a year.
But let's not just talk the talk. Let's set an aggressive date to build this lane and hit it. With our natural advantages as a bike-friendly city—flat topography and great weather—and our unique role as California's capital, we should be all over this.
My two cents: Let's make our deadline May 2018, just in time for the next Amgen Tour of California. One year from now. (And it doesn't hurt that May 18, 2018 is National Bike to Work Day). And let's move mountains to make this happen. A global television audience will be watching as the racers cross the finish line on L Street. It's time to show the world that, when it comes to creating a progressive bike culture, Sacramento is finally on the right path.
You Might Also Like
Spring Forward – The 10 best bike trails in the Sacramento region
Sacramento Bike Czar – Q&A with Jennifer Donjon Wyant
Send in the Cones – How city's are reimagining their streets for walking and biking