Boulevard of Broken Dreams
For decades, civic and state leaders have tried—and failed—to conjure a Capitol Mall worthy of its namesake building. Now is the time to sharpen our focus on our city's grandest gateway.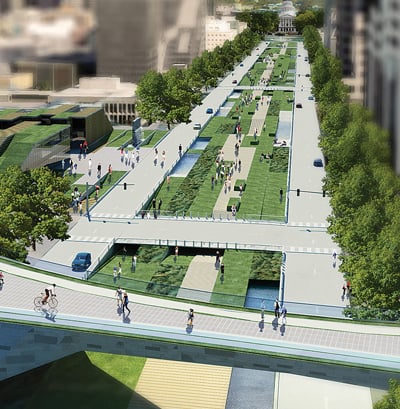 WWalk by the arena construction site in downtown Sacramento on any given day and you'll see people standing there staring. If they're longtime locals, the looks on their faces are likely ones of disbelief. After all, talk of a new arena extends all the way back to the mid-'90s. An entire generation.
How about the promise of the railyards? It's finally on the verge of becoming a reality after being on the drawing board as far back as the '80s.
And then there's Capitol Mall. The much-discussed notion of creating a Capitol Mall befitting the great state of California dates back to '07.
No, not 2007. 1907.
In a Nov. 4, 1949 article in The Sacramento Bee, the chair of the city's planning commission and the "Capitol Mall advisory board," Mrs. Arnold Waybur, was quoted as saying, "From 1907 until the present, plans for a mall have been offered. Many of these were very fine, but two wars and financial difficulties prevented their being carried out."
In retrospect, Mrs. Waybur's comment was the understatement of the century—virtually the entire century. Plans haven't simply been "offered." They've been a near constant source of heated debate.
For the better part of the 20th century, and now a fair chunk of the 21st, civic and state leaders have been feuding, brooding and altogether bumbling their way through concepts and proposals to create a Capitol Mall capable of rising to its oft-stated potential as "one of the most beautiful streets anywhere," in the words of world-renowned German city planning expert Dr. Werner Hegemann back in 1913. Hegemann—one of a long line of expert consultants whose advice on the subject has been sought and summarily dismissed over the last century—also declared that "much of the city's destiny would be linked to a stately and magnificent mall."
Was he right? Well, maybe more than you might think. After all, most great cities establish a sense of place either through great architecture, thoughtful urban design or stunning natural topography. We can't do much on the topography front, but we can on the other two, making this discussion about Capitol Mall a worthy, albeit often frustrating one.
The debate swirling around the creation of an avenue fit for the capital of California is quite possibly Sacramento's longest-running exercise in civic futility. In fact, it started long before a "Capitol Mall" even existed, back when the mall we know today was simply M Street, and populated with gas stations, nightclubs and low-end housing. A cursory review of city and state records along with Bee archives shows that generation after generation of local leadership has struggled mightily with how to energize these eight or so blocks between the State Capitol and the Tower Bridge.
In 1935, a bold plan (above) was put forward that extended Capitol Park from its current location—between 10th and 15th streets—nearly all the way to the riverfront. There were some streets planned, but it was largely a park and pedestrian space meant to encircle the Capitol in natural grandeur.
But over time, the city and state's grand ambitions apparently atrophied, along with the mall's physical footprint.
Decades after the 1935 plan was initially proposed, Bee writer Ralph Blagden noted that "the design caused a flurry and then died out." He went on to opine, "In 24 years our vision has shrunk from an enlarged, widely grassed and monumental Capitol Mall of 1,040 feet all the way to 2nd Street, to an emaciated, spaghetti-like green strip of a maximum of 36 feet."
In 1947, the Sacramento City Council actually "adopted a planning commission report on a proposed plan for the mall." But once again, nothing happened.
Then in the late '50s, the debate really heated up. For better or for worse, the city was clear-cutting much of the existing property—from homes to jazz clubs and more—in the name of "urban renewal." So with a virtual blank slate to work with, now was the time to act. Capitol Mall was about to move from concept to reality.
In 1956, the Bee reported that the city's planning director called the then-newly proposed 22-foot-wide grassy median strip, "a ridiculous ribbon." The article said, "Too much emphasis, [the planning director] believes, has been placed on traffic features of the mall and not enough on making it a thing of beauty."
And Sacramento's most heralded architect at the time (and perhaps of all time), Leonard Starks—designer of the Elks Tower, the I Street post office, McClatchy High School, and the beloved Alhambra Theatre, to name just a few—roared into the debate. Also outraged by the proposed thin grassy median, Starks suggested eliminating all traffic between 7th and 10th streets to create a landscaped setting. "You are prostituting the architectural profession to call this ridiculous shoestring a mall," he said. "If we are not going to try to give the people the kind of a mall they want, I say let's get out of here. Let's not do something today we're going to be sorry for 25 years from now."
In the midst of the fracas, U.S. Supreme Court Chief Justice Earl Warren even weighed in during a 1957 trip back to Sacramento, where he had once served as governor, and observed, "If this mall is completed, in no city in the country would we have a more inviting and beautiful approach than in Sacramento."
A few years later, the state director of public works was quoted by the Bee as saying, "Governor [Pat] Brown is most anxious to have beautiful approaches to the Capitol, and he has asked us to do everything possible toward that end."
It was wishful thinking.
Despite the lofty proclamations from the highest reaches of political power, no one, it appeared, could agree on virtually any aspect of how to carve out an urban space that would make both the city and the state proud.
By the early '60s, city and commercial interests that looked to populate the mall with office buildings had reduced the original vision of a grand and stately boulevard down to merely a wide street, with little to no character other than some grassy rectangles down the middle, and largely inaccessible ones at that.
As the decade progressed, various camps fought over how to make the most of the greatly reduced vision of the mall. Multiple plans were floated, and some were even technically "adopted" or "approved," but never came to fruition. Among the proposals: one that had 8th Street dip below Capitol Mall; one that closed all traffic from 6th to 10th streets; one that filled all of the median strips with pools and fountains; and even one with a massive arch that rose over and across the mall between 3rd and 4th streets, majestically framing the Capitol as drivers crossed the Tower Bridge into Sacramento—long the primary entrance to the city from the west.
By the end of the '60s, the Capitol Mall we know today, absent a few skyscrapers, was in place. Compromise had resulted in commonplace. Ironically, many of the city and state leaders who so fervently believed that the Capitol deserved a mall commensurate with the vaunted stature of California's political epicenter were some of the same leaders who couldn't agree on almost anything and so settled for nearly nothing. In the end, perhaps they did get a mall commensurate with their stature, after all.
And now, nearly 110 years after the debate commenced, we're staring squarely at two upcoming milestones that should be lighting a fire under our generation to finally right the wrongs of our civic forefathers and mothers.
The first is in November, which marks four years since the city and the local chapter of the American Institute of Architects announced the winners of a design competition for the mall that resulted in loads of promising ideas and eye-popping visuals from dozens of architects around the globe. Among the ideas worthy of consideration: observation towers, an uninterrupted park from one end of the mall to another, performance spaces, public art, lush landscaping, water features (yes, with recycled water), and much more.
The second milestone will come this January when the city will mark 10 years since it acquired Capitol Mall from the state with the express purpose of creating the civic space that the state never could.
So when it comes to actually correcting this historic urban planning blunder, what makes this decade any different than the 11 that preceded it? Why even bother when so many others have failed?
Because now a key new ingredient is about to be added to the mix—people.
One block north of Capitol Mall, a nearly billion-dollar development is rising from the ground in the form of a brand new arena, shopping district, and a residential tower and hotel. Combined, they will bring millions of people—yes, millions—to the central city each and every year.
One block south of the mall, the massive Sacramento Commons project, which promises over 1,000 residential units and a large new hotel, was approved by the city council this past summer.
The mall also sits right between the city's two biggest tourist attractions—the Capitol and Old Sacramento.
That means this seemingly cursed space that has haunted generations of politicians, city planners, architects and residents may finally be ready for its close-up.
In fact, it's already getting a head start.
Recently, the cities of Sacramento and West Sacramento received a national grant that will help fund public art pieces along part of Capitol Mall and the riverfront. And more and more events are being held there, such as the recent Farm-to-Fork Festival and the parade for the hometown heroes who thwarted a train attack in France.
But to make this space a true destination, now is the time for the city and the adjacent property owners—including the state (yes, Gov. Brown should help fulfill his father's wishes)—to seize this moment.
How can a relatively narrow strip of land—52 feet at its widest point—on only eight blocks become a destination? Just look at New York's High Line as one example. Only 30 to 60 feet wide and 13 blocks long, it has become an icon of adaptive reuse since it first opened in 2009, converting a raised rail platform into an urban oasis that is now one of Manhattan's top destinations.
No, Capitol Mall doesn't have the bones of an industrial-chic raised train platform. But the High Line does prove that creativity can turn a long-neglected strip of land in the middle of an urban environment into something extraordinary.
We're also not the first city in the country to grapple with a Capitol Mall issue.
In Nashville, the city struggled with its own version of our Capitol Mall for many years until the early 1990s when the capital city and state of Tennessee initiated the design process for a massive new green space to mark 200 years of statehood. On June 1, 1996, the new Bicentennial Capitol Mall State Park opened. In 2006, the Nashville Business Journal ranked it the No. 1 tourist attraction in Nashville. And one of its architects, Seab Tuck, says it currently boasts over one million visitors per year and "has definitely created private and city investment." Tuck says it is now "one of Nashville's hottest neighborhoods."
So let's find out if Dr. Werner Hegemann was right. Let's find out if a magnificent mall can indeed help change our city's destiny. And let's close this century-long chapter of civic incompetence for good.