Where It's Easy Being Green
Welcome to Nudge Eco Store, a retail wonderland where you can shop guilt-free, because every item—from shampoo bars to bamboo bandages to vegan eyeshadows—on the recycled shelves of this midtown boutique is sustainably made. If you're aspiring to live a more earth-friendly lifestyle, this shop will gently guide you in the right direction.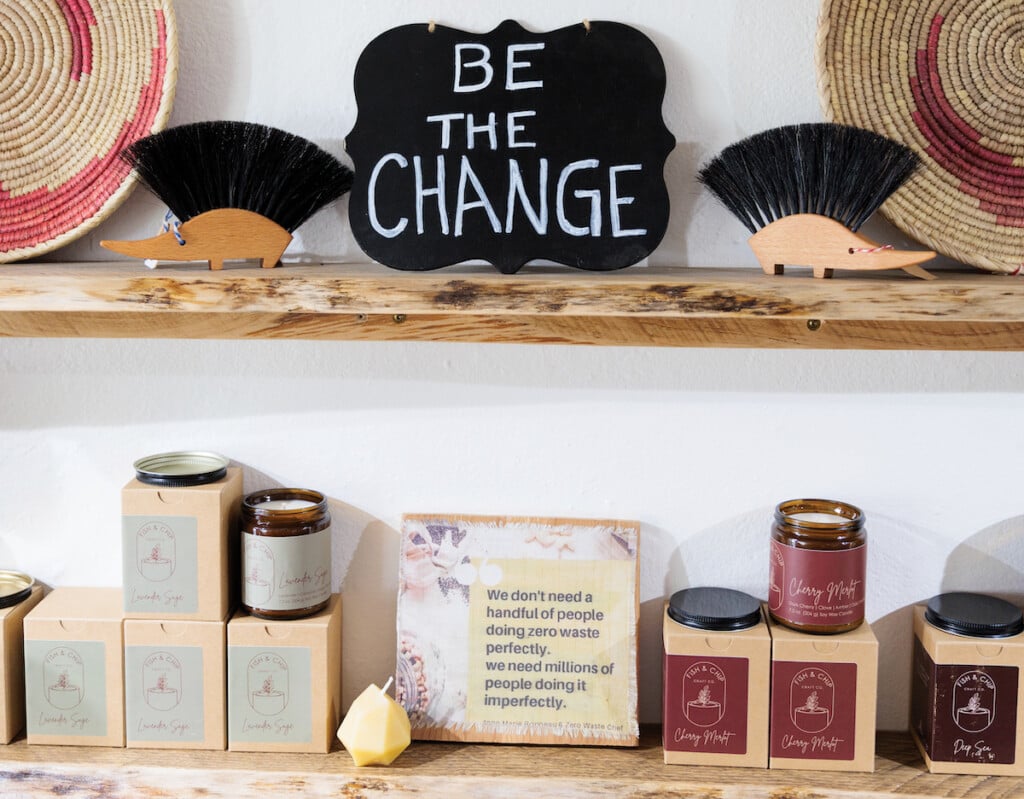 By the time I walk into Nudge Eco Store, after staying up into the wee hours perusing owners Nick and Alisha Lee's engrossing social media, I have quite a wish list for Cousin Tony, my vintage Toyota adventuremobile. At the top of it is an "arc spark" stick lighter, a slim, stainless steel magic wand whose two prongs produce an electric spark powerful enough to light a stove in the wind, but flameless and thus wildfire-safe, and endlessly rechargeable. A plastic-free van-lifer's dream gadget.
"We're building out a van-life section," Nick says with a proud smile when I say as much, leading me to the lighter. The Lees have a 2006 Sprinter themselves that the outdoorsy Montana transplants use for family vacations with their two kids, Linden, 14, and Alina, 12, from their South Land Park home—road-tripping to the Grand Canyon has a radically smaller carbon footprint than, say, flying four people to Orlando or Hawaii. "When we go out in the van, we realize that we don't need [practically] anything," Alisha says.
Cousin Tony and I, on the other hand, need a whole lot of things, like an array of silicone lids that can be used to MacGyver a humble mason jar into becoming everything from a sippy cup, toothbrush holder and infuser to a cheese grater, coffee grinder and coffee steamer. "In a small space, you can have a mason jar with all the tops you need," Nick says. After all, there are few things greener than buying something that eliminates the need to buy a bunch of somethings. And I already have the mason jar.
The Lees come as close to zero waste in their professional and personal lives as possible (although sustainably packaged pet food remains a hurdle, Alisha says, and they drive their daughter—who normally walks—to school on days when she has cello practice). The store produces less than a kitchen-sized bag of trash per week (most stores that size would have a dumpster). Occasionally, suppliers will ship them product in bubble wrap. When that happens, Nick puts them in touch with environmentally friendly packaging suppliers. Making the world cradle-to-compost sustainable one box at a time is the Lees' mission.
That mission was sparked by seeing a beach brimming with plastic flotsam on their Caribbean honeymoon in 2007 and grew after the birth of their son a year later, but the Nudge origin story really began in 2013 with a boo-boo. "Band-Aids are something you find in the park, in the pool, in nature. They never go away. They're made of plastic. They're never going to biodegrade," says Alisha, who is a nurse. "It bothered me that I was putting them on an open wound on my kid."
Nick stepped in to research the problem. Formerly the COO of the homeless service agency Sacramento Steps Forward, he is a bit of an obsessive brainiac when it comes to sustainability, and the author of Nudge's fact-filled social media posts. (Did you know, for instance, that many tea bags are awash in microplastics, and it's estimated that the average American ingests up to a credit card's worth of the stuff every week? I didn't.) He found the solution in the form of plastic-free bandages from Australia that had to be ordered by the caseload. After five years of using (and liking) them, the couple wanted to spread the eco-love and started selling the bandages, along with a handful of other items they had sourced for themselves, at street fairs in 2018 and at a pop-up in 2020.
Soon thereafter, their friend and retail mentor, Susan Stewart, owner of the popular gift shop Strapping Store, tipped them that the space next to her midtown location was opening up, and Nudge Eco Store launched in May 2021. Today, the 800-square-foot boutique is bursting at the seams, and every one of the over 400 items displayed—on gracefully patinated government-green shelves recycled from the California Secretary of State's office—tells a story.
---
READ MORE: Best of the City – Nudge Eco Store made our 2021 list
---
"We've set up light-bulb moments around the shop," Nick says. "I'll show you my favorite thing." He picks up a sleek black razor and gently flips it open. "You've seen the safety razors your grandparents used, right? This one has a pivoting head and you can put in multiple layers." He snaps in three slim blades, held in place by magnets, and hands it to me. "Feel how gorgeous it is." It does have a pleasing heft in the hand and looks like a miniature Brancusi sculpture. The genius bit is that the blades are recyclable. "Bring them in, and we send them back to the company in San Francisco that makes these razors," Nick adds. "They make a cutlery set out of the blades." Which you can also buy at Nudge, natch.
The razor is typical of the kind of eco-friendly goods the store carries: superlative executions of everyday items that improve on the functionality of the originals while imbuing them with style. There are reusable beeswax-coated fabric bowl covers in pretty picnic-friendly patterns, and a biodegradable version of cling film that's virtually indistinguishable in form and function from the plastic kind. You can also buy shampoo, conditioner and even dish soap in innovative bar form, eschewing the chemicals in liquid soap, and above all, the plastic packaging; forever-reusable copper beads that clean bottles when you swish them around; antimicrobial wool kitchen sponges that last for years and can be composted at the end of their life cycle; and cotton bags that magically extend the life of vegetables from days to weeks, reducing food waste.
"Our goal is to find a sustainable alternative for everything," Nick says, "from the moment you wake up to the moment you go to bed." To that end, there's also a full wall of luxe, plastic-free beauty products, like Cult + King Jelly, a nontoxic Himalayan pink salt hair gel in an elegant vintage-style glass bottle, and vegan brand Elate's lip and eye pencils and eyeshadow palettes in packaging made of compostable bamboo and corn.
Matt Henigan—who works in the green sector for the state by day and has known Nick since they earned MBA degrees in sustainability together at the Presidio Graduate School—invented Matt's Miracle Deodorant Booster, a natural grooming product with an enthusiastic following at the Lees' shop. "Even if you take the eco aspect out of it, Nudge offers innovative solutions to people's common problems," Henigan says. "It's not just for eco-conscious consumers. It's for early adopters—the people who waited in line for the first iPhone."
In other words, one thing you can't get at Nudge is a lecture—there is no shalt-ing or should-ing here. "We want people to make little choices that make a difference," Alisha says. "Our thing is nudge, don't judge."
Before leaving, I invest $31 in the arc spark lighter, a small step in the ongoing de-plastification of my van life. No more disposable dollar-store Bic lighters for this girl: I've been Nudged.
1126 18th St. 916-538-0551. nudgeecostore.com