A Davis dessert company launches a Kickstarter campaign for a s'mores bakery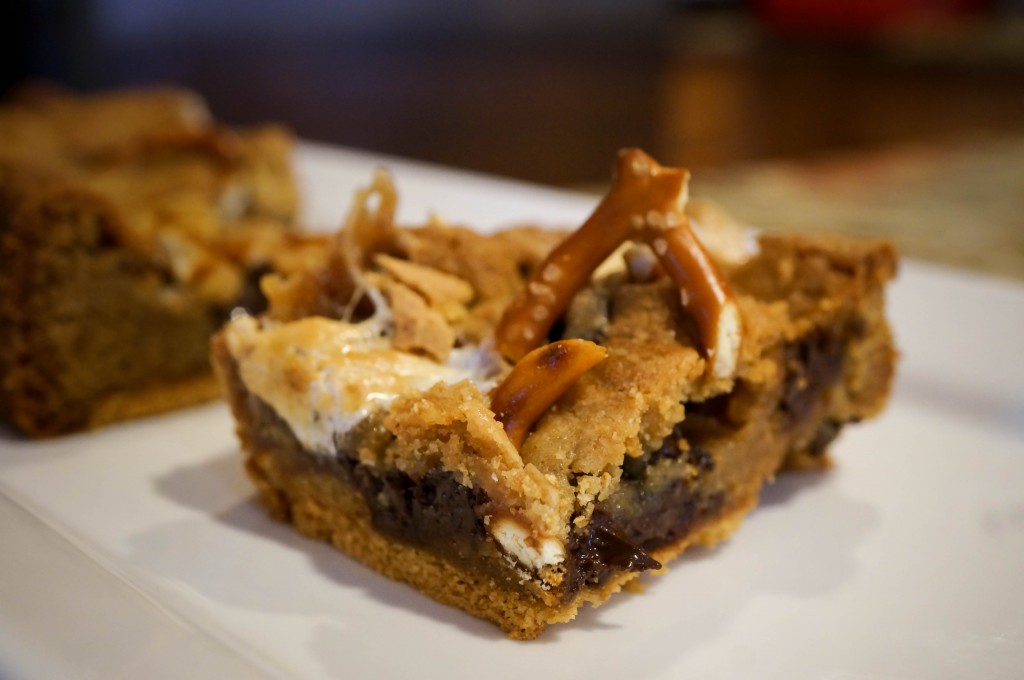 UPDATE: Davis-based baker Jenn Cheng has launched a Kickstarter campaign to raise funds for a storefront that would highlight her tasty s'mores-meets-cookie concoction, the S'mores Bar, which she debuted last April. Cheng hopes to raise $75,000 by Feb. 26 to lease a spot in either Davis or Sacramento where she can bake and sell her original S'mores Bar (made with cookie, chocolate chunks, marshmallows and pretzels) as well as her new flavors: S'mOreos (which features an added Oreo cookie layer and crumbled Oreos on top) and the Churro (sugar-and-cinnamon-rolled cookie dough topped with caramel and a cinnamon-sugar fried tortilla). Cheng also has plans to gradually add items to the menu (like cookies and macaroons), as well as a coffee bar. Read more about the S'mores Bar in our original 2015 article below, and visit kickstarter.com for more information or to back the project.
—–
How sweet it is: The S'mores Bar is now open for business. But no need to leave the house to get your just desserts—this Davis-based venture from baker Jenn Cheng delivers the classic campfire snack right to your door.
Cheng began her custom-order dessert business Love Baked in 2012 and launched The S'mores Bar in mid-April, based on the popularity of her squares. "I realized people really liked it," says Cheng. "It's unique."
"[Each s'more has] graham cracker crust on the bottom and cookie dough filled with chocolate chunks, marshmallows and pretzels," she says. "You bite into it, and you get the chewiness of the cookie, the [sweetness of the] chocolate chunks, the vanilla flavor, a hit of the marshmallows, and then the crunch and saltiness of the pretzels. So your taste buds travel a bit."
Within 24 hours of receiving an order online or by phone, Cheng will deliver to locations in the Sacramento area. In Davis, there is a minimum order of $10 and delivery is free. For addresses within 25 miles of Davis, delivery is free with a minimum purchase of $30 (which equals about 16 squares). For locations beyond that radius, there is a $30 minimum per order plus a delivery charge. Her s'mores can also be found at the Davis cafe Common Grounds (2171 Cowell Blvd.).
530-400-2086. thesmoresbar.com
You Might Also Like
SPLAT Latte Art Tournament returns to the Capital City
Old Sacramento will host inaugural Chocolate Week in May