A Leap of Faith
A pair of hospitality veterans make the career jump from working for national chains to launching a local supper club named Frog & Slim. It's time to "get social."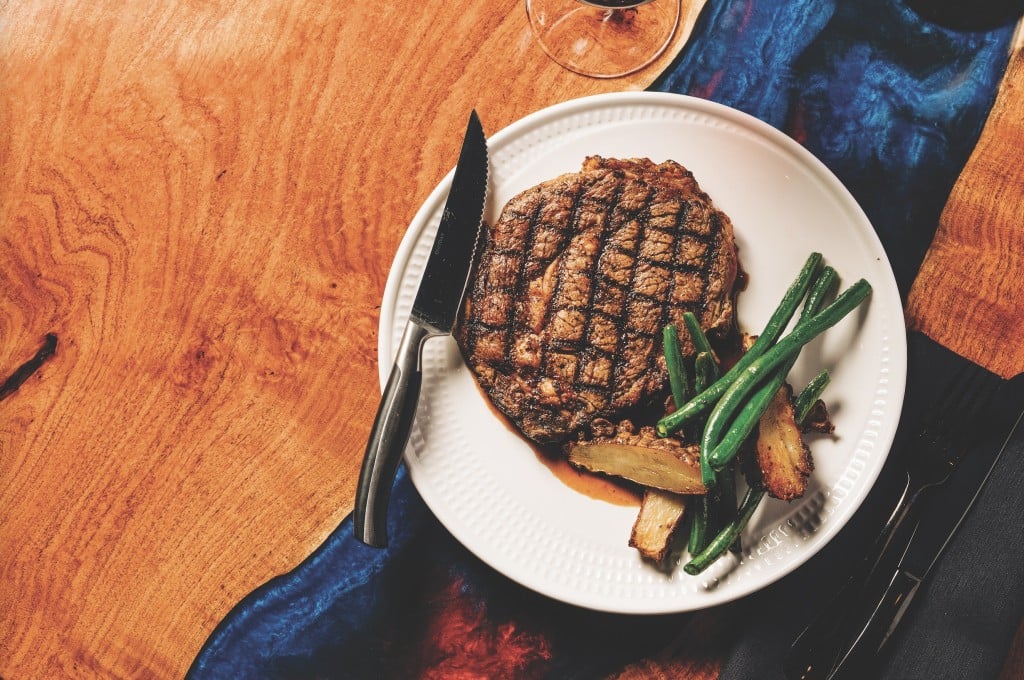 One afternoon in June 2020, Mark Reck was on the back nine at WildHawk Golf Club near Elk Grove swinging away to the sounds of John Coltrane, Thelonious Monk and Ella Fitzgerald streaming through his earbuds when inspiration struck for the name of his would-be jazz-themed supper club. "It got me thinking of different hero jazz musicians, and 'Frog & Slim' kept appearing in my head," says Reck, referring to the unique sobriquets of genre greats like Ben "Frog" Webster and Bulee "Slim" Gaillard. "It's a good ending to a day when you can come up with your life's goal."
Fast-forward about a year to this past August, when Reck and his longtime friend Robert Redmond opened the doors to Frog & Slim at 16th and O streets in midtown Sacramento, a spot that was previously occupied by Jim's Good Food and Legado Restaurant & Bar. The move was a pandemic pivot for the pair, who were both laid off last year (Reck from his post as the operations director of Arden-Arcade's Hilton hotel, and Redmond from his as the regional manager for Outback Steakhouse).
"We figured, well, we could do the same thing that we've been doing for 70 years—35 years or so each—[and continue to work] for somebody else, or we can take what we've learned and the knowledge we've gained, the friends we've met, and turn it into our own adventure," says Reck, who has also worked locally for Strings Italian Cafe and Elephant Bar. (Redmond's résumé includes stints at BJ's Restaurant & Brewhouse and Krush Burger.)
In Frog & Slim, the duo envisioned a modern spin on the 1930s supper clubs of the Midwest, where jazz was frequently the evening's soundtrack and after-work cocktail hours often stretched into long steak dinners. For Reck, a love of that music genre and a vocation in hospitality may be hereditary—back in the day, his father Norman Reck led a Los Angeles jazz group called The Gus Norman Singers before he became an executive in the food industry, most recently coming out of retirement to oversee the in-flight meal program for United Airlines' European routes. And while Reck's favorite restaurant, the San Francisco institution known as Bix, with its speakeasy mood and first-class American fare by chef-owner Bruce Hill, serves as the highest benchmark for Frog & Slim, the partners were also influenced by the vintage vibe of Sacramento's other supper-club-esque venues, namely downtown's Shady Lady Saloon and Paragary's, the midtown flagship of the late Randy Paragary's restaurant empire.
"Supper clubs were where people went to be social. We're here to let people get social again," says Reck. Granted, such people-populating pursuits have adopted a different pallor in the path of the pandemic. "Yeah, we have to do things to be healthy, but also you've got to be mentally healthy to get through times like this," he continues. "If we can make your bad day better, we'll do it. That's what we mean by getting social again."
To that end, music is an immortal gathering force, and starting in November, the restaurant plans to host special dinners featuring prix fixe menus and a live jazz duo or three-piece band on the first Tuesday of every month. Meanwhile, cushioned booths—separated, incidentally, by custom privacy dividers fabricated locally at Capital Sheet Metal, which designed the partitions to showcase a melodious march of random die-cut musical notes— are generously sized to host a dinner for two to six people.
Seating up to eight diners is the VIP table, which features a live-edge Texas oak surface crafted by Austin woodworker Zach Leick with a channel of azure epoxy "flowing" down the center (a tribute to the Sacramento River). It sits below paintings of jazz instrumentalists by artist Kaaria Mucherera and a wall-mounted, tribal-tattoo-inspired sheet-metal frog backlit with cobalt LED lights, a luminous thread throughout the restaurant's swanky, low-lit design. The restaurant also boasts two patios with blue-gray enclosures to separate them from sidewalk traffic.
On the late August evening that my partner and I stopped in for dinner, the VIP table was at max capacity and suitably boisterous. Looking for suggestions on what to order, patrons from elsewhere in the restaurant shamelessly rubbernecked the parade of dishes en route from the kitchen to the large party. By our count, at least four Wagyu burgers and three rib eyes landed there that night, so we took the hint and braced ourselves for a beef bender, plus sides: a Caesar salad that struck the right balance of puckering lemon, pungent garlic and briny anchovy; crispy truffle matchstick fries that recall the famous haystack pommes frites at the vaunted Zuni Cafe in San Francisco; and clams Rockefeller, a dish of littleneck clams on the half shell baked with the artery-busting, but irresistible combination of bacon and cream.
"I wanted a supper club feel, which is classic American food—what we now commonly refer to as comfort food," says Reck, who adds that he and Redmond hired Frog & Slim's executive chef, Canada native Christian Viau, without a cooking audition, so confident were they in the 42-year-old's bona fides: Not only was Viau the chef-owner of the erstwhile terroir-driven bistro in Montreal called French Connection, and the head chef at a popular Montreal brasserie called Holder, but when he arrived in the River City in 2017, he helmed the kitchen at the beloved Fat City Bar & Café until it shuttered in November 2019. Formerly part of the Fat Family Restaurant Group, the Old Sacramento establishment departed from the Chinese-fusion fare of its sibling eateries, Frank Fat's and Fat's Asia Bistro, with its menu of scratch-made, melting-pot-style American dishes, not dissimilar to what Viau has created at Frog & Slim.
"Even New American food has a bit of French [influence]. I'm French-trained, so on my menu you've got a touch of Europe—a little Italy and France—and North America, of course," says Viau. Our caveman-size rib eye, dry-aged for three weeks in pursuit of more tender, flavorful forkfuls, arrived succulent and glistening from a slick of full-bodied demi-glace made in-house from beef bones. The Wagyu burger teetered between two halves of a brioche bun with crisp apple-wood-smoked bacon, grilled portobello mushroom, smoked Gouda and lip-smacking truffle mayo, plus slices of sharp red onion and a pinch of spicy arugula to cut through all that richness.
The linguine vongole—essentially the pasta version of the Rockefeller appetizer but made lighter with a lemon white wine sauce—has a special place in Viau's memory. "It reminds me of my childhood. My mom used to make it," the chef says wistfully. His braised beef cheeks are another throwback from his mother's kitchen repertoire.
Braised meats are Viau's specialty. For the grilled octopus, meaty tentacles are braised in house fish stock for at least 90 minutes and then marinated overnight in an herbaceous oil flavored with coriander and mustard seeds, bay leaves and shallots. The pork shank gets its fall-apart tenderness from a long braise in scratch-made veal jus, while the chicken confit arrives via a slow simmer in duck fat before it's quickly broiled à la minute for color and texture.
The cozy, cold-weather dishes are matched only by the bar offerings, whose feel-good, chest-warming properties are also owed partly to their nostalgic nature. An Old Fashioned, the godfather of classic cocktails (Frog & Slim's version is made using Maker's Mark bourbon and orange and cherry bitters), sets a sentimental tone for other standards like the Sazerac and the sidecar. The lineup also includes jazz-themed drinks like the Big Band Charlie (Bacardi, Midori and lemon juice).
So pick a poison to pair with your last plate (we strongly suggest finishing with Viau's 58% semisweet Belgian chocolate truffles, which can win over even a historically chocolate-averse diner— guilty!—with their blissful texture, a masterful cross between a thick pudding and an ethereally fresh marshmallow), and then take Reck and Redmond up on their invitation to linger, a ritual as retro as the concept of the supper club. "We constantly tell people that once they're in our door, there is no rush," says Reck. "Just hang out—it's part of our culture." They'll even leave the electric blue frog on for you.
Frog & Slim. 1420 16th St. 916-588-3764. frogandslim.com