A Mighty Heart
After two NCAA division titles, two Olympic gold medals and eight seasons as the Sacramento Monarchs' original franchise player, Ruthie Bolton, aka "Mighty Ruthie," faces down the biggest challenge of her life. And it isn't on a basketball court.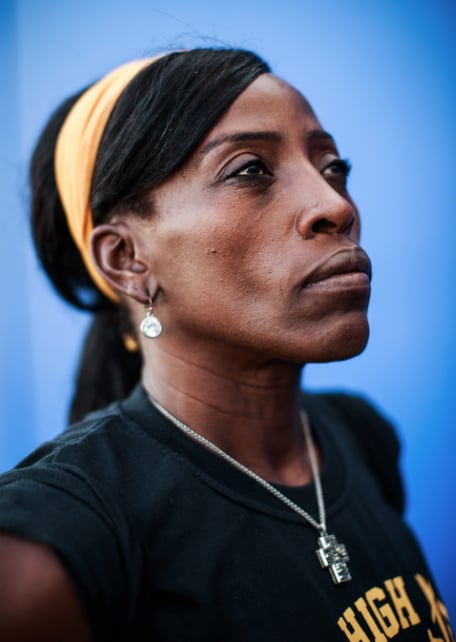 RRuthie Bolton huddles her team of mostly middle school girls, who are about to go up against a team of mostly boys at a basketball camp inside a 24 Hour Fitness in Folsom.
"We've got to play smart," she tells them in her deep, raspy voice. "They're going to come out with a lot of ego."
She's right; they do. Boys that age have a lot of swagger and physical confidence. But here come Ruthie's girls, who grew up in the WNBA era, and they're up to the challenge.
When the teams take a break, Ruthie, 49, casually picks up one of her girls and tips her upside down. Now they all want to be picked up, and she obliges. The last girl she lofts easily in an overhead press and executes some reps, and it's suddenly clear how she earned the nickname "Mighty Ruthie."
"She's the Michael Jordan of Sacramento," says Ruthie's big sister, MaeOla. That's not really hyperbole. The Sacramento Monarchs retired her jersey in 2005, and Ruthie became officially ensconced as a local icon, not just an athlete, but a beloved role model and activist in the community. Ruthie lifts people up all the time, usually without the aid of her sculpted biceps.
What her fans are now learning, however, is that while this powerful woman was dominating the boards in the NCAA, the Olympic Games and the WNBA, she was also the silent victim of domestic violence. It's a story she only recently decided to share publicly, most notably in a 2016 ESPN documentary, appropriately titled Mighty Ruthie, which premiered this past May.
Mighty Ruthie Bolton. Domestic violence. These two things can't be uttered in the same breath—can they?
••••••
Before she was "mighty," Ruthie Bolton was the 16th of 20 children born to Linwood and Leola Bolton, on a 22-acre farm in McLain, Mississippi, population 600. Linwood Bolton was a pastor, and life in such a small town revolved around church and family.
Ruthie was athletic and a tomboy from an early age—she was outside so much of the time she jokes now that she felt nightfall was God's way of punishing her. "We grew up playing all kinds of sports," she remembers. "I was always chosen for a team, not because I was so great, but because they didn't want to play against me. I was always very physical."
But Ruthie grew up in the shadow of her older sister MaeOla, who was the family basketball star. MaeOla was the finesse player, tall and lithe, and little Ruthie, just 5-foot-8 and all muscle, was a freight train. As high-school-aged girls they used to hang out at the college gym in nearby Hattiesburg and challenge older boys to pickup games—which they'd win handily.
MaeOla led the McLain High School girls' basketball team—with a starting lineup consisting entirely of Bolton sisters and cousins—to a state championship in her senior year, after which she was heavily recruited, garnering over 30 scholarship offers. She chose Auburn University, which had gone so far as to fly her to campus on a private jet.
"What [Ruthie Bolton] achieved as the point guard for Team USA in the 1996 Olympics remains one of the single most impressive athletic performances I covered in more than 45 years of sportswriting. She scored, she distributed, she guarded, she got seemingly every loose ball, and she was the engine that enabled that U.S. team to win gold." — sportswriter Rich Cleveland
After MaeOla left home, Ruthie led the high school team to a second state championship, and was fully expecting to be recruited by colleges as well, but the phone never rang. Not one school called. So Ruthie called Auburn. "I said, 'Are you going to give me a chance?' " she remembers. Auburn told her they'd welcome a visit—and sent her a bus ticket.
"They put my sister on a private jet; I got on a bus," she says with a wry snort, appreciating the irony in hindsight. "But I still got there."
When Ruthie arrived, the basketball coaches told her she might as well go to community college instead, as she wasn't likely to see any playing time until her junior year. Determined to prove them wrong, she enrolled at Auburn anyway, and set her sights on making the team. She also joined the ROTC, to further toughen herself up.
"I practiced with a different mentality," Ruthie says. "I worked so hard there wouldn't be any room for error. They could never say, 'She's just OK.' I never wanted to be just OK. I wanted to be great."
Defying all expectations, Ruthie wound up starting for the Auburn Lady Tigers as a freshman. The team had a 119-13 record during her years there, winning three Southeastern Conference titles and four NCAA tournaments, and making the NCAA finals twice, although a national championship eluded them. The Bolton sisters were local legends.
••••••
In her senior year at Auburn, Ruthie fell in love with a policeman named Mark whom she met at a convenience store when he stopped her to compliment her feats on the basketball court—by then, Ruthie Bolton was famous in town. She was flattered, and smitten.
As should now be clear, Ruthie never did anything by halves. She also hadn't had much experience with romance. As MaeOla jokes, you couldn't very well date in McLain, where a fair number of the population were first or second cousins. Nor would Linwood Bolton have allowed it. Their pastor father was strict, and apart from sporting events, the Bolton children weren't really allowed to socialize outside of family and church circles.
Ruthie and Mark married in a civil ceremony in 1990, to the surprise of her family and friends. Was it an early warning sign that she didn't include them in the ceremony? The relationship, Ruthie says, started out as highly romantic. The couple wrote each other love letters when they were apart and wore matching outfits when they were together. After Ruthie graduated she played overseas, so they were often separated, and the long absences seemed to intensify the couple's emotions. For Mark, one of those emotions was jealousy.
He hit Ruthie for the first time three months into the marriage. She had been away at an officer training trip with the Army Reserves, an environment where she sometimes studied for exams with male colleagues, which caused mounting tension with Mark, who was upset by her interactions with other men. The two were sitting side by side, looking at an album of memorabilia, when something Ruthie said in the course of their casual conversation—it was trivial enough a comment that she doesn't remember what it was—tipped Mark's jealousy over the edge, and he slugged her in the face.
"Look what you made me do." Ruthie was stunned, but not outraged. She accepted responsibility for the incident, in large part because she still harbored feelings of guilt over an abortion she had while the two were still dating, a painful episode Mark had refused to ever talk about. It was easy for Ruthie to believe that the violent outburst had been the result of these bottled-up emotions. And if there were a cause, there could be a cure. She could fix this.
So Ruthie stayed. And stayed, even though the situation did not improve. In fact, it got worse. Eventually a "good day" came to be defined as one in which her husband did not hit her.
"I kept thinking, 'I'll just work a little harder,' because that's what I was used to," she says. "Work. Get results. My strength became my weakness."
For a long time no one in Ruthie's life, not even her siblings and her closest friends, knew what was happening at home. In part, no one ever suspected that Ruthie was being victimized because she was such a force of nature; she continued to display remarkable heroism and sportsmanship in an era when opportunities for women were hard to come by. It has been said by many that Ruthie's exploits helped pave the way for the existence of the WNBA.
It is also true that she had to put up an unbelievable fight just to continue to play. In between playing for teams in Sweden, Hungary, Italy and Turkey between 1991 and 1996, spending a lot of time away from home, Ruthie played on the USA national team, which named her Player of the Year in 1991. But she failed to make the cut for the team that went to the 1992 Barcelona Olympics, and when the 1995-96 team was forming—the one that would play in the 1996 Olympic Games in Atlanta—Ruthie wasn't even invited to try out. Just as she had when the college recruiters failed to turn up, Ruthie felt the sting of rejection.
1996 was a special year for women's basketball. The men's USA basketball team that dominated the 1992 Summer Olympics was the original Dream Team, the first in Olympic history to feature active NBA players after the International Basketball Federation changed its rules to allow professionals to participate. That team featured Michael Jordan, Magic Johnson, Larry Bird and nine other household names. Sports Illustrated called it "arguably the most dominant squad ever assembled in any sport."
This is the backdrop against which, in a very deliberate effort, the USA women's basketball team set out to create its very own Dream Team for the 1996 Olympics. Unlike other national teams—including the men's—this team was not hastily assembled to make a quick global tour, play the Games and disband. What the coaches and players knew going in was that this bid for Olympic gold was a test balloon. If these women were able to generate a high level of public zeal, two leagues were poised to launch in the United States: the American Basketball League (ABL) and the NBA-affiliated Women's National Basketball League (WNBA).
In 1995, 50 women were invited to compete for 25 berths on the Dream Team roster. Ruthie wasn't one of them. The trials were technically "open," meaning that players who hadn't been invited could also show up to try to beat the odds, but this was very much a long shot. As she wrote in her 2012 autobiography, The Ride of a Lifetime: The Making of Mighty Ruthie, "the coaches had a preconceived notion of who should be on the team," and Ruthie wasn't what they had in mind.
Not to be deterred, Ruthie paid her own way and showed up at training camp. When the list of who had made the cut went up on the wall, her name was on it: She was the only player to make the team out of the uninvited hopefuls.
Tara VanDerveer was brought in from Stanford to coach the historic team that included such future greats as Lisa Leslie, Sheryl Swoopes, Rebecca Lobo and Katrina McClain. She was impressed by Ruthie's tenacious play. "If she was a dog, she'd be a pit bull. Aggressive, extremely competitive," says VanDerveer. "She's a skill player—she can shoot the lights out. She worked hard on every aspect on the court. Great rebounder, great defense."
This style of play was something new, VanDerveer says, one that other teams didn't see coming. "The perception of American basketball was that the teams were talented, but not hardworking."
The women's team embarked on a full-time training program (as opposed to assembling just for a handful of games) and, for the first time, players earned an annual salary (of $50,000) and participated in 52 games in the season, traveling all over the world to compete against various national and college teams. They played what VanDerveer calls "unselfish basketball." Their record at the end of the season going into the Olympics was 52-0. They were a big enough deal that Sports Illustrated put Ruthie, Sheryl Swoopes and Katrina McClain on the cover of its Olympic Preview Issue in July of 1996. The team swept the Olympics, going 8-0 in the Games for the gold medal.
That final matchup in Atlanta against Brazil, the defending champions, was the stuff of legend. People who were there describe that game as one of the finest hours in any sport. Ruthie was tasked with defending Brazil's leading scorer, Maria Paula Silva. She held Silva to just seven points.
Writing about the game for Ruthie's induction into the Mississippi Sports Hall of Fame in 2014, veteran sportswriter Rick Cleveland wrote, "What she achieved as the point guard for Team USA in the 1996 Olympics remains one of the single most impressive athletic performances I covered in more than 45 years of sportswriting. She scored, she distributed, she guarded, she got seemingly every loose ball, and she was the engine that enabled that U.S. team to win gold."
"It put women's basketball on the map, professionally. It was a perfect ending to a perfect season and perfect players united to come together," Ruthie's then-teammate Nikki McCray recalls. "We were firing on all cylinders. Everybody had a tremendous amount of focus and we were not going to let anybody down—not our teammates, not our coaches—because we knew what we had battled all season long. To have that perfect season and play that perfect game was truly something that not a lot of people get a chance to witness and be a part of."
"That game is what put her on the map," MaeOla says of Ruthie's performance, echoing McCray's choice of words. "It put her on a whole different level. She went to battle. She went out and gave it her all, and she conquered it."
MaeOla Bolton watched the Olympic victory from the stands. A car accident had ended her own sports career abruptly. (Today she lives in New Jersey, where she is an IT consultant in the health care industry and runs a youth basketball camp.) Ruthie knew it should've been the Bolton sisters, together, experiencing that triumph. So when Ruthie left the podium after the medal ceremony, she promptly climbed up into the stands and hung her gold medal around her sister's neck. "For the first time in my life, I was speechless," MaeOla says.
But throughout this odds-defying and open-hearted performance—while appearing on the cover of Sports Illustrated and standing on the podium at the Olympic Games—one of the strongest, fiercest women in the world of sports was being abused by her husband. Not yet ready to come out on a larger stage about her personal life, Ruthie devotes a scant two paragraphs to the challenge of overcoming an abusive marriage in her 2012 book, but she does mention there that the worst years were 1993-1997, exactly when she was peaking as a U.S. national team player. And around the time of the Olympic Games, Ruthie says, Mark would hit her or pull her hair almost daily.
Even McCray, Ruthie's best friend and roommate on the road, had no idea what Ruthie was going through. She found out about it after the fact, along with the rest of the world. "Ruthie is a very private person," McCray says, adding that "she is one of the more mentally tough people I know."
In speculating as to why Ruthie said nothing, despite their closeness during the '95-96 season, McCray says that she had recently gotten engaged herself, and thinks Ruthie was shielding her. "That's just her. She was not going to let me see that side of marriage, because marriage is a beautiful thing, but it wasn't, at that time, for her."
He hit Ruthie for the first time three months into the marriage. The two were sitting side by side, looking at an album of memorabilia, when something Ruthie said in the course of their casual conversation—it was trivial enough a comment that she doesn't remember what it was—tipped Mark's jealousy over the edge, and he slugged her in the face.
One person who did find out the truth during the 1996 Olympics, years after the abuse began, was MaeOla.
"I immediately confronted her ex-husband about it," she says. "As the big sister, I went up to him and said, 'I know everything you've done, and you're a coward.' And a few other words."
Despite having vented her sisterly ire, MaeOla found herself unable to convince Ruthie to end the marriage. " 'Walk away. Pack your bags.' That's all I could say or do," MaeOla says, acknowledging that "even though we're siblings, we're totally different."
After the Olympics, Ruthie found a new reason to blame herself for the problems in her marriage: During the Games, she confessed to her husband about an affair she had with another athlete. He said he forgave her. And for a while Ruthie thought this catharsis would bring them together, finally. He begged her not to leave him for another man, and asked her to renew their vows. She agreed, thinking that maybe this would be the turning point she'd always believed would come. Just after Christmas that year, they drove from Auburn to McLain for the wedding ceremony at her family's home. Before they left, Mark went out drinking, so he was inebriated and in a brooding mood when they set out on the trip. "I guess he'd been thinking about what happened in the past," she says. "I don't know what it was that got him thinking about it, but he just took one hand and smashed me."
He would forgive, but he wouldn't forget. When Mark got started, he'd feed off of his own rage, so that each attack was usually more than one blow. "He would keep hitting me," Ruthie says. "I just tried to protect myself. I never fought back."
Ruthie could not hide her black eye from her family, and, against their wishes, she insisted on going through with renewing her vows.
Today MaeOla believes that the tone of their upbringing contributed to Ruthie's vulnerability. "[Between] our parents, there was no physical abuse," she says carefully. "But the times in which we grew up—you're dealing with a man who is domineering. My father was very domineering. At the time, it was expected. But I think that for the younger generation, for me, it seemed like that was a little abusive." She remembers seeing tears in her mother's eyes after her father had been harsh with her, and resolving never to let anyone speak to her that way. But she understands that hers is not a typical reaction. "They say that most women want to marry someone like their father," she says quietly, pausing. "All of my sisters have experienced some type of abuse in their marriages." Ruthie might not even be aware of this pattern in the family, she says. In a large family, everyone has a different experience.
But for whatever reason, be it nature, nurture or a combination of both, Ruthie wasn't ready to leave, and MaeOla and the rest of the family had to let it go for the time being.
"You don't know what you're going to do in a situation until you're confronted with it," MaeOla says. "I didn't really know what to do. Basically you let them know you're there for them, that you love and support them. You [can't] make the decision for them."
Ruthie's father, who died in 1998, had at one point made her promise that at the very least, she would leave if she ever felt her life to be in danger.
It would take her another six years to get out for good, divorcing Mark in 2002—well into her career as one of the WNBA's founding All-Stars.
Ruthie left her husband one night after he came home drunk, armed and behaving in a manner she found more threatening than ever before. There was something about the way he sounded that night. This time she was scared. She remembered the promise she'd made to her father, so she ran out of the house, and never went back.
Still, watching the ESPN documentary, it may seem as if Ruthie's relationship with Mark ended that night, but she is quick to point out that this wasn't the case. Even after she divorced him, Ruthie says, she continued to hold out hope for reconciliation. She stayed in touch with his mother. "I fought for my marriage for a long time."
After a long day of coaching, Ruthie walks into Hot Italian in midtown, 7-year-old daughter Hope in tow, for some pizza and gelato. She's greeted by one of her oldest friends in Sacramento, the restaurant's owner Andrea Lepore, who in 1997 was the communications director for the Kings and the newly formed WNBA team, the Sacramento Monarchs, to which Ruthie was allocated in the league's inaugural season.
Lepore remembers well the beginnings of Ruthie fever among the fanbase. "She was always willing to do community work," she says. "She had the most fan mail out of anyone."
One incident in particular stands out in Lepore's memory, when Ruthie was so moved by a little girl's letter that she picked up the phone and called the fan's house. "The girl literally screamed and dropped the phone," Lepore says, laughing. "Her dad had to pick up the phone, and [Ruthie] was like"—here Lepore drops her voice down a couple of octaves to imitate the WNBA star's husky contralto—" 'This is Ruthie Bolton.' "
Lepore jokes about how bad that first-season team was, and how good Ruthie was nonetheless: "She was leading in points and rebounds and assists. We didn't have Yolanda until the third year." She's referring to seven-time WNBA All-Star Yolanda Griffith, who joined the Monarchs and also joined Ruthie on the U.S. women's basketball team that took gold again at the 2000 Sydney Olympics. And Ruthie wasn't done beating the boys, like she and MaeOla used to do back in Mississippi. "One of the funniest memories is when you beat Mitch Richmond in HORSE," Lepore says to Ruthie.
Richmond, the Kings' star player at the time, had been the NBA All-Star Game MVP two years before. "He said, 'Why don't we all just play for real?' " Ruthie responds with a shrug. He never stood a chance.
It wasn't until she moved to Sacramento in 1997 as the founding franchise player for the Monarchs that Ruthie began to have an inkling that life could be lived on different terms. The evolution didn't start with her looking after herself, but with her looking after others. She started working with disadvantaged kids.
Derrell Roberts, co-founder of the Roberts Family Development Center, which runs an after-school program and parenting classes for disadvantaged families in North Sacramento, says Ruthie has been a part of the organization, helping guide the center's youth, from the time it opened in 2001. "The fact that she's a female who has been doing some extraordinary things, resonates immediately with our girls," he says. "And the fact that she's a black person who has done some outstanding things has given them that particular role model as well."
From 2004 to 2007 she was the head coach of the women's basketball team at William Jessup University in Rocklin, and recently coached at Vacaville Christian High School for four seasons. She has traveled the world through the U.S. State Department's Sports Envoy Program, visiting places like Papua New Guinea and Saudi Arabia to conduct basketball clinics aimed at fostering women's empowerment. And she's founded an after-school program for kids called Aim High, with a current enrollment of around 100 students who meet at various schools in the Sacramento region for coaching in confidence and life skills as well as basketball.
"It gives me wings to fly," Ruthie says of her work with children. "It means a lot to see that just by my presence kids' lives are changed."
••••••
After the end of her marriage and the end of her pro ball career, Ruthie forged a new life for herself. Slowly but surely. After she was divorced, and after her career as a Monarch ended in 2004, she met her second husband Cesar Lara, a civil engineer. Hope was born in 2009, son Christofer two years later.
MaeOla thinks Ruthie's children are the real reason her sister came forward to speak out, finally, and take the next step toward healing. Her daughter in particular. "I think that's why she named her Hope, because she feels like she can have hope for life, and hope for a better future," she says.
After Hope has devoured a Hot Italian cheese pizza (no green things on it, please), her mother helping her with a slice or two while consuming a healthy salad, Ruthie reflects on her personal journey, particularly the end of her 12-year first marriage, with the frankness that comes from watching it recede in the rearview mirror.
"When you're in it, you can't see," she says. "Most women in that situation get to the point where they think they deserve it. 'I don't deserve to get out. I don't deserve more.' You get so used to it. [It's only after you] put someone there you love—your niece, your daughter, your sister—that you're like, 'Wow, I could never see my sister go through this. I could never see my daughter go through this.' Now it makes more sense. You have to put a frame around it."
Ruthie first spoke out about her personal history with domestic violence at the 2014 ESPNW Women + Sports Summit in Dana Point. Video of NFL player Ray Rice knocking his fiancée, Janay Palmer, unconscious in an elevator had been in the news earlier that year. Perhaps even more troubling was the further news that Palmer had gone ahead and married her abuser. Ruthie saw this unfold, experiencing it, as very few people could, both as a famous athlete and as a victim, and she decided that if her story might help others, she had an obligation to tell it. She got a warm reception from the summit audience. Gloria Allred hugged her. Afterward, ESPN approached her about making the documentary, which is part of the network's "SEC Storied" series on the NCAA Southeastern Conference.
Still, going public with the details of her first marriage was harder than she thought. "I didn't realize how painful it would be," she says now, adding that the documentary premiered while she was on a speaking tour, increasing her sense of public exposure. She likens the film's release to prepping for a big game: "I was anxious and nervous, and just like, 'Wow, what have I done?' "
She was afraid she would be judged. She was also afraid she would come to be defined by that single issue, reduced from the role of hero to that of victim. "But I got a lot of response that was positive," she says. "People saying they were inspired by, empowered by it. A lot of people would say, 'I could never imagine, I wouldn't have believed it.' "
Ruthie's answer to that is that domestic violence "doesn't have a profile. It can get anybody." What did surprise her was finding out that she wasn't all the way there yet. "I didn't realize I still had to heal," she says.
As open as she is about her experiences, talking about it takes a toll. On the drive home she chats with the writer she's hired to collaborate with her on a new book that will be inspirational and speak directly to women who have survived abusive situations (the book doesn't yet have a publication date) then briefly falls asleep in the passenger seat, tired from a long day. She'll need the rest, as the next day she's headed to Oakland to be the guest star at a Warriors camp for youth. (She is no stranger to Kings camps as well.)
Pulling up in front of her house on a quiet, leafy street in Natomas, Ruthie is greeted by Christofer, 5, who is beaming with pride, having just moments ago learned how to ride his bike. Cesar is cleaning out the family's Toyota Sequoia. Hope and Christofer are eager to show off the rooster in their backyard.
As idyllic as suburban life looks for Ruthie, there's a sense that new leaves are waiting to be turned. She is busy—one of the reasons the family relocated in 2014 from Elk Grove to Natomas was to be closer to the airport, since she travels so frequently to coach, often with Hope as her sidekick (at 7, Hope has been to Italy four times already).
Liberated from silence after all these years, Ruthie has found a new sense of purpose. What started as an exercise in honesty is fast evolving into a vocation. The interest in Mighty Ruthie has led to an upcoming national speaking tour of colleges, beginning in October, which also happens to be National Domestic Violence Awareness Month. She'll be talking about domestic violence to an audience of college-age women who, like her, may think themselves immune from such a fate.
"It was overwhelming at first," she says of the outpouring of response she got after the documentary debuted in May. "But when the dust settled I was very happy I had decided to do it and was willing to be transparent and sacrifice my vulnerability, if you will, for women out there who maybe thought, 'Who is going to listen to me?' "
After the tour, Ruthie plans to continue to find ways to help women facing abusive situations. She knows firsthand that physical fitness can be a precursor to emotional strength. Even though she found ways to rationalize staying in her marriage for a long time, she credits her physical prowess with helping her get through the ordeal and come out the other side—eventually. Exercise helped sustain her during the worst of her experiences, she says. "I could work out, go for a four- or five-mile run, and it just sort of elevated me."
So she is in the early phases of designing a fitness camp program to help empower women, which she calls "Flex Your Muscles." She knows better than anyone that there's no magic "fix" for domestic violence, so her goals with the program are modest, informed by her own experience: "Teaching women how to take charge of some little part that they can control—their health." She knows that first steps are often small steps.
Does Ruthie miss playing the game that gave her so much of that sense of control in her own life? "I miss it every day," she says. But that doesn't mean she's not up for what comes next. What's different about Ruthie today is that she's learned to reach out and take chances, rather than keep her head down and power through. In doing so she's found reserves of strength—and flexibility—that the old iron-willed "Mighty Ruthie" might not have known she possessed. She is facing a future she has yet to fully figure out, but to which she's ready to bring her A game. She even has a new mantra: "Claim your power. Your power becomes your purpose, and your purpose becomes your peace."
One young woman is already standing tall on Ruthie's mighty shoulders. At a recent Aim High coaching session, 16-year-old McKenzie Forbes of Folsom towers over her mentor—looking a little like a young MaeOla Bolton. Ruthie holds up a picture of Forbes at 6, riding on Ruthie's shoulders and beaming. Kidding around, they resume the same pose. After Forbes graduates from high school, she fully intends to play college basketball. "And then I plan to play professionally," she says coolly, not a shadow of a doubt in her voice. "I'm sure she will," Ruthie says, as confident in her mentee's ability to succeed as she ever was in her young self. And she knows that while Forbes may have to work hard to achieve her dreams, there are things this enlightened young woman will probably never have to bear, thanks in part to the influence of her coach. Looking at Forbes, Ruthie sees both her past—and her future.
"Basketball was just a temporary thing, to be honest," she says, her deep voice sounding both content and eager. "All of that was setting the stage for something bigger."