A (New) Christmas Story
A desire to break with tradition has one mom dreaming of a Korean Christmas.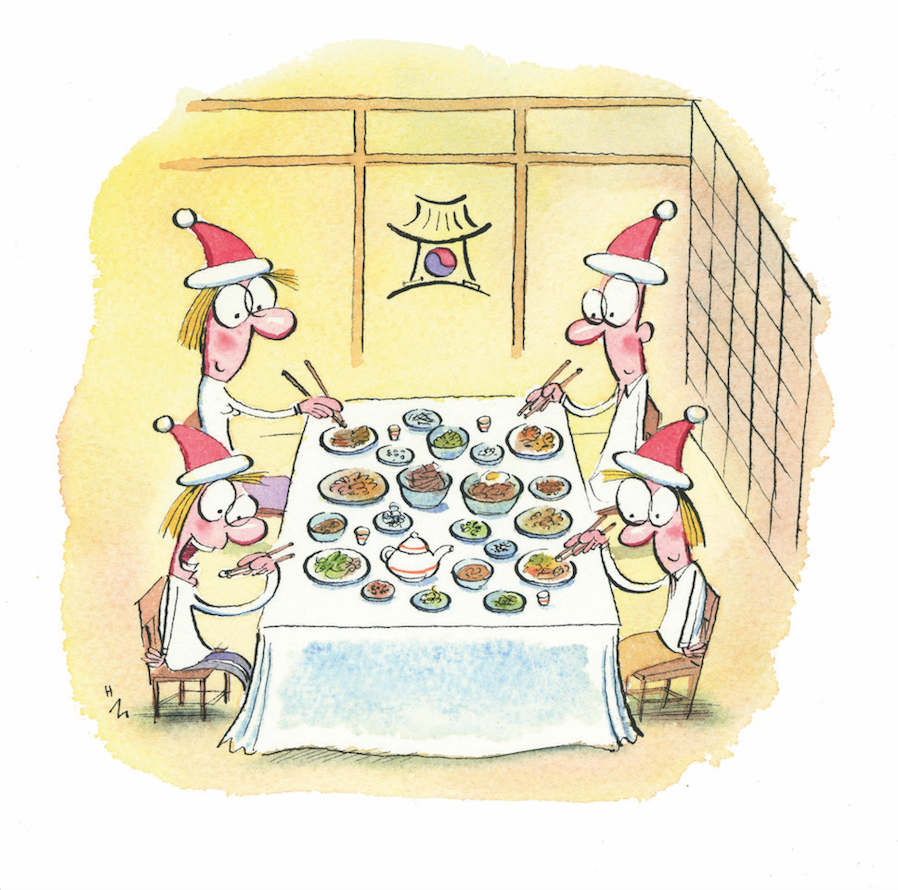 Platters heaped with fragrant beef, a festive array of pickles and vegetables in Yuletide colors of green and red, bowls of starchy sides: We surveyed our Christmas feast. I sipped a glass of wine; my daughters, 12 and 8, had the treat of soda. It was a special occasion, after all.
Then I picked up my metal chopsticks and dug in to our lavish meal of banchan (kimchi and other side dishes), haemul pajeon (lacy seafood pancake), japchae (stir-fried glass noodles), bulgogi (marinated rib eye), galbi (barbecued short ribs), tofu stew and bibimbap. There wasn't much sign of the holiday, but for our family of four, just being together was a celebration.
It was a far cry from our family's usual, traditionally English Christmas spread of pickles, prime rib, horseradish and potatoes. But, as I realized later, our Korean feast had a similar balance of tastes, transposed to a different key: rich and savory beef, pungent flavorings, tangy pickles and comforting carbohydrates.
The girls snatched at their favorite, the bulgogi, and I gnawed every scrap of sweet-salty gristle off the elliptical cross-cut short rib bones. My husband Brad, sighing with contentment, piled slippery glass noodles on his plate. We all fought gently to scrape the toastiest, crunchiest bits of rice from the hot stone bowl that held the bibimbap.
What a difference a year had made. It was 2017, and our family was emerging tremulously from three years of cancer treatment for Brad. Christmas 2015 was overshadowed by his looming bone marrow transplant, which nearly killed him and resulted in a temporary loss of vision and ability to eat. Throughout December 2016, he was in New York for a clinical trial to treat a second form of cancer. The girls and I, unable to join him because of their school schedules, spent Christmas with my side of the family, eating that prime rib dinner.
In New York, Brad and his parents—who were taking care of him there—didn't want a traditional Christmas dinner, which they felt would just highlight the strange and lonely feel of their holiday away from home. Brad has long loved Korean food, so I suggested a glamorous Korean BBQ restaurant, Gaonnuri, that overlooks the Empire State Building. I'd loved it on my previous trip to New York. My in-laws were uncertain at first, but in the end were won over by the view, the excellent grilled beef, and the extra glasses of wine the waiters gave them.
A year later, with Brad still frail, he and I decided on a quiet celebration, just the four of us. When I asked, "What should we do for Christmas dinner?" Brad joked that we should go out for Korean food as he had done in New York.
To his surprise, I took him seriously. Not only did dinner out sound like a no-hassle way to mark the occasion, drawing on his prior experience felt right. Claiming and choosing an echo of the less-than-great Christmas we had when he was sick was the perfect way to forge a family tradition that integrated—rather than denied—the challenge and strain of prior years.
The girls, normally sticklers for tradition, were enthusiastic. As a food writer, I have taken them along on work outings since they were tiny. We especially love visiting the low-key restaurants that represent Sacramento's diversity: taquerias, pho joints, and, yes, Korean BBQ spots.
Thanks to the wide array of banchan, even everyday Korean meals seem like banquets. And so, with visions of bulgogi and bibimbap dancing in our heads, we headed to a longtime favorite, YD Tofu House on Folsom Boulevard.
The evening wasn't quite as glamorous as Brad's night at Gaonnuri—YD doesn't exactly look out at an iconic skyscraper—but it was homey and cozy, a fitting end to our blissfully lazy day of opening presents.
Our girls mugged for the camera, horsing around as we waited for dinner. We talked, stuffed ourselves and took home leftovers. It felt familiar and fresh, normal and celebratory all at the same time: the perfect new Sacramento Christmas tradition.