A new Neapolitan pizzeria set to open its doors downtown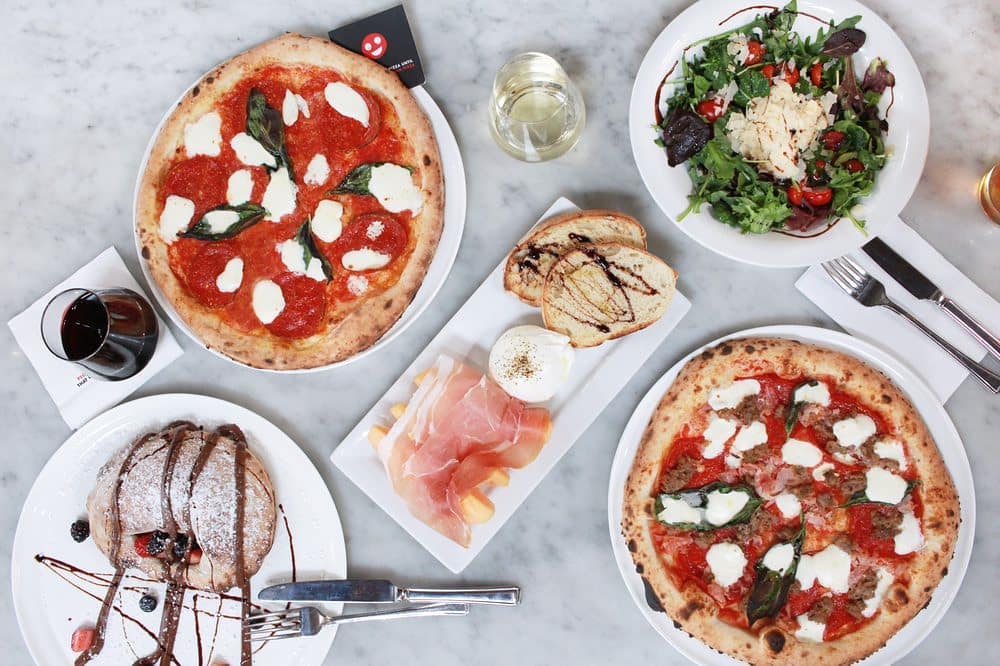 A new Neapolitan pizzeria, Midici, is set for a soft opening on Wednesday, Aug. 7. The restaurant, part of an L.A.-based chain, is the latest in a string of new food options on the revitalized 700 Block of K Street near the Golden 1 Center. The pizza spot was preceded by the recent opening of Solomon's Delicatessen next door, and will soon be followed by KoJa Kitchen, ramen bar Kodaiko (from chef Billy Ngo of Kru) and ice creamery Devil May Care.
"My wife-to-be, she's actually from Sacramento, and she really turned us on to the city," says Cheng Wang, a New York native who moved here in 2014 and owns the restaurant with his brother Danny. While the two were co-owners of a New York City boba tea shop, this is the pair's first restaurant venture. Their general manager, Philip Hernandez, served as the general manager of Roseville's Chicago Fire.
Medici means "tell me" in Italian and the company's website explains that it reflects "the concept's core value of people telling each other about their lives and fostering friendships." Neapolitan pizza has a thin crust with a puffy, crispy and oh-so-slightly singed outer ring that comes from cooking the pie at very high heat. Midici's twin 1,000-degree ovens, each hand-made in Naples, cook each pizza in about 90 seconds. The menu includes 19 different varieties of pie, ranging from staples like the margherita to versions with bacon and egg, truffle and prosciutto, chicken pesto and also a gluten-free version. They will also have a full bar with specialty cocktails like the Devil's Margarita—a play on their spicy Devil's Margherita pizza—that comes with a kick as well as black sea salt on the rim.
And while Midici may be part of a national chain, the brothers were given license to source some of their products locally—something they were keen to jump on. For starters, the two-floor, 4,200 square-foot restaurant will serve cold brew from Natomas-based Brewedmonds and each of the bar's eight handles will offer a rotating menu of local pours from breweries like Auburn's Crooked Lane Brewing Company and Mraz Brewing in El Dorado Hills. In addition, the Wang brothers plan to host pop-up bakers and other food makers from around the area, such as Boy's Bakery, which specializes in Swedish fika buns.
"I feel like we're very locked in with the culture of the community," says Cheng.
Sun.-Thurs. 11:30 a.m.-9 p.m. Fri.-Sat. 11:30 a.m.-10 p.m. 728 K St. Follow Midici Sacramento on Instagram.
You Might Also Like
Special K
The Boy With the Dragon Tattoo
Here's when downtown spots like Solomon's Delicatessen, Kodaiko, KoJa Kitchen and more will open