A new Sacramento food box delivery service stocks your pantry with locally made gourmet goods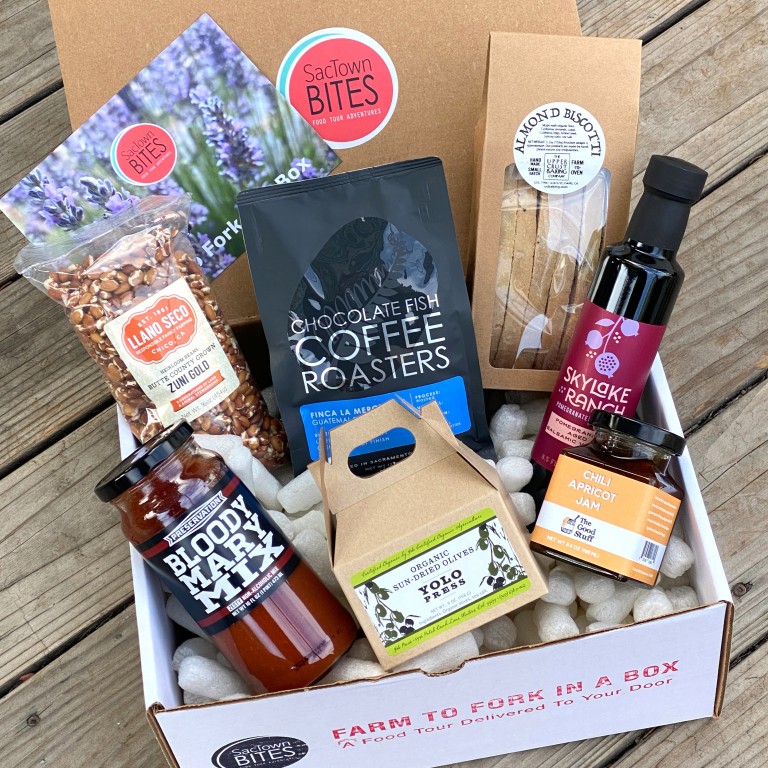 During pre-pandemic times, SacTown Bites was guiding tours of area restaurants like Magpie and The Porch, with groups sampling locally sourced, farm-to-fork dishes along the way. But since shutdowns have forced eateries to offer only takeout and patio dining, the company has pivoted to a deliverable discovery experience: packages brimming with a selection of handcrafted, small-batch pantry goods.
"It's like a food tour in a box," said Heather Fortes, owner of SacTown Bites who launched the fittingly named Farm to Fork in a Box in June. "It's very aligned with the food tours we ran, which for me is all about showcasing not only the restaurants but also where the food comes from."
Each box–which you can purchase individually or through a quarterly or monthly subscription—arrives with seven items from around the region. Past bundles have included crumbly chocolate sablé cookies from Sacramento's Puur Chocolat; peppery extra virgin olive oil from Séka Hills in Brooks; a sweet sriracha almond butter dip from Winters Fruit Tree; raw wildflower honey from Winters' Pure Honey; and crisp sparkling pear juice from Hemly Cider in Courtland. The October delivery will include flours from Capay Mills and a garlicky Vietnamese dipping sauce from Viet Kieu Sauce Co. based in Rancho Cordova.
An accompanying trifold card includes interesting tidbits on the products, and Fortes sends out an email post-delivery with video links about the featured makers, bakers and farmers. For example, you can get the backstory on the 5,000-year-old technique Yolo Press owners Mike and Diane Madison use to hand-harvest and sun-dry their olives. Or get a slice of bread-making science with Lorin Kalisky, the head baker at Davis' Upper Crust Baking.
In addition to Farm to Fork in a Box, SacTown Bites also offers a la carte parcels that contain other types of locally made items. This fall, for instance, Fortes is planning to release a lavender beauty box with products like lavender-olive-oil soap from Yolo Press and the Lavender Dreamin' beeswax balm from Sacramento-based Backroad Beekeeping.
"These are the products you might not buy [normally] because they seem like a luxury," says Fortes, "but when it comes in a box you're like, 'Tear that open!' It's like a gift to yourself."
$85 per box. Subscriptions cost $215 (quarterly) and $836 (monthly). sactownbites.com
You Might Also Like
Get pantry cooking with local artisanal shelf stockers
Local cookbook authors help you bring the farm to your table this spring
Local chefs and other kitchen pros offer insider tips for home cooks and amateur bartenders