A Rainbow Connection
In Seoul, a bridge outfitted with LEDs and fountains shoots water over the Han River and puts on kaleidoscopic light shows. We can think of another river city where a similar display might make a splash.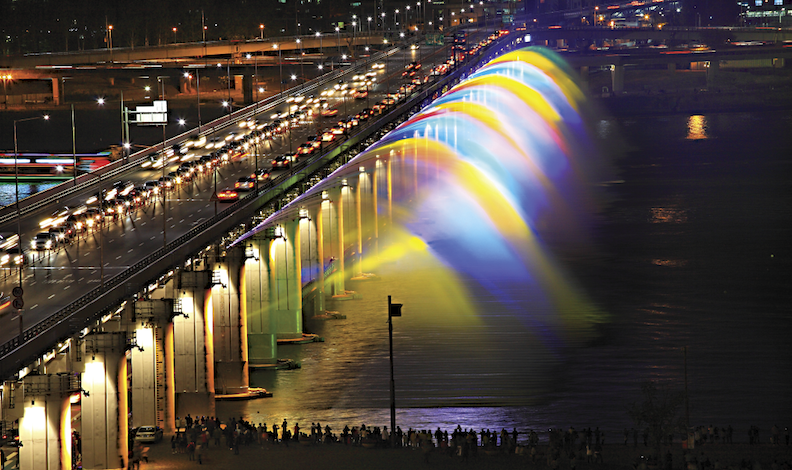 The Idea
Like Sacramento, Seoul has long had a complicated relationship with its riverfront. For most of the capital city's history its Han River (aka Hangang) has been viewed more as a utilitarian commodity than a recreational asset. Also as we did here, Seoul built freeways cutting the waterway off from its downtown.
But during his term as the city's mayor from 2002-2006, Lee Myung-bak (who went on to become South Korea's president) proposed a series of improvements to encourage residents to reengage with their rivers, and in 2007, the Hangang Renaissance Project—a decades-long undertaking to transform the waterfront into a regional destination—was launched.
One of the first success stories from this effort was the Moonlight Rainbow show at Seoul's Banpo Bridge. In 2009, the structure was retrofitted with 380 nozzles and 200 LED lights; now it draws about 190 tons of water a minute from the Han River to shoot 140-foot-long streams from its edge. Operational from April to October, the span presents a daily medley of 20-minute spectacles set to music.
Meanwhile, our Tower Bridge is already set to be relighted with LED bulbs in time for this year's Fourth of July festivities. Why not piggyback on that project and further enhance the bridge with fountains that can put on light and music shows, glow purple during Kings games, or complement the fireworks displays on Independence Day and New Year's Eve? Using 100 percent recycled water, the feature would draw attention to our river and create an amenity that downtown guests would plan dinners and visits around.
The Players
As it happens, our region is about to gain control of the Tower Bridge, with Caltrans gearing up to hand over ownership of the structure to the cities of Sacramento and West Sacramento in 2019. The mayors of both towns should embrace the fountain bridge idea and begin working immediately with the group helmed by community leader Sandy Smoley, which plans to install color-changing LED lights on the bridge. A fountain choreographer would also be needed to program an eye-grabbing presentation.
The Bottom Line
The company that installed the fountains at the Banpo Bridge is based in Southern California and says that a rough cost estimate for a similar treatment on the Tower Bridge would be in the $3-$5 million range. That number could be cut in half if only one side of the bridge—perhaps the one facing Old Sacramento—were outfitted with jets. That sounds like a big investment, but the revenue boost for local merchants could be equally significant, with nightly light and music shows on the bridge becoming a major attraction and reminding all of us where the "river" in River City comes from.