A Sacramento mom shares 1,001 family-sized ways to have fun around town in a new book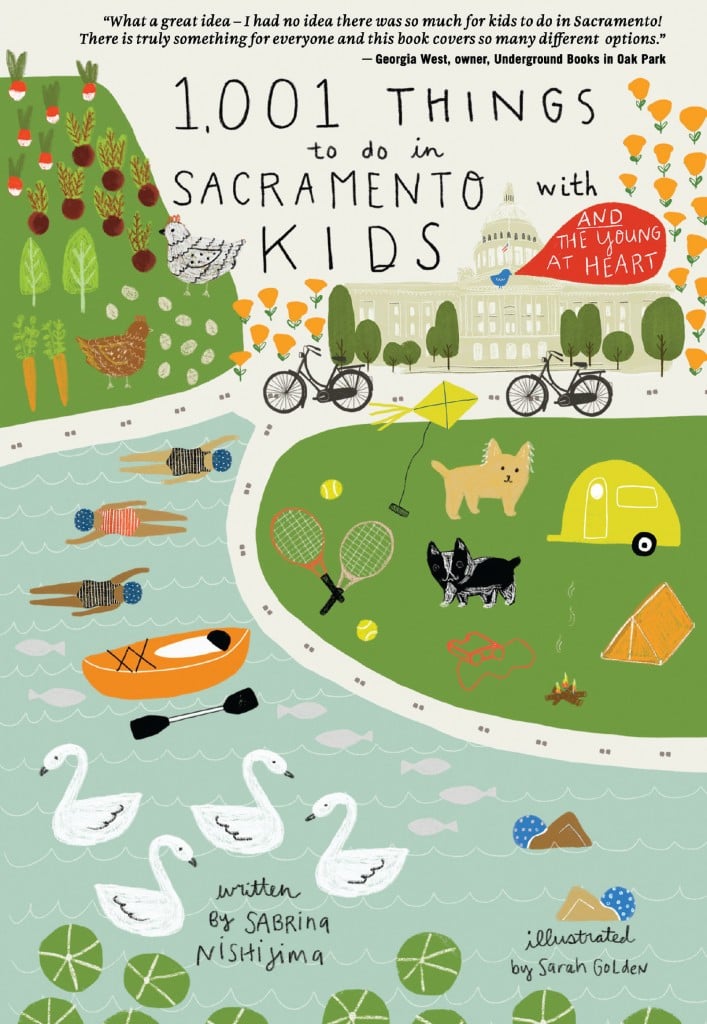 Adventure is out there—and in town, according to one local author who wrote the book on how to maximize fun with your fam without leaving the region.
1,001 Things to Do in Sacramento with Kids (and the Young at Heart), which will be released on Feb. 14, is the brainchild of Sabrina Nishijima, a stay-at-home mom to two boys, Milo, 6, and Andrew, 3. The East Sacramentan says she got the idea for the book after taking a family trip to Austin and seeing a similar guidebook for that city there.
"The more I started going down rabbit holes, the more apparent it became that Sacramento has something for every niche hobby, a festival for every fruit, and groups or classes for just about anything," Nishijima says. "Not many people know you can rent a ukulele from the library, go mushroom hunting with scientists at local parks, or learn how to prepare for a zombie apocalypse at a class at REI."
Nishijima has cataloged 1,001 family-friendly activities—with all ages in mind, from babies to teenagers—around the region for the past year for her self-published book. Her numbered list includes classic local pastimes like visiting the Sacramento Zoo and taking in a River Cats game at Raley Field, but also hidden gems like open-house events at the Bohart Museum of Entomology at UC Davis—which reportedly houses the ninth largest collection of insects in North America—and the "Wonders of Astronomy" show at Sierra College's astronomy department in Rocklin.
The book, which features illustrations by Oak Park-based printmaker Sarah Golden, also suggests experiences for future foodies (like playing with dough at Pizza Rock's Kids in the Kitchen events on the first Saturday of each month) and ways to give back to the community (at the Special Olympics, kids as young as 10 can volunteer), and includes outings that appeal to both tots and grown-ups, like the farm-to-fork dinners at Full Belly Farm in Guinda held from March to November (Nishijima advises bringing your own wine and camping overnight).
For those who want to venture slightly beyond our region's borders, a separate "101 Day Trips" section touts such excursions as going to sleepovers at the Monterey Bay Aquarium and attending the World Dog Surfing Championships in Pacifica.
The book is currently available for preorder on Amazon and Barnes & Noble ($16.95), and can be found at local shops like Display: California, J Crawford's Books and Underground Books starting Feb. 14, as well as online at its website sactownkids.com. Nishijima has also developed a Sactown Kids app (available now on Apple and Google Play) with all of the listings in the guidebook in searchable format and a "Top 20" list of weekend activities.
For more information, visit sactownkids.com.
You Might Also Like
Festivals, exhibits and other events to attend during Black History Month in Sacramento
Stars of "Guardians of the Galaxy," "Walking Dead" and more announced for new comic con
New "Lady Bird" walking tour launches in Sacramento