A sneak peek at this year's Sacramento Fashion Week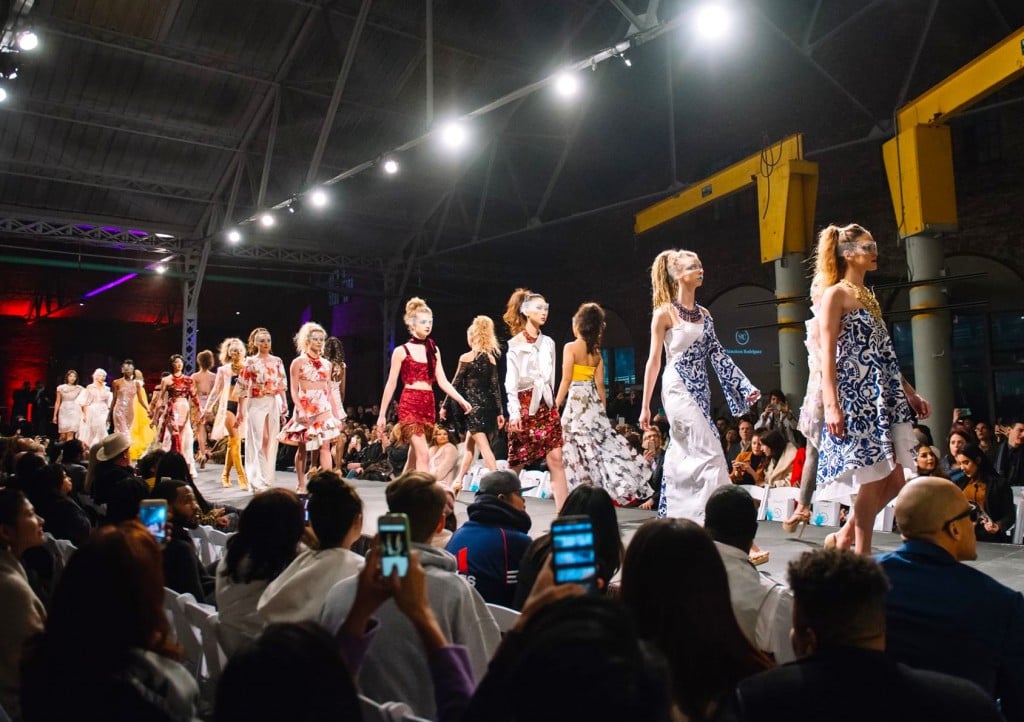 Sacramento Fashion Week is celebrating its 12th anniversary this year with eight days of festivities from Feb. 17-24, ranging from designer showcases to workshops on hair, makeup and modeling. Here are six highlights.
Launch Party
Feb. 17 Fashion week will kick off with a launch party at midtown's new co-working space, Cowo Campus, to introduce its designers, including new faces like Sacramento's Brooks Ware, Keevona Reynolds and Saphaktra Touch—who will dress showcase host and KCRA anchor Lisa Gonzales—and returning brands like Thimoleon Rodriguez Collection, known for its lacy gowns and eclectic patterned ensembles. The fête will also feature an intimate fashion show with spring and summer looks from women's athletic wear retailer Athleta. $10-$20 ($25 for VIP). 4-8 p.m. Cowo Campus. 1507 21st St.
Free Workshops
Feb. 18-19 On Feb. 18 from 12-3 p.m., a free model boot camp workshop at the Cowo Campus at 1507 21st Street will feature Tamica Michelle from Barbizon Modeling Center teaching aspiring models how to move and pose, and local photographer Trinette Denise educating attendees on lighting, angles and how to bring personality into photo shoots. On Feb. 19 from 5-7 p.m., a hair and makeup workshop will take place at the midtown salon The Colour Bar (2314 K St.) where shop owner Lorena Martinez and Sacramento Fashion Week's lead makeup artist Jasmine Cardenas will demonstrate hair and makeup trends.
Emerging Next Showcase
Feb. 21 Five student designers and stylists from local schools will present their collections of up to 15 wearable creations in this first runway showcase of the week. The rising creatives include Ashley Goins from Sacramento State University, who has curated a collection of looks from local boutiques; Gabriel Melendrez from the Art Institute of Sacramento who has repurposed denim fabric into T-shirts and pants, and Sabrina Marley Baladad-Perez from the Fashion Institute of Design and Merchandising whose colorful tops, skirts and dresses will brighten the runway. $10-$20 ($25 for VIP). 7-10 p.m. Cowo Campus. 1507 21st St.
Fashion Film Exhibition
Feb. 22 Fashion, film and music will collide at this multimedia event hosted by the California Film Foundation. Fourteen short films—including Sacramento-based James Meyers' ArtMix: Masquerade documentary, filmed at the Crocker Art Museum's Venetian party in January—will screen intermittently as fashion industry veterans like James Head, who once designed for MC Hammer, present their latest collections. $20 ($30 for VIP). 7:30-10 p.m. Beatnik Studios. 723 S St. californiafilm.net
Spring/Summer Showcase
Feb. 23 Fashion week will take over Downtown Commons tonight with a 70-foot-long elevated runway staged in the plaza between Golden 1 Center and Macy's, where seven designers will display their spring and summer collections for industry insiders and fans. Local designers Hagen Valencia, Hannah Be, Janelle Cardenas, Maya Leon, Thimoleon Rodriguez and Tyniece Hall, and San Francisco's Zenzele Nuru will each present their collections, ranging from knitwear and upcycled clothing to looks inspired by Studio 54 in the 1970s. $35-50 ($65-$150 for VIP). 6-10 p.m. Downtown Commons. 660 J St.
Fall/Winter Showcase
Feb. 24 Six local and international designers will show their fall and winter collections to close out Sacramento Fashion Week's festivities. Look for structured, black-and-white ensembles from Army veteran-turned-designer Carlos Collins; couture dresses and coats made from eco-friendly fabrics by Scatha G. Allison; and glistening gowns representing the Golden Age of Hollywood by Saphaktra Touch. Russian fashion designer Lena Trotsko, along with local designer Ken Adams, will also present their designs featuring bold dresses and jackets. $35-50 ($65-$150 for VIP). 4-7 p.m. Downtown Commons. 660 J St.
For more information and to purchase tickets, visit sacfashionweek.com.
You Might Also Like
A popular Korean beauty store opens in Sacramento
A snapshot of the region's first Photography Month set for April
Stunning new nighttime time-lapse video shows "the sexiness of Sacramento"