A sneak peek inside Camden Spit & Larder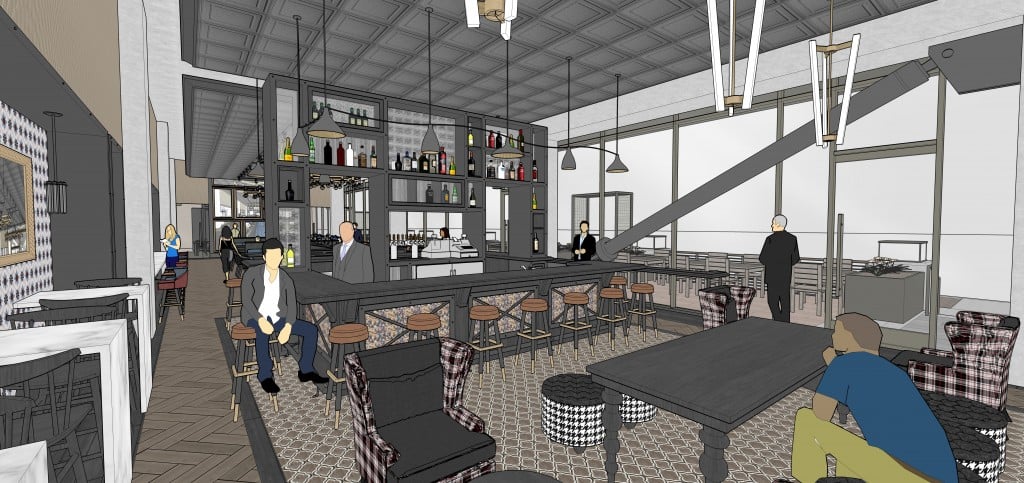 While Camden Spit & Larder, the new restaurant from Oliver Ridgeway, formerly the executive chef of Grange Restaurant & Bar, is still weeks away from opening (the goal is to open sometime in October), its lead architect and interior designer Brendan Koon reveals what it takes to bring Ridgeway's vision of a British haberdashery to Capitol Mall.
"I wanted the design to be somehow uniquely tied to Oliver," says Koon, a principal at VITAE Architecture, who also worked on the Old Soul Co. space next door, as well as Grange and the Citizen Hotel. "[Oliver's] idea was to do something uniquely British without saying that this is a British restaurant."
"In my mind, it's like Downton Abbey and Kingsman map the lives of Ben Sherman and Fred Perry where they would all want amazing meals prepared by Oliver Ridgeway," says Koon, who custom-designed all of Camden's furniture and worked with Los Angeles-based interior designer Rich Starley to source companies to make them.
For inspiration, Ridgeway and Koon looked to British fashion designers such as Fred Perry and Ben Sherman, resulting in a mixture of navy, red, beige, black and gold color schemes, prints, patterns and textures inside Camden.
Camden, by the way, is named for the Ridgeway's 9-year-old son, while "spit" refers to the mainstay spit-roasted meats and "larder" is another term for food pantry in England.
Patrons can choose to sit at the long counter right in front of the kitchen, watching Ridgeway and his team whip up meaty dishes like spit-roasted beef, pork and chicken—each spun and self-basted in their own in-house seasoning inside a large brick rotisserie oven—as well as other shareable plates like steak tartare with cured egg yolk and aioli, pork loin sandwiches and house-made sausage rolls with English mustard. The chef plans to combine his British roots with his California style, which involves sourcing ingredients mainly from Northern California-based purveyors like Capay Organic, Del Rio Botanical and Passmore Ranch.
Ridgeway also plans to serve dishes like caviar with crumpets and crème fraîche, while vegetarians can find meat-free items on the menu like the vegan mushroom pâté and a variety of salads that include vegetables from local farms like Azolla in Pleasant Grove, Full Belly in Guinda and Soil Born in Rancho Cordova.
The 4,000-square-foot restaurant will also feature fanciful details like an eclectic collection of desk lamps sitting atop a long navy leather booth, which will be accompanied by black Windsor chairs in front of a large mirror wall.
In the dining area, plaid wingback chairs and houndstooth ottomans surround black wooden tables, while a group of barstools are arranged around the square bar, which boasts a ceiling-high liquor shelf and about 6,800 colorful buttons creatively attached to the walls below the countertop.
A private dining room dubbed The Larder, featuring a large communal table, will be available for private events.
Meanwhile, the narrow outdoor patio that overlooks Capitol Mall will be divided into four separate spaces, seating up to 12 diners in each.
"We're looking to create a really unique dining experience with service and food," says Ridgeway, who plans to offer lunch and dinner service. "I've been cooking for over 20 years now and to kind of bring together years of experience and showcase my life's work [like this], I'm pretty stoked."
555 Capitol Mall. Follow them on Facebook and check back with sactownmag.com for future updates.
You Might Also Like
Longtime Grange chef shares details for his new downtown restaurant
A pup-focused pup will open in South Land Park
Ruhstaller's new downtown taproom opens